You might lose your head over this Texas roadside attraction. Stop at this fun shop for some candy for the road, a little retro taste, and a big dose of oddities. And, while you're there, you'll also find these Texaco Big Friend & Muffler Man Heads at Atomic Candy in Denton, Texas.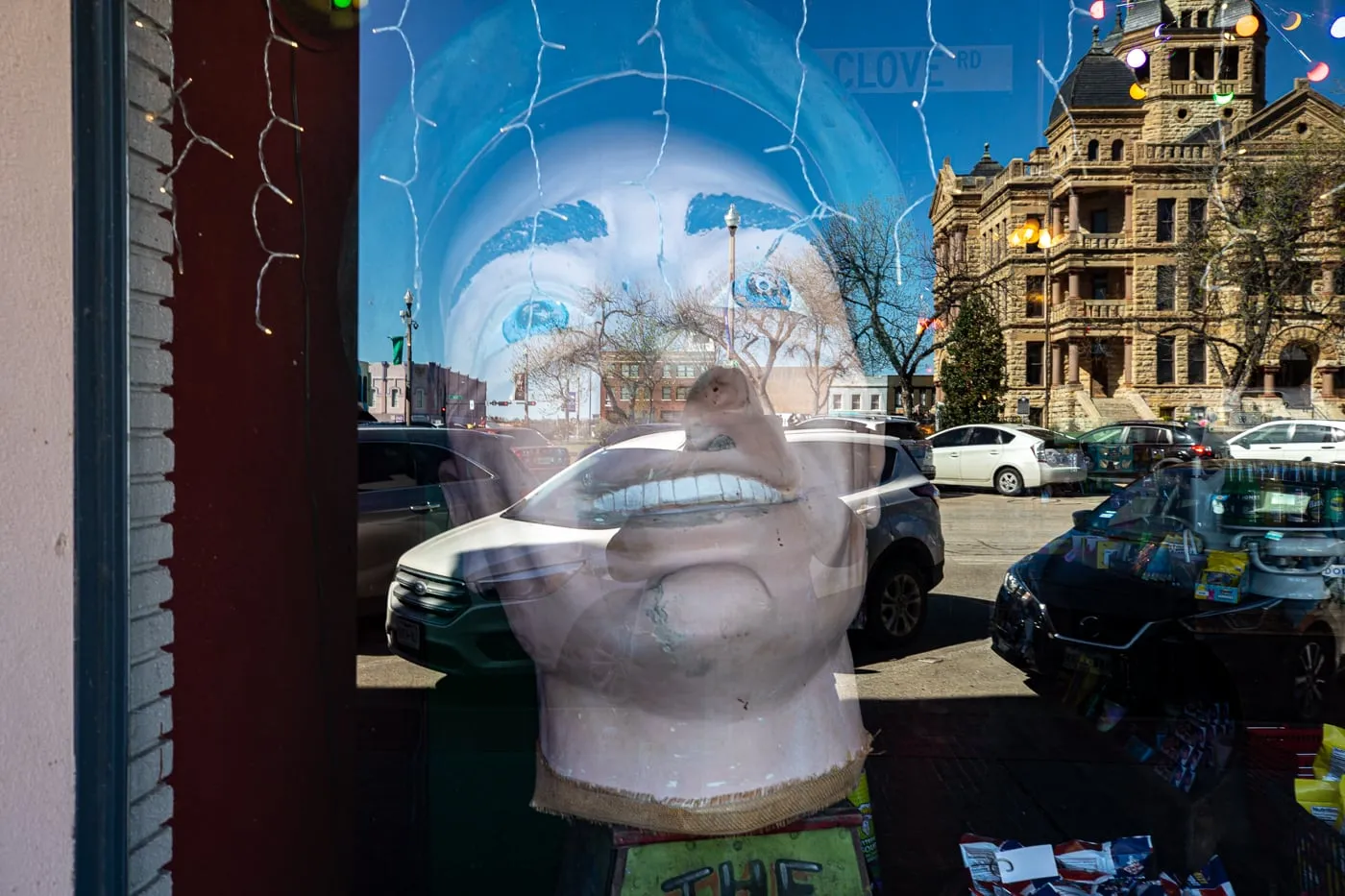 Every wall of Atomic Candy is bursting with nostalgic treats. There are bulk bins full of different varieties of gummy candies, M&Ms, salt water taffy, and Jelly Bellies ripe for scooping into take-home bags. There's a cooler full of an impressive collection of glass-bottled soda pop, including brands like Cheerwine, Frostie, Jones, New York Seltzer.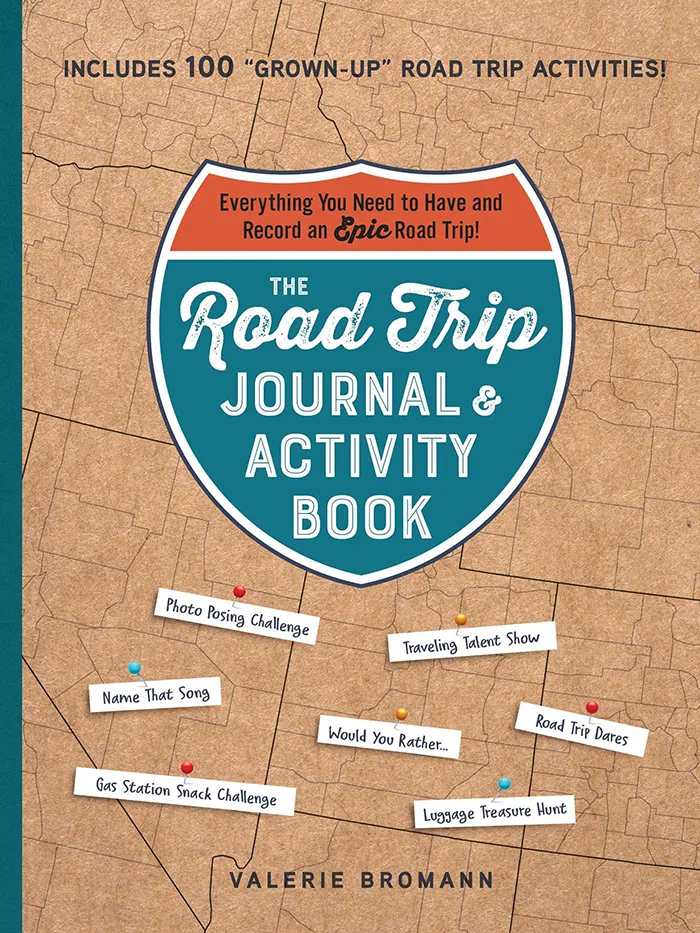 The Road Trip Journal & Activity Book
Everything You Need to Have and Record an Epic Road Trip!
Enjoy fun games and challenges to pass the time on your next road trip and have a keepsake to look back on for years to come with this entertaining must-have for your next vacation.
There are childhood favorites like candy cigarettes, Warheads, and rock candy. New takes on classics like a gummy sushi set. And oddball flavors like pickle candy. You can also pick up fun gifts and novelties like mugs, toys, finger puppets, and lunch boxes.
For road trippers who love oddities, the big draw to this Texas candy store are the giant Texaco Big Friend & Muffler Man Heads on display.
Muffler men roadside attractions are fiberglass giants who stand anywhere from 14 to 25 feet tall. Each has a similar design and was built between 1963 and 1972 by International Fiberglass in Venice, California. With signature stances, these big men stood outside of muffler shops and other businesses to call attention from the road.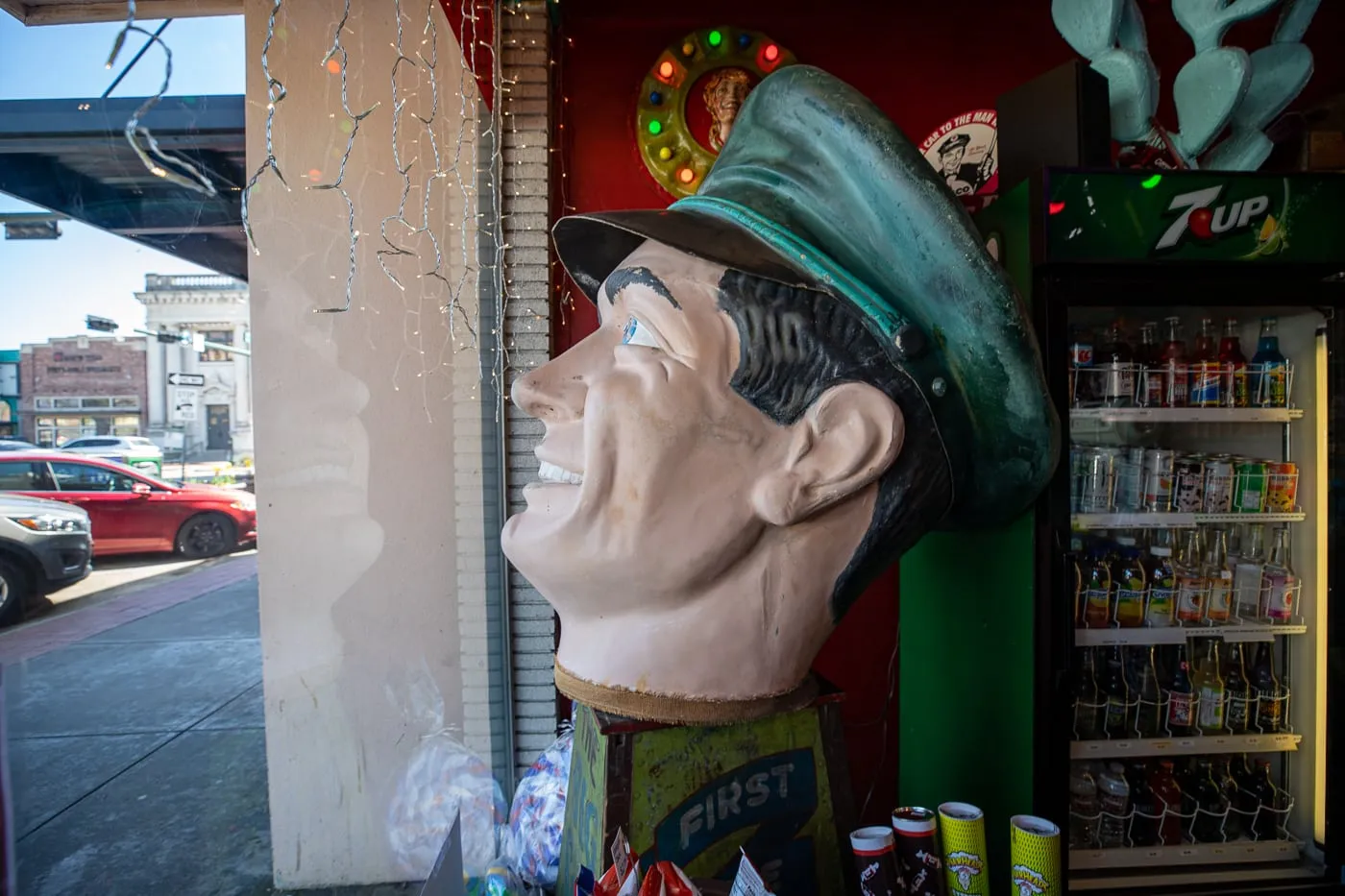 The Texaco Big Friend was a similar model built by International Fiberglass in the 1960s. Around 300 of the giants were built to be displayed at Texaco stations across the country. But the promotion was short-lived and just as soon as the 300 giants were erected they were taken down and ordered destroyed. Due to this, full Texaco Big Friends and their parts are rare sights for road trippers to find.
This Texaco Big Friend head has been displayed in the window of Atomic Candy's window since 2017. The business owner picked it up from the Cloverleaf store in Ardmore, Oklahoma, where it had previously lived for around 5 years. They also have the head of a 14-foot Paul Bunyan Muffler Man on display above the sodas.
There are also many other oddities on display, like a 6-foot tall Fisk Tire Boy and a Texaco Big Friend hand that is suspended from the ceiling.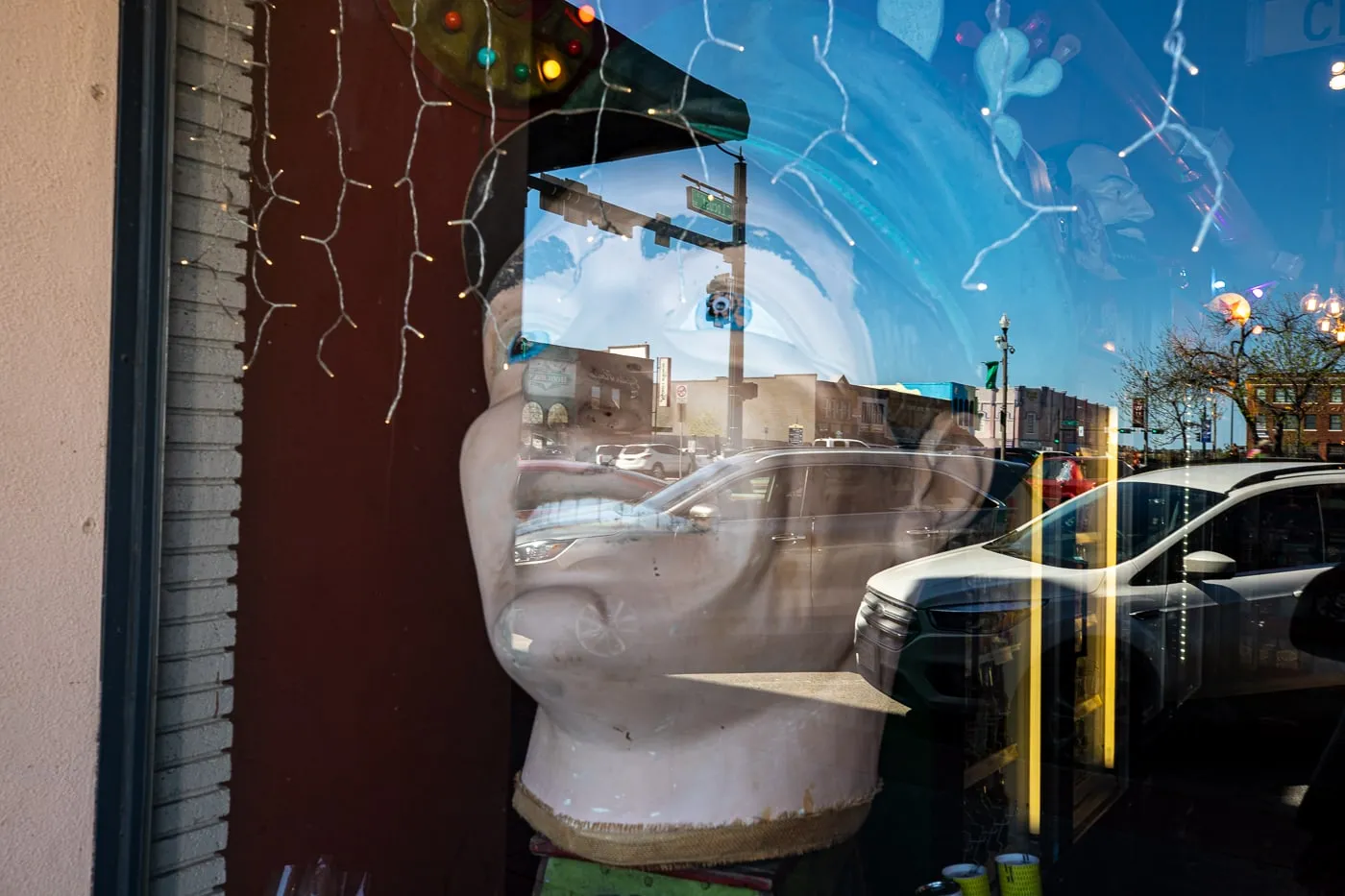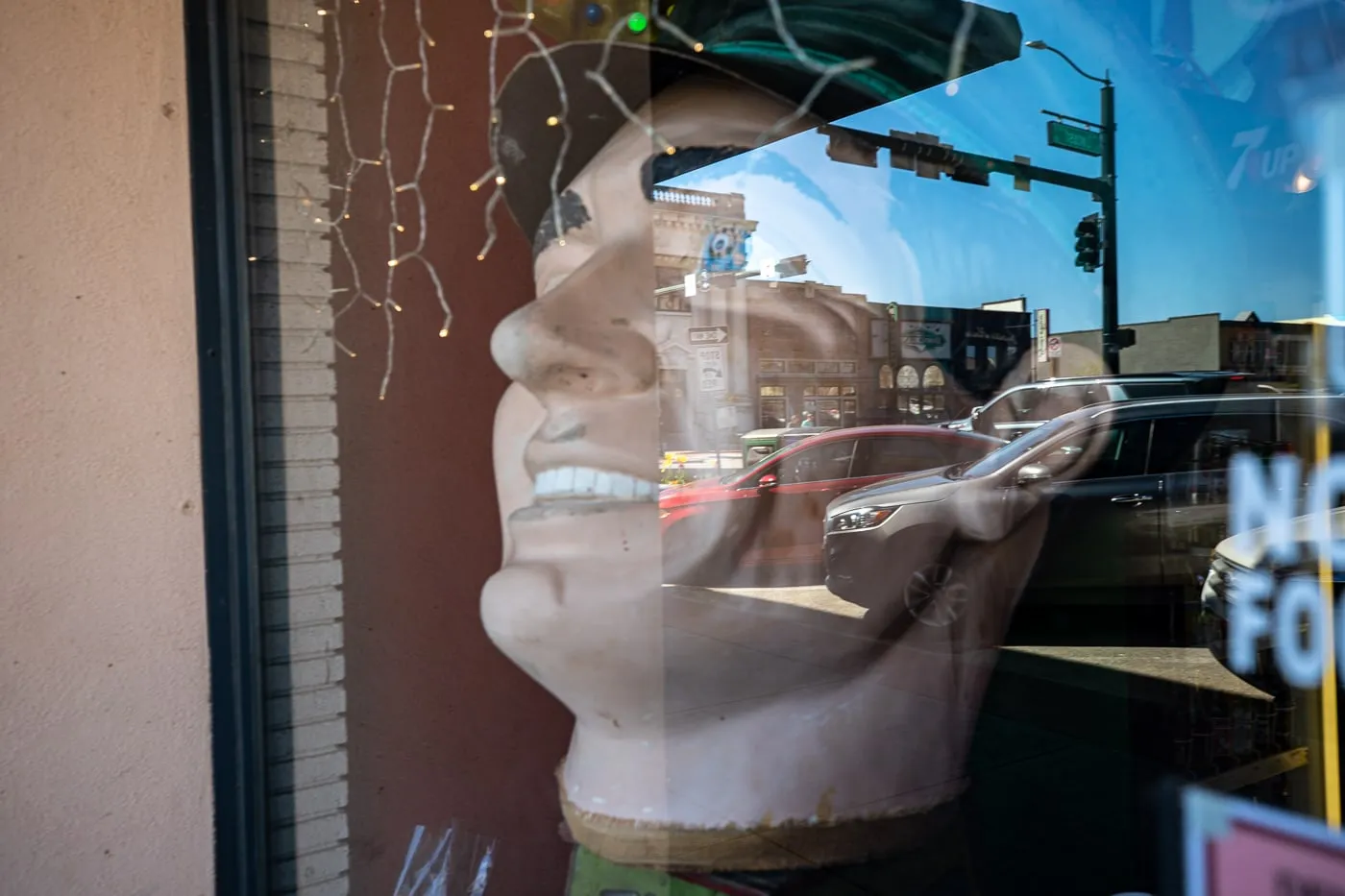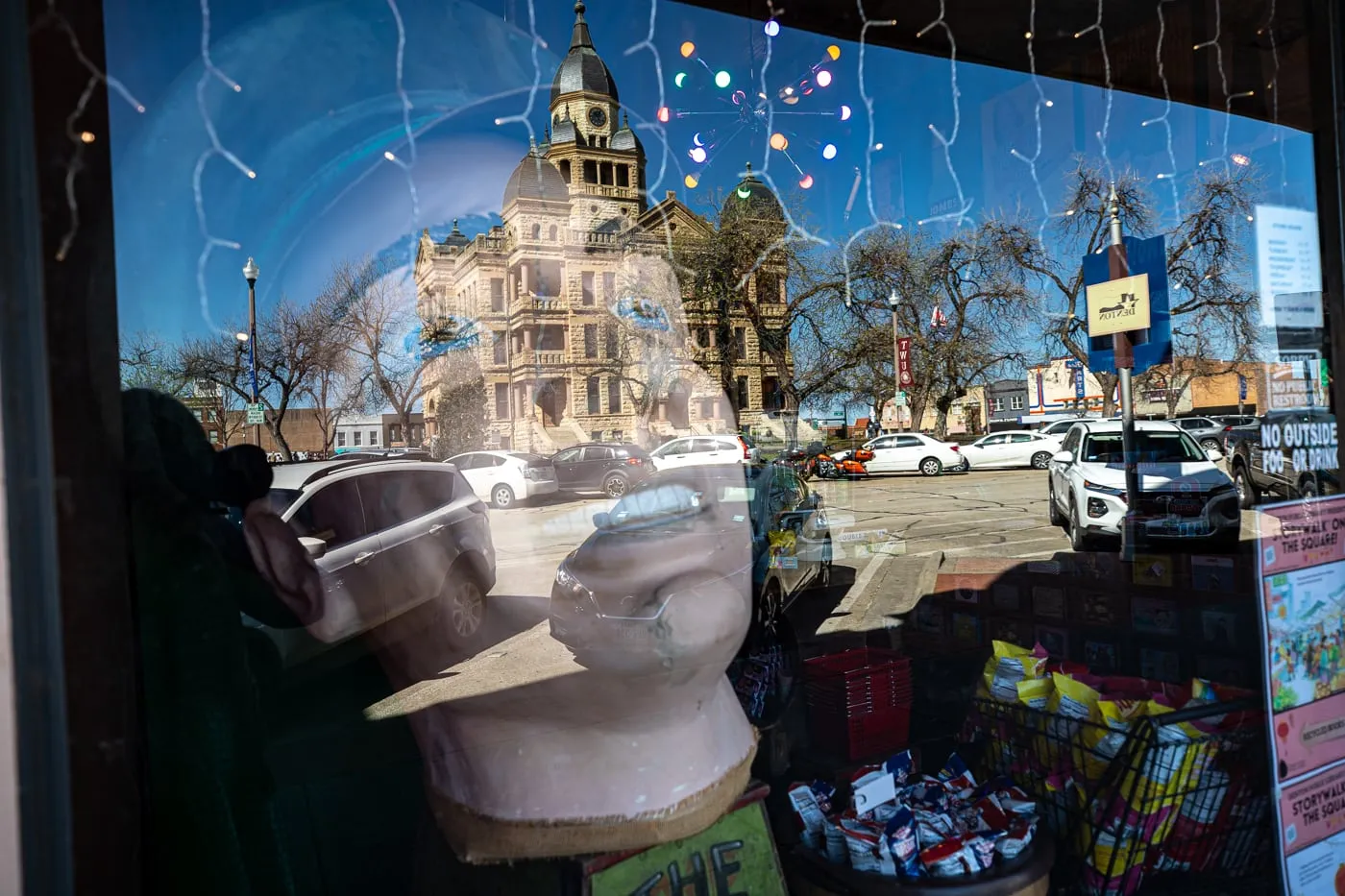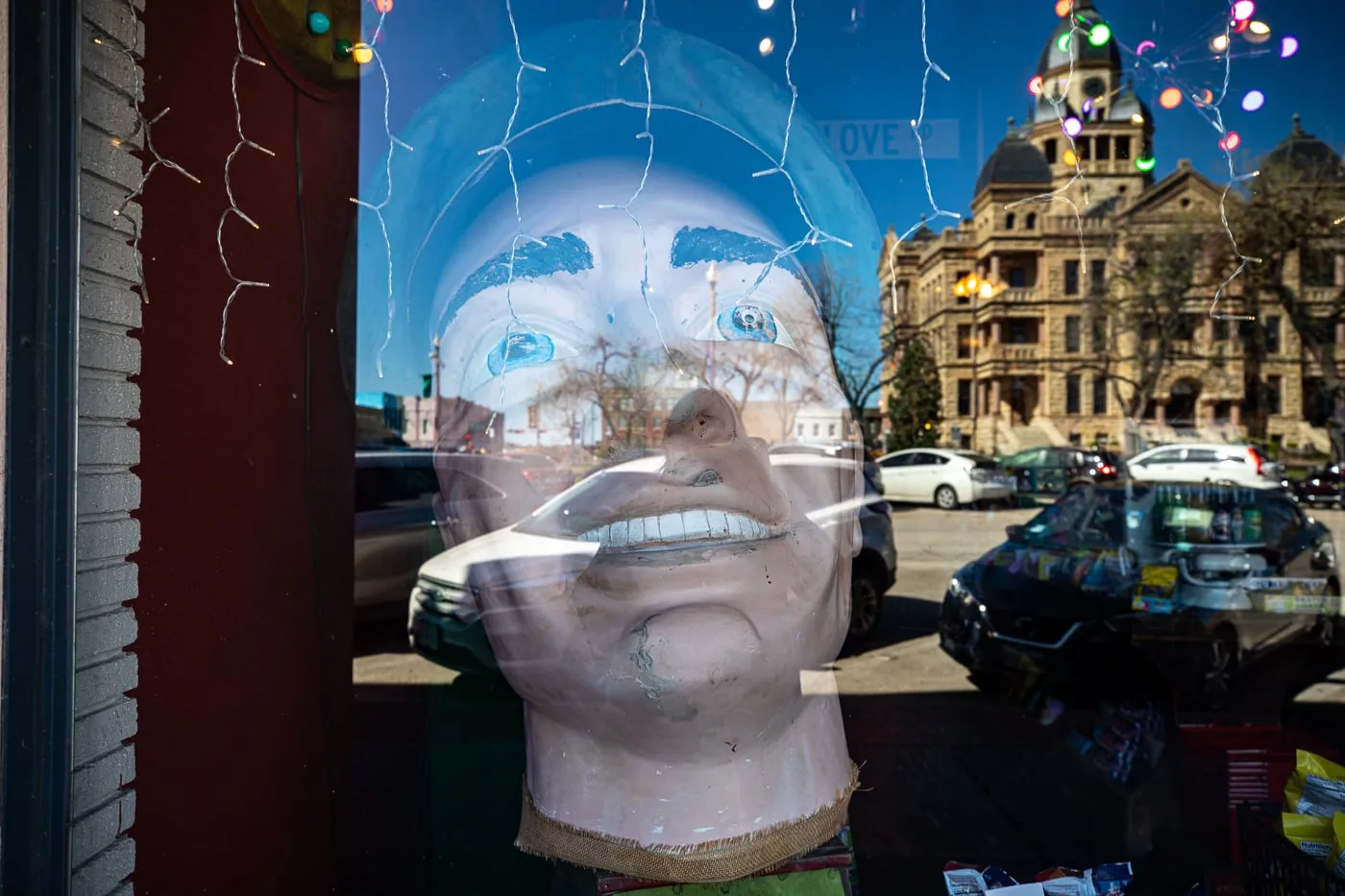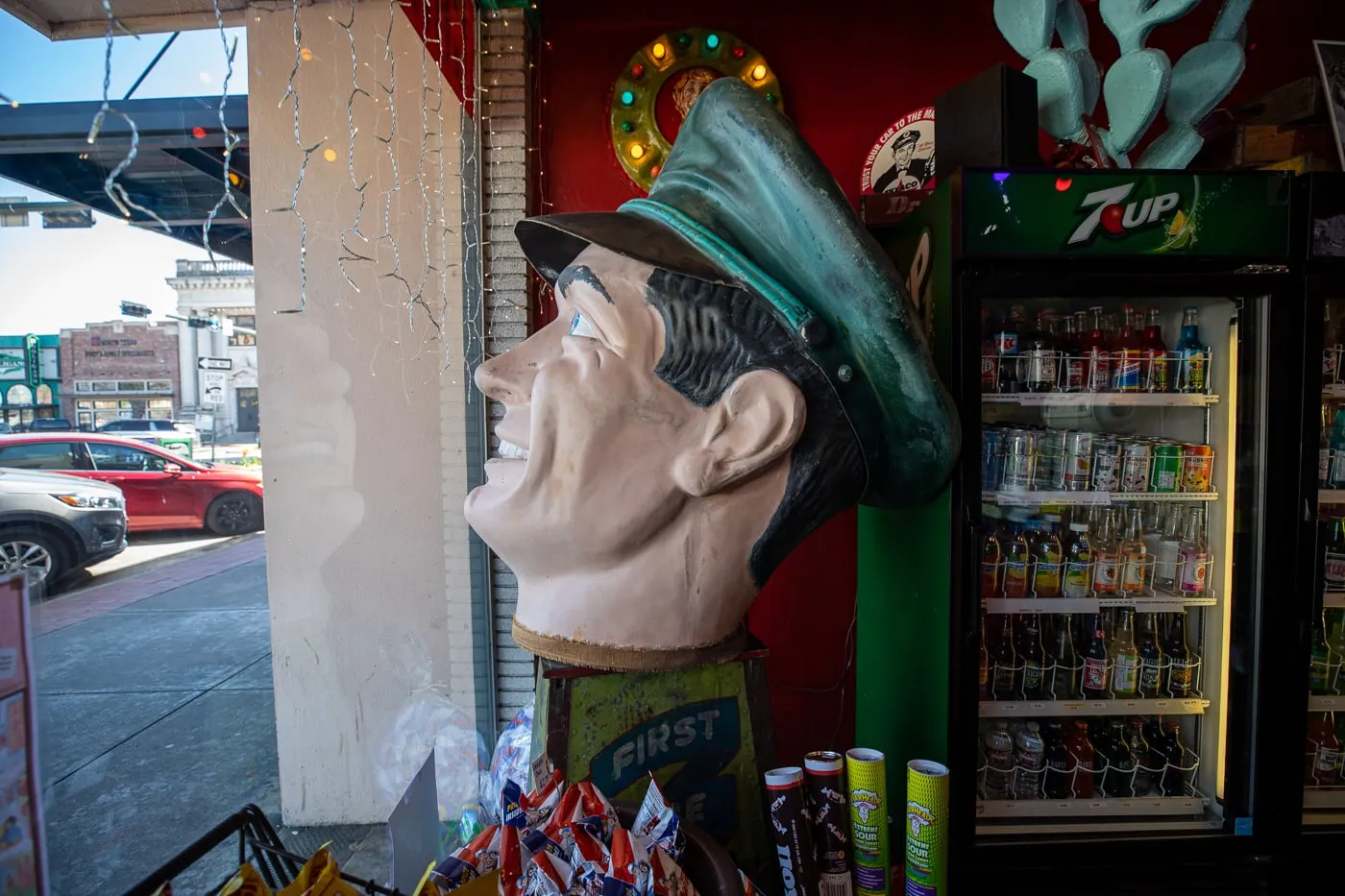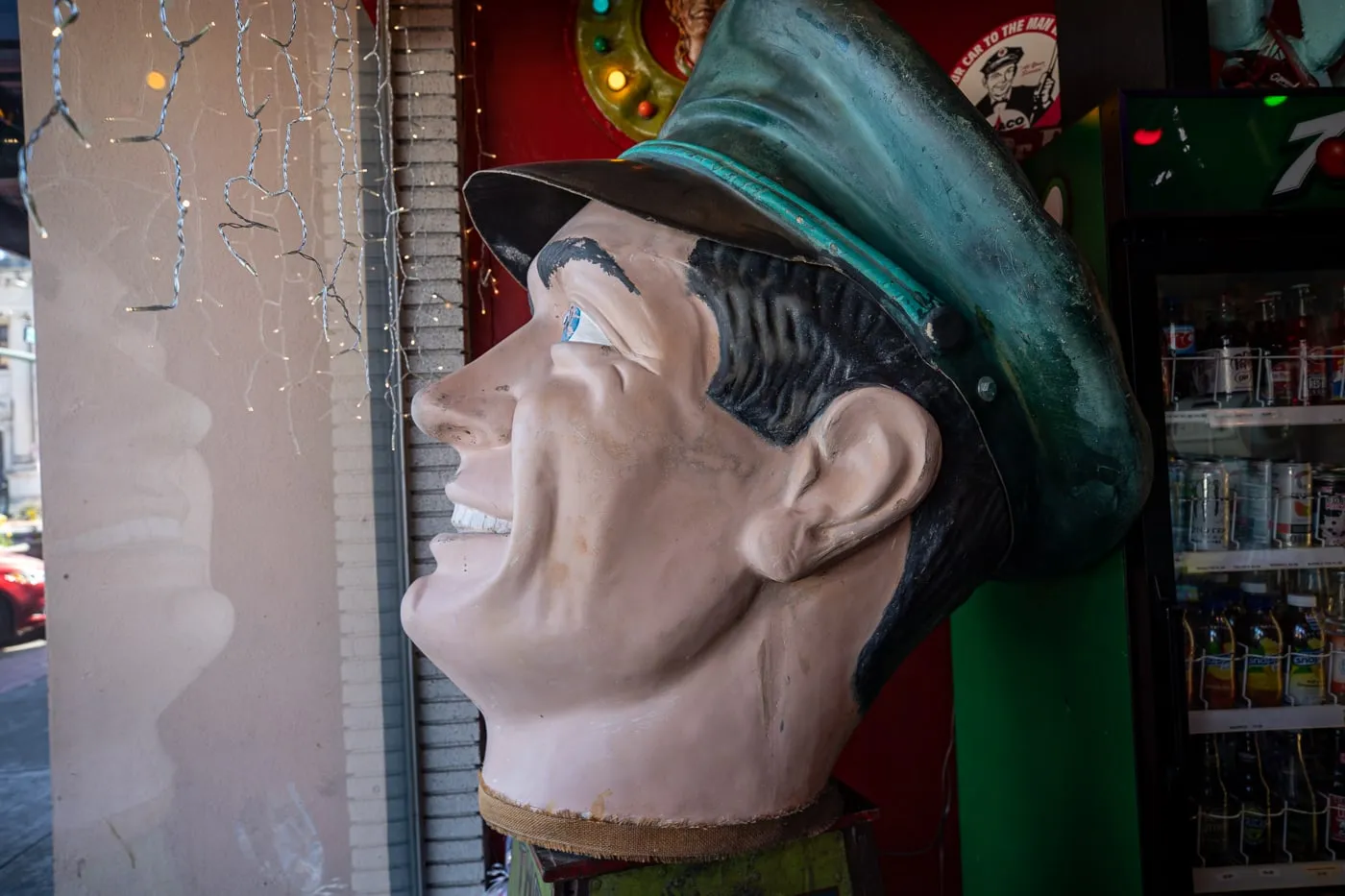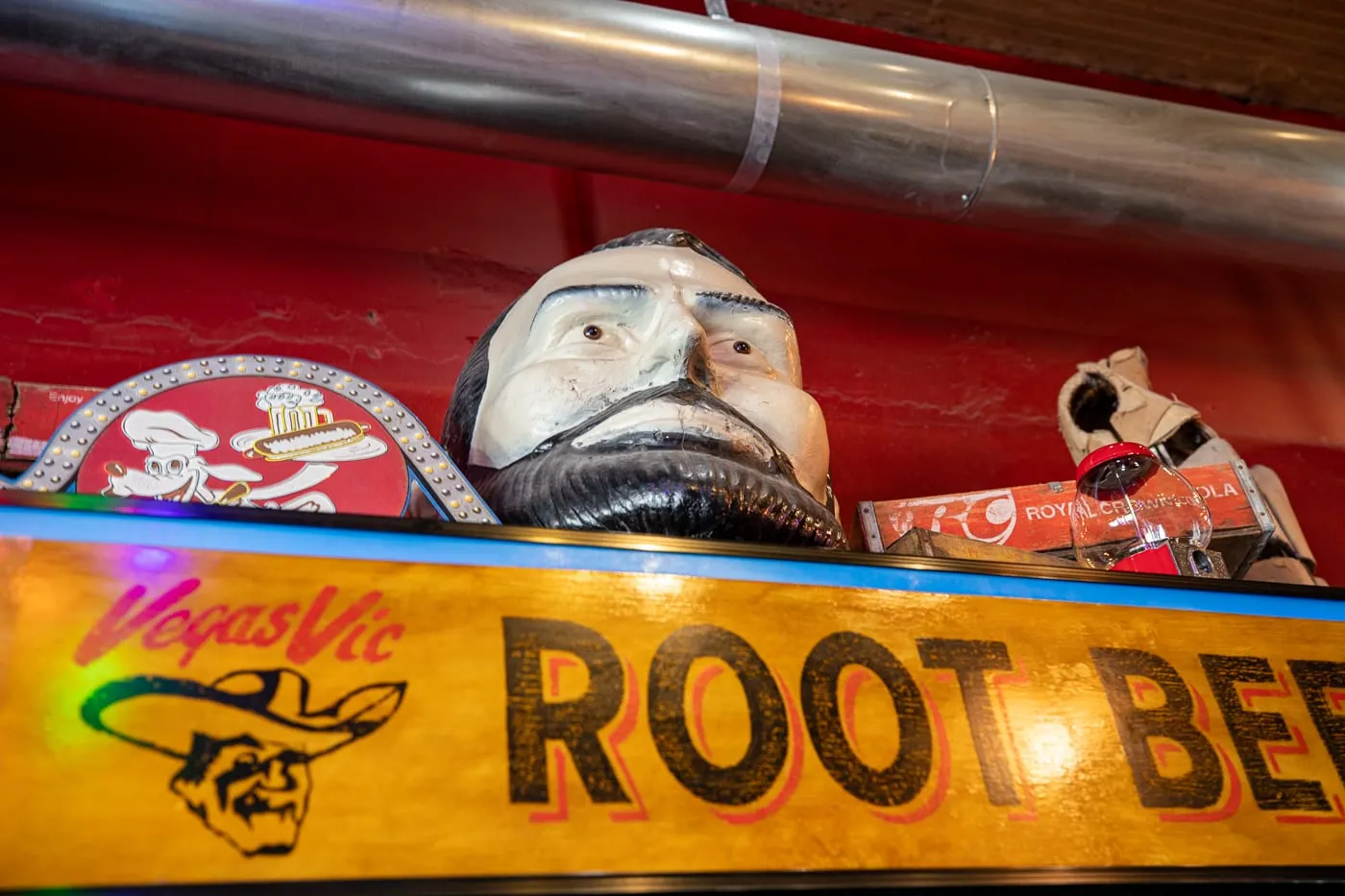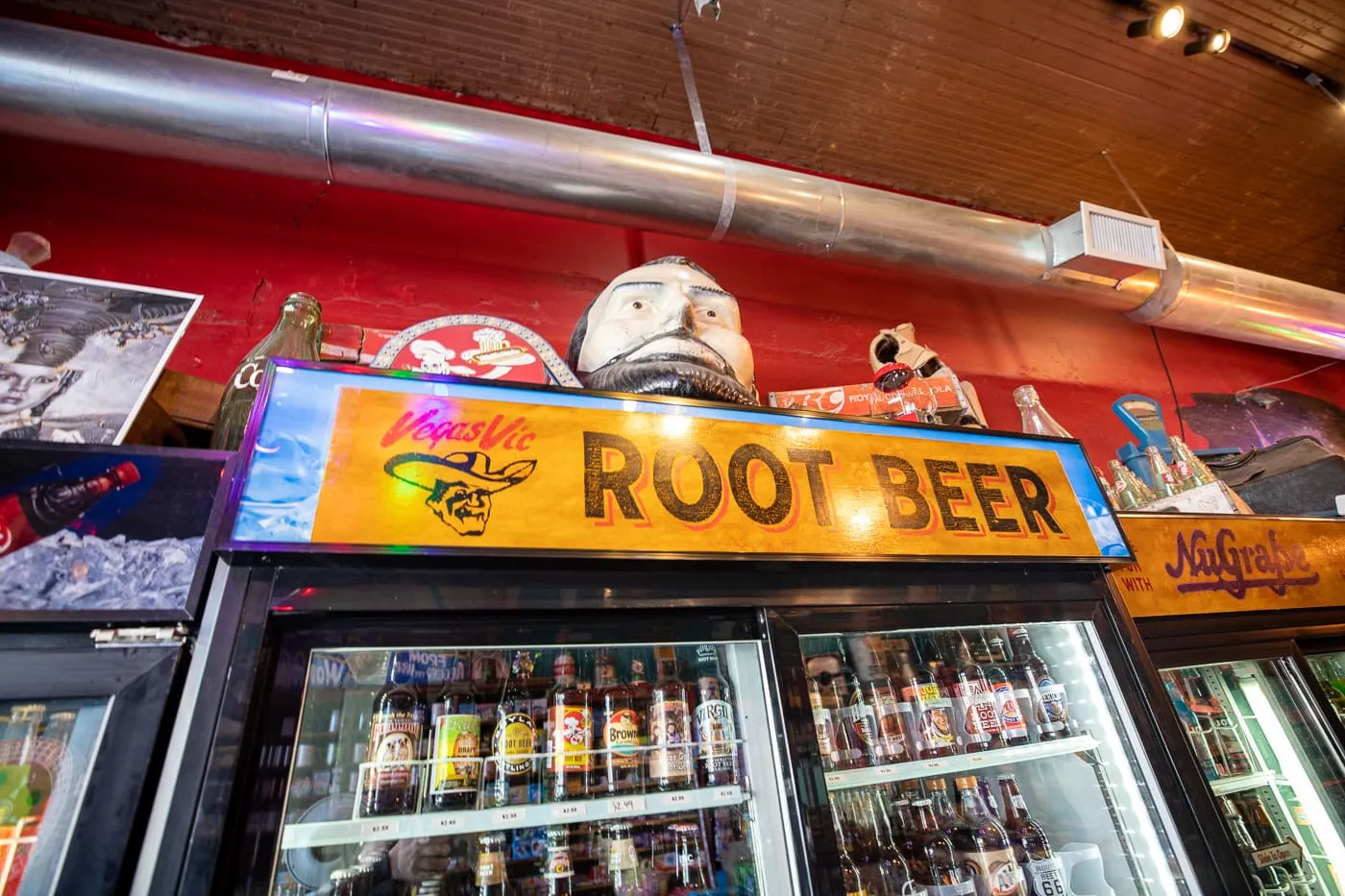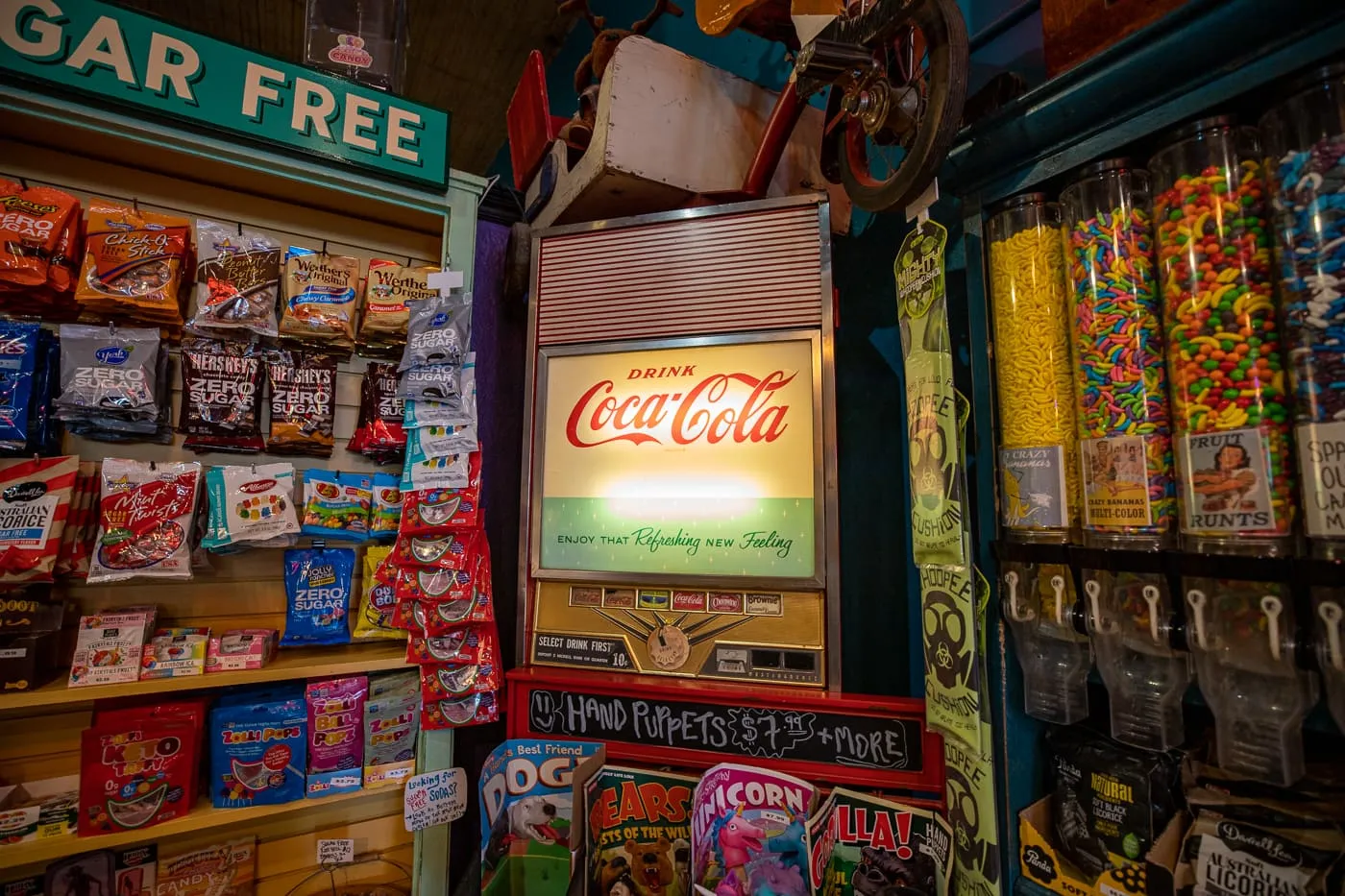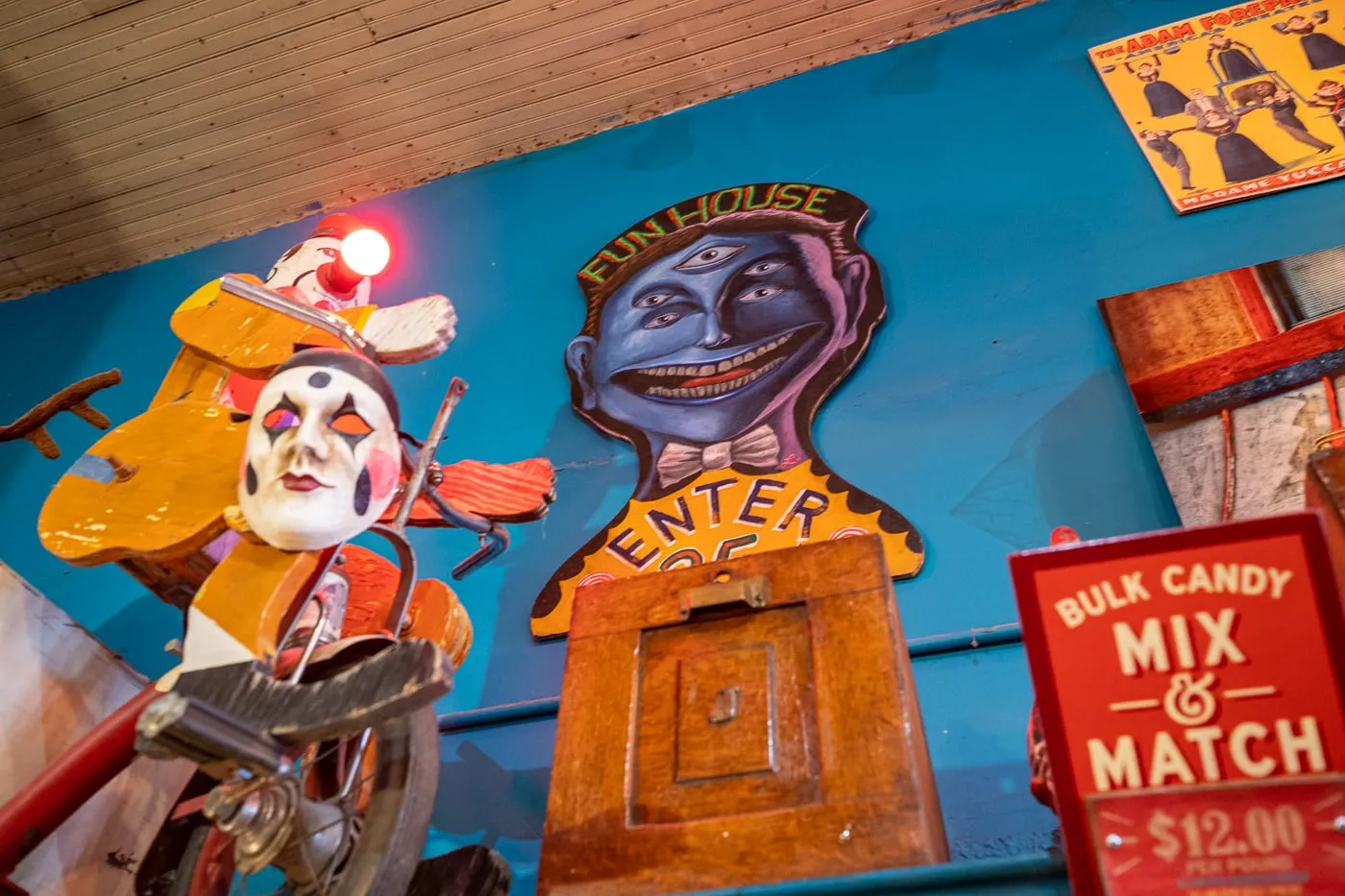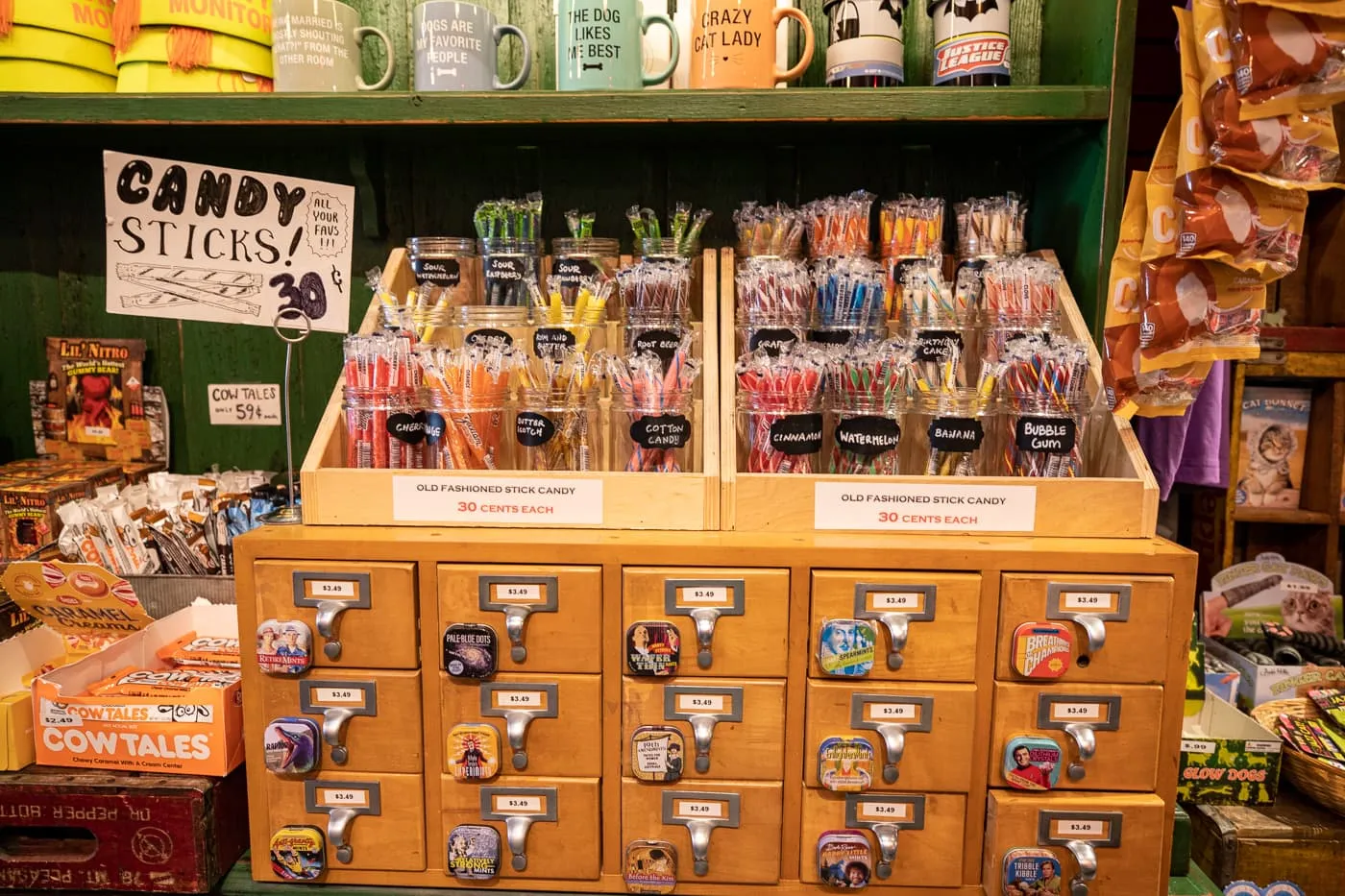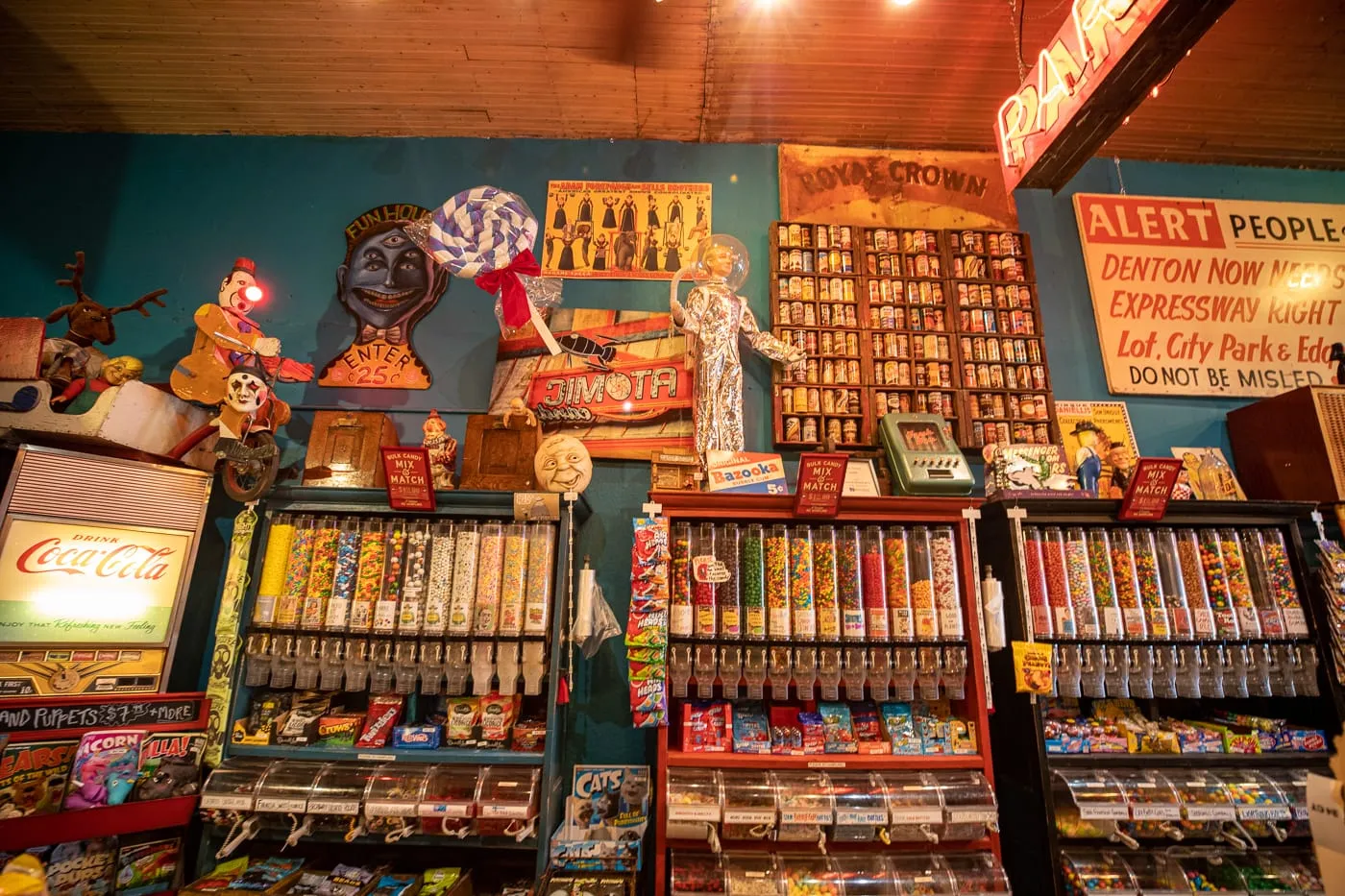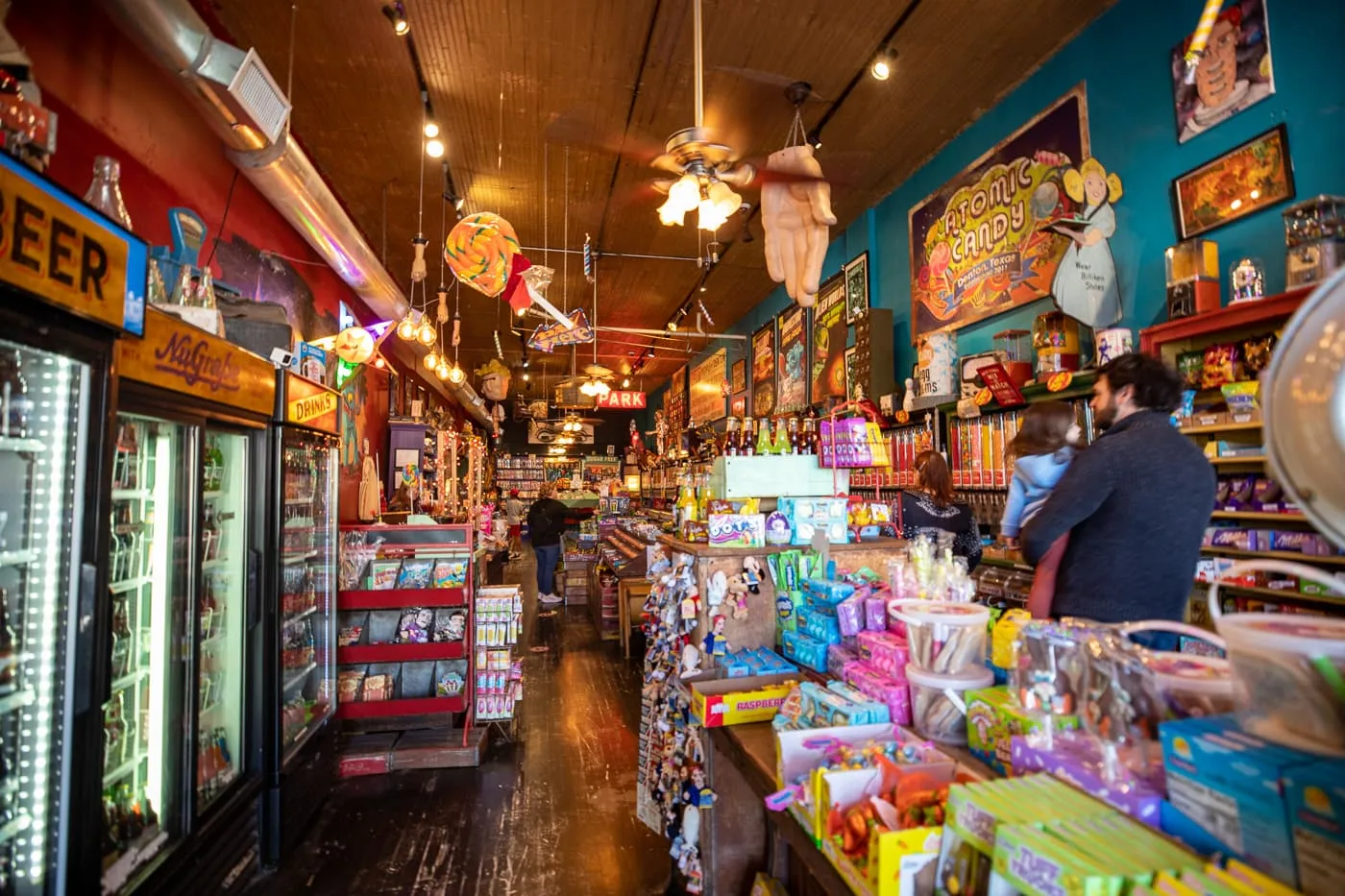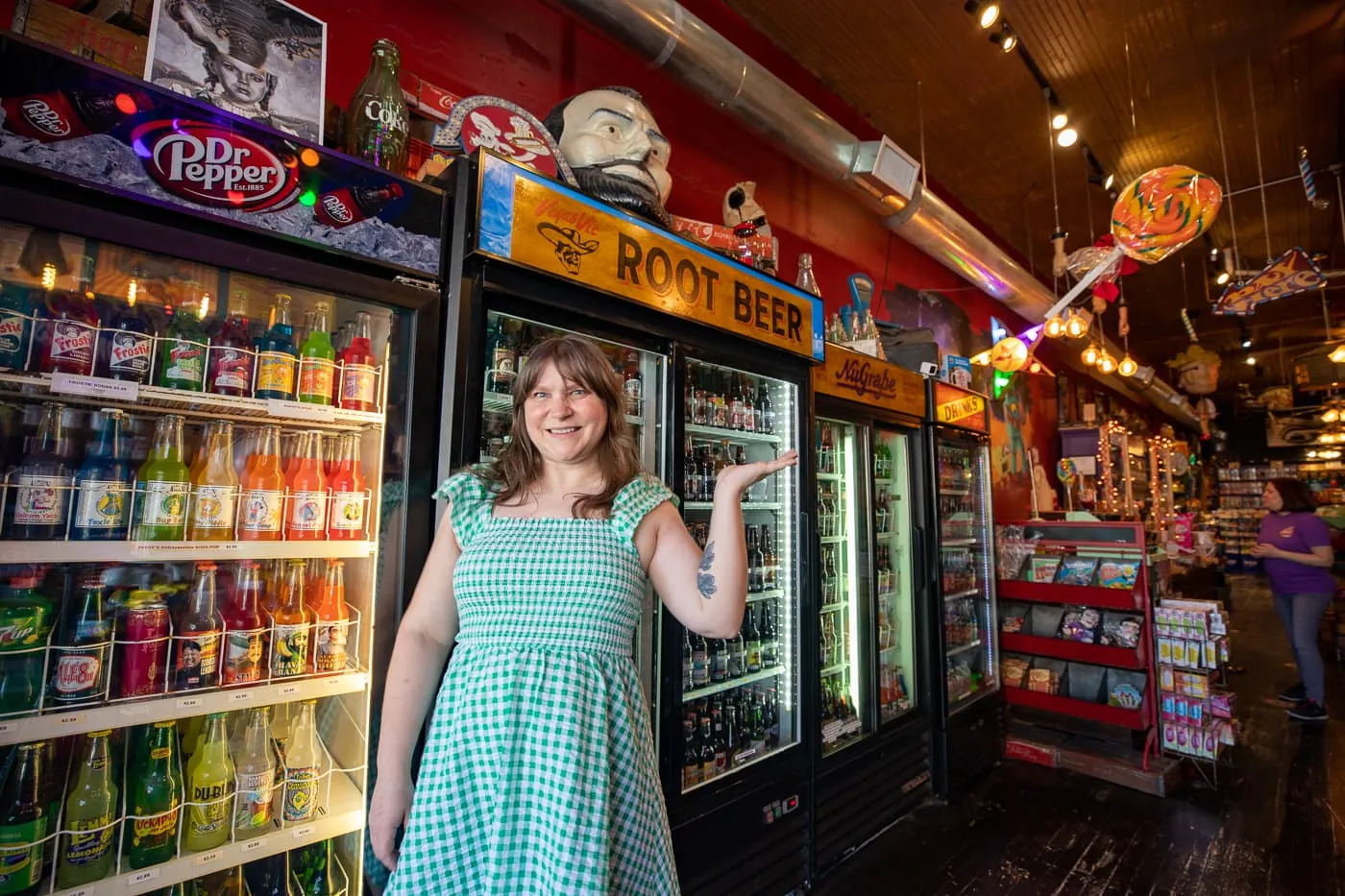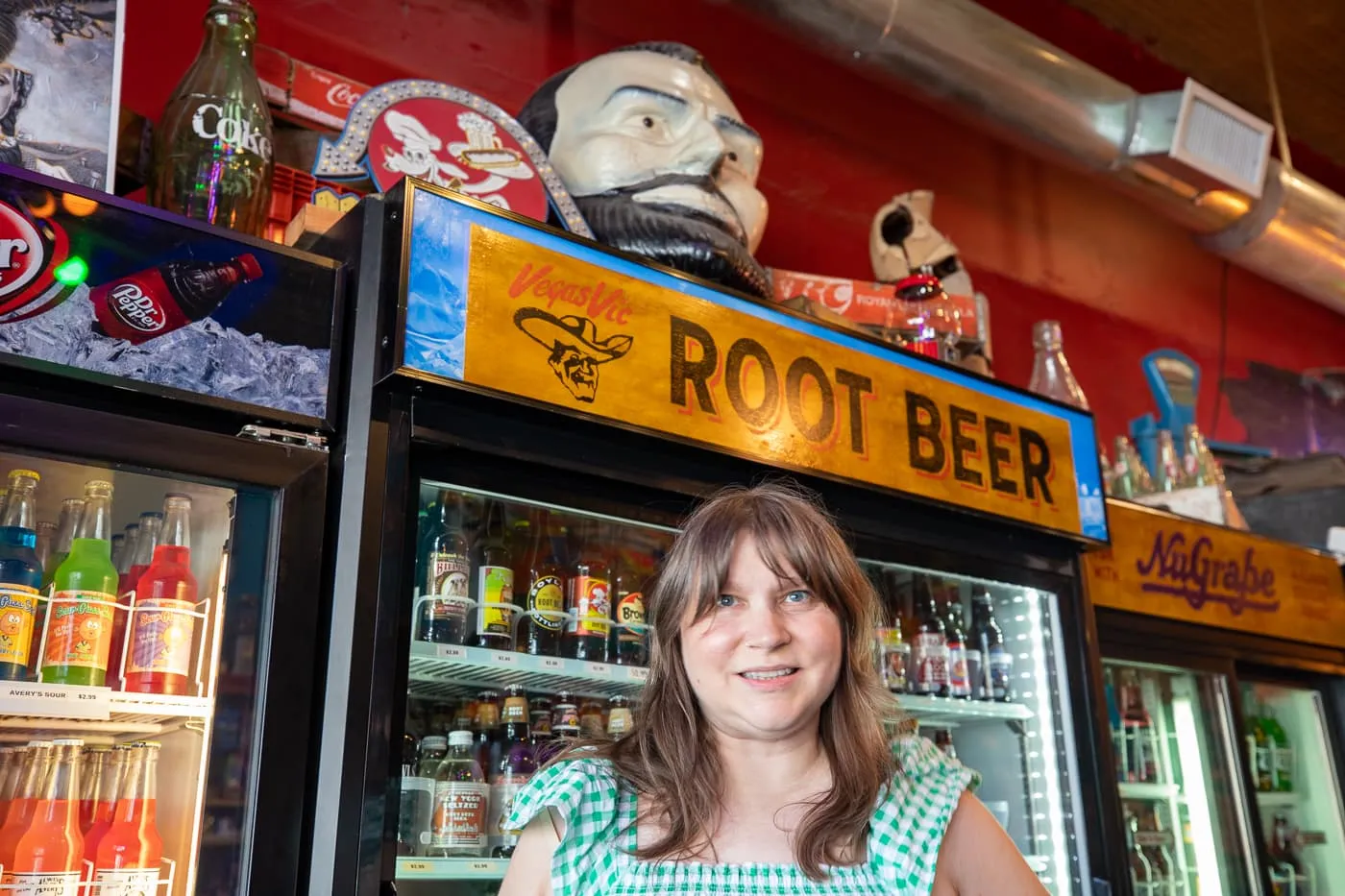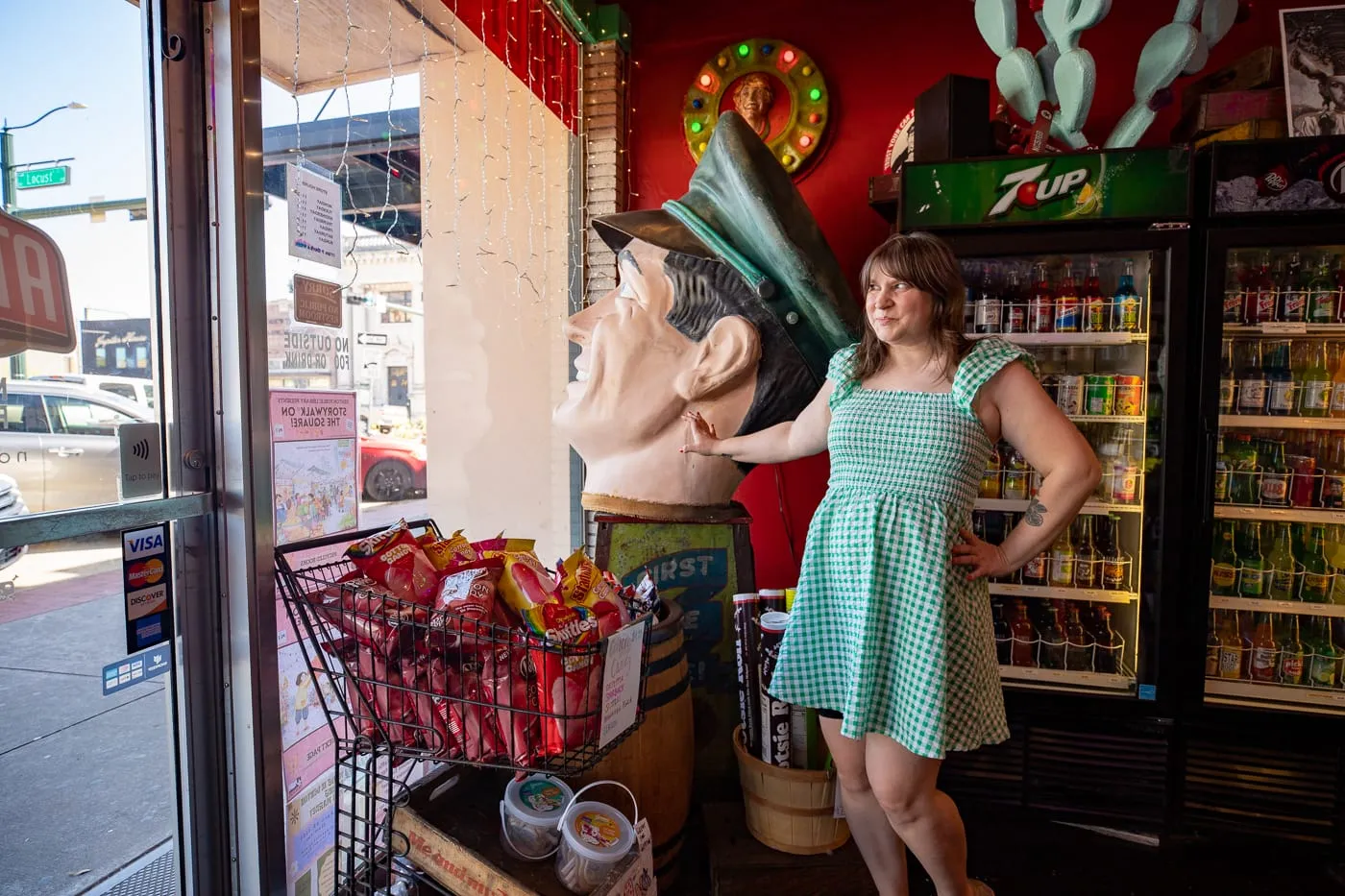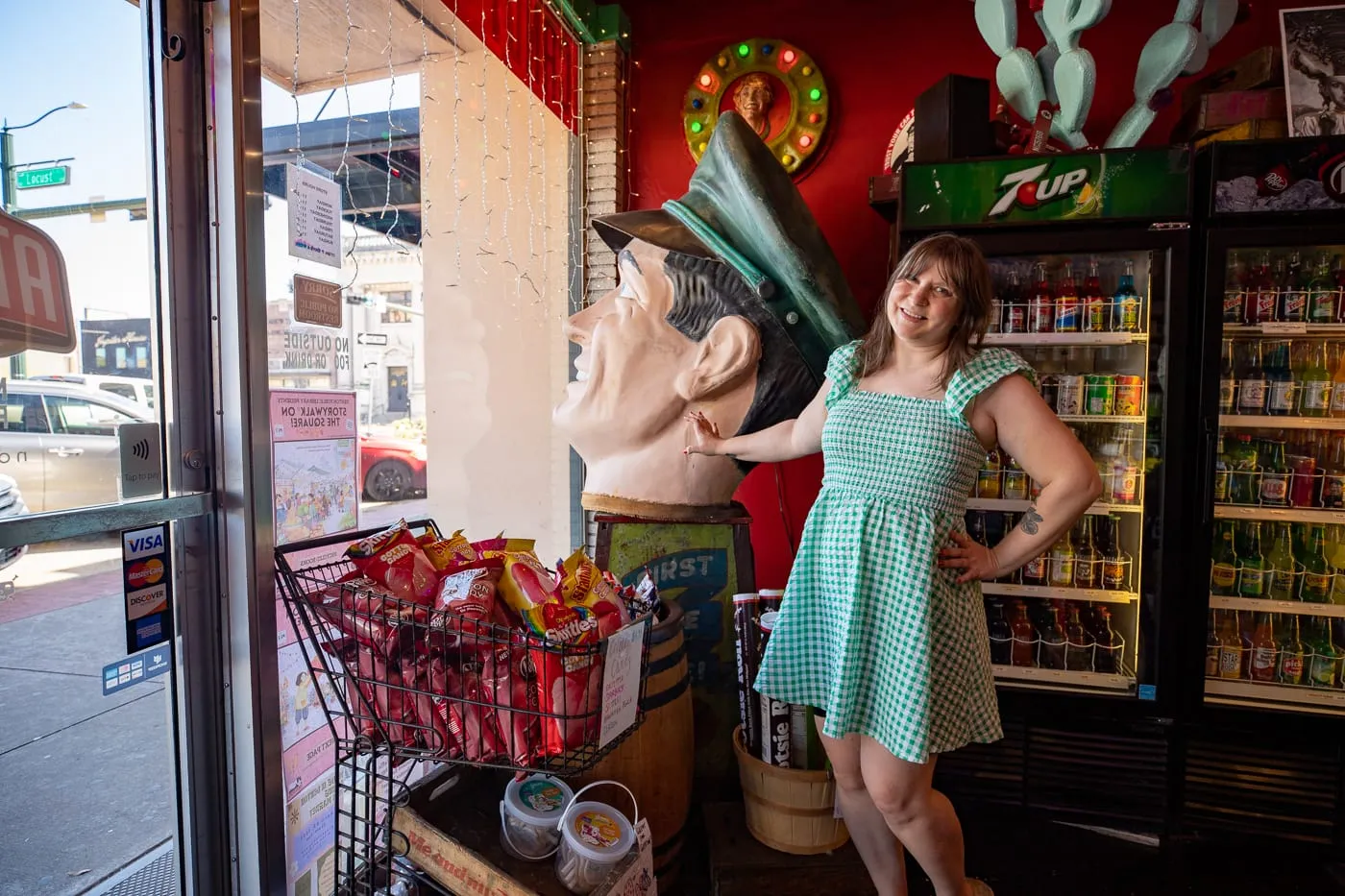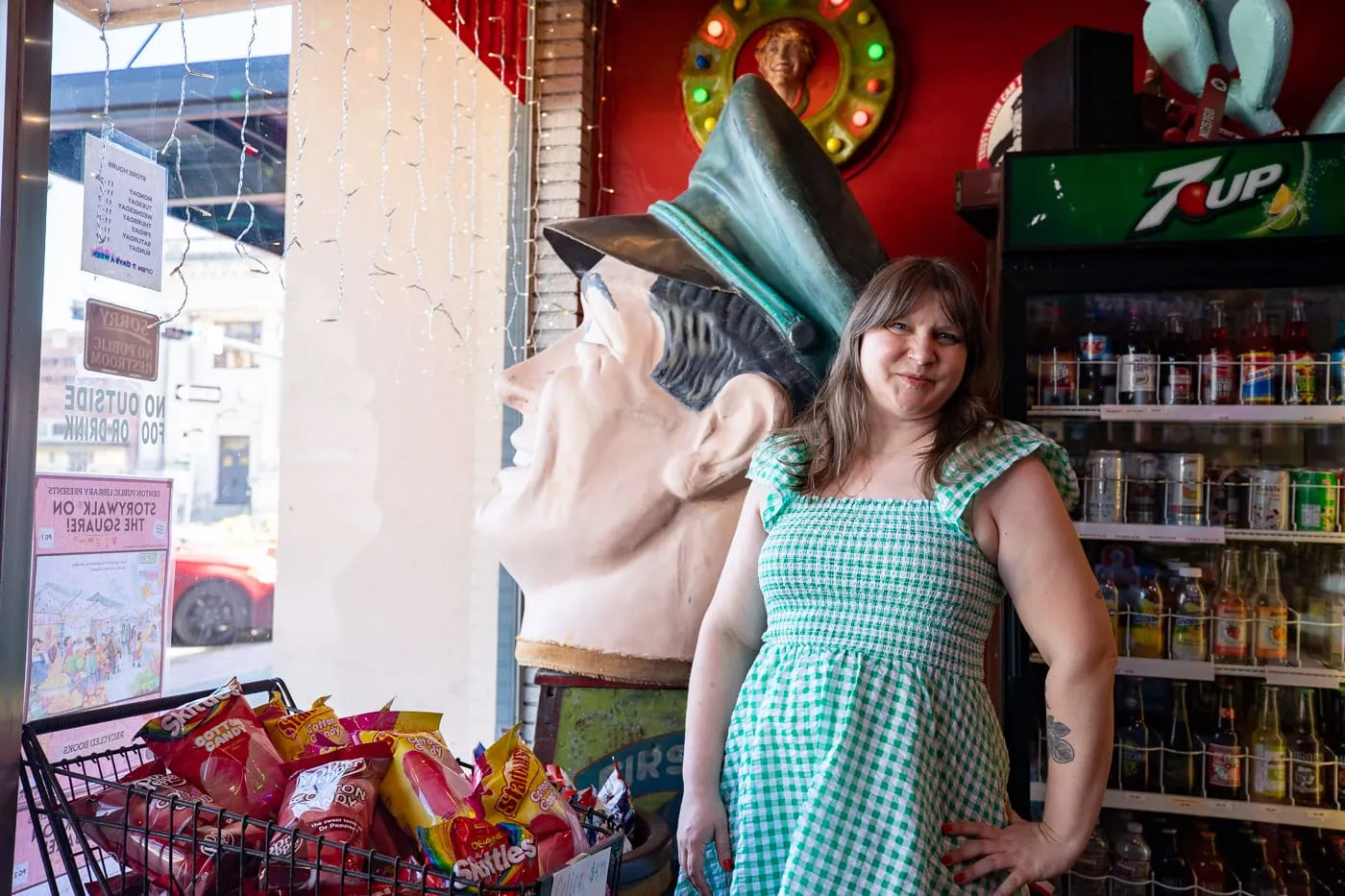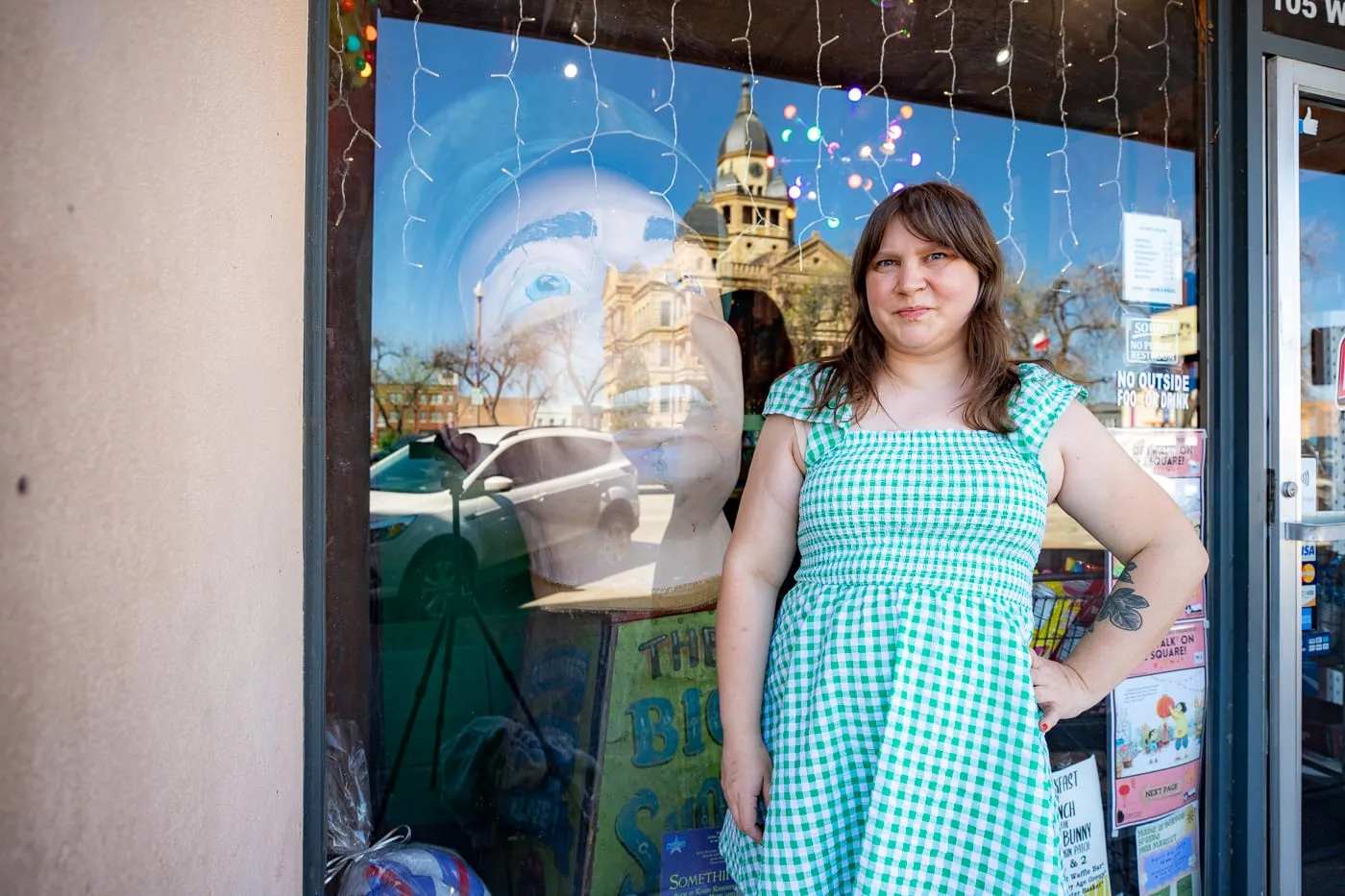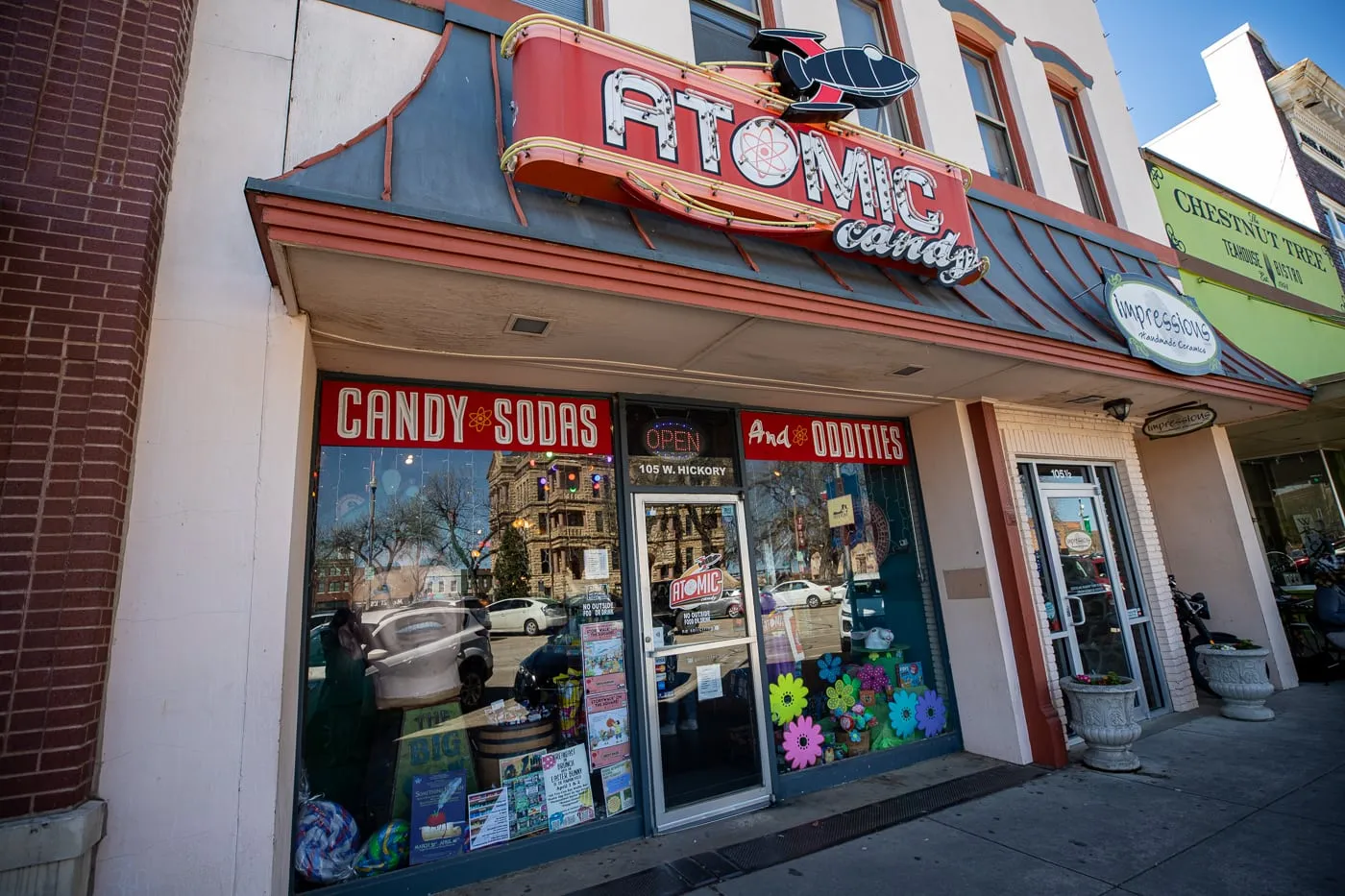 If you love this Texas roadside attraction and are looking for more fun stops to add to your road trip itinerary,you can find more muffler men in Dallas and at the nearby Glenn Goode's Big People in Gainesville. And while stopping in Denton you can find The Chairy Orchard and a jackalope smoker!
Texaco Big Friend & Muffler Man Heads at Atomic Candy
Address: 105 W Hickory St, Denton, TX 76201
Cost: Free to See, Candy and Souvenir costs vary
Hours: 11am-7pm Sunday – Thursday, 11am-9pm Friday – Saturday
Visit the Store's Official Website for Up-to-Date Hours and Information
Pin this Texas Roadside Attraction to Save for Your Road Trip Itinerary