For a roadside attraction named "Muffler Man," not a lot of muffler men actually hold mufflers. You'll sometimes see axes, American flags, custom-built rockets, or, often, nothing at all. But for whatever reason, mufflers aren't as popular accessories as you think they'd be. But there are three Muffler Men in Dallas, Texas and each one of them actually carries a muffler.
Muffler men roadside attractions are fiberglass giants who stand anywhere from 14 to 25 feet tall. Each has a similar design and was built between 1963 and 1972 by International Fiberglass in Venice, California. With signature stances, these big men stood outside of muffler shops and other businesses to call attention from the road.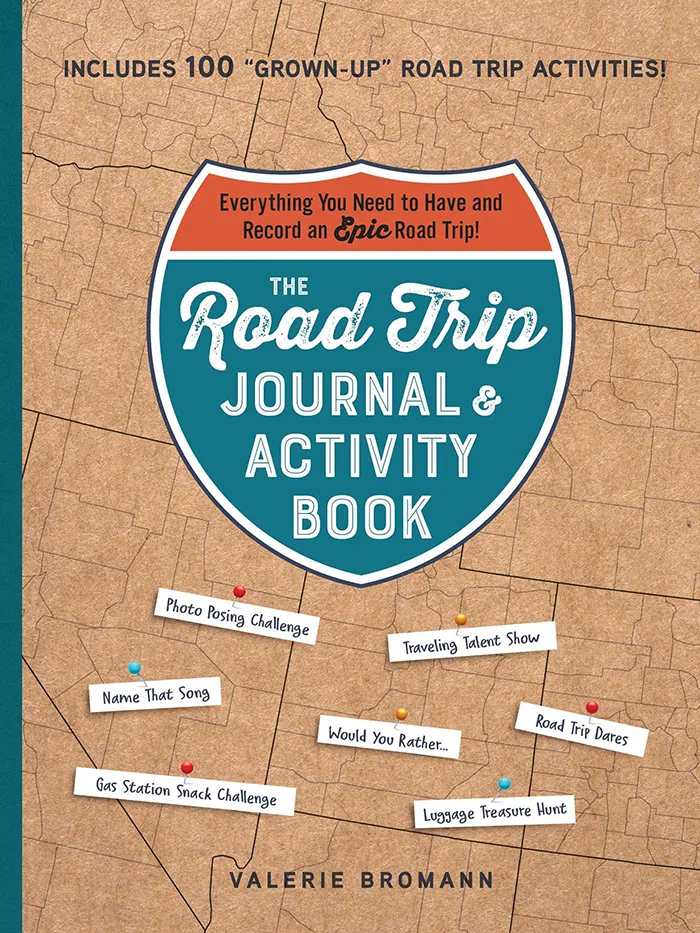 The Road Trip Journal & Activity Book
Everything You Need to Have and Record an Epic Road Trip!
Enjoy fun games and challenges to pass the time on your next road trip and have a keepsake to look back on for years to come with this entertaining must-have for your next vacation.
Dallas, Texas is home to three muffler men: one standard type and two "happy halfwits." And they are all connected.
According to posts on Roadside America and American Giants, brothers in law Bud and Ken Johnson opened a muffler shop together called Bud and Ken's in the mid-1960s. Inspired by a Big Boy statue at Kip's Big Boy across the street, they purchased a giant muffler man from International Fiberglass and installed it at their business. The business partners separated soon after and this location continued to operate as Bud and Ben's Muffler and Front End Service. Ken went on to open other shops named Ken's Muffler where the two Happy Halfwit muffler men in Dallas live.
All three are a quick 10 or so minute drive between. I spent about two hours exploring the three locations, though that included a lot of self portraits and a stop at a Starbucks drive through. All three businesses are closed on Sundays, which makes for a great time to visit if you don't want employees staring at you taking photos.
Muffler Men in Dallas, Texas
Standard Muffler Man in Dallas, Texas
308 W Illinois Ave, Dallas, TX 75224
This standard muffler man is clean shaven and wears head-to-toe blue, mimicking a mechanic's uniform. He stands high in the sky on top of a pedestal sign and carries a giant muffler that is printed with the words "MUFFLER" in bright red. The business now operates as Reyes Muffler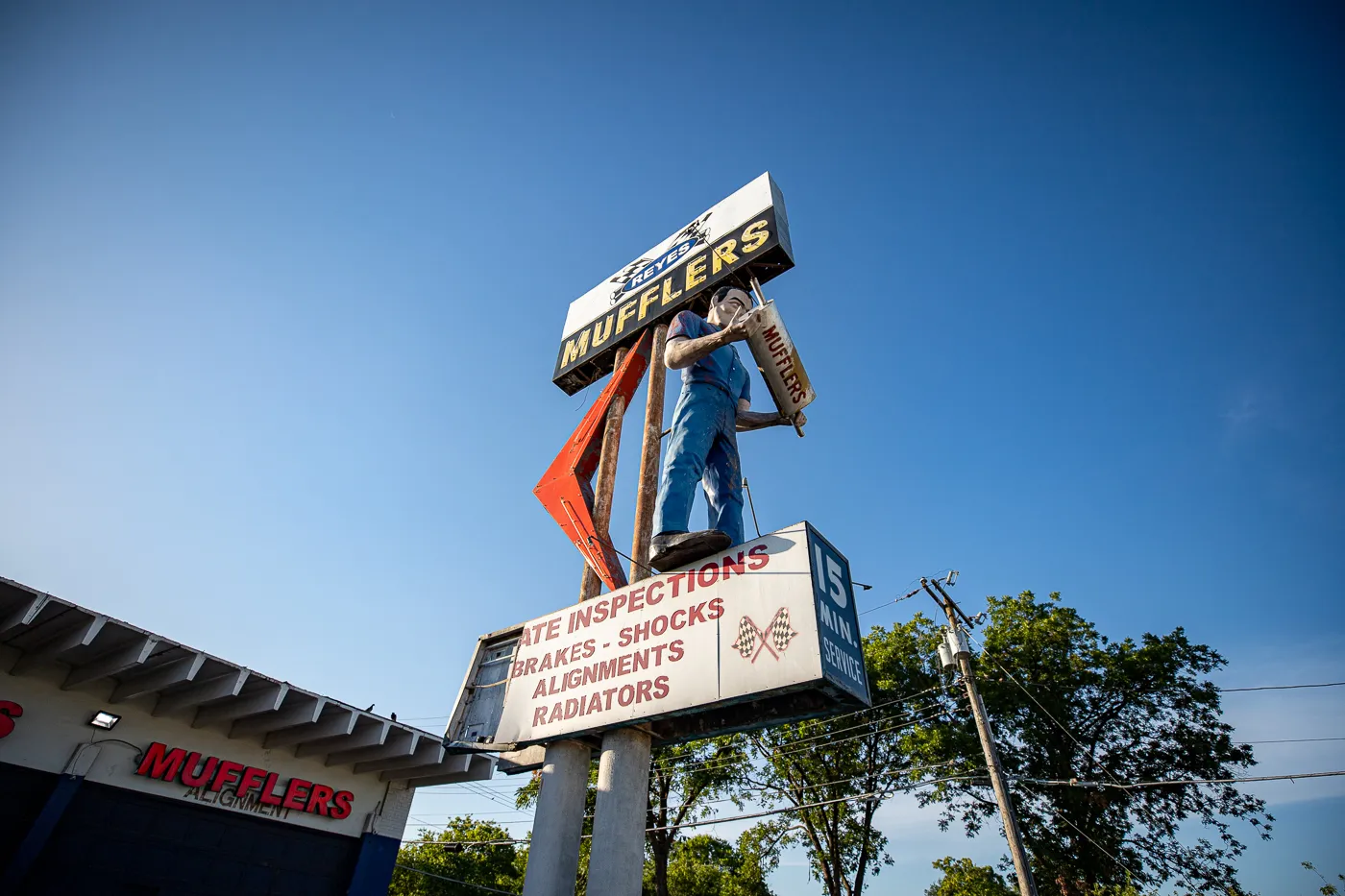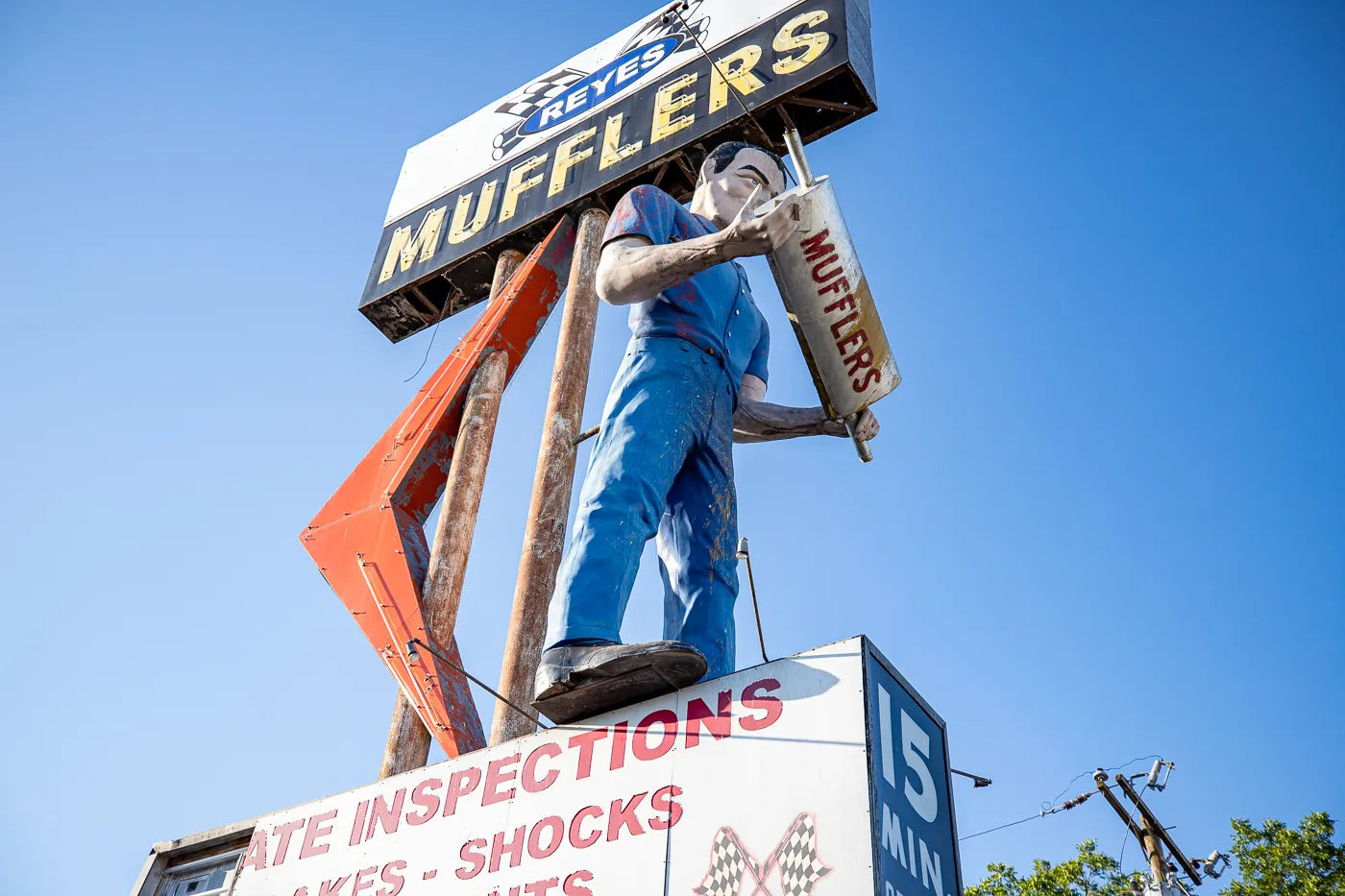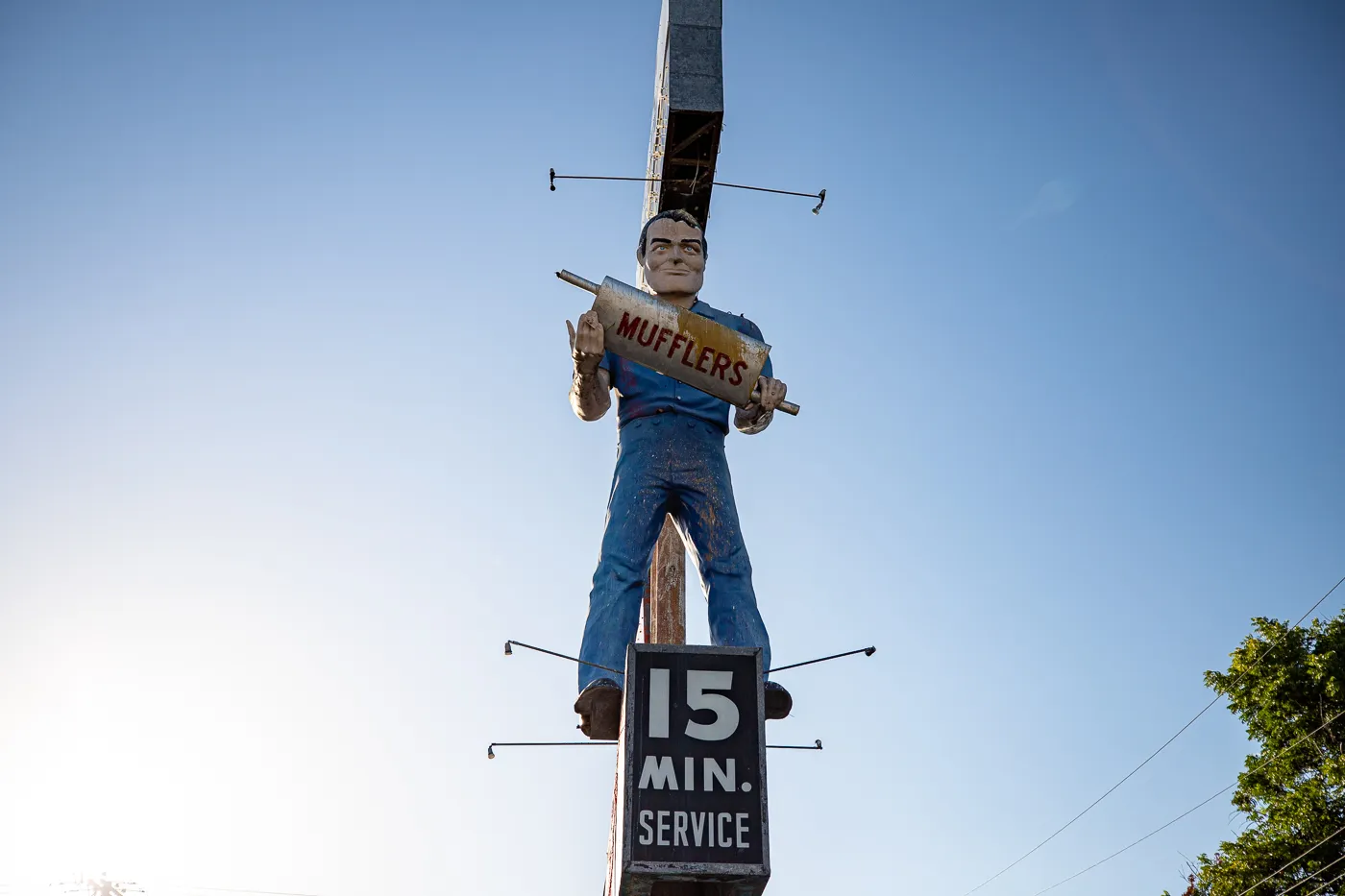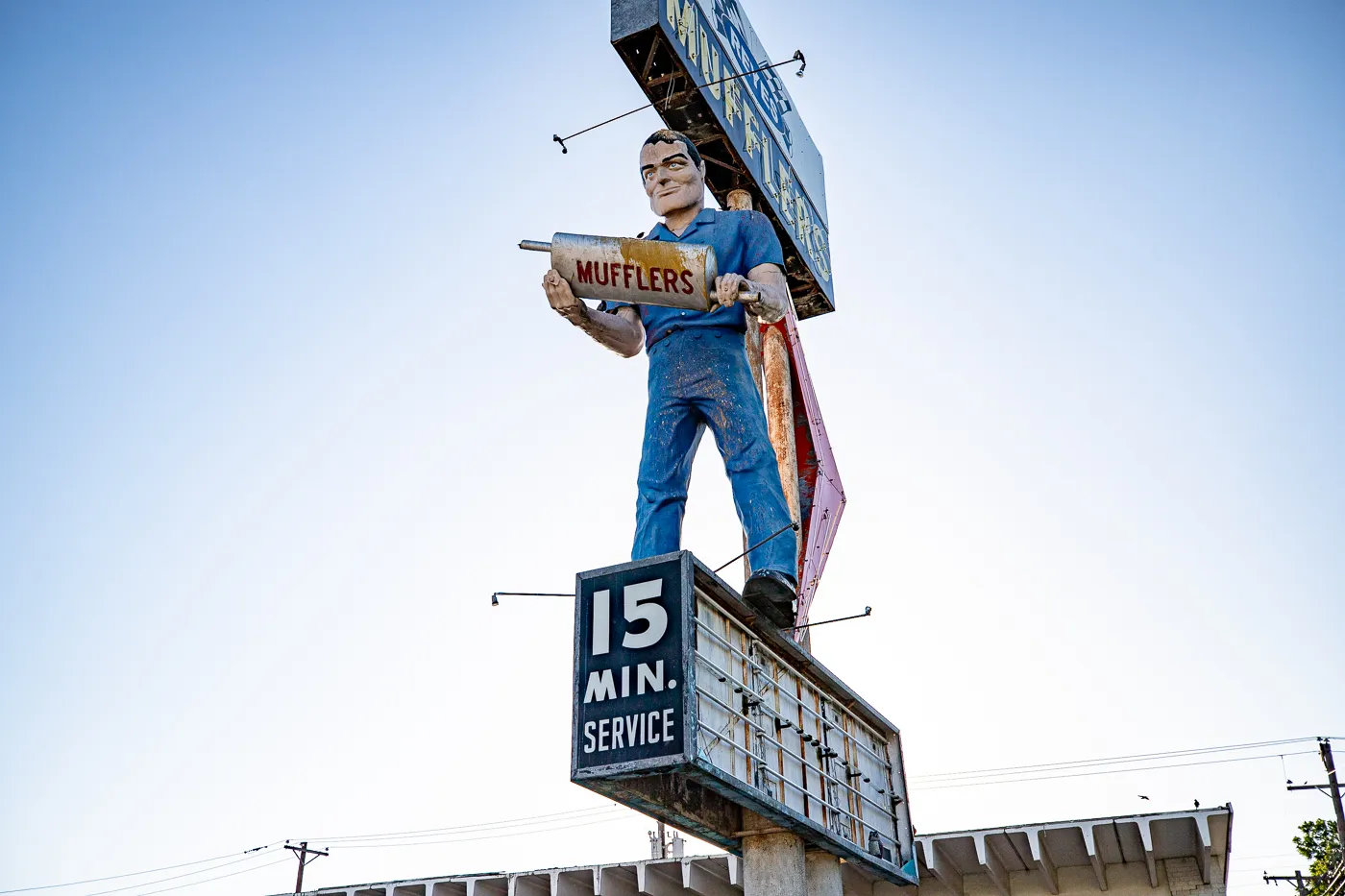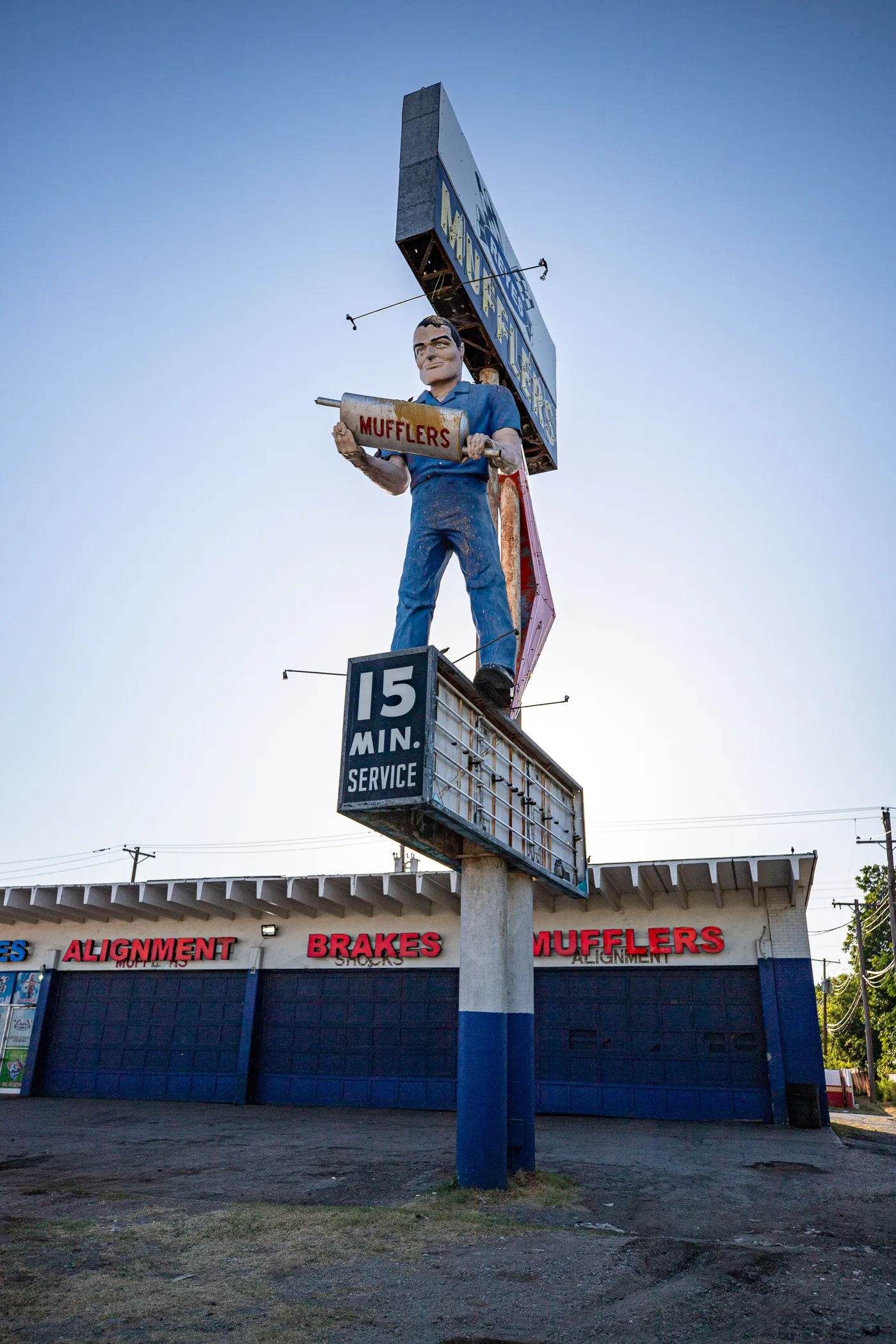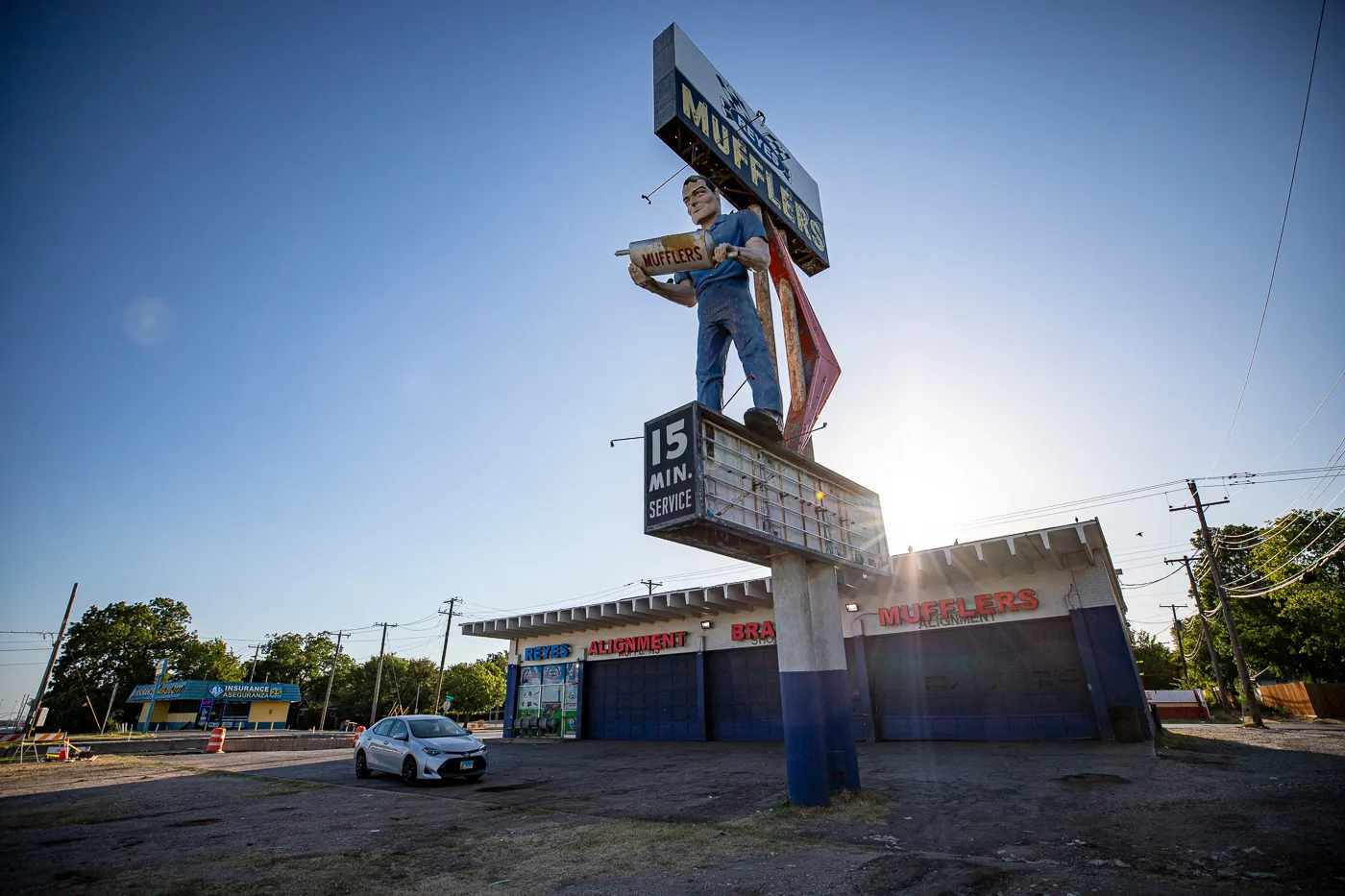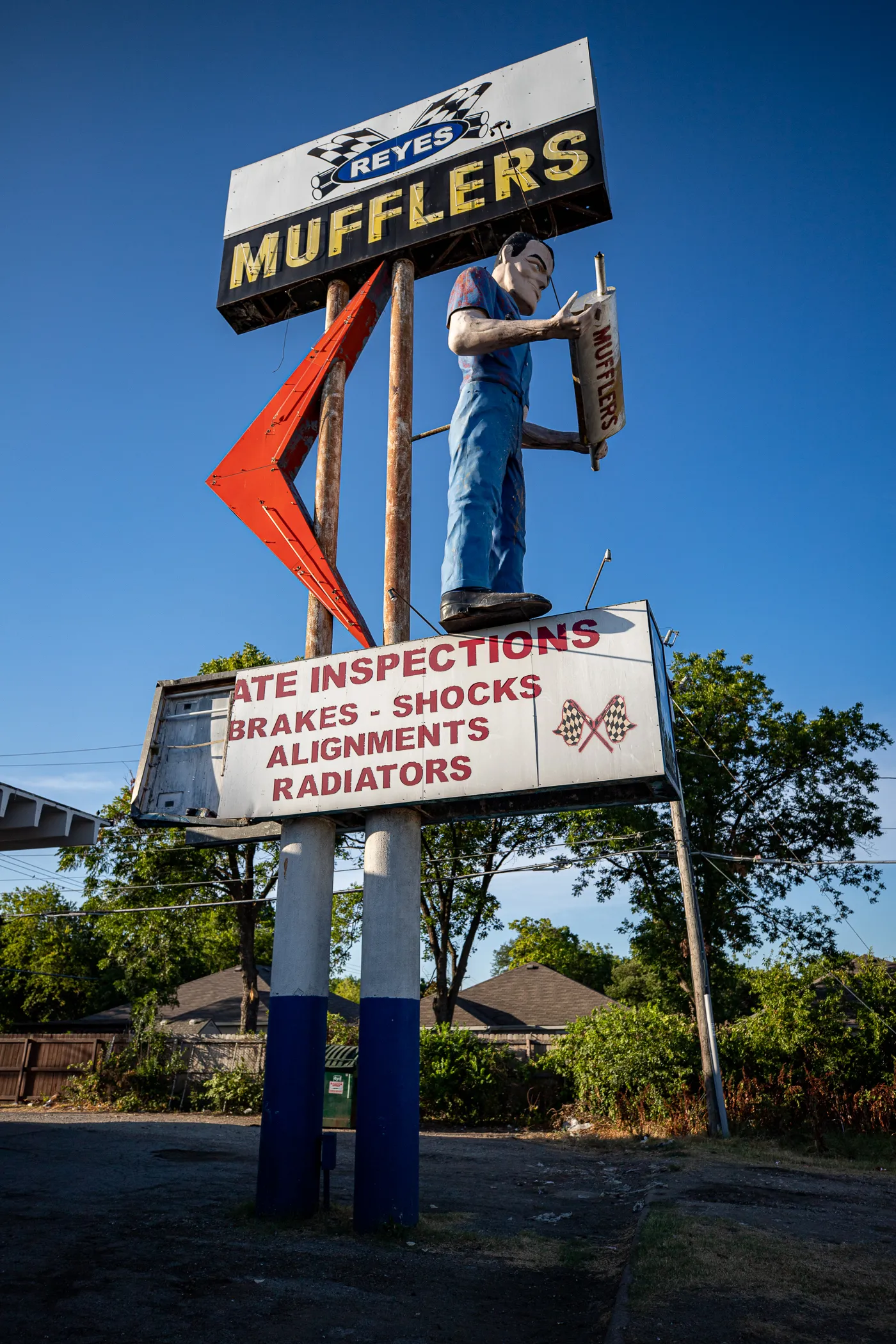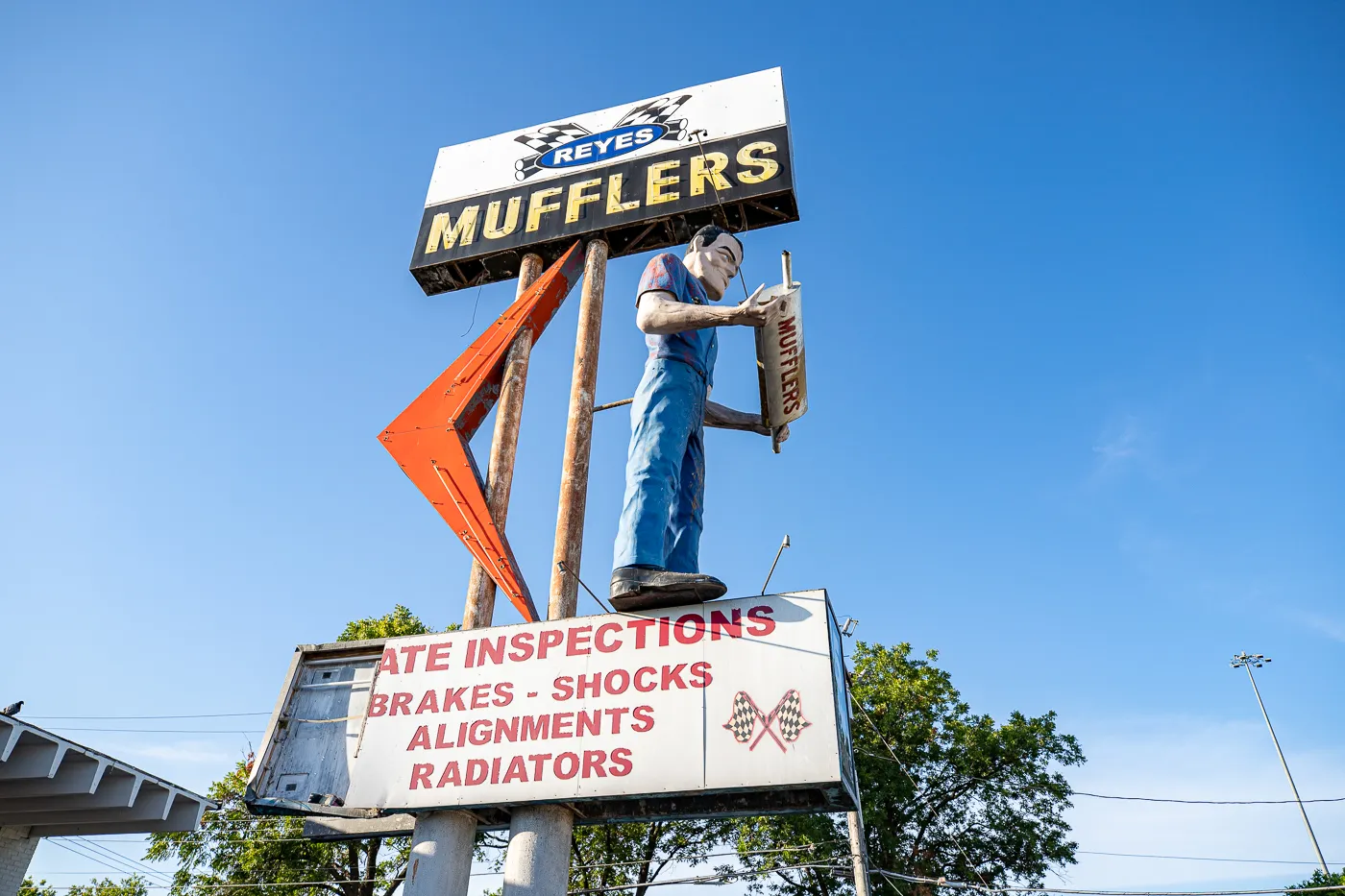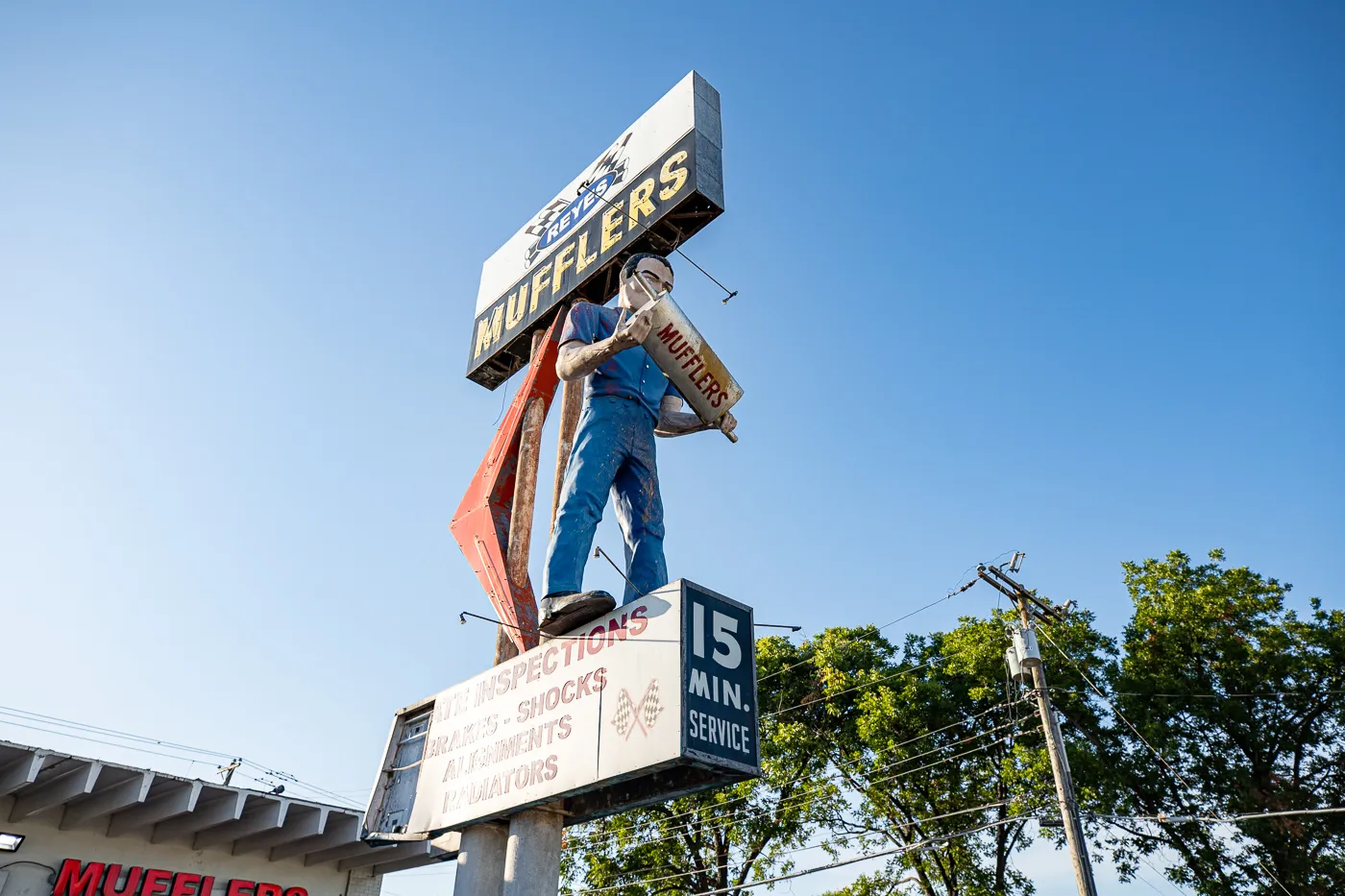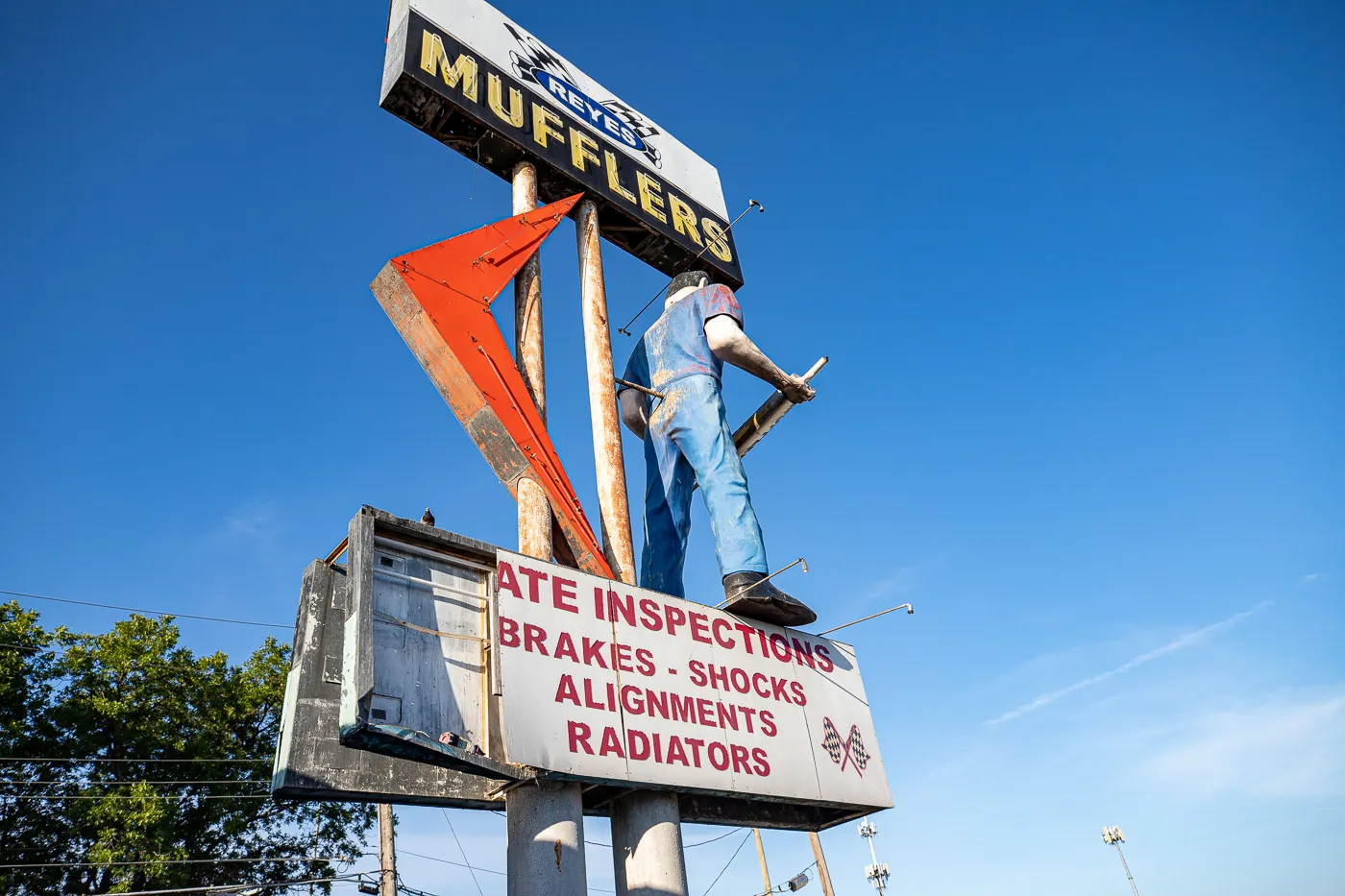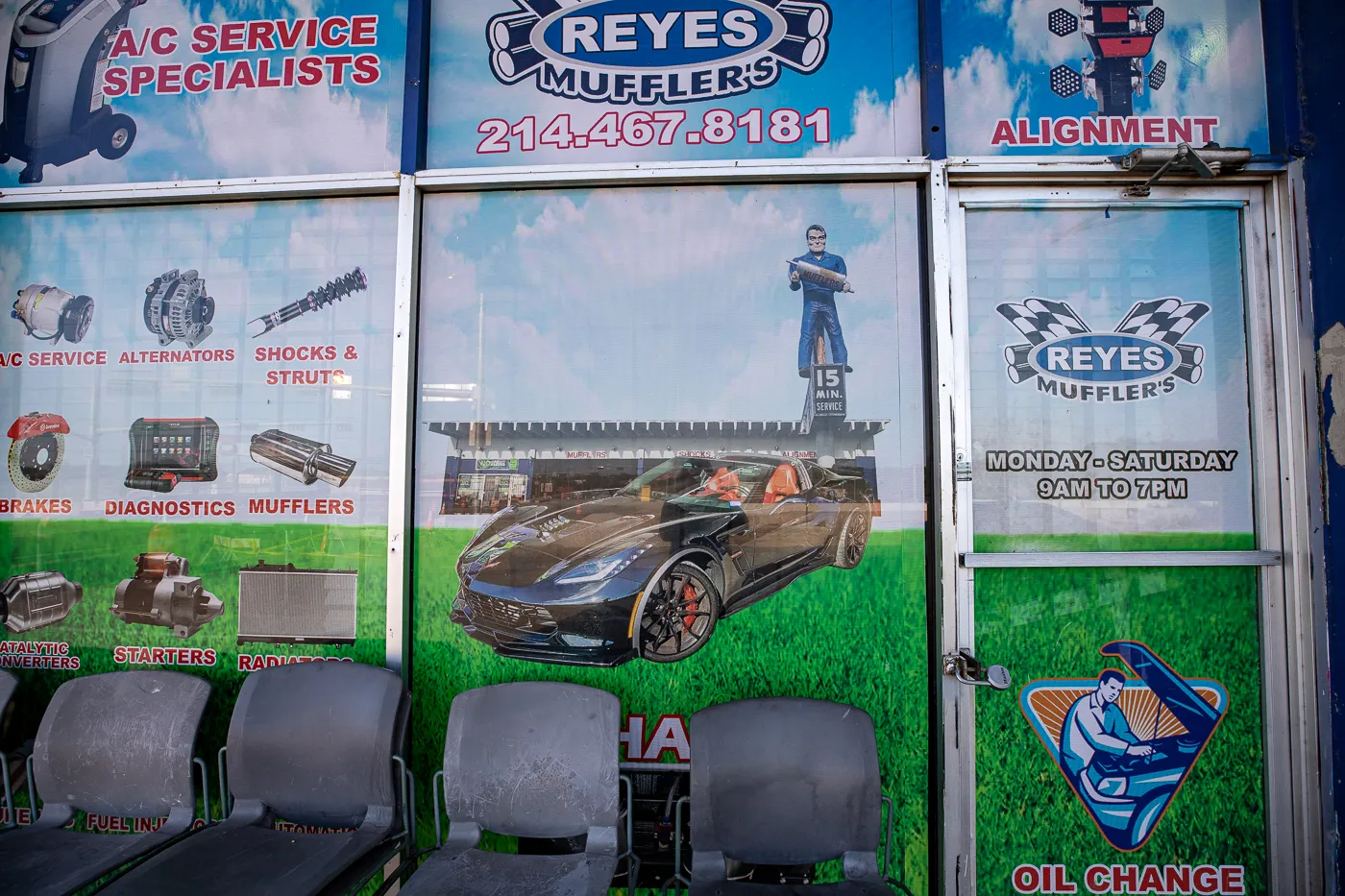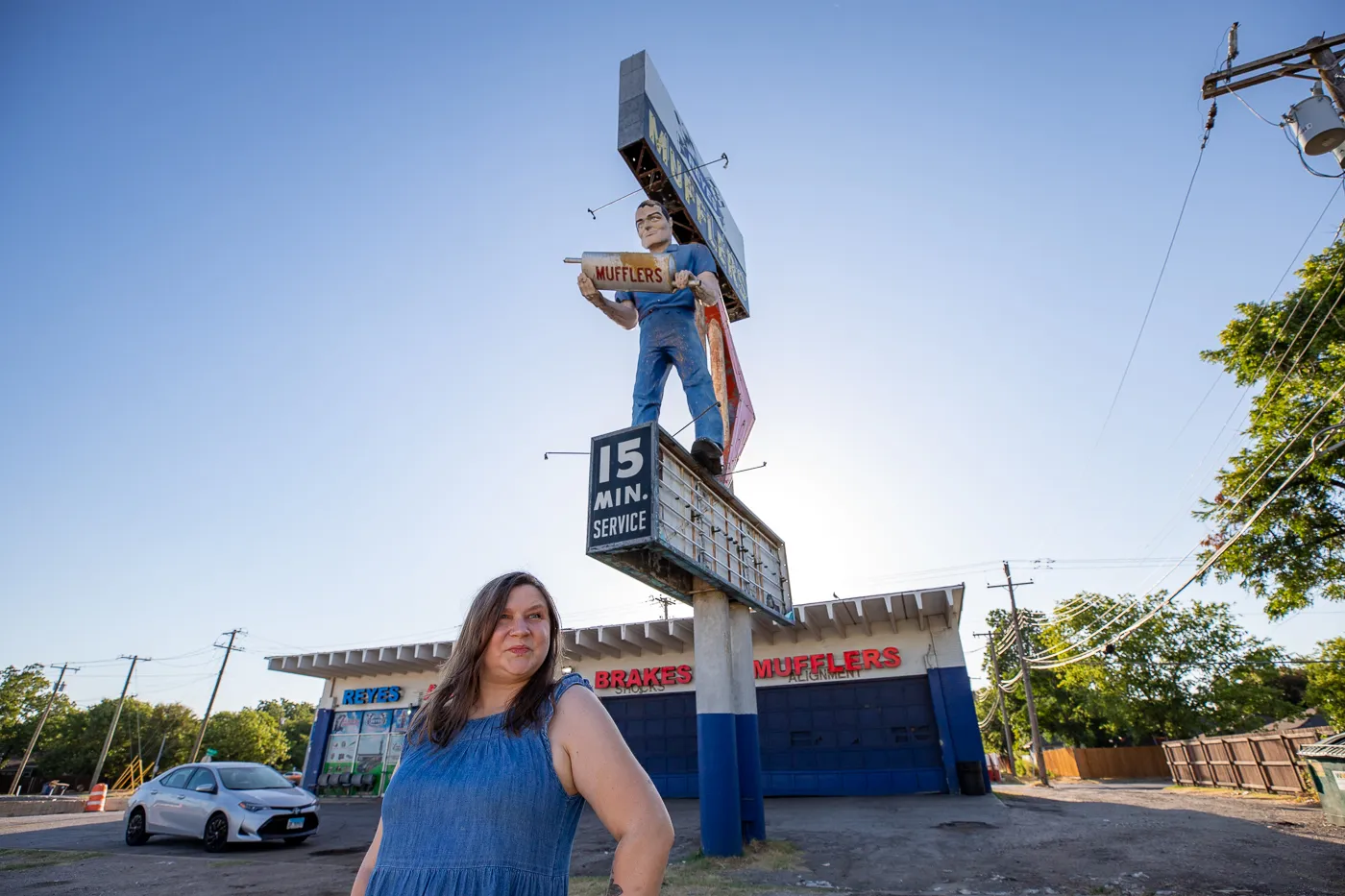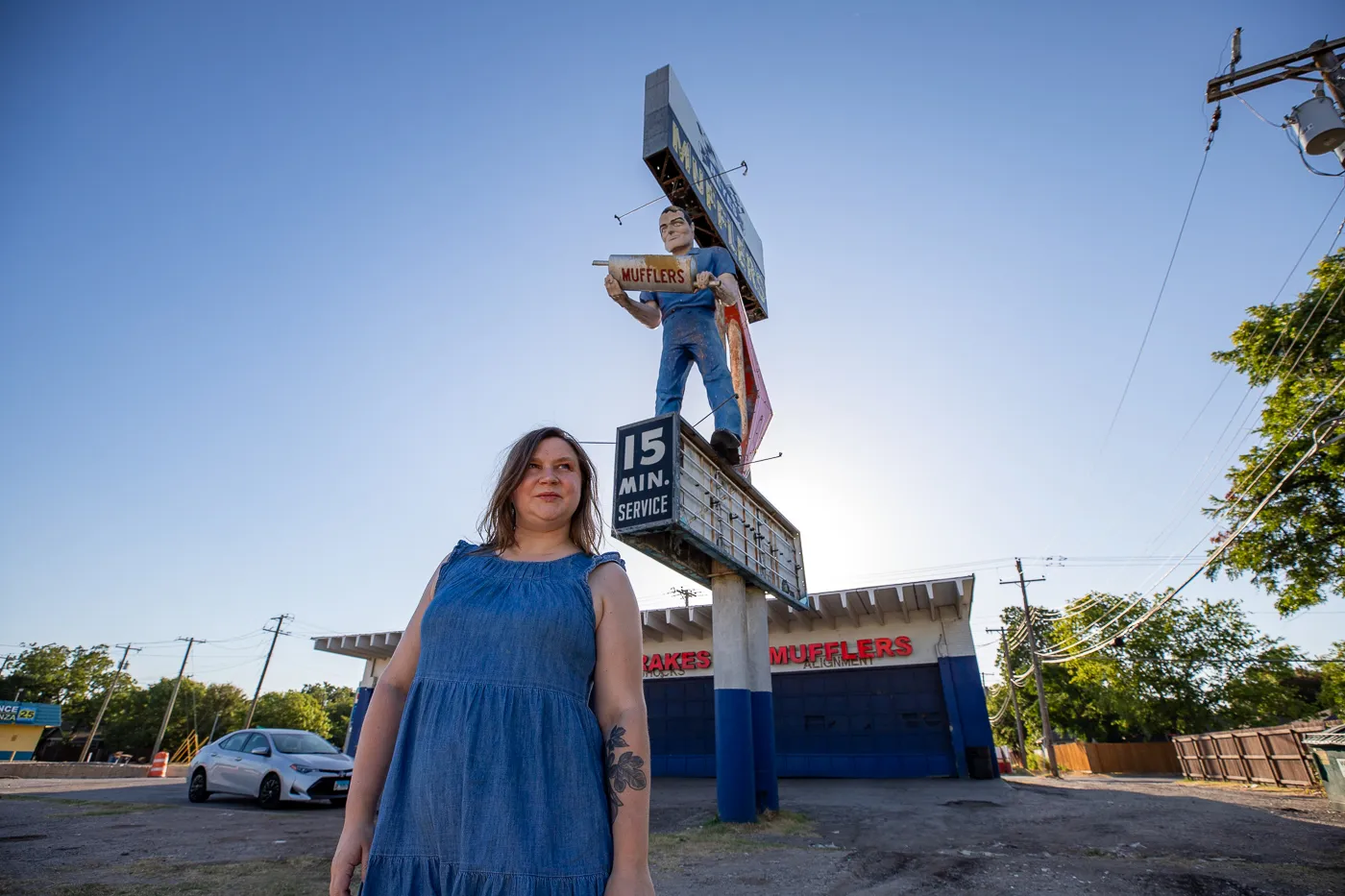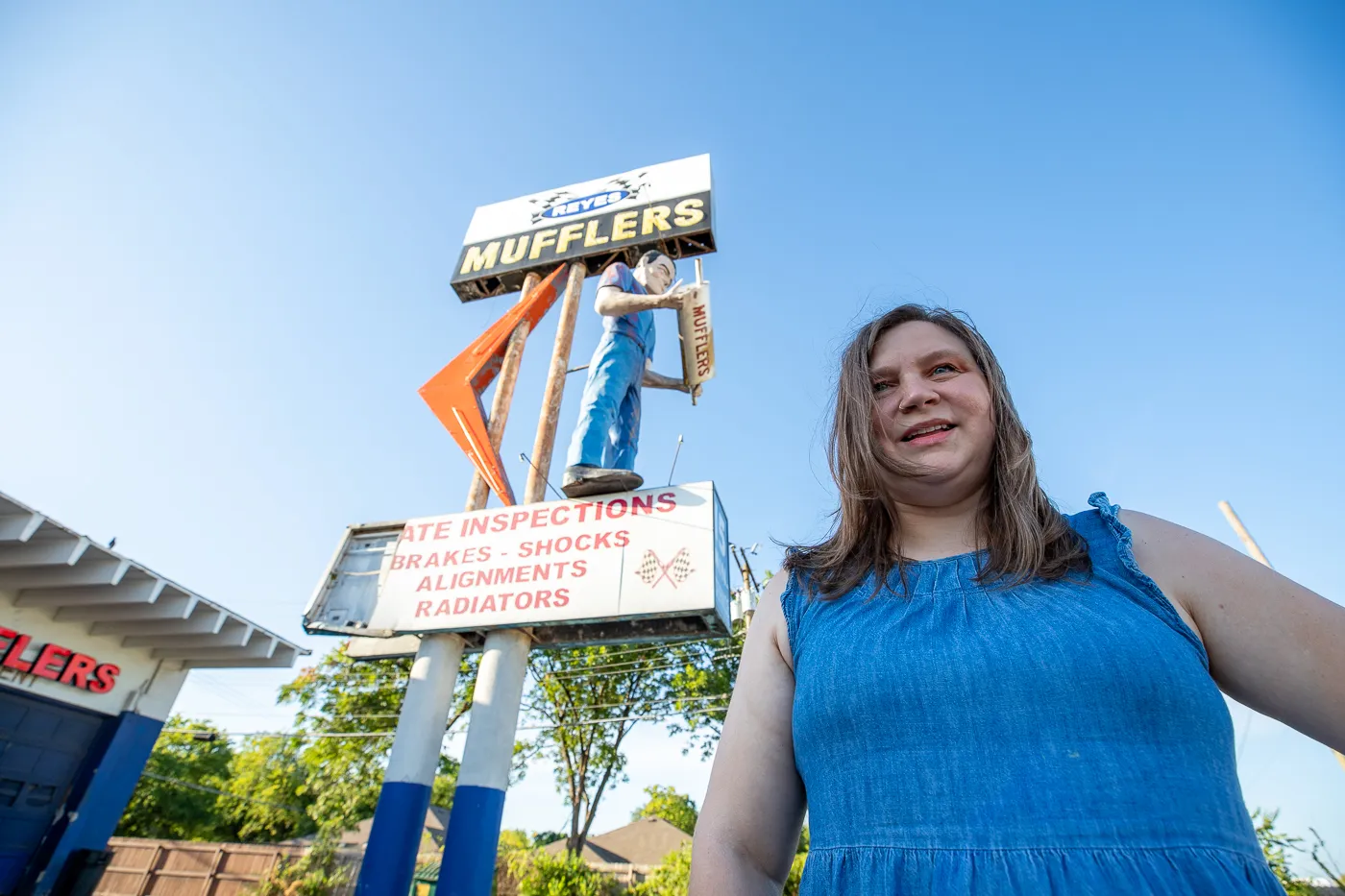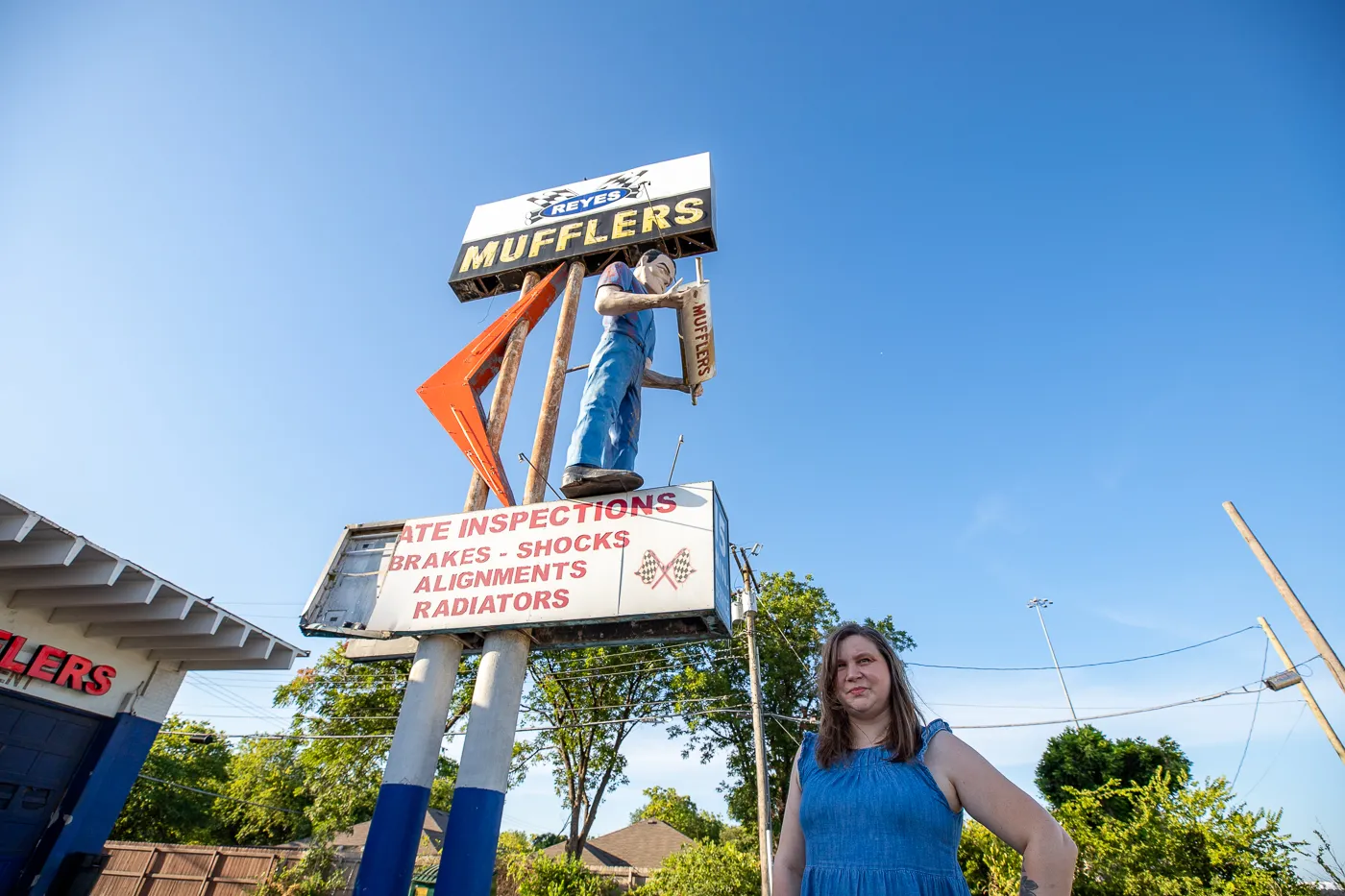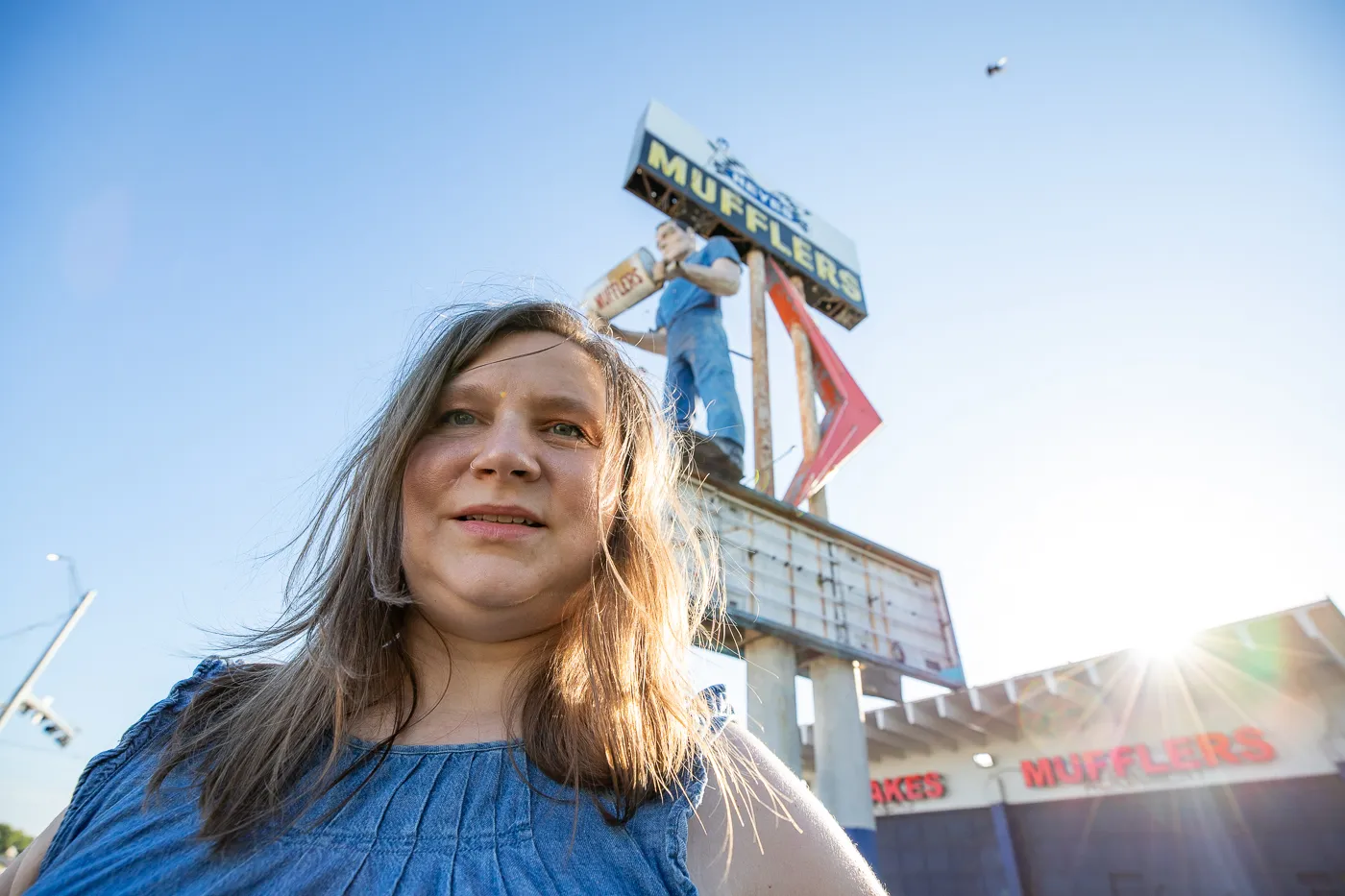 Happy Halfwit Muffler Man in Dallas, Texas #1
Ken's Auto Repair and Muffler, 4212 N Central Expy, Dallas, TX 75206
Happy Halfwit muffler men (also known as Mortimer Snerd, Alfred E. Neuman, S.F.B., and Country Bumpkin) have stances similar to others of their kind but with goofy heads reminiscent of Mad Magazine's Alfred E. Neuman. With big ears, wide jaws, and gap-tooth smiles they are often funny sites to see on a road trip.
Find this one at Ken's Auto Repair and Muffler in Dallas, Texas.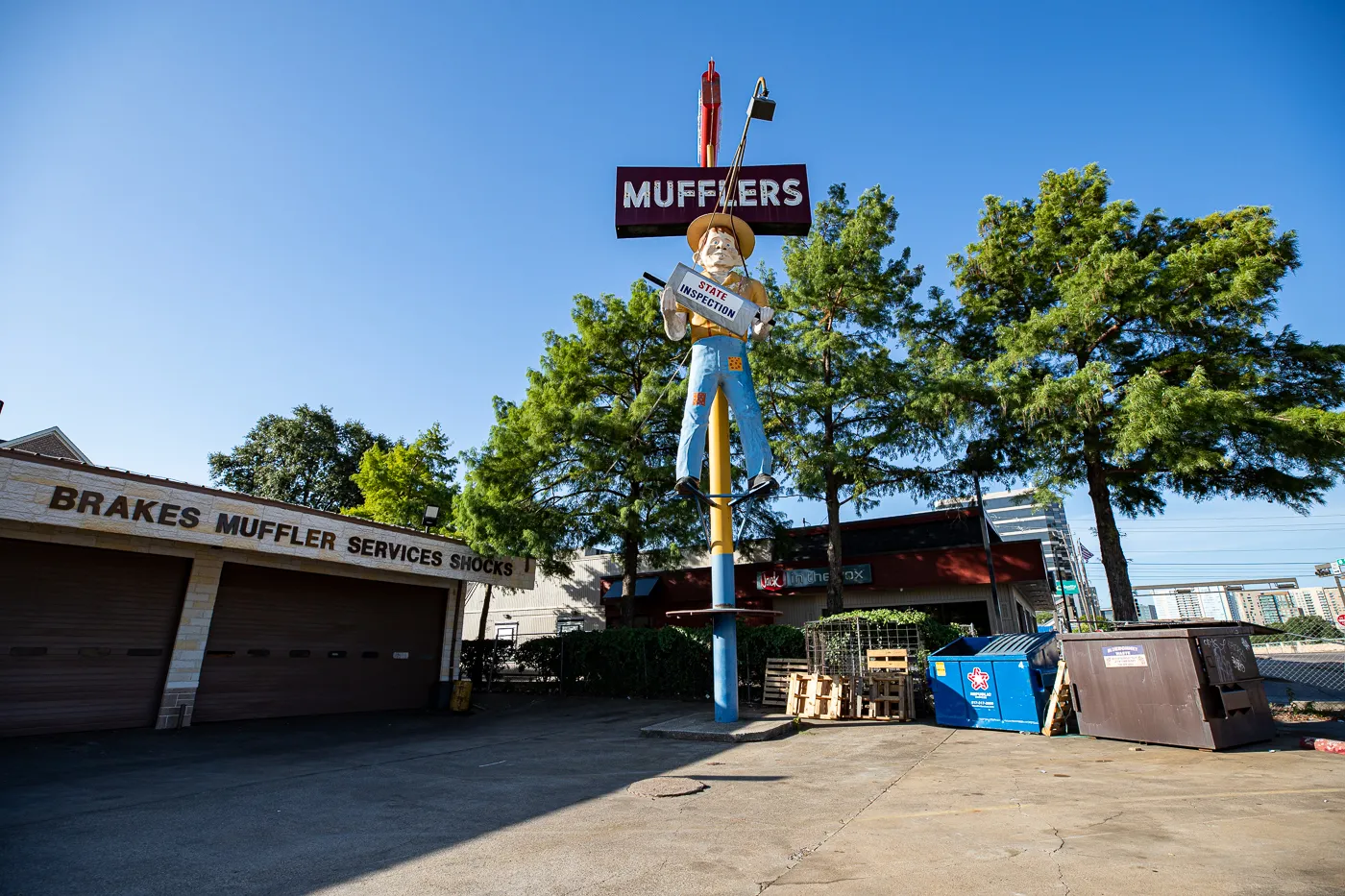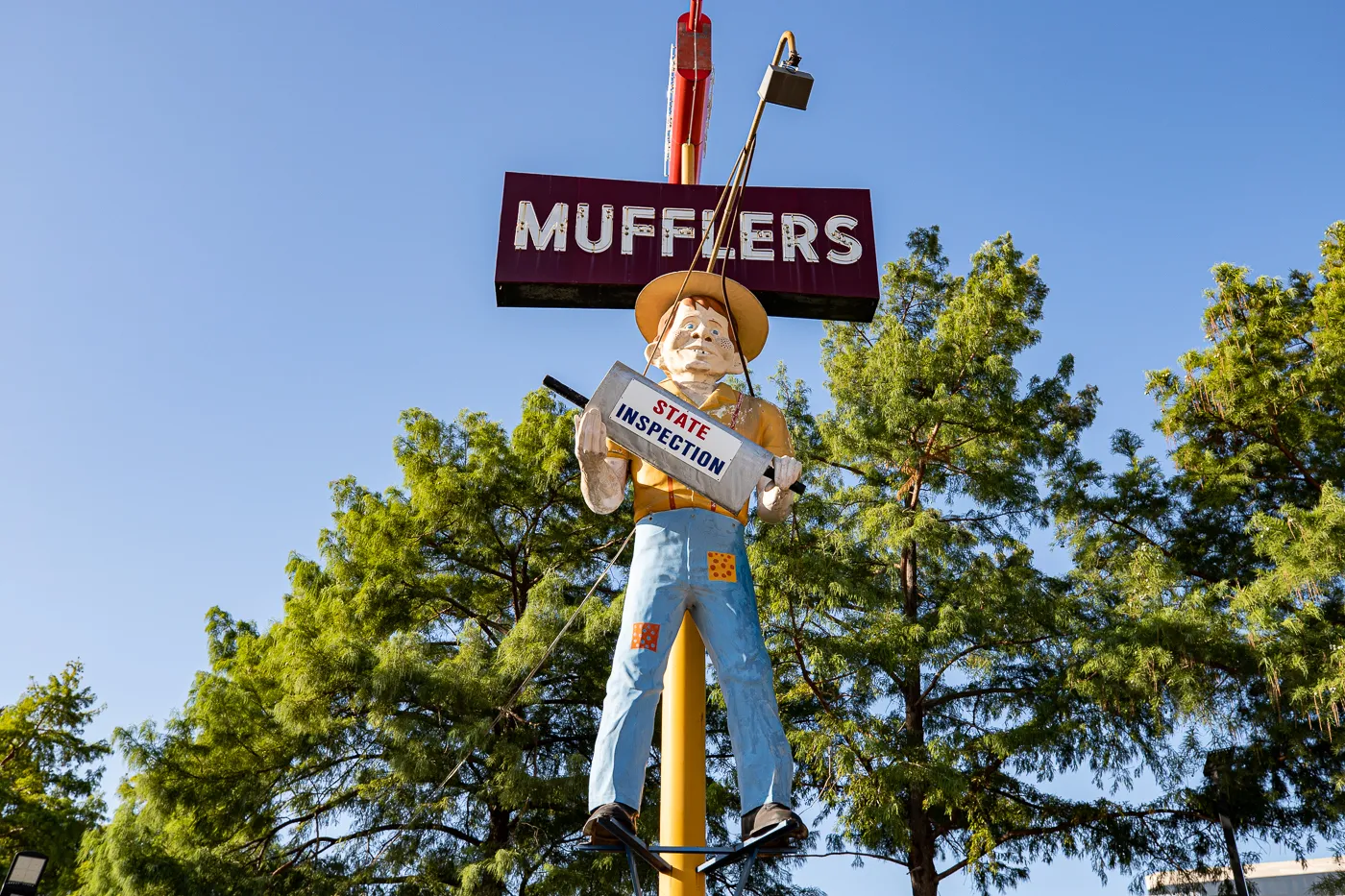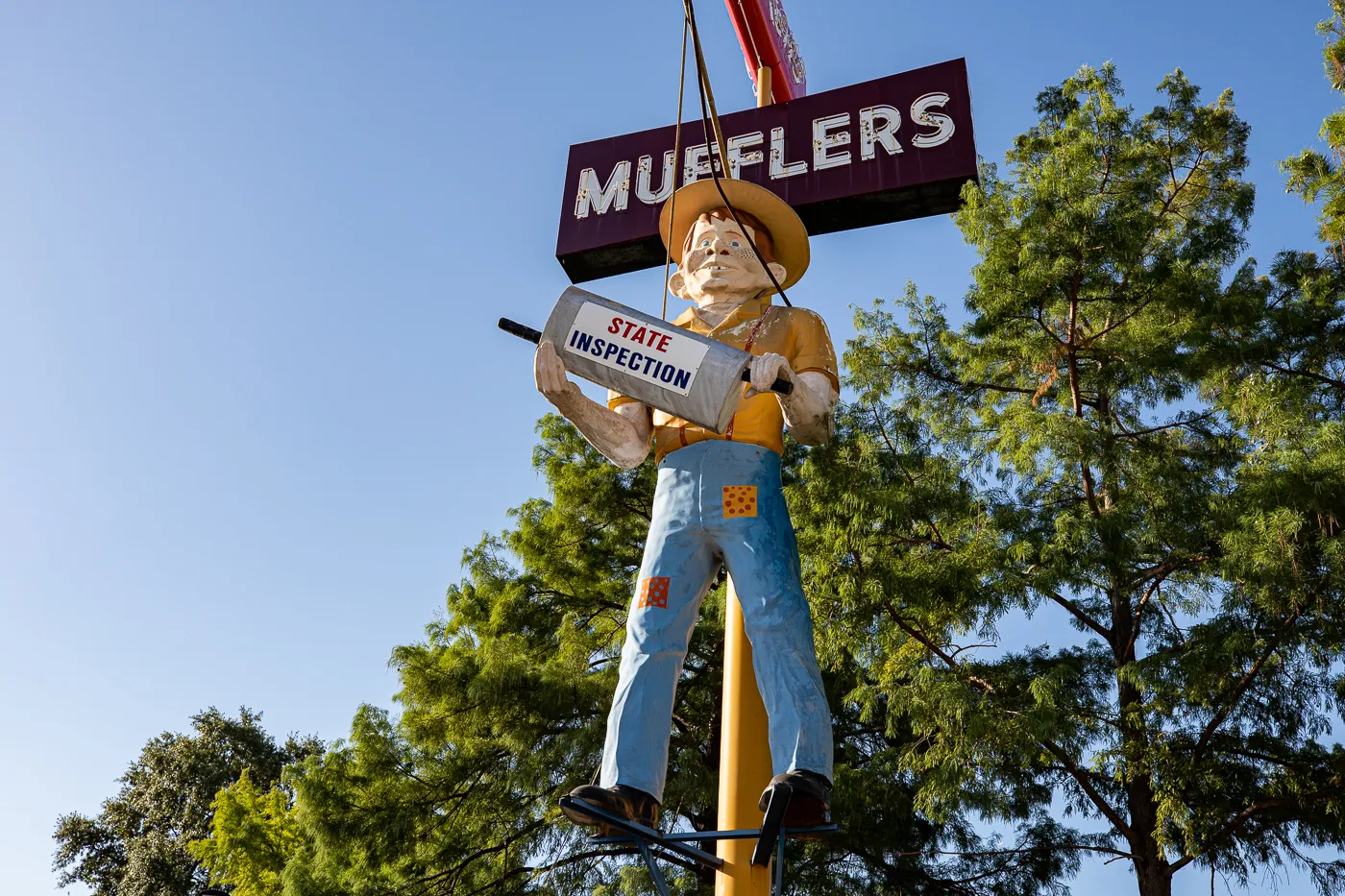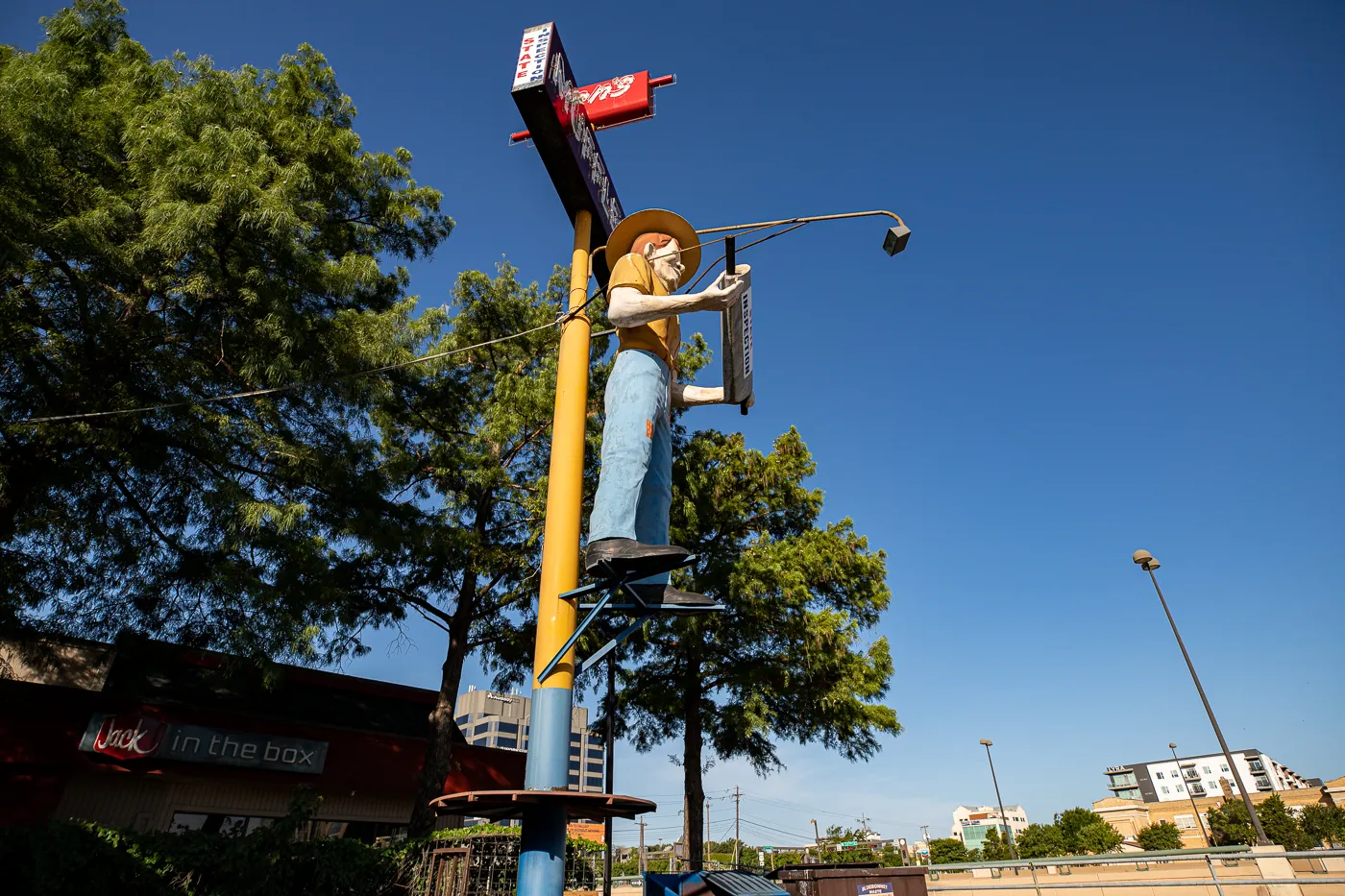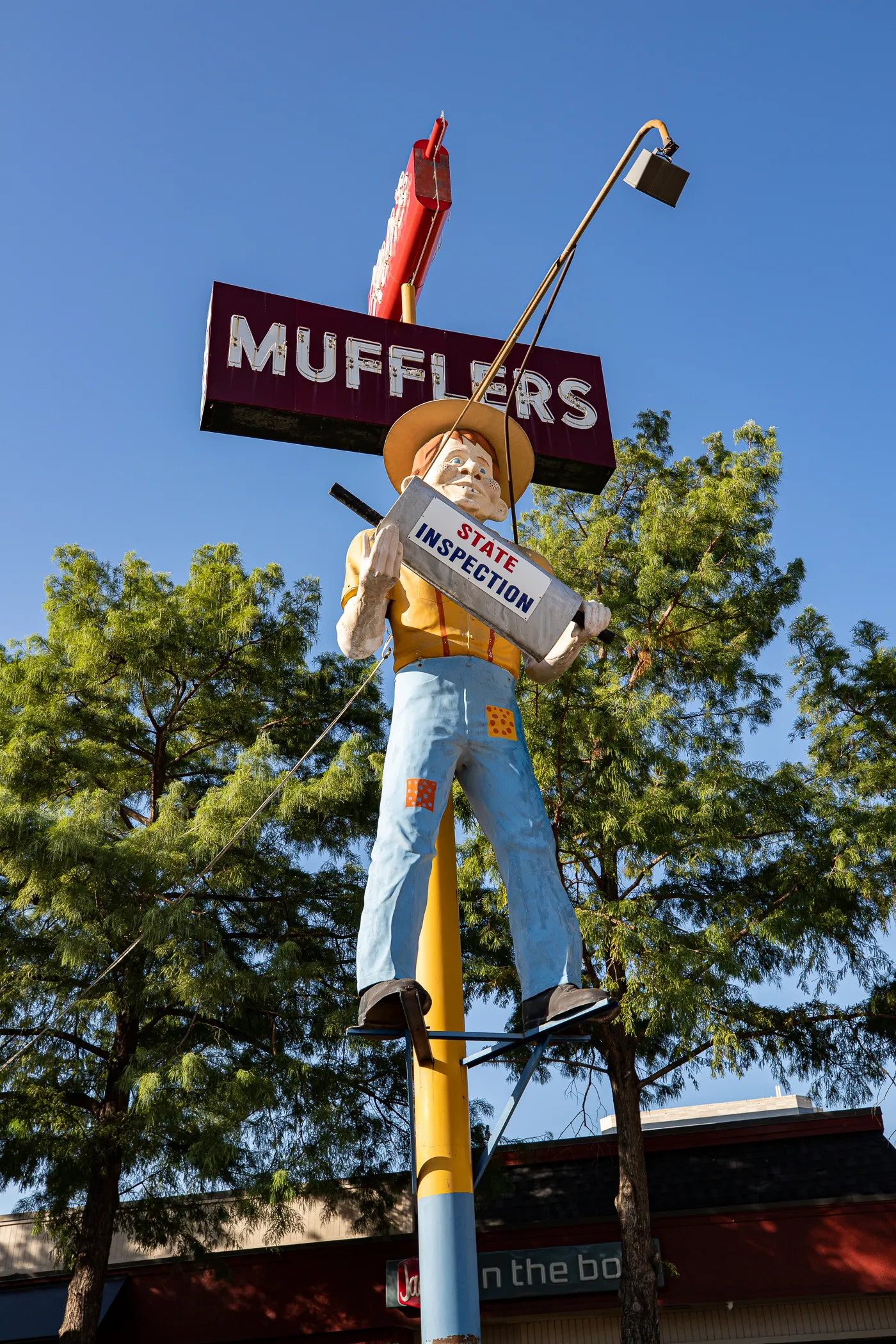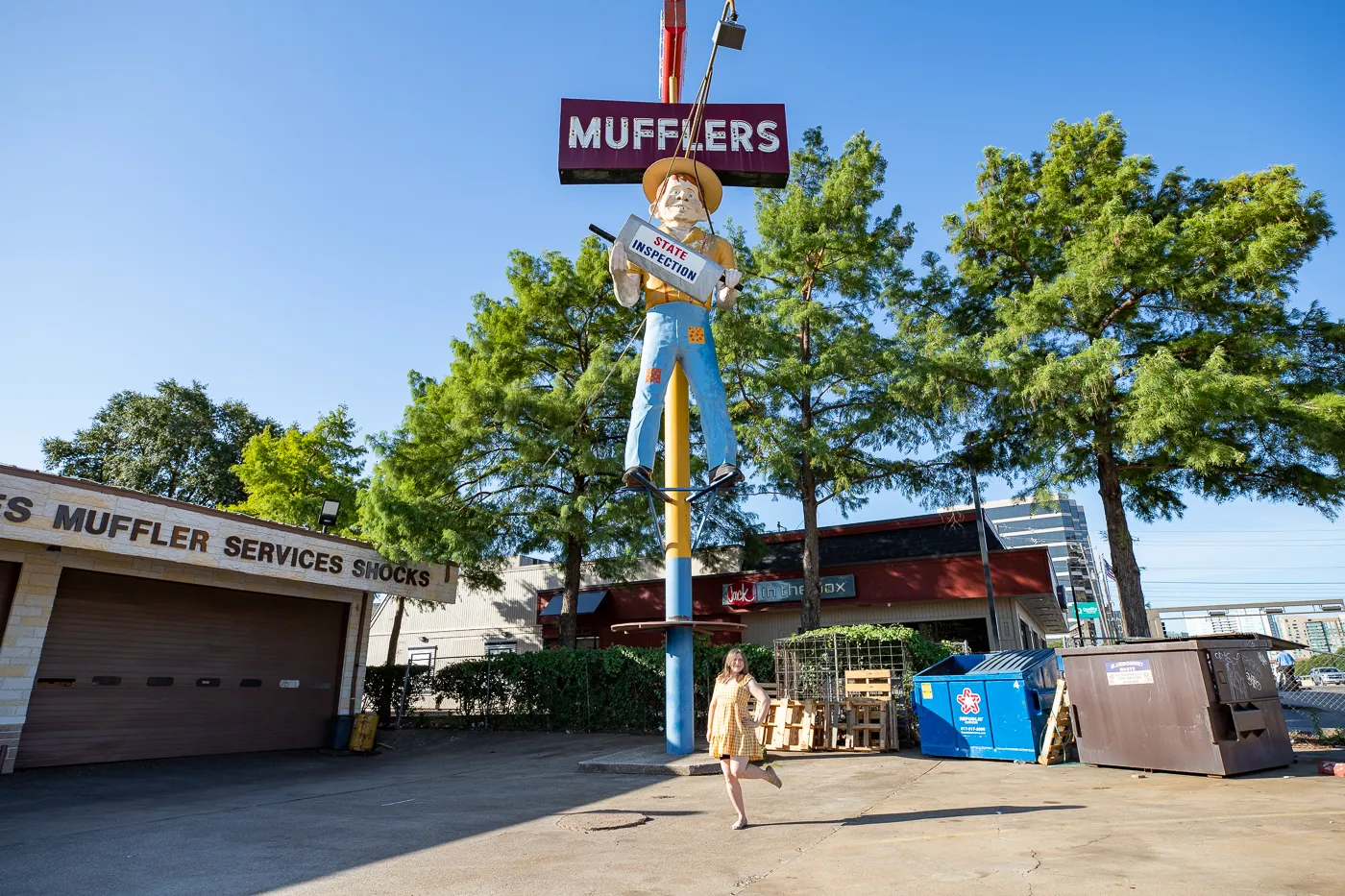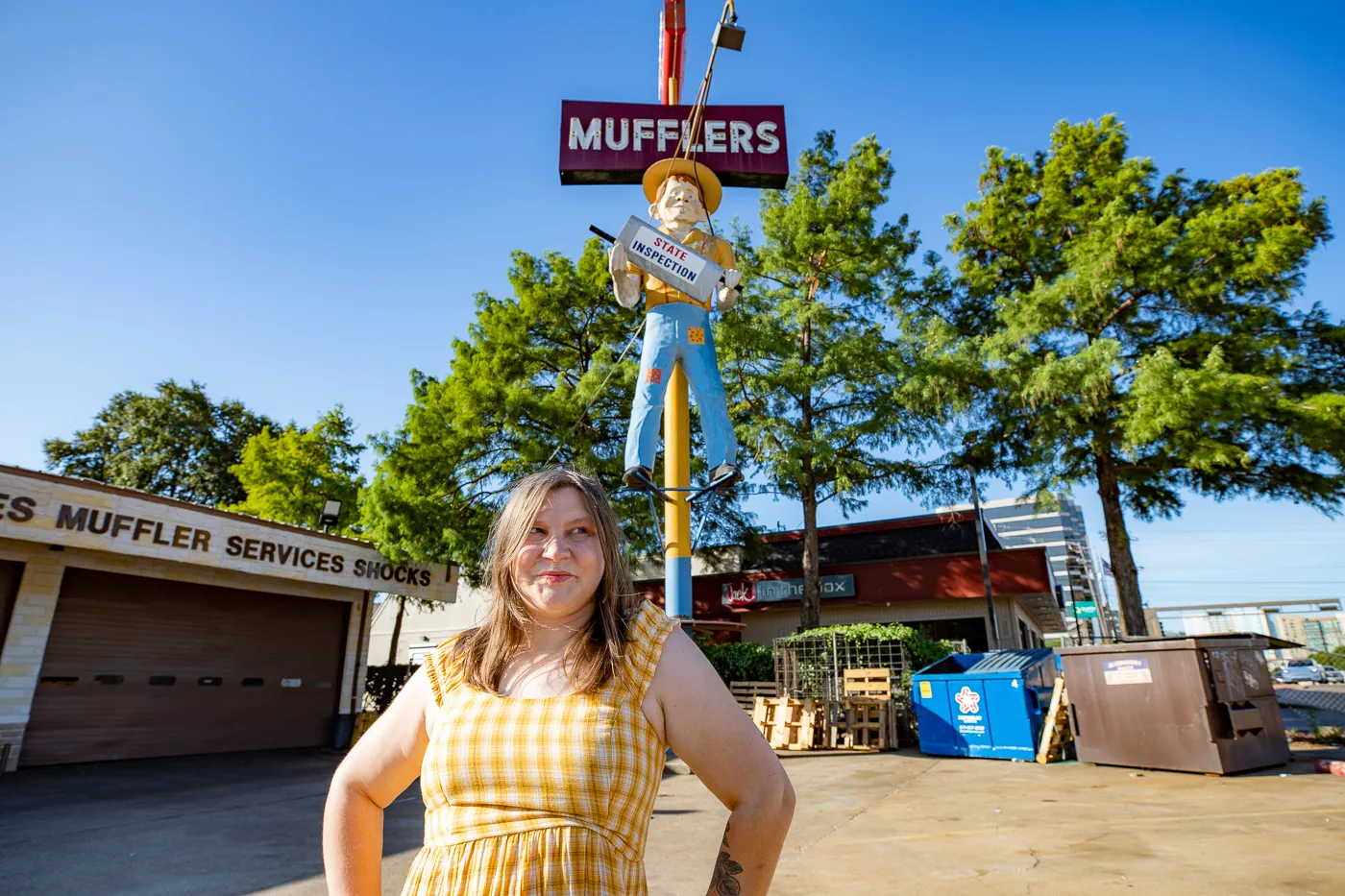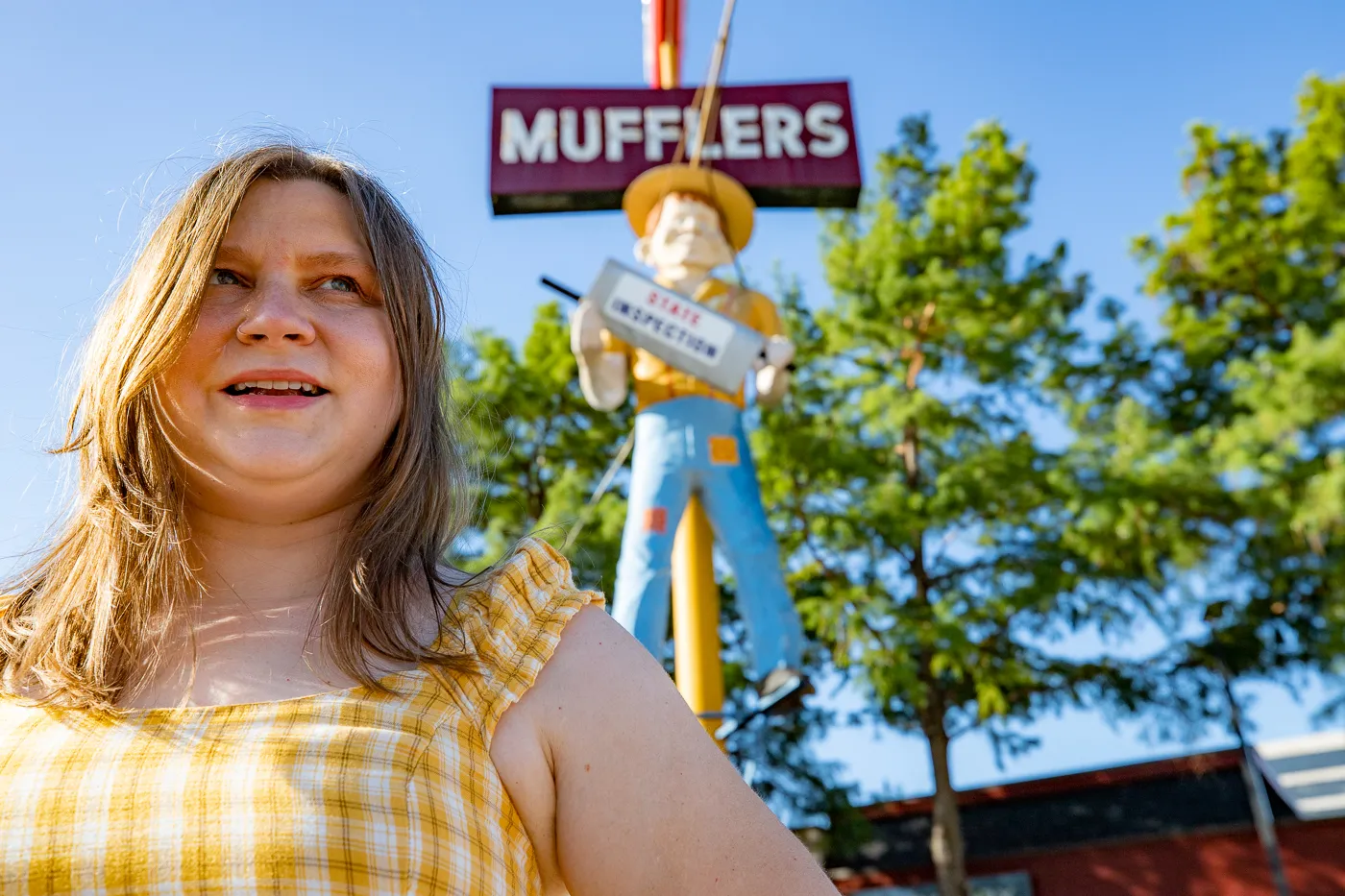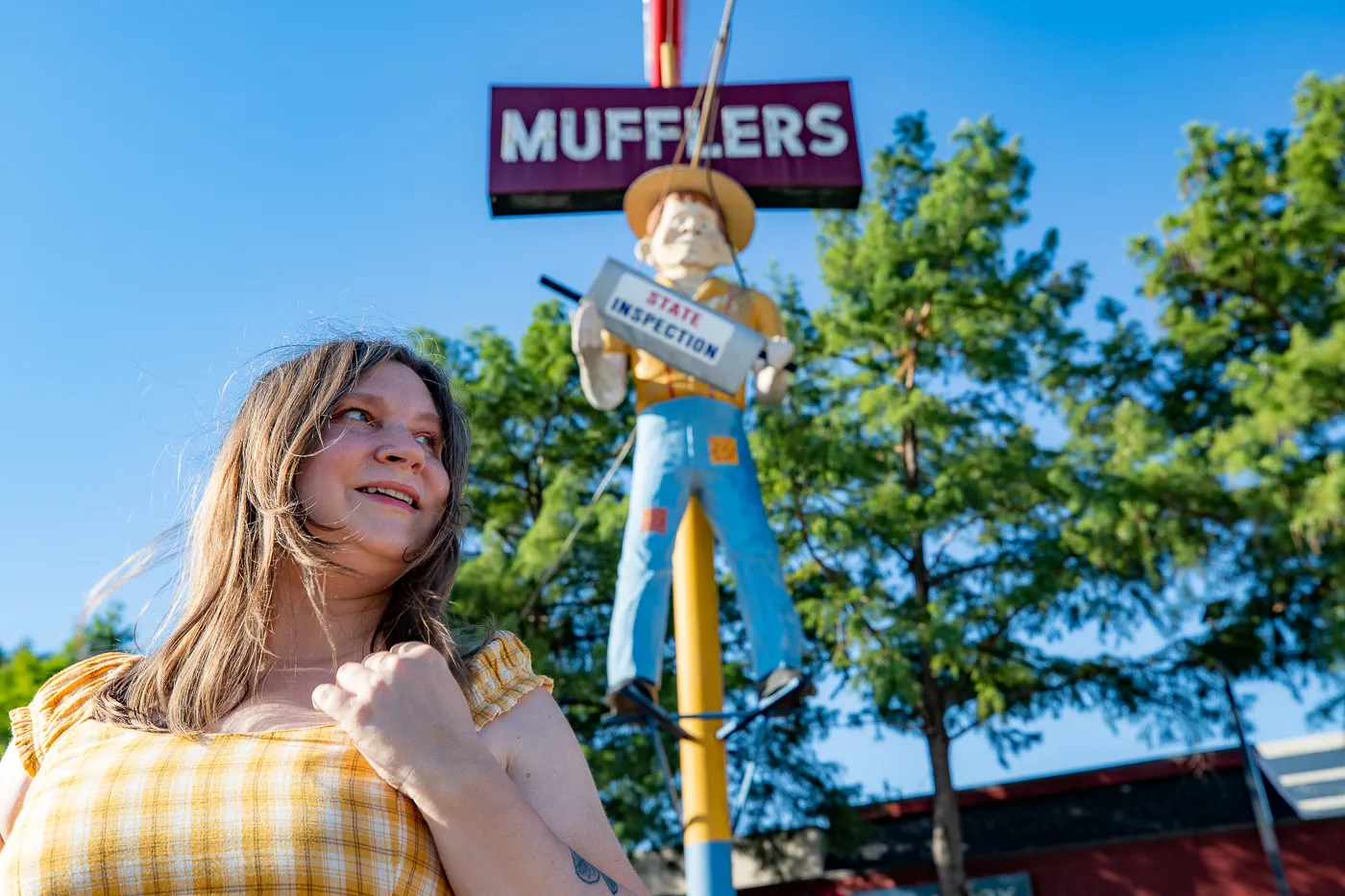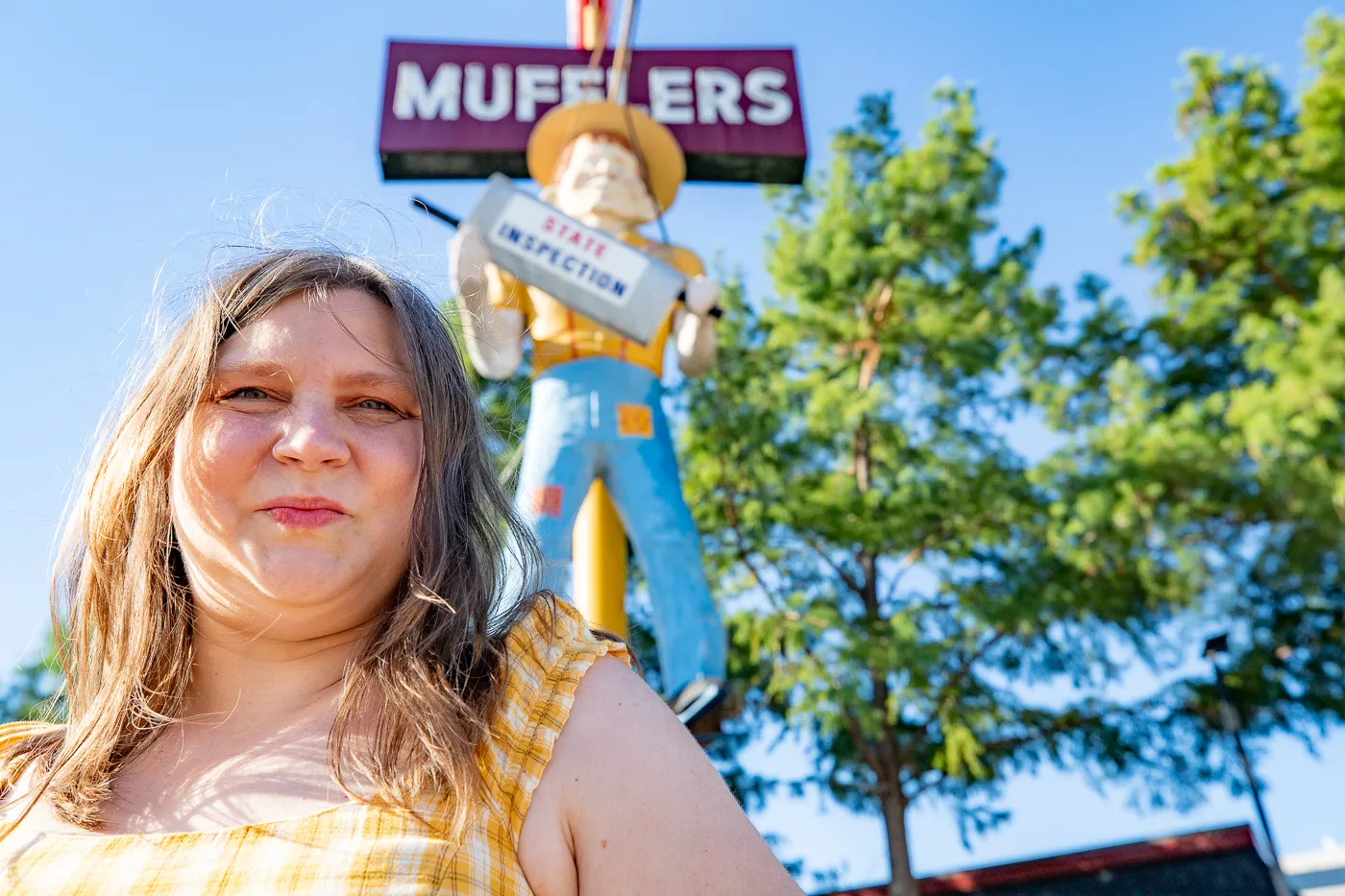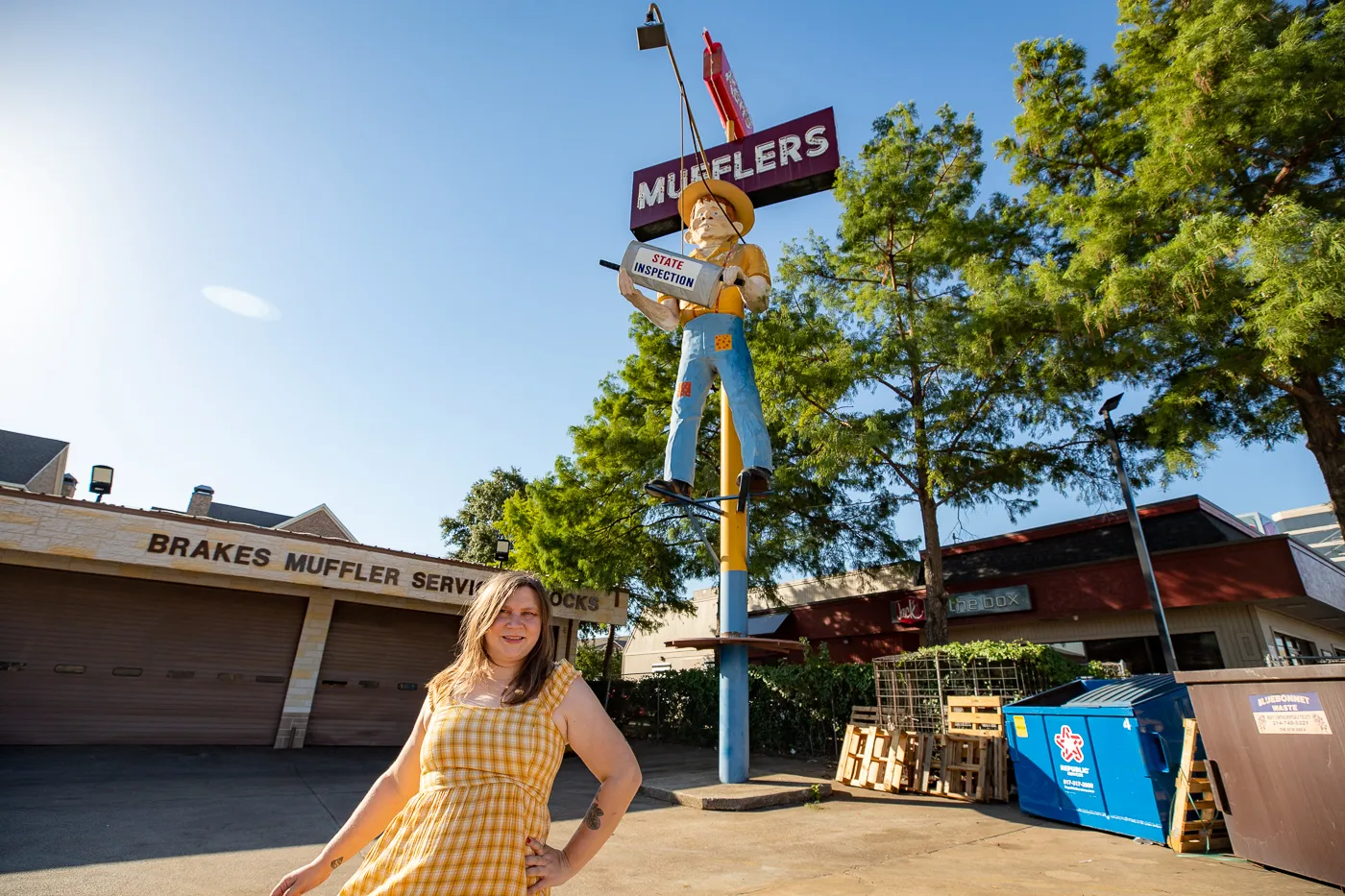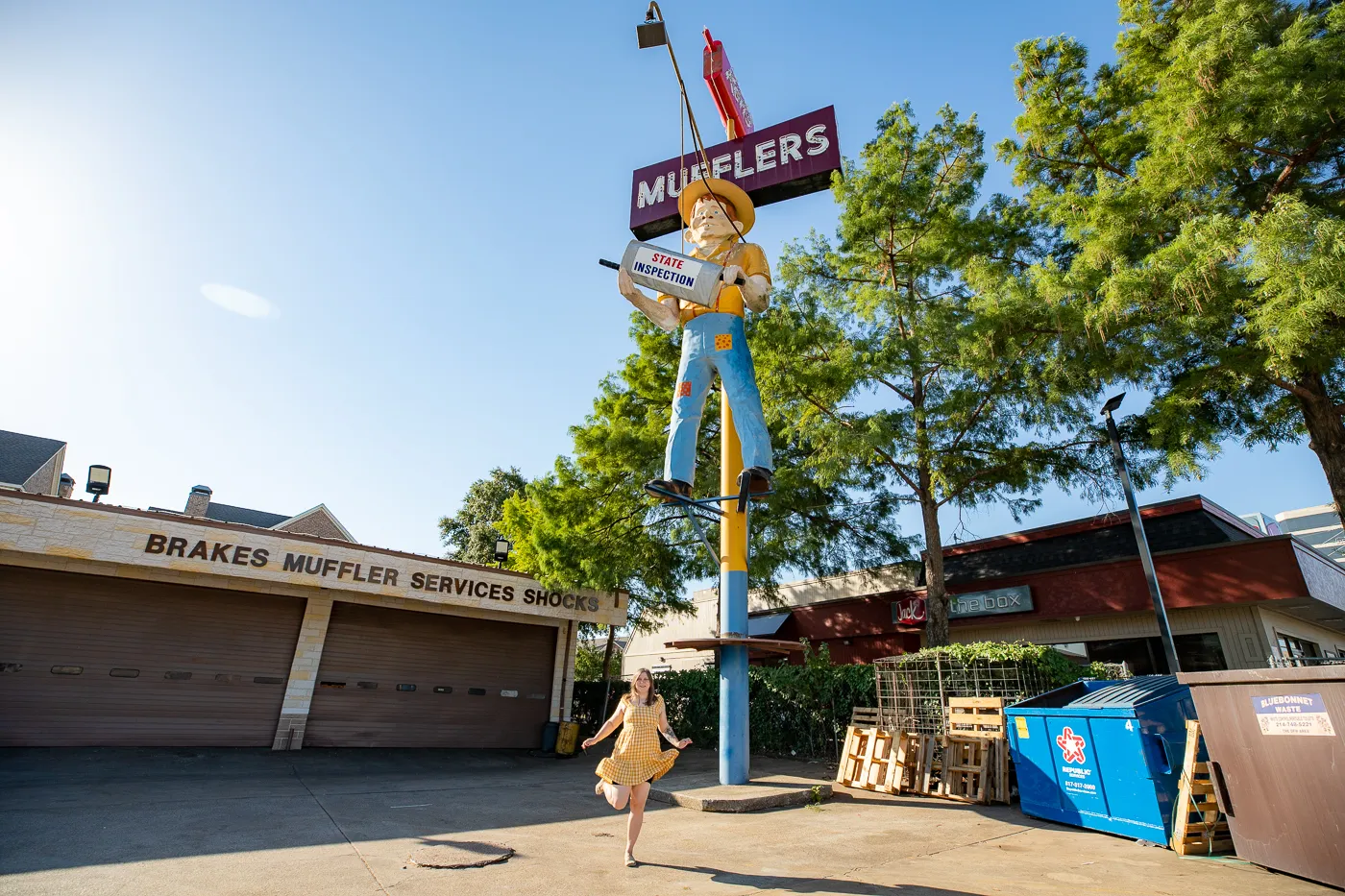 Happy Halfwit Muffler Man in Dallas, Texas #2
Ken's Muffler & Brakes, 3537 W Northwest Hwy, Dallas, TX 75220
A third Dallas muffler man can be found at Ken's Muffler & Brakes near Love Field Airport. It's a Happy Halfwit like its counterpart at the other Ken's, but this one is closer to the ground…and the street.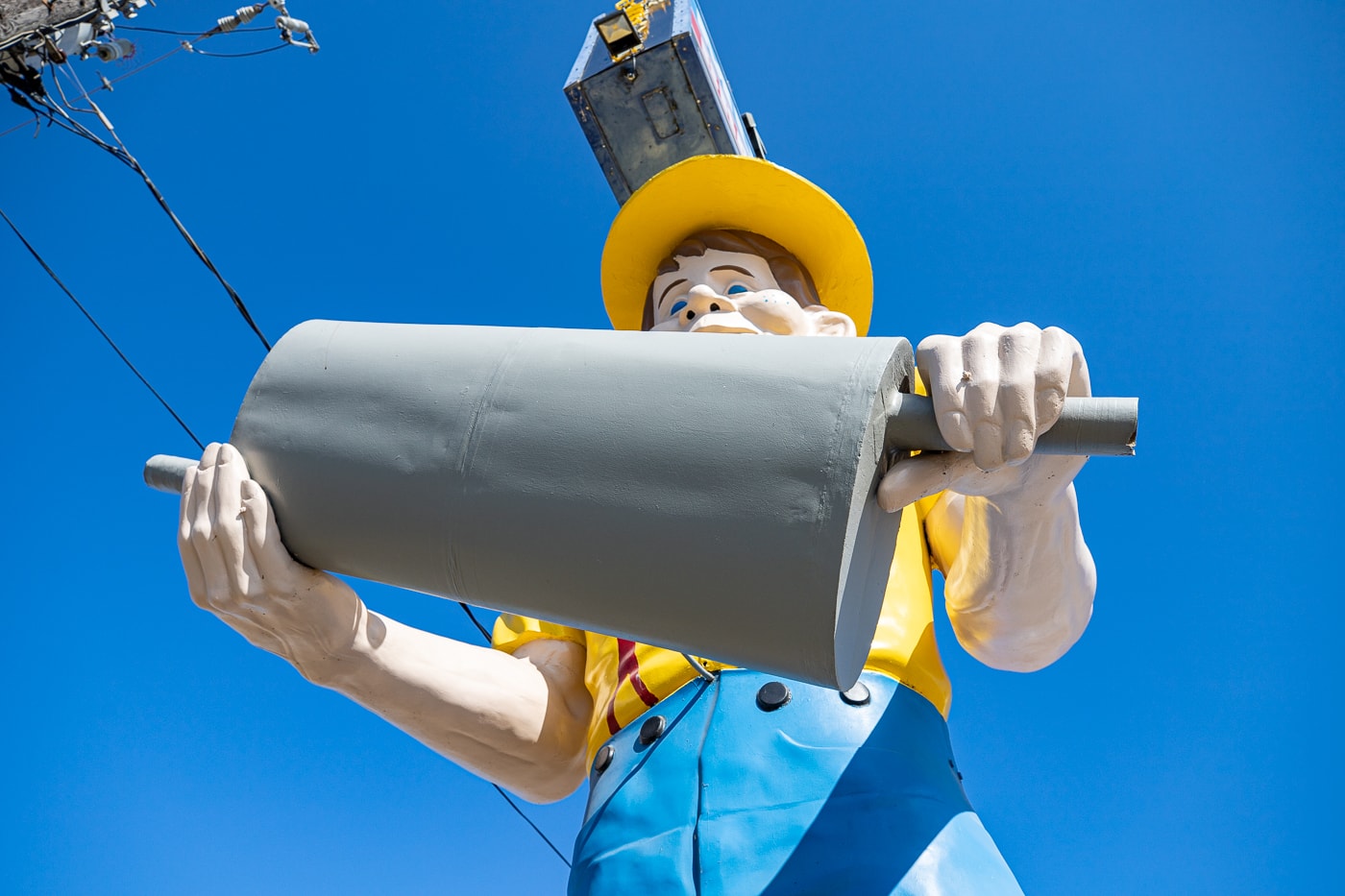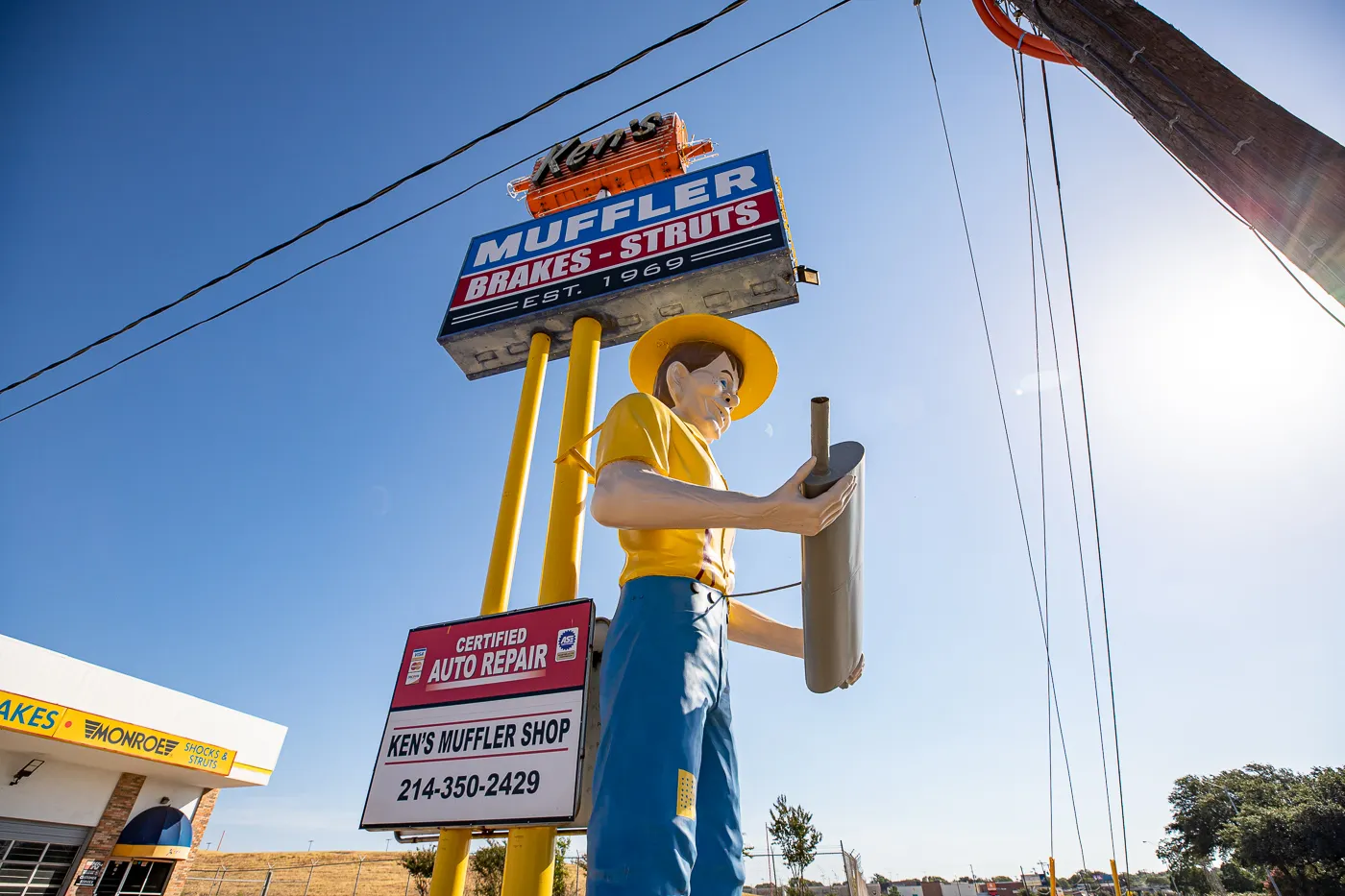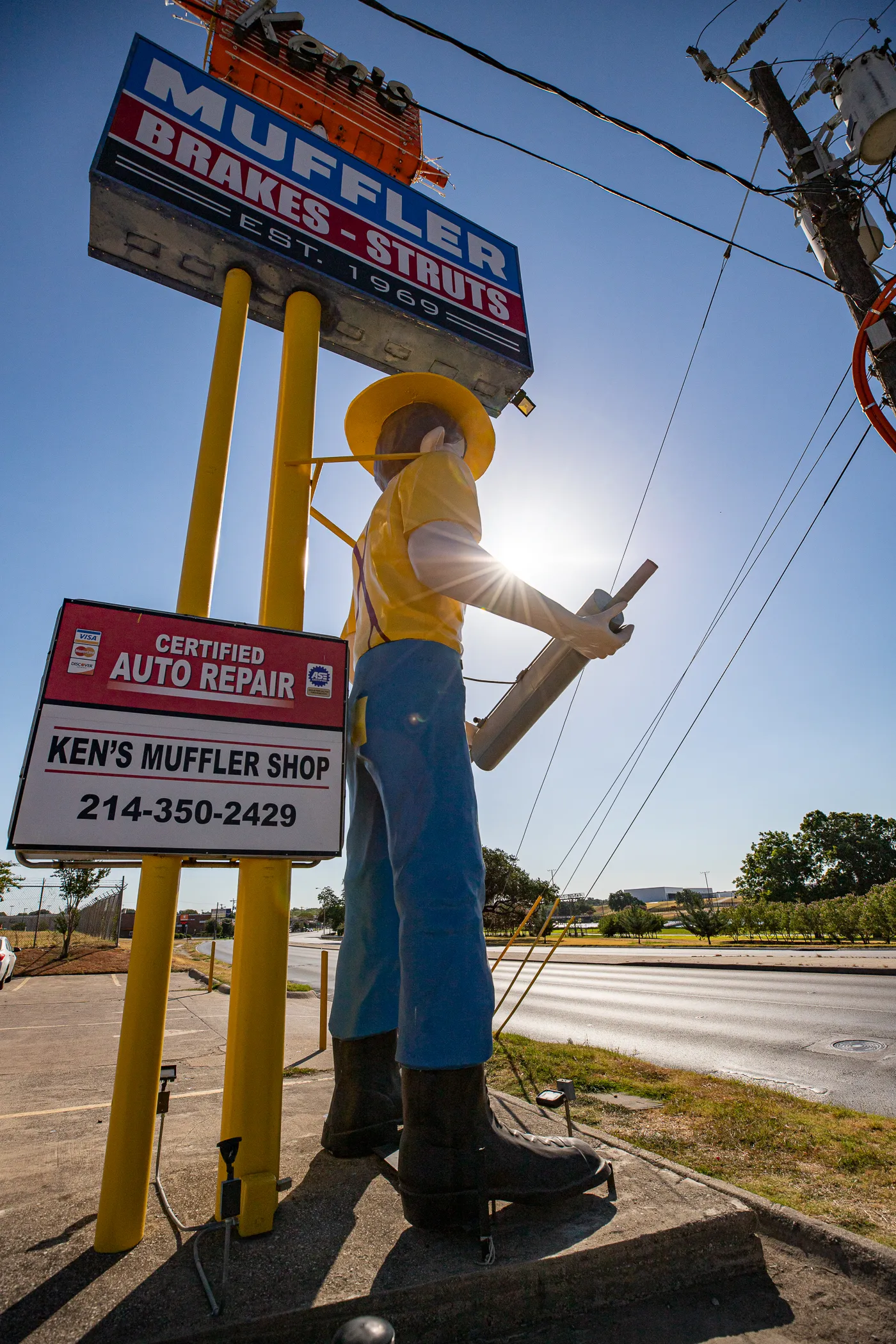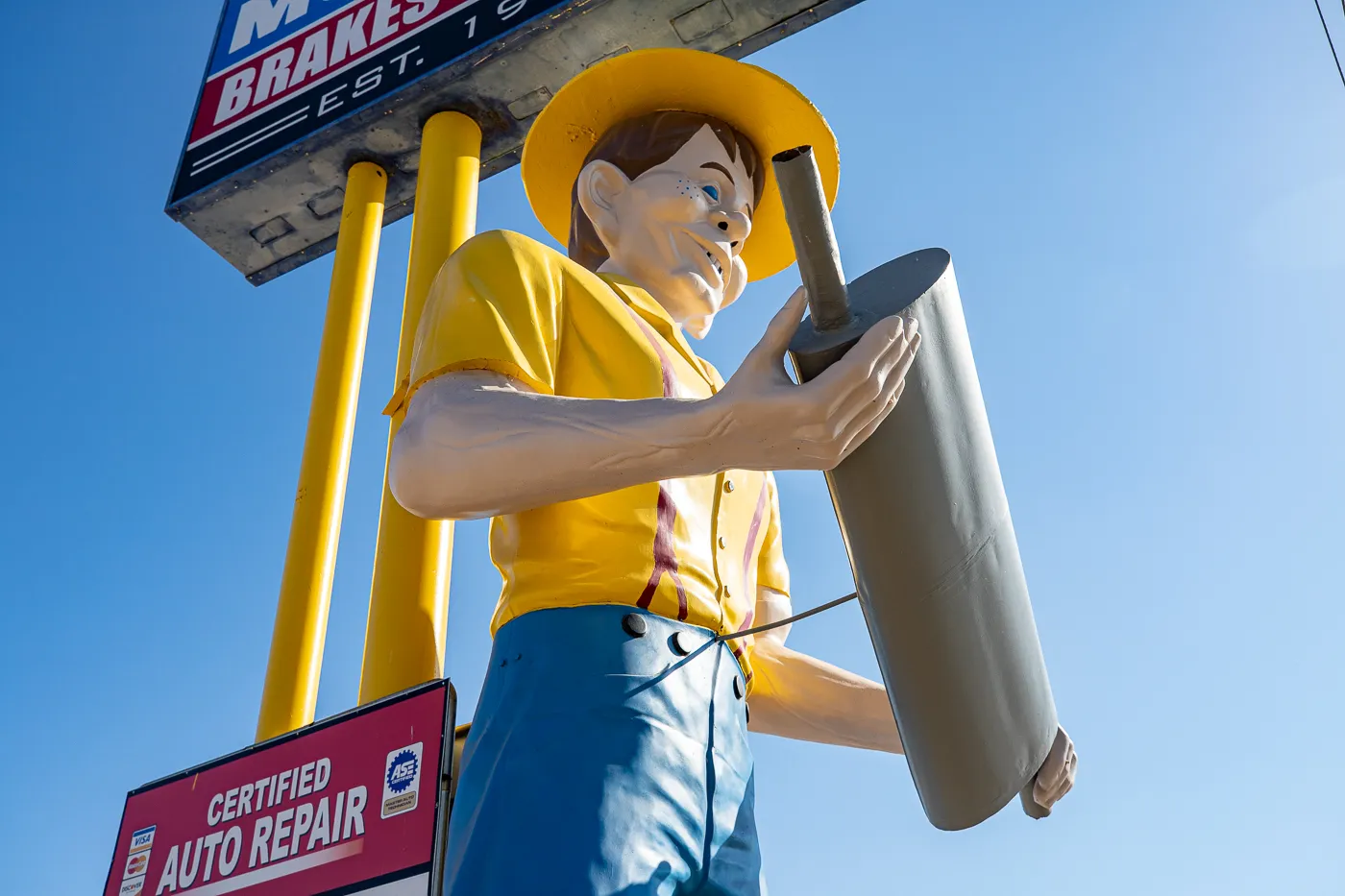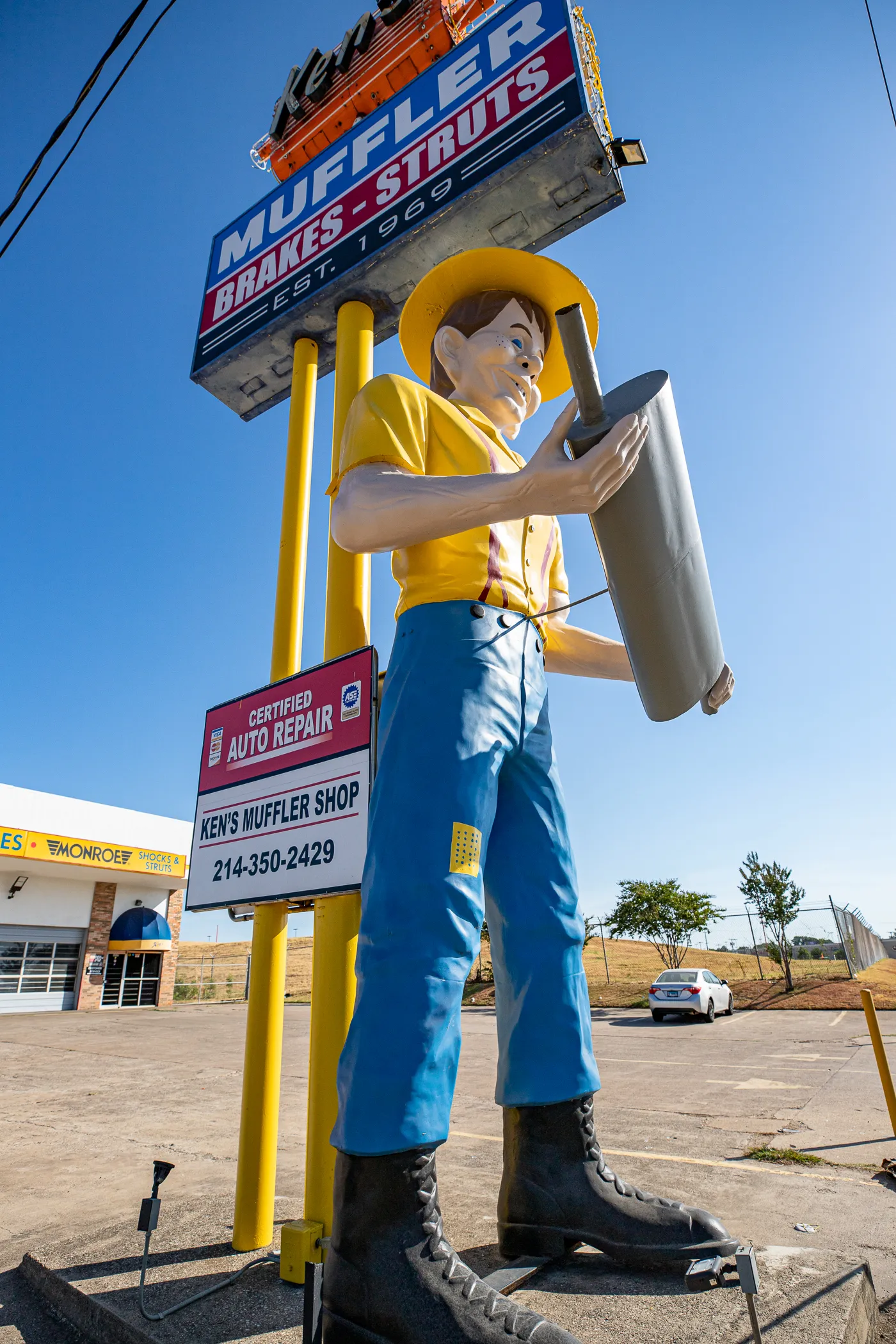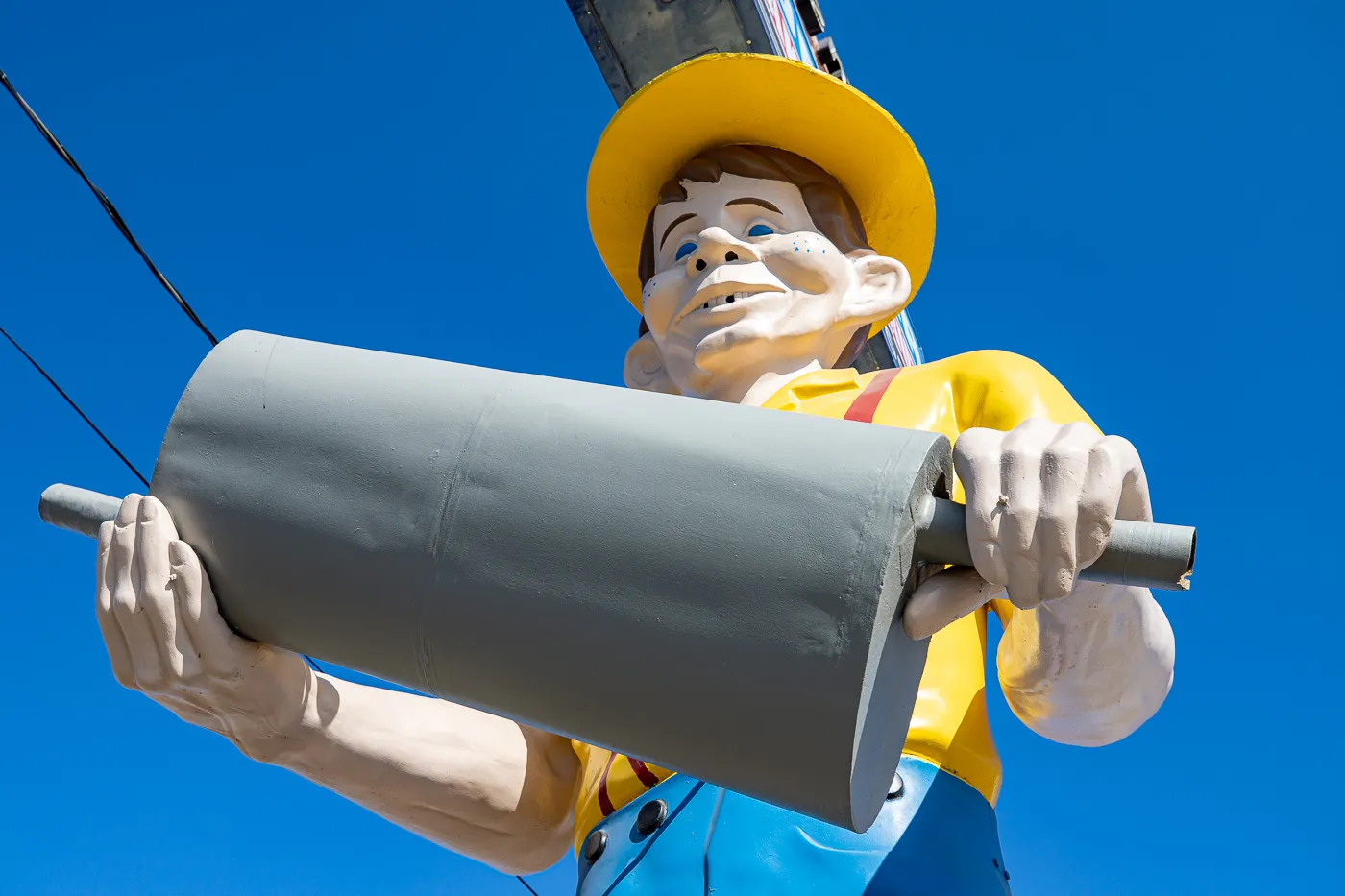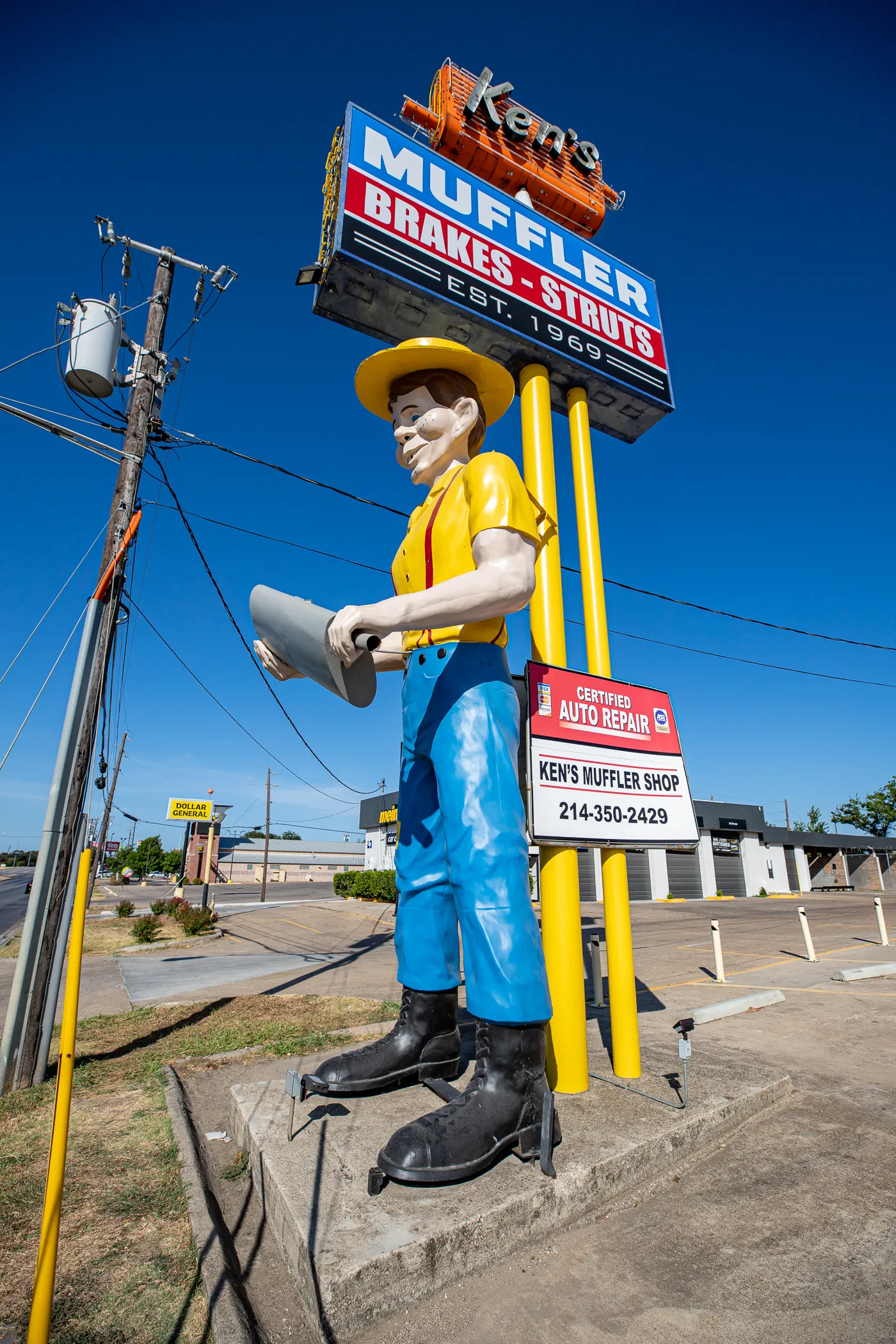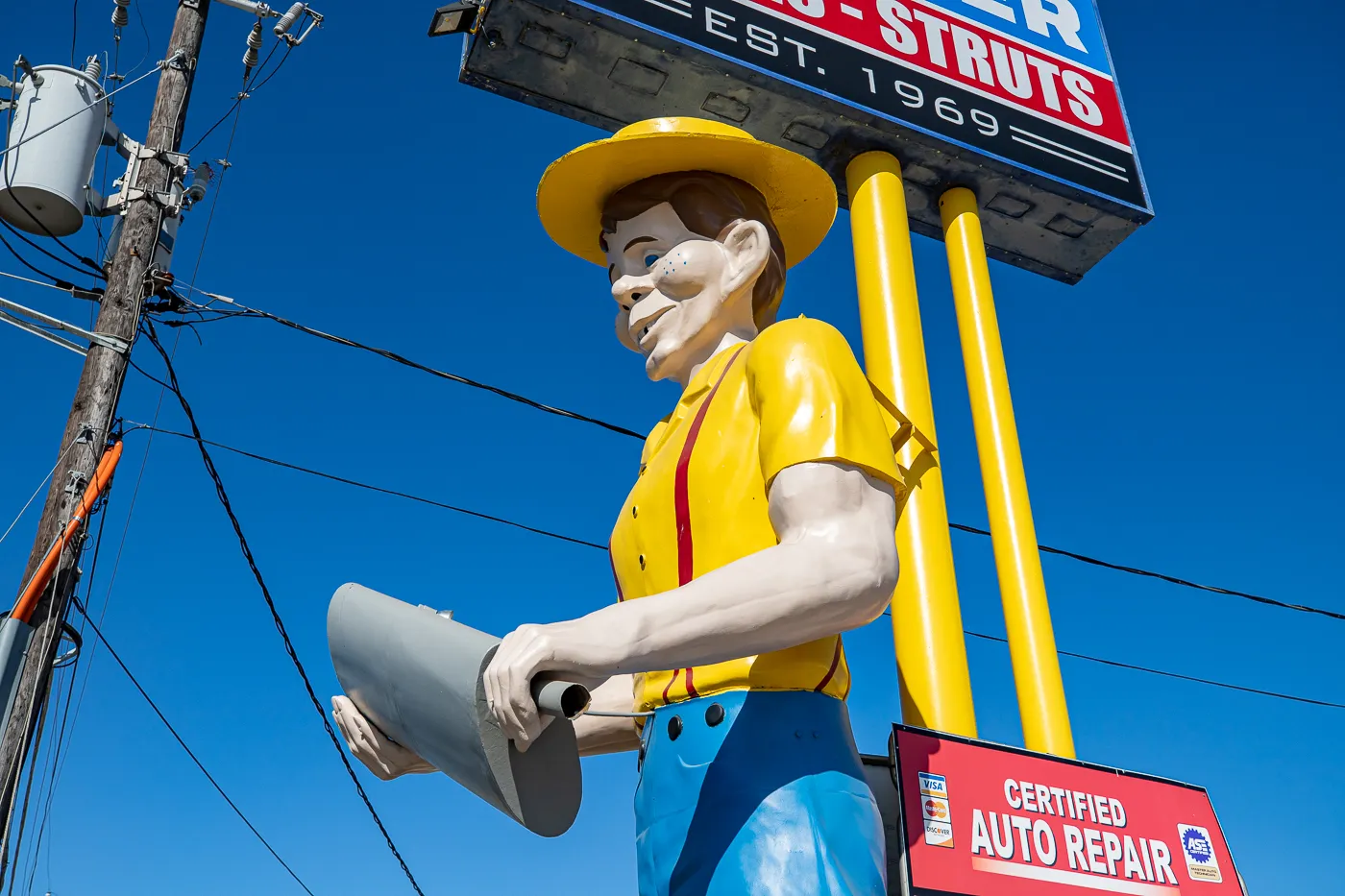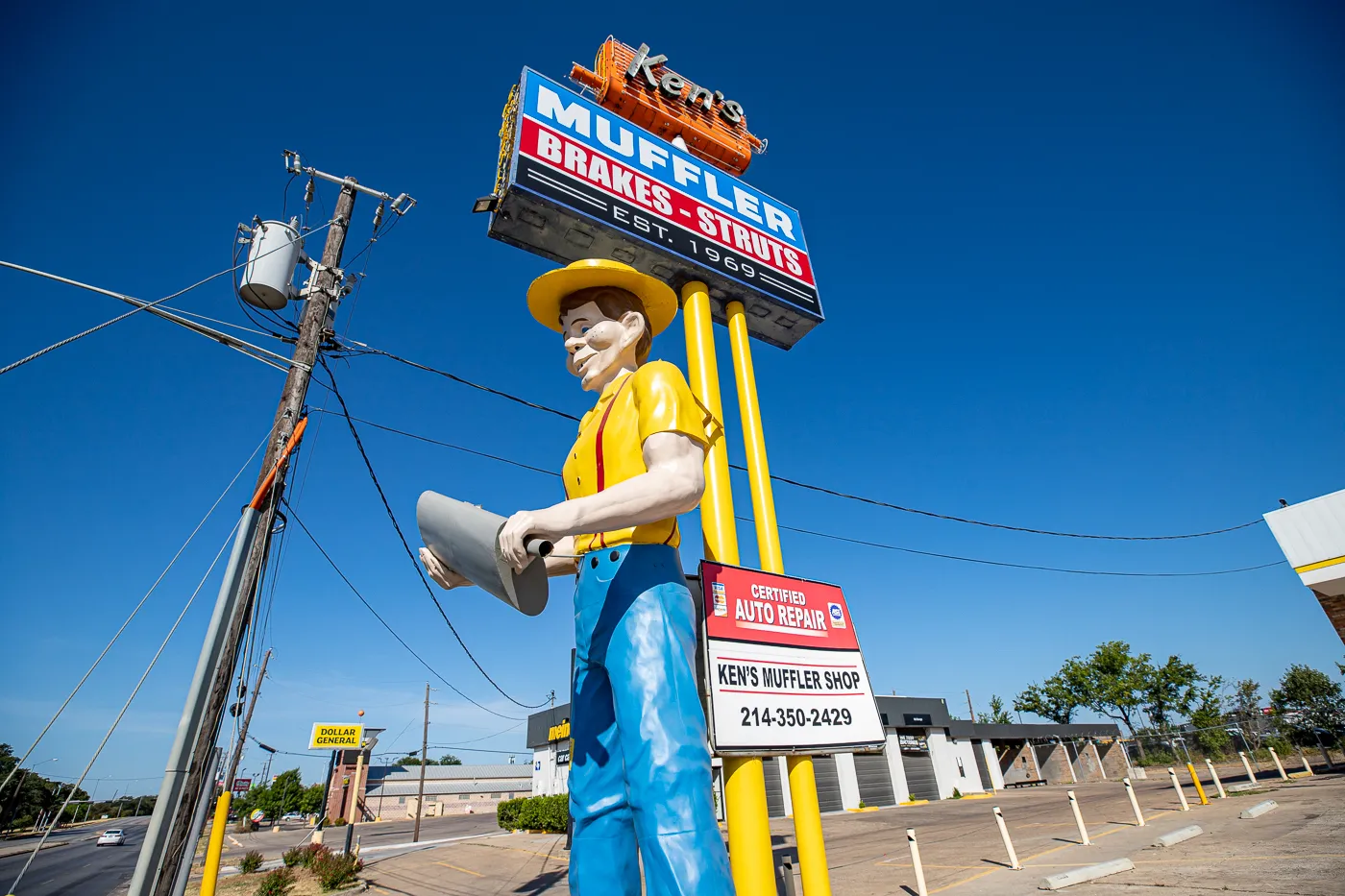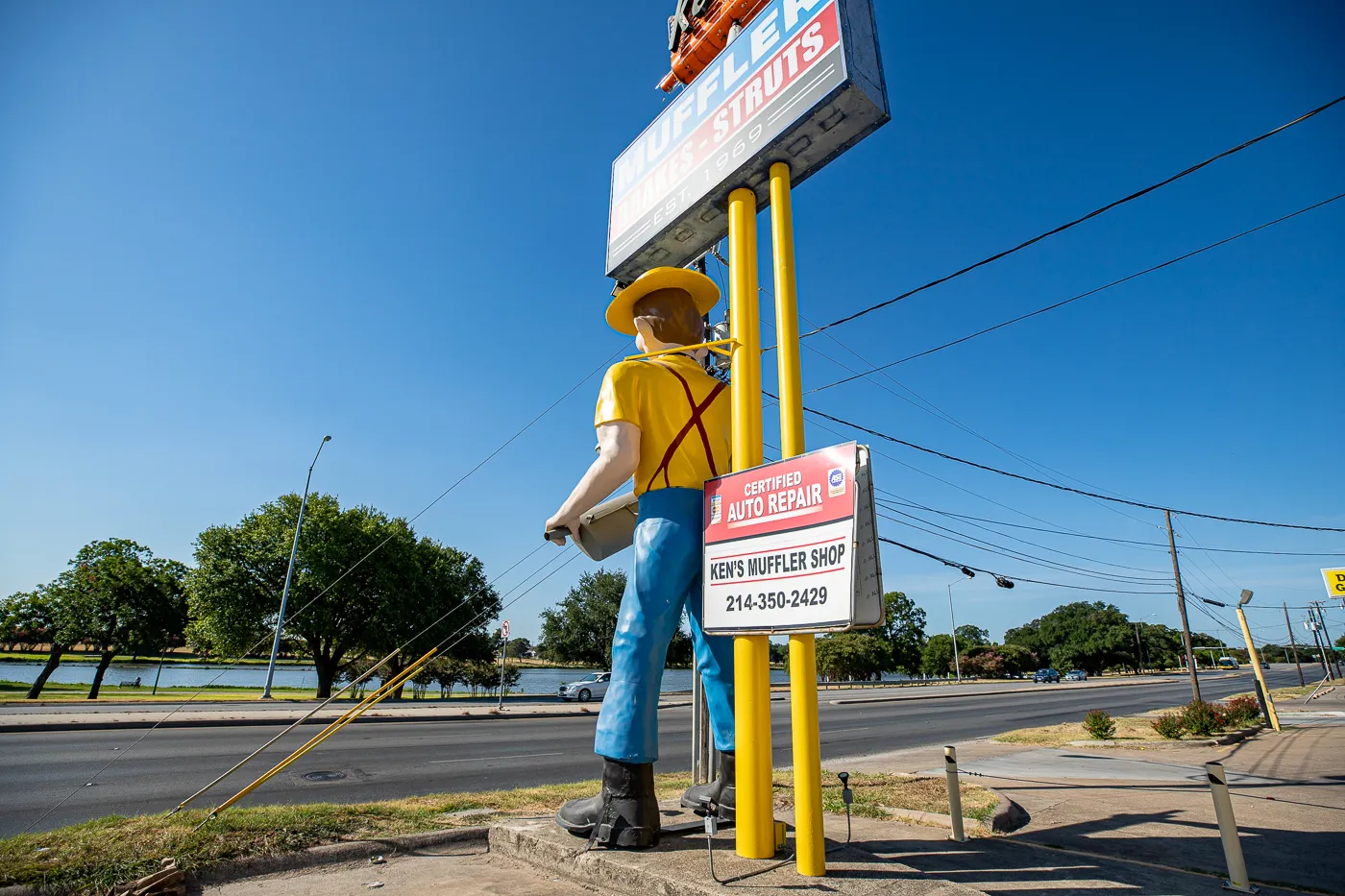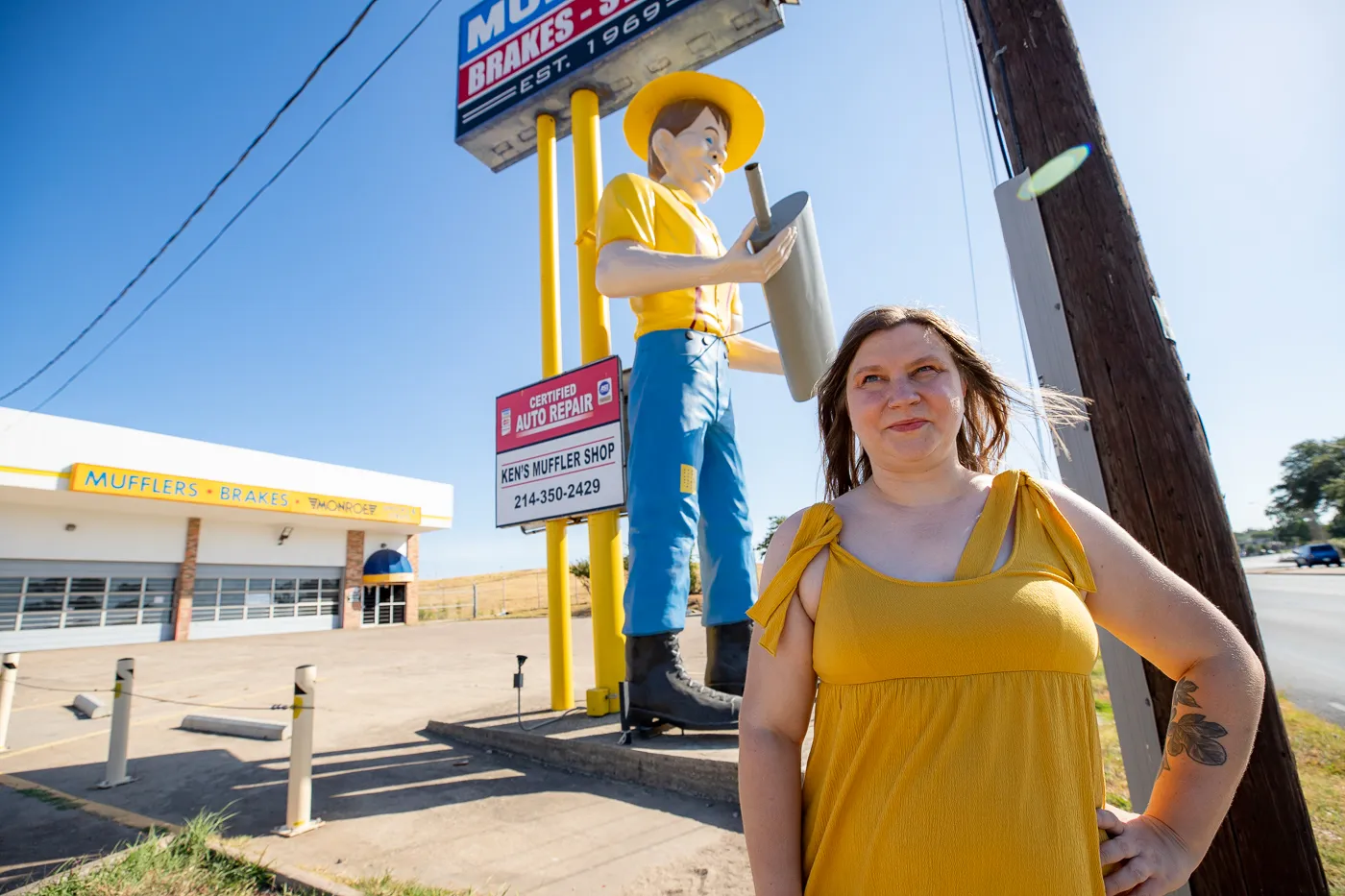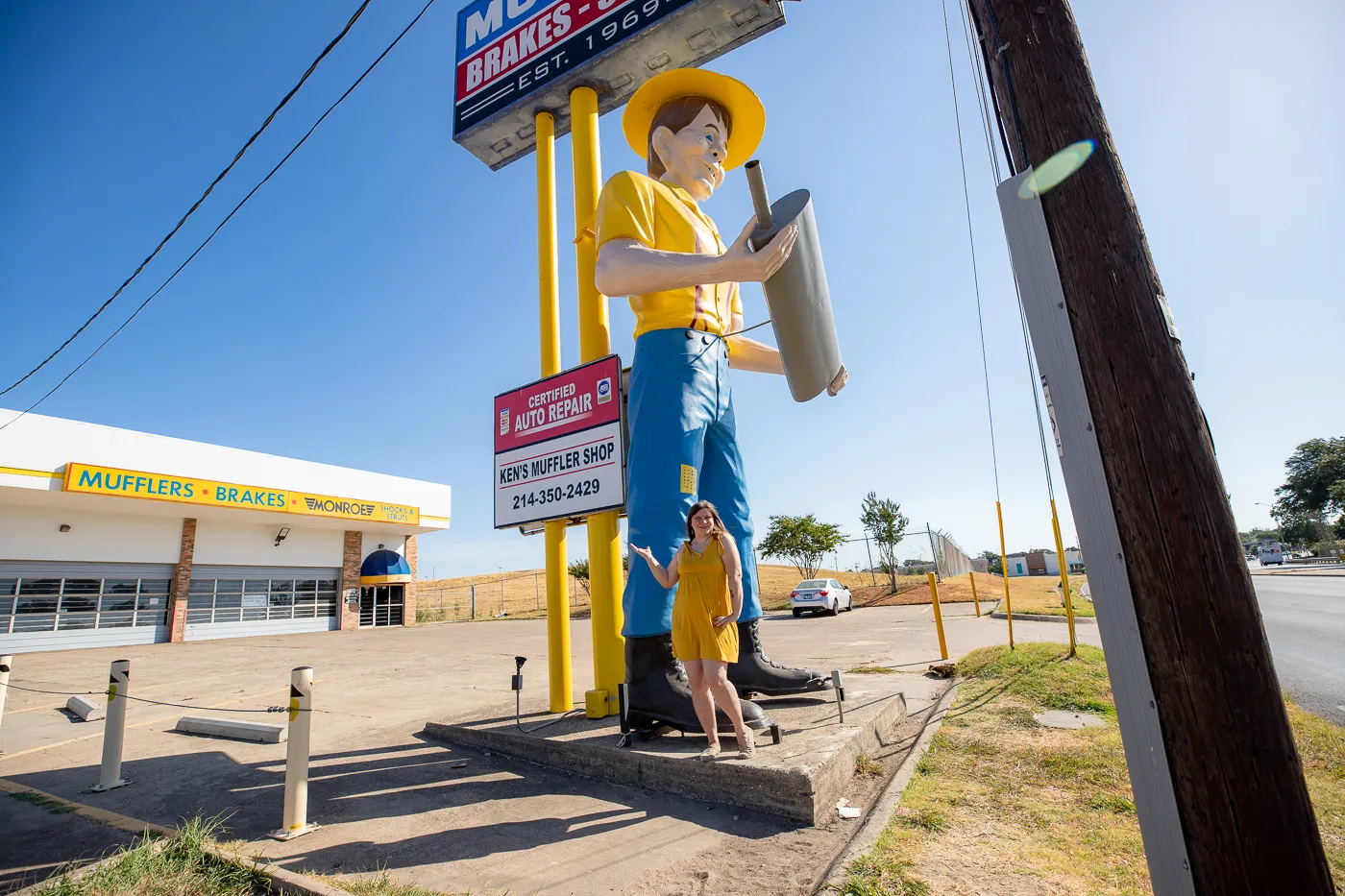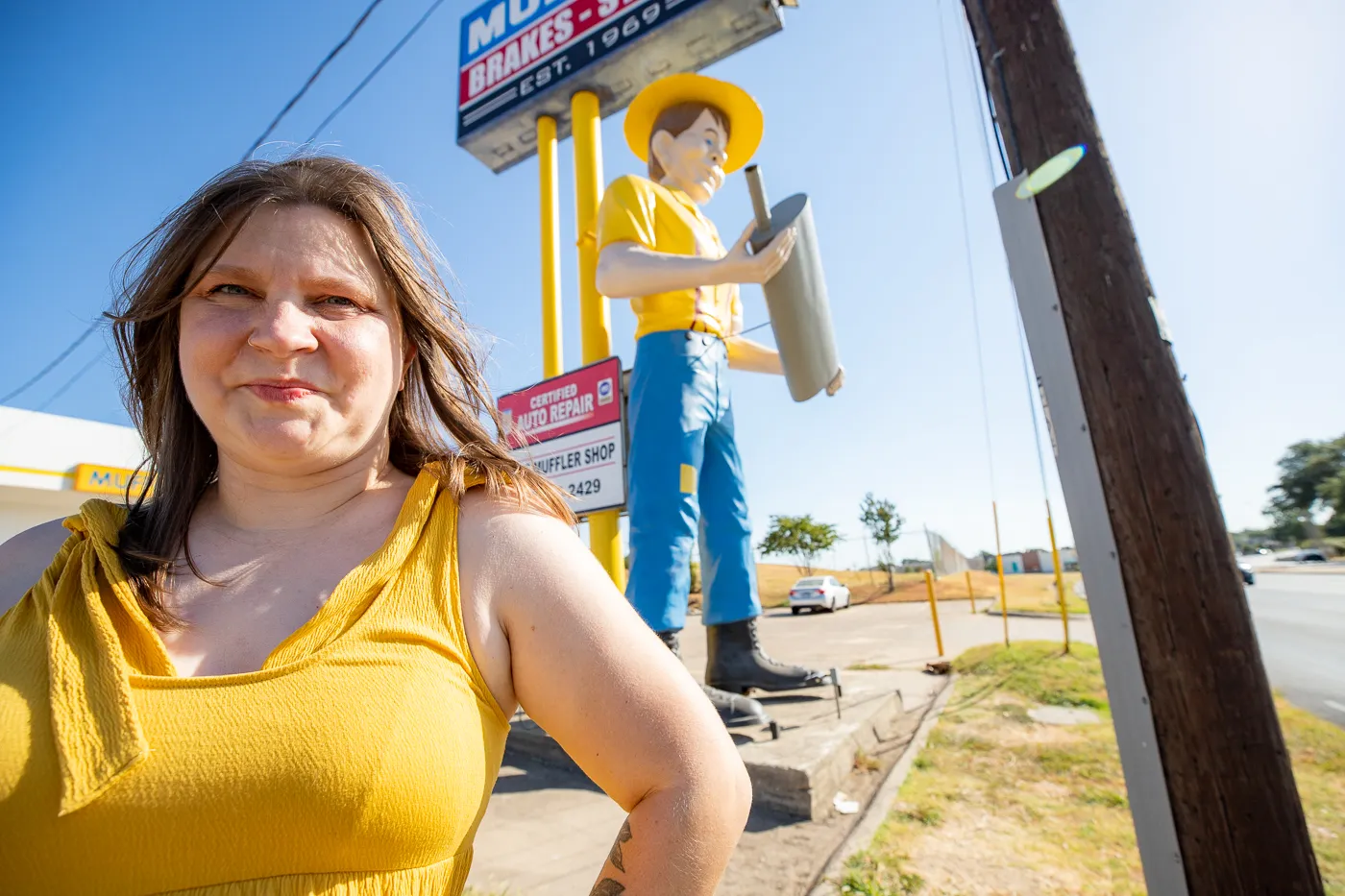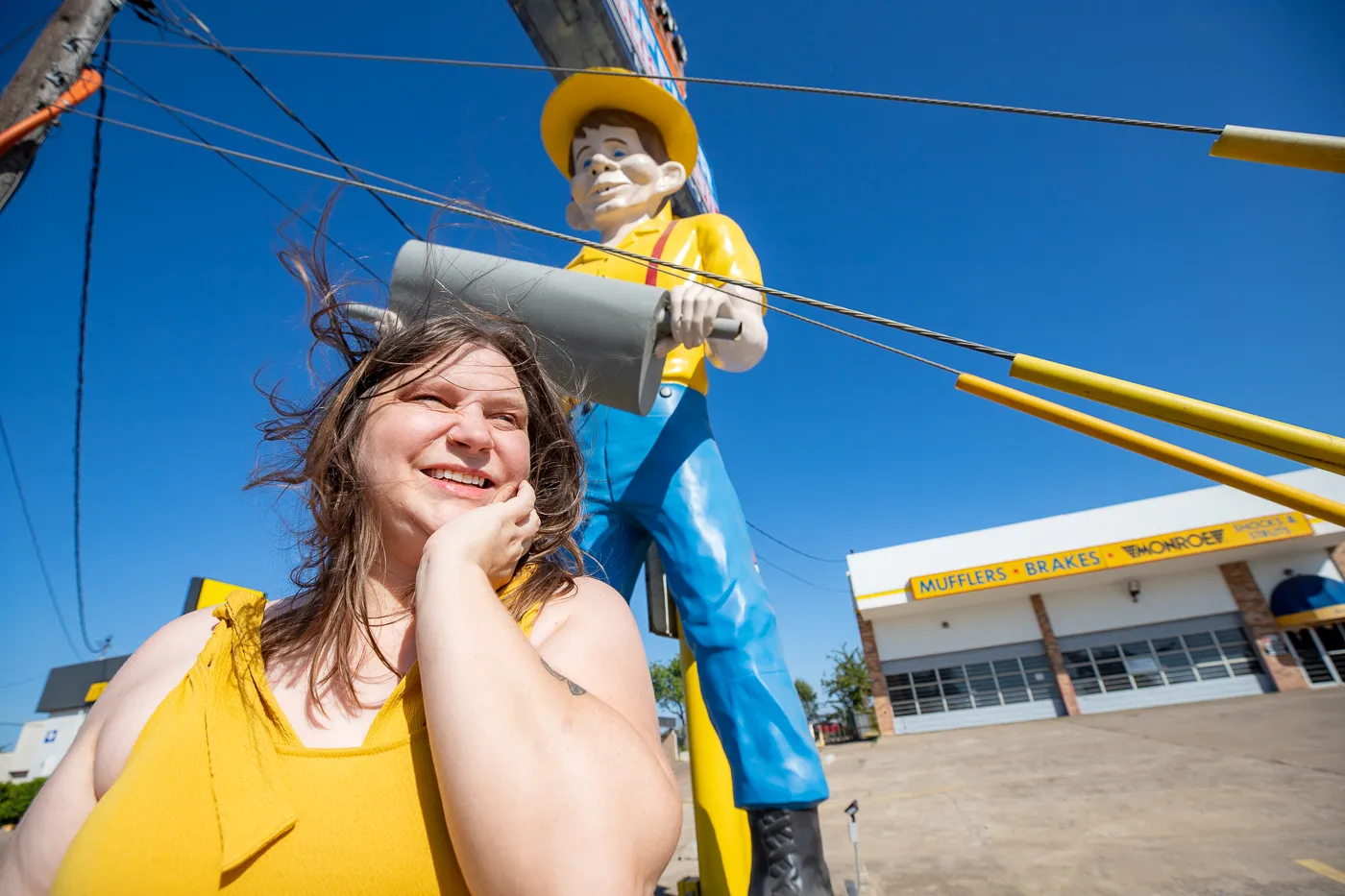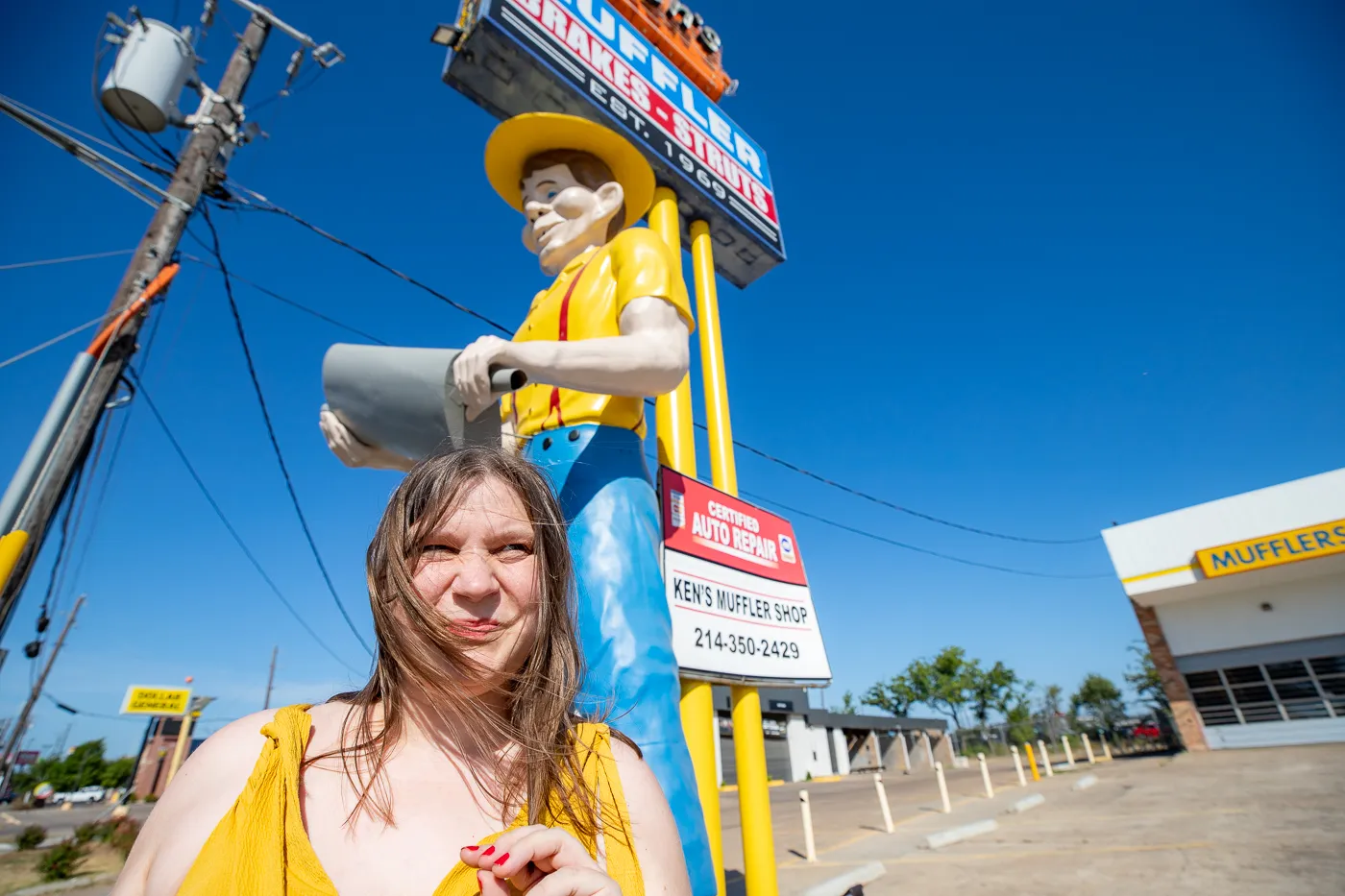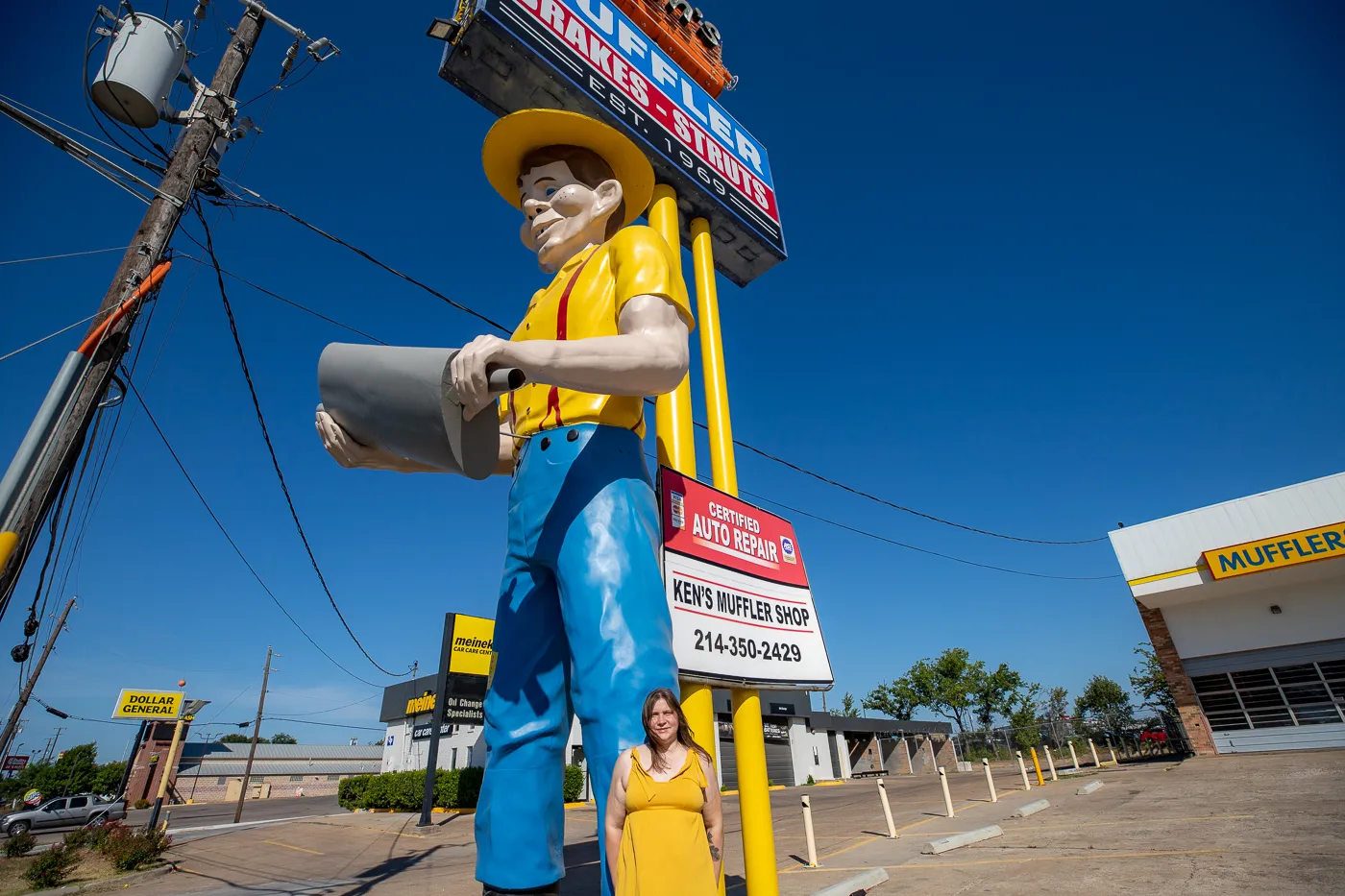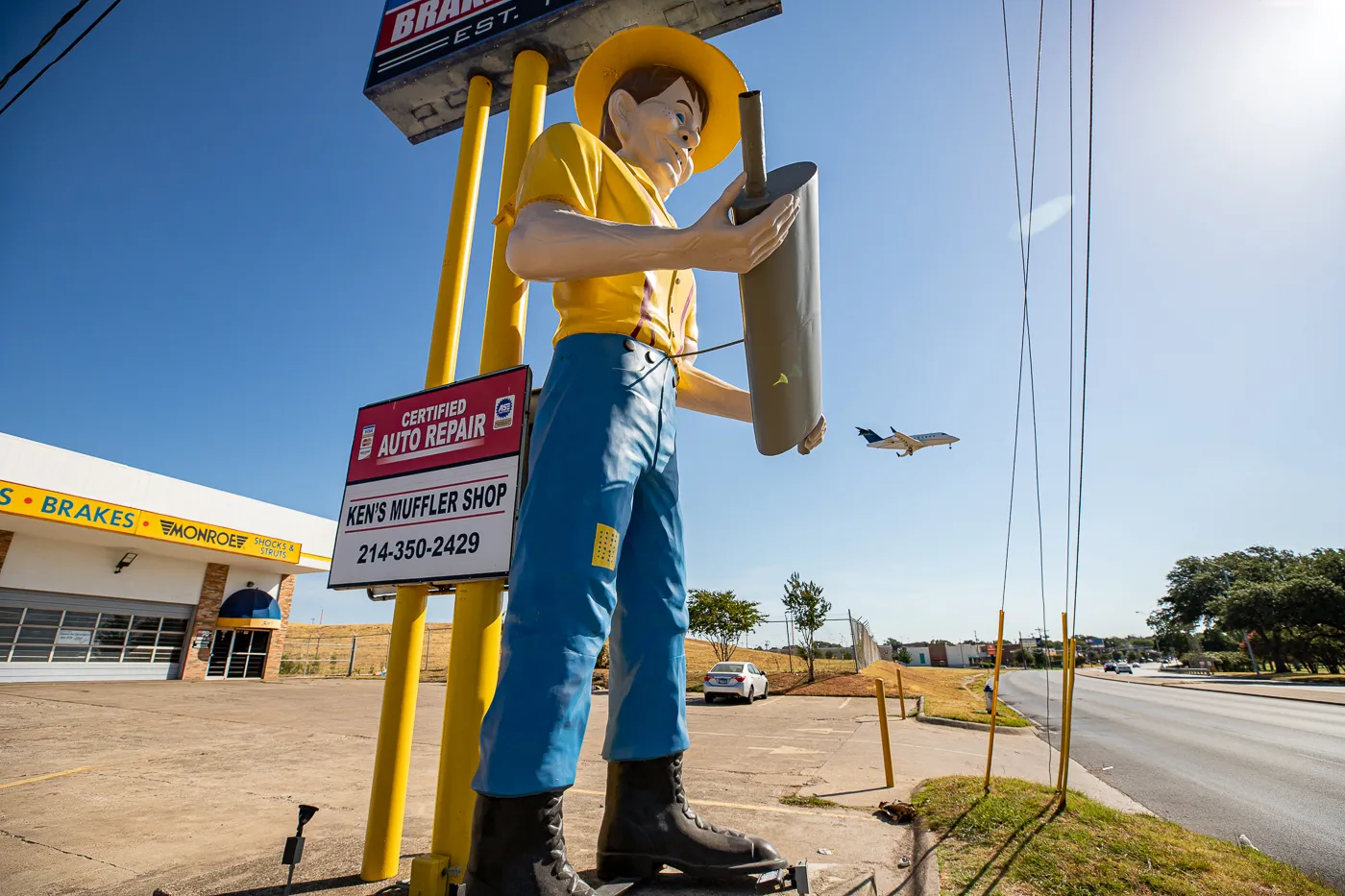 Pin this post on muffler men in Dallas, Texas to save for later: