Modern day Route 66 is a mixture of old and new. There are plenty of original locations still in place that thrived in the 1920s, some is various states decay and others in various states of refurbishment. There are also plenty of brand new Route 66 attractions that have popped up in recent years, capitalizing on the surging interest in the classic road. This attraction has one foot in the past, one foot in the present, and both feet firmly planted in the drive-through lane: Red's Giant Hamburg in Springfield, Missouri.
Red's Giant Hamburg first opened its doors on Route 66 in Springfield, Missouri in 1947. The tiny restaurant was run by Sheldon "Red" Chaney (May 20, 1916 – June 2, 1997) and was located in a former Sinclair gas station. It had one unique feature never seen before: a drive-though window. The restaurant was allegedly the world's first drive-through restaurant, establishing a precedent that transformed the way we eat food on the go.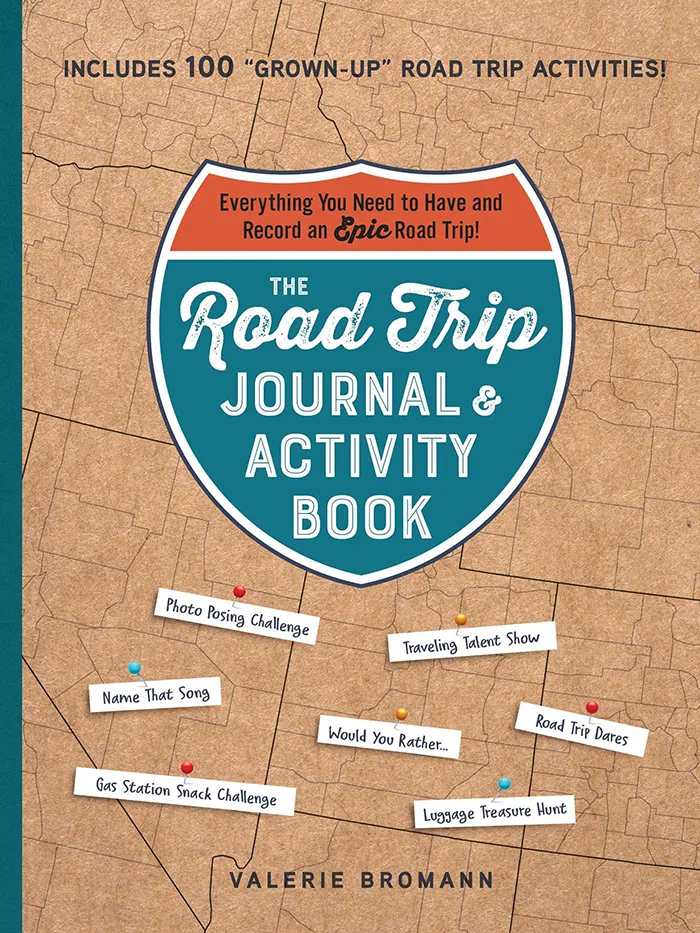 The Road Trip Journal & Activity Book
Everything You Need to Have and Record an Epic Road Trip!
Enjoy fun games and challenges to pass the time on your next road trip and have a keepsake to look back on for years to come with this entertaining must-have for your next vacation.
Why is the restaurant called "Hamburg" and not "Hamburger?" You might be thinking the unusual name has some connection to the town in Germany, but, in reality, it was all based on a simple mistake. Owner Chaney, misjudged the sign's height and didn't have room for those last two letters without hitting power lines, so he cut it down to size, losing the "ER" in the process.
For decades Red's Giant Hamburg served burgers, fries, and root beer to locals and Route 66 travelers. But, in December 1984, three years shy of its 50th anniversary, Red's closed its doors for good.
The property sat empty for years until in was demolished in 1997. But the legacy of Red's never wavered, so much so that, in 2015, a replica of the famous sign was created and installed in the Birthplace of Route 66 Roadside Park. But the legacy doesn't stop there.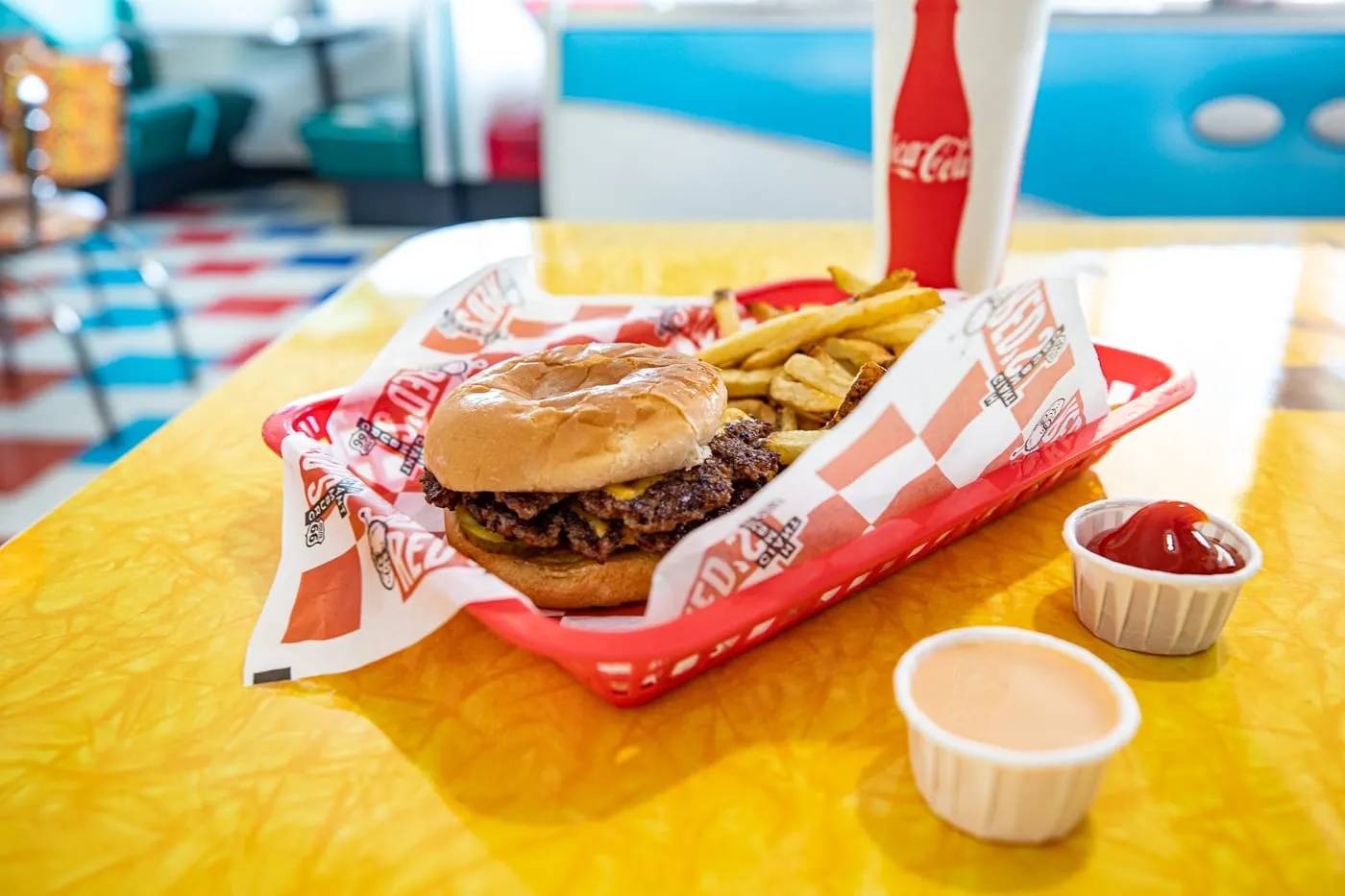 In 2019 a new and improved Red's Giant Hamburg opened in Springfield, Missouri. Co-owners David Campbell and Greg Iott rebuilt the restaurant to be bigger and accommodate more diners – it is eight times the size of the original. The menu features familiar items like hamurgers, fries, and local root beer along with hot dogs, chili dogs, chili fries, chili cheese fries, pork sandwiches, chicken sandwiches, and more. There are even vegan burger and gluten free bun options.
Outside you'll find another replica of the Red's Giant Hamburg sign and a polished red '55 Buick Special, an homage to the car owned by Chaney, who used to park near his sign to prevent customers from backing their cars into it.
And, of course, there is a drive-thru window.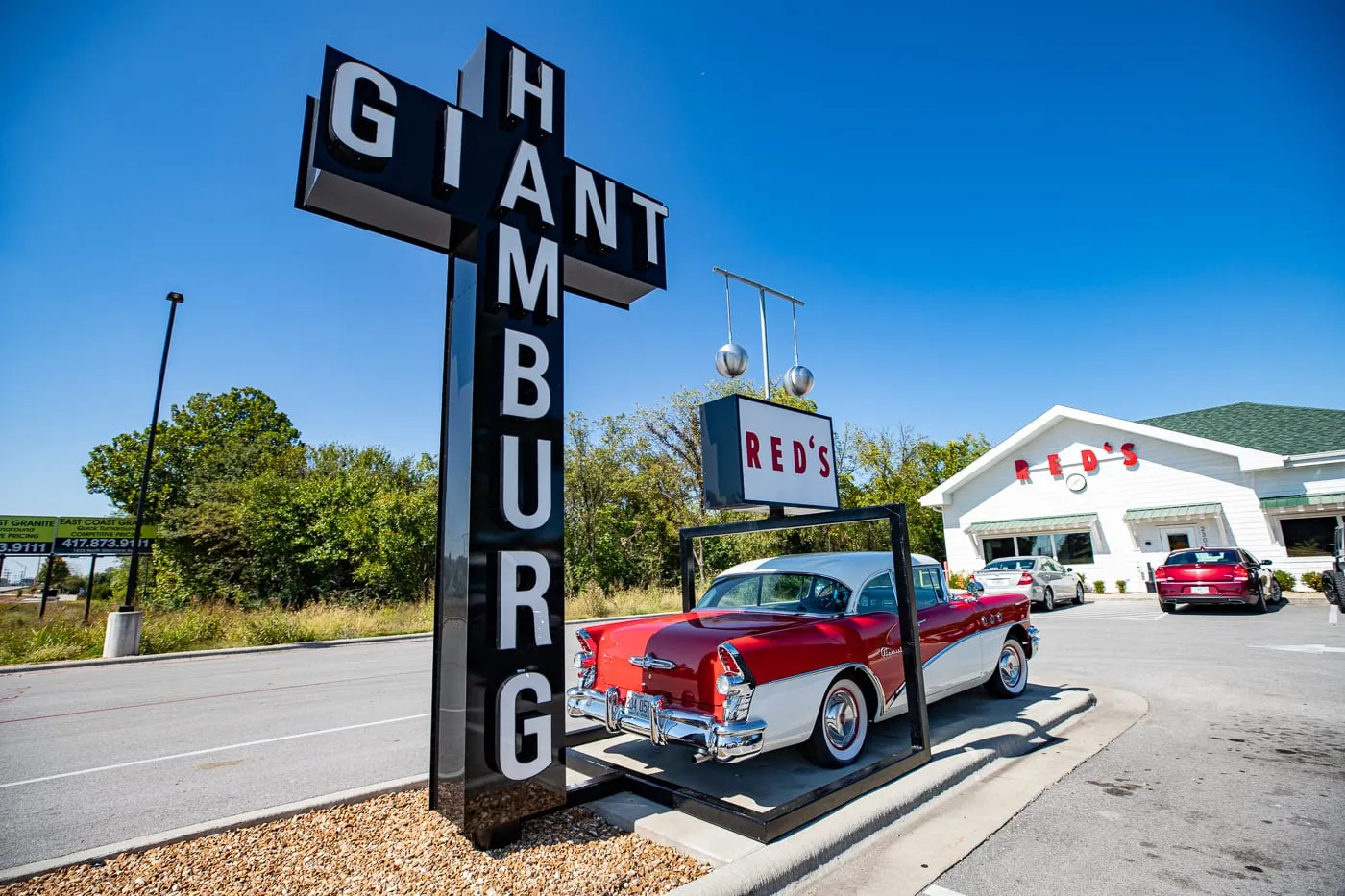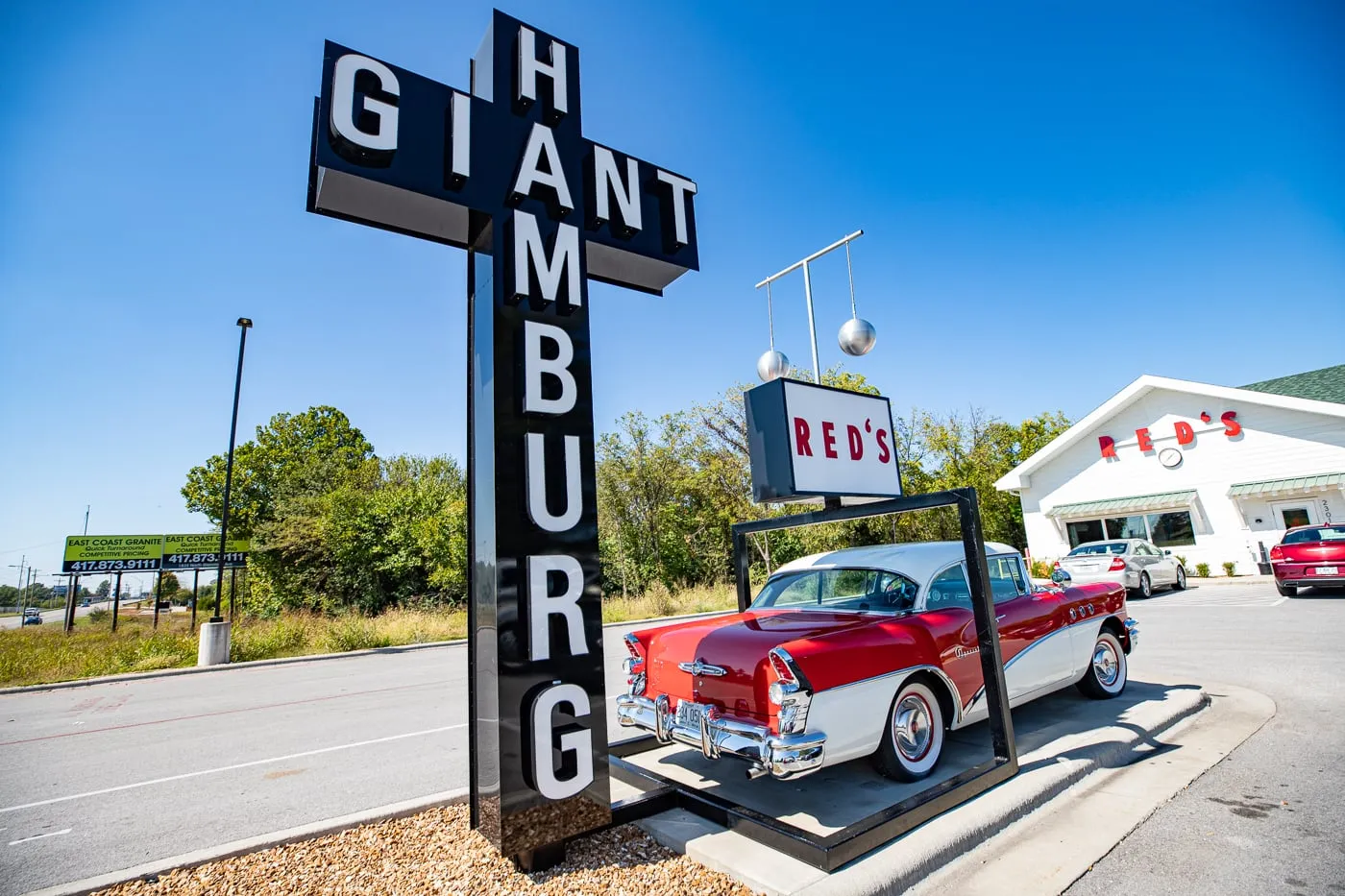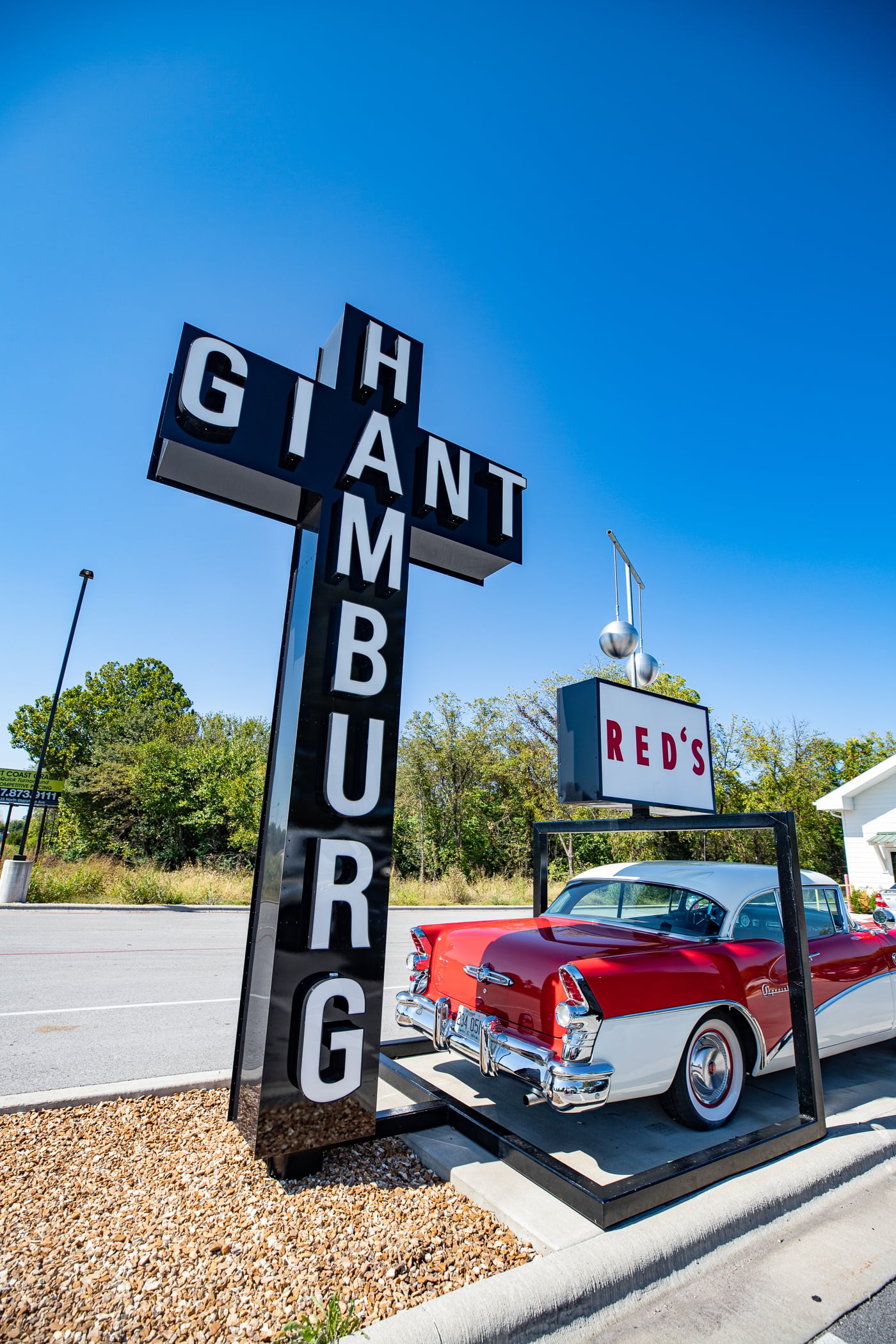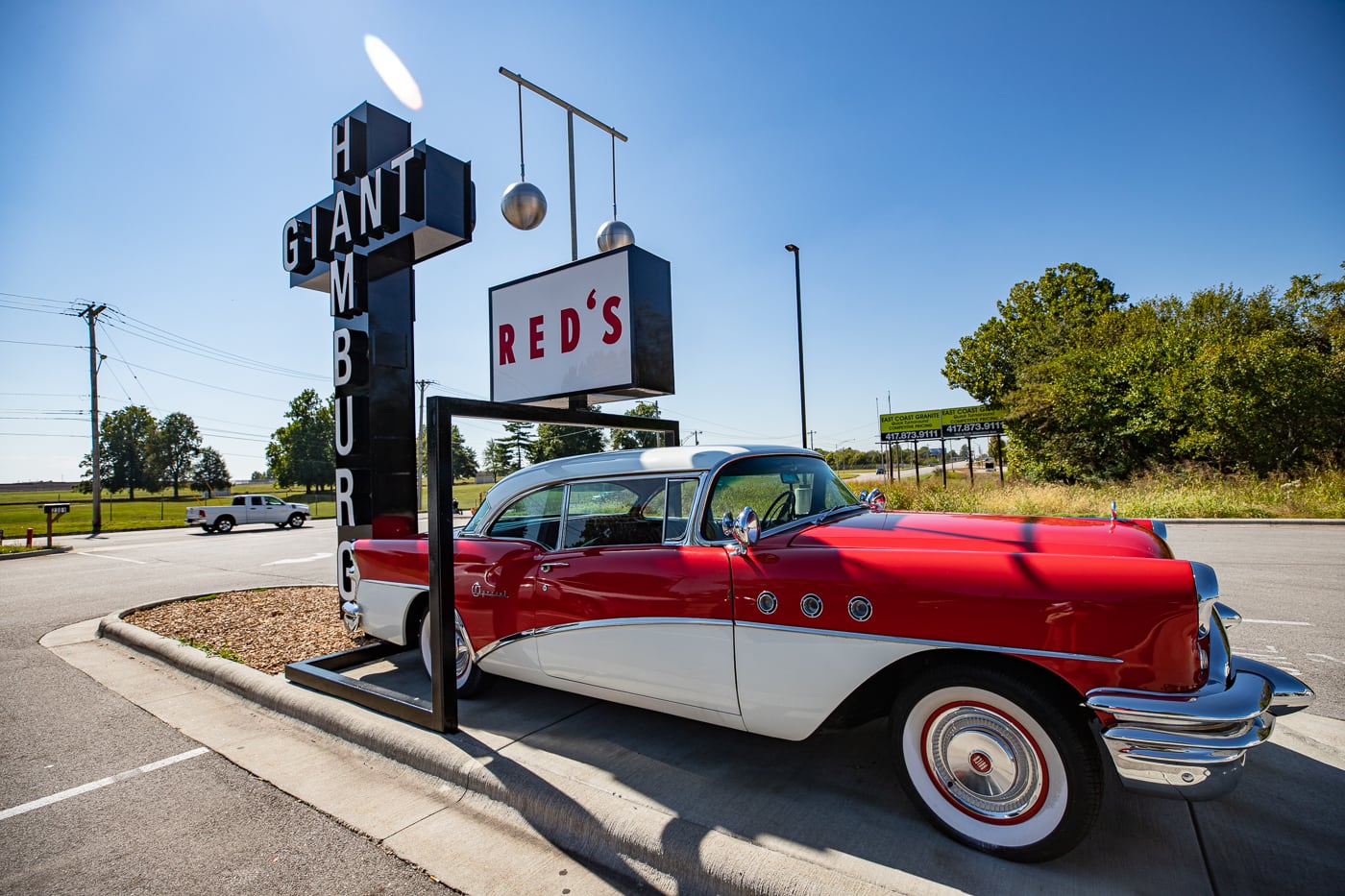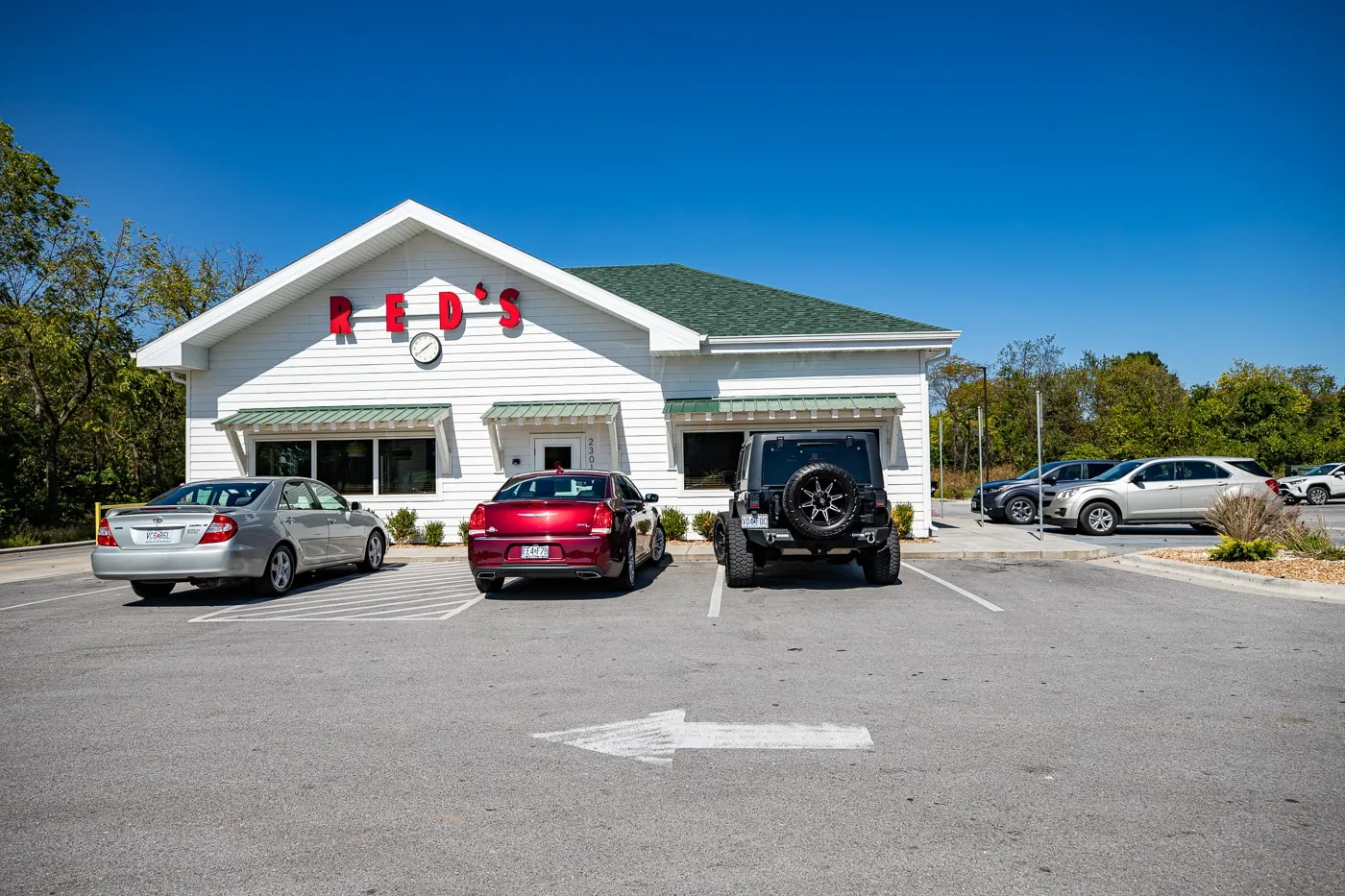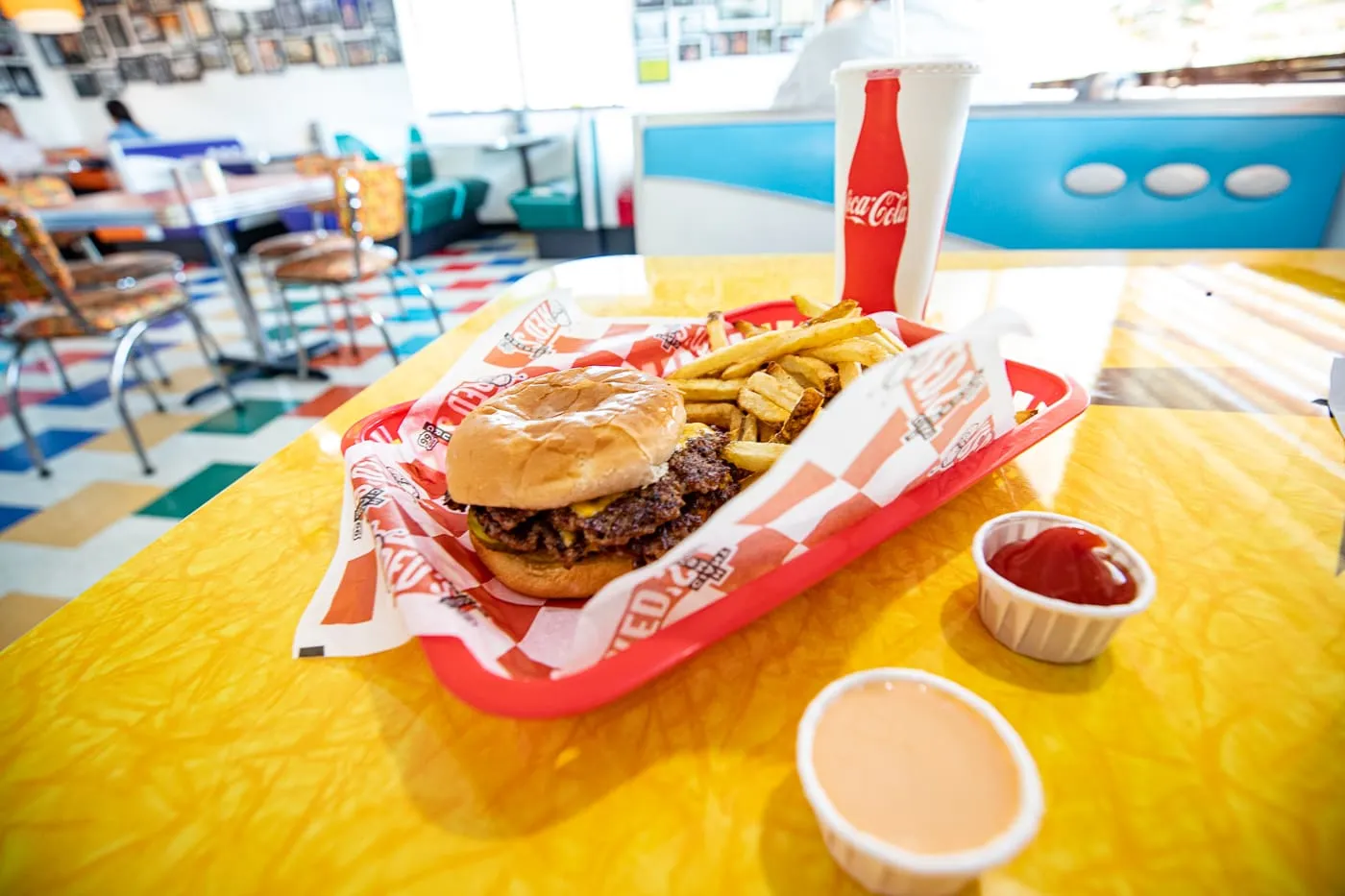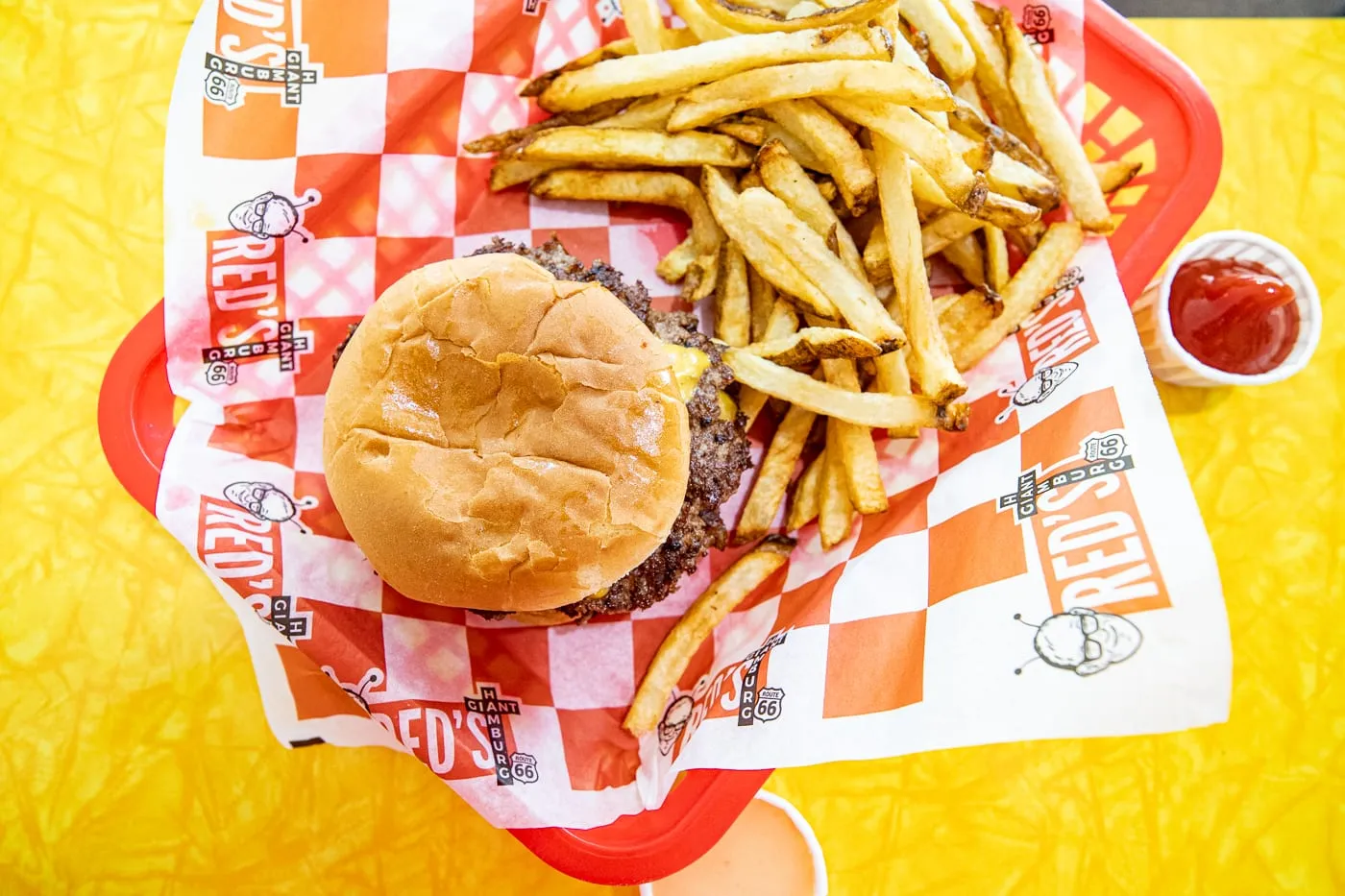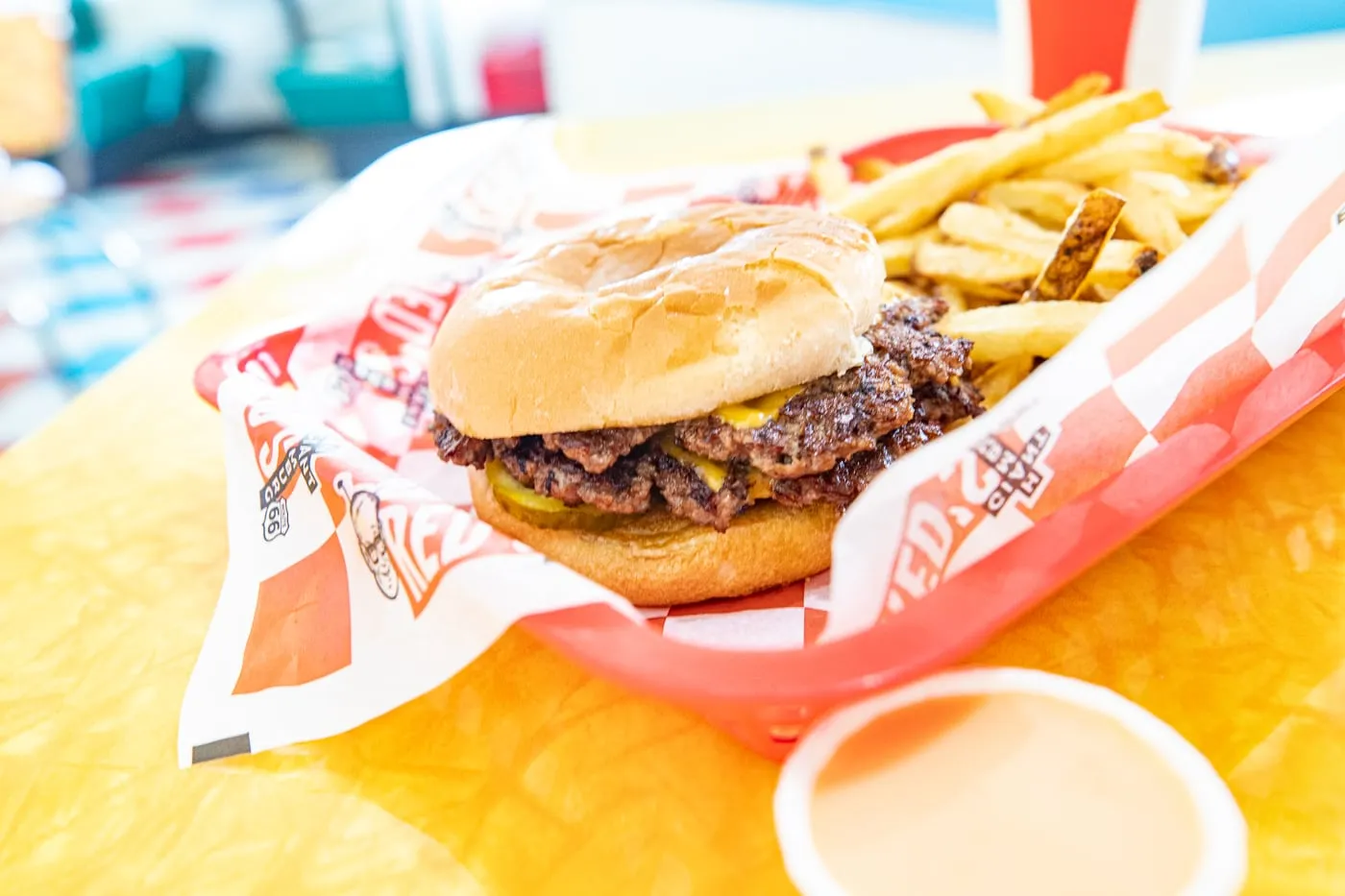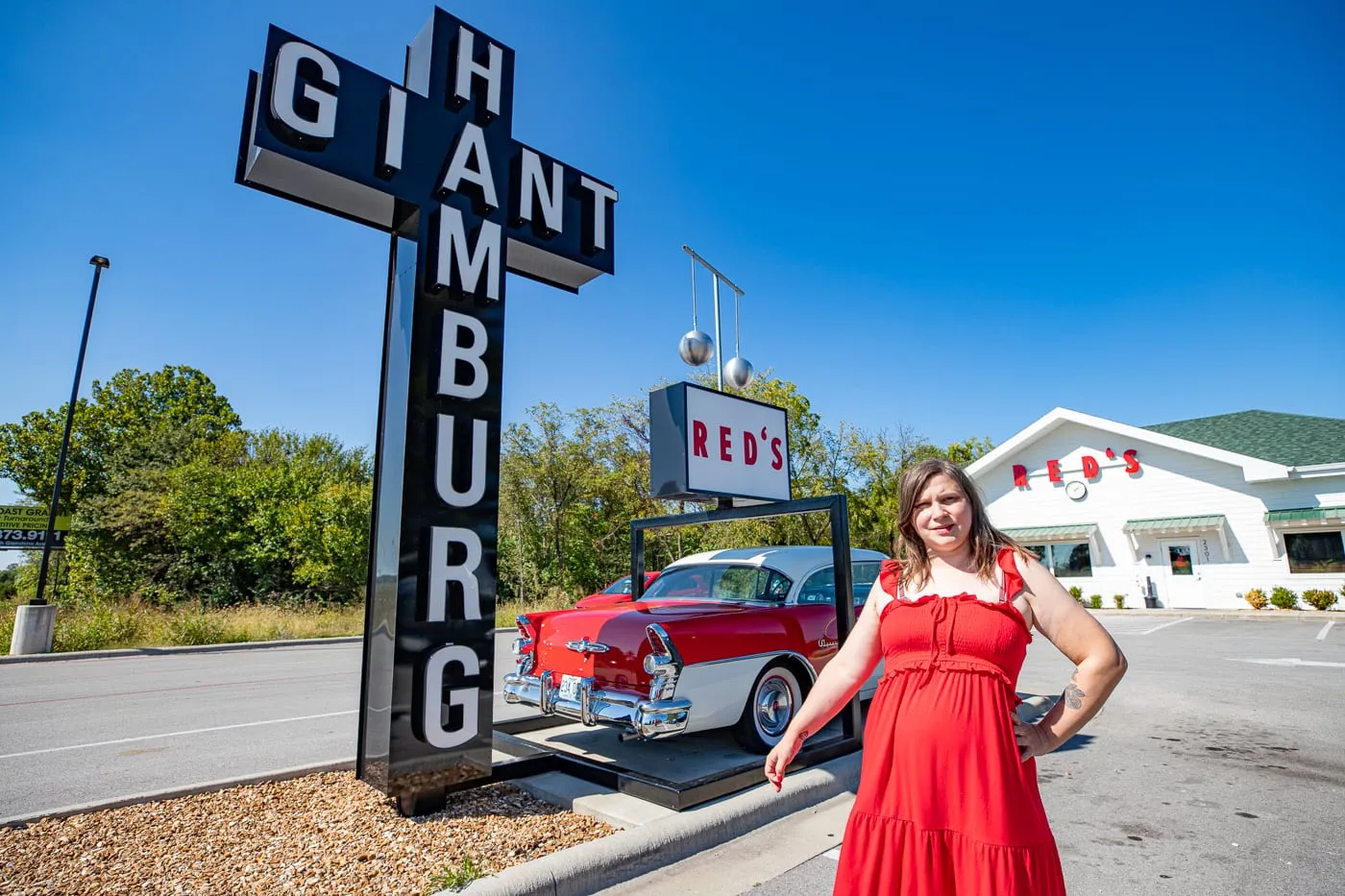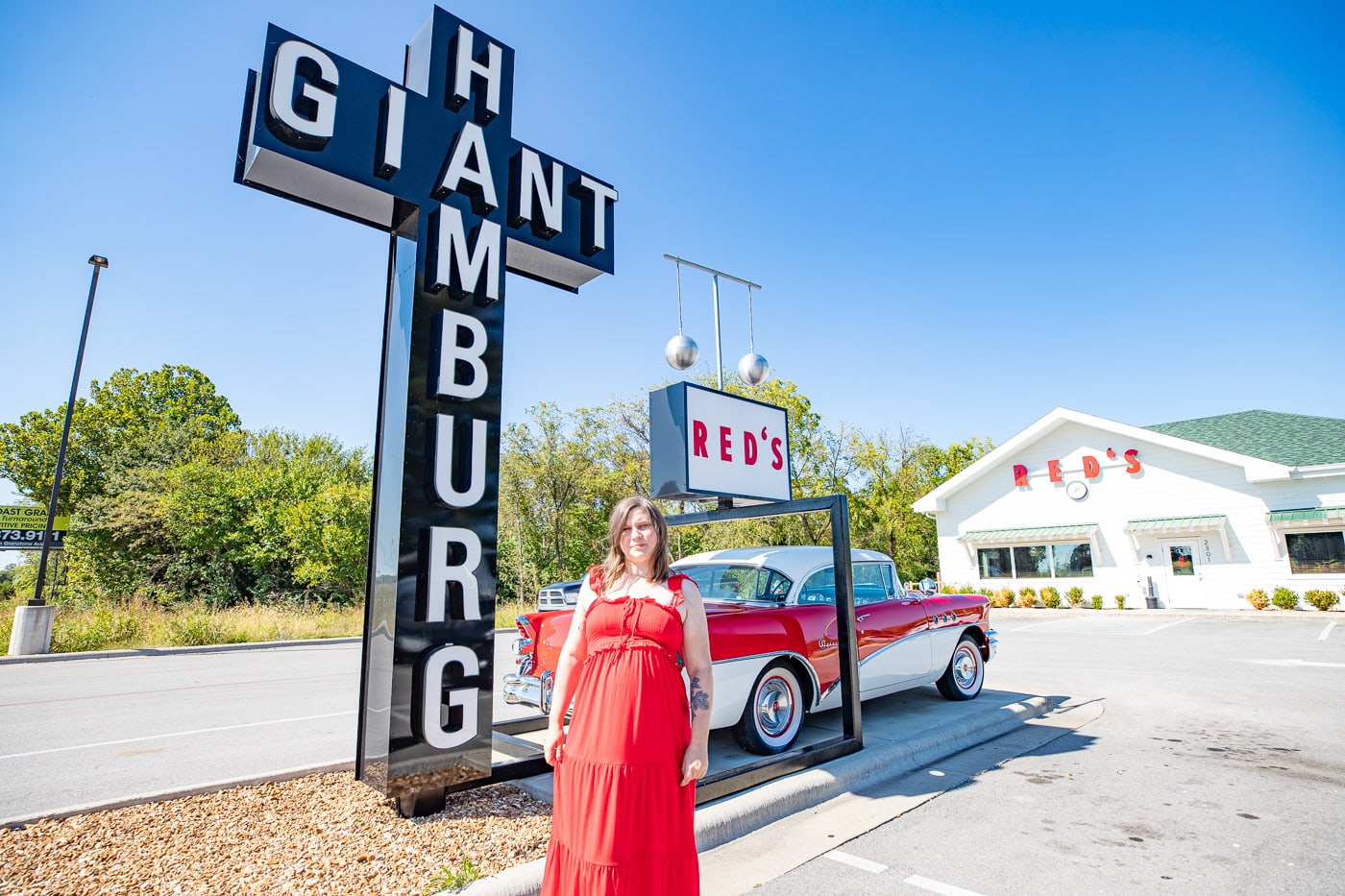 While traveling in Springfield, Missouri, also look for the World's Largest Fork and the Route 66 Food Truck Park. If you're spending the night, book a stay at the Best Western Route 66 Rail Haven hotel (try to stay in the Elvis Suite).
Red's Giant Hamburg
Address: 2301 W Sunshine St, Springfield, MO 65807
Hours: Free to See, but menu item costs vary
Cost: 10am-9pm, daily
Visit the restaurant's official website for up to date hours and menu.
Pin this Missouri Route 66 restaurant: