"Oh the things you can find if you don't stay behind." There are so many fun, weird, and silly things to see across America and this Texas roadside attraction is worth seeking out. This small park in Abilene, Texas features six sculptures of children's book characters that you are sure to recognize. It's called Everman Park, but most people would just call it Dr. Seuss Park.
Abilene, Texas is considered the Storybook Capital of America. The town is dedicated to "showcasing the wonders of children's literature," and is home to the National Center for Children's Illustrated Literature and the annual Children's Art & Literacy Festival. To celebrate their status you can find statues of popular children's book characters all around town as part of Abilene's Storybook Sculpture Project.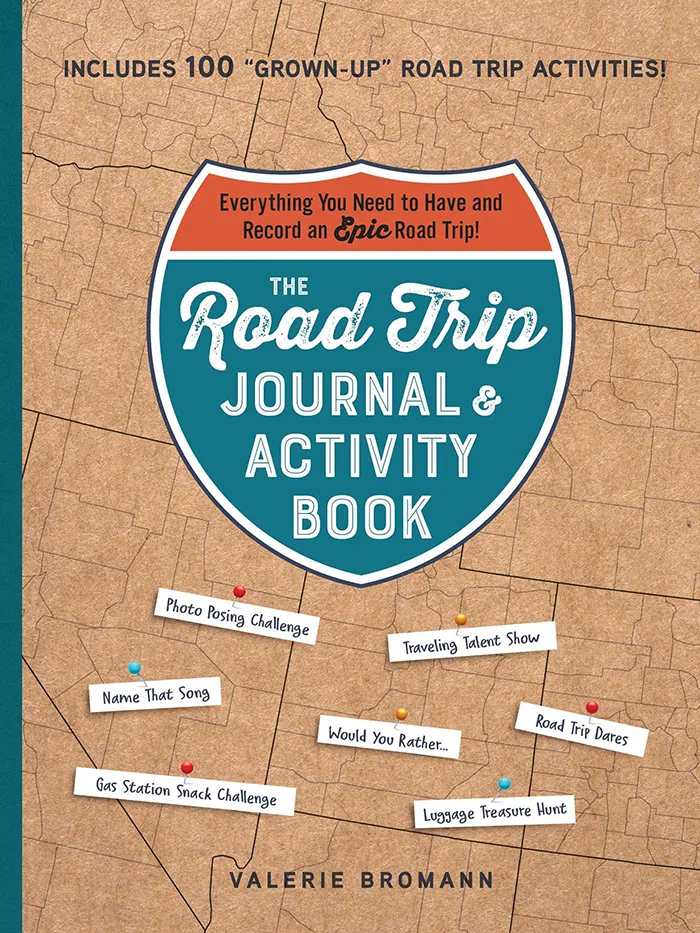 The Road Trip Journal & Activity Book
Everything You Need to Have and Record an Epic Road Trip!
Enjoy fun games and challenges to pass the time on your next road trip and have a keepsake to look back on for years to come with this entertaining must-have for your next vacation.
One place to find a collection of those characters in Everman Park. The park was named after John Everman, a rail company officer, in 1914. But nowadays it's known more for something else. In this Dr. Seuss park you'll find six statues of iconic characters from the author's books: Cat in the Hat, Lorax, the Grinch, Horton, Sam I Am and Yertle the Turtle. All of the bronze sculptures were made by artist culptor Leo Rijn, purchased from the Seuss Foundation, and installed in 2012-2013.
Sculptures in Dr. Seuss Park (Everman Park)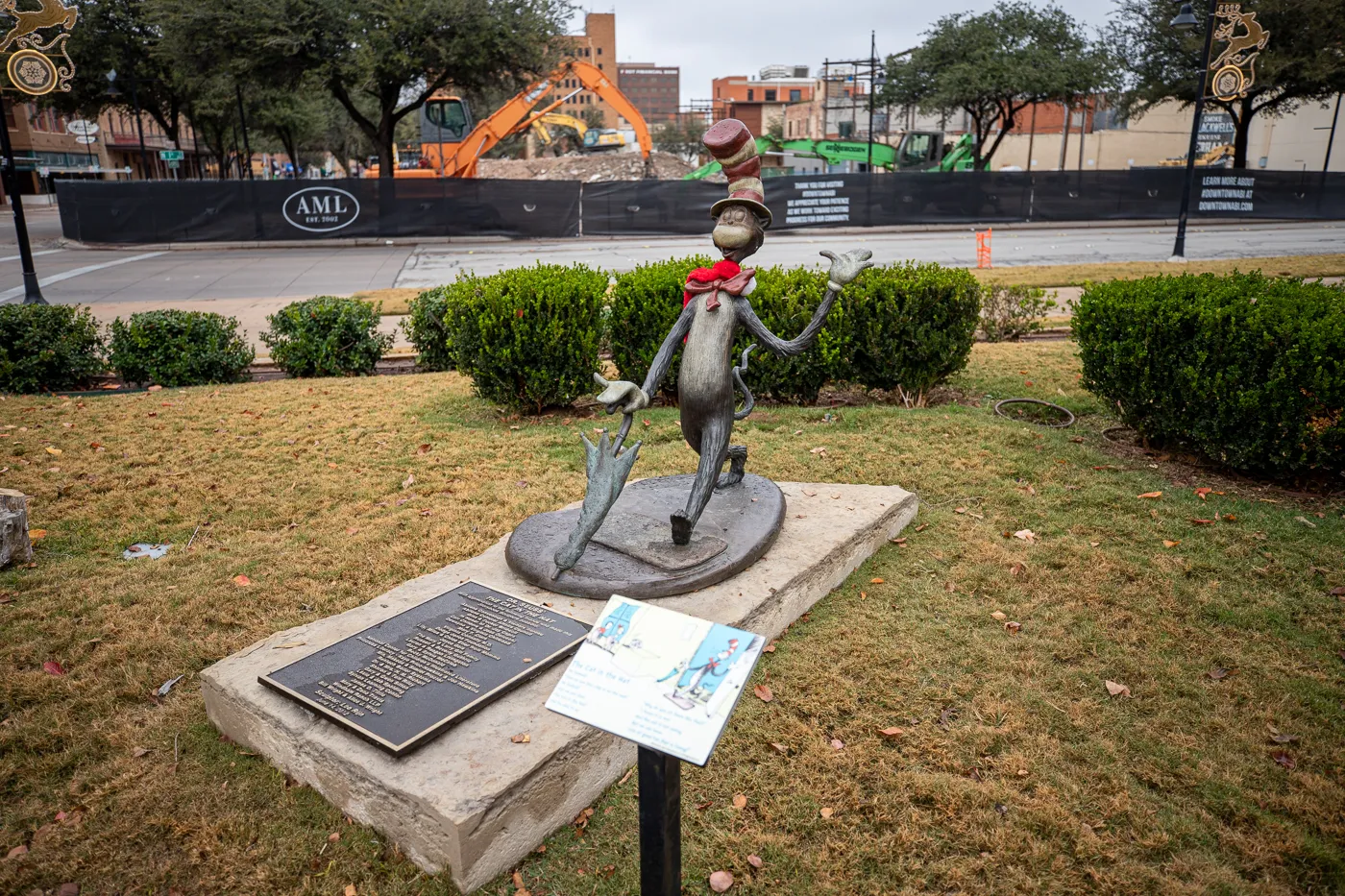 The Cat in the Hat Statue
The Cat in the Hat is one of the best selling children's books of all time. The story centers on a black and white cat with a tall red and white-striped top hat who causes havoc and hijinks at the house of a pair of children while their mother is away.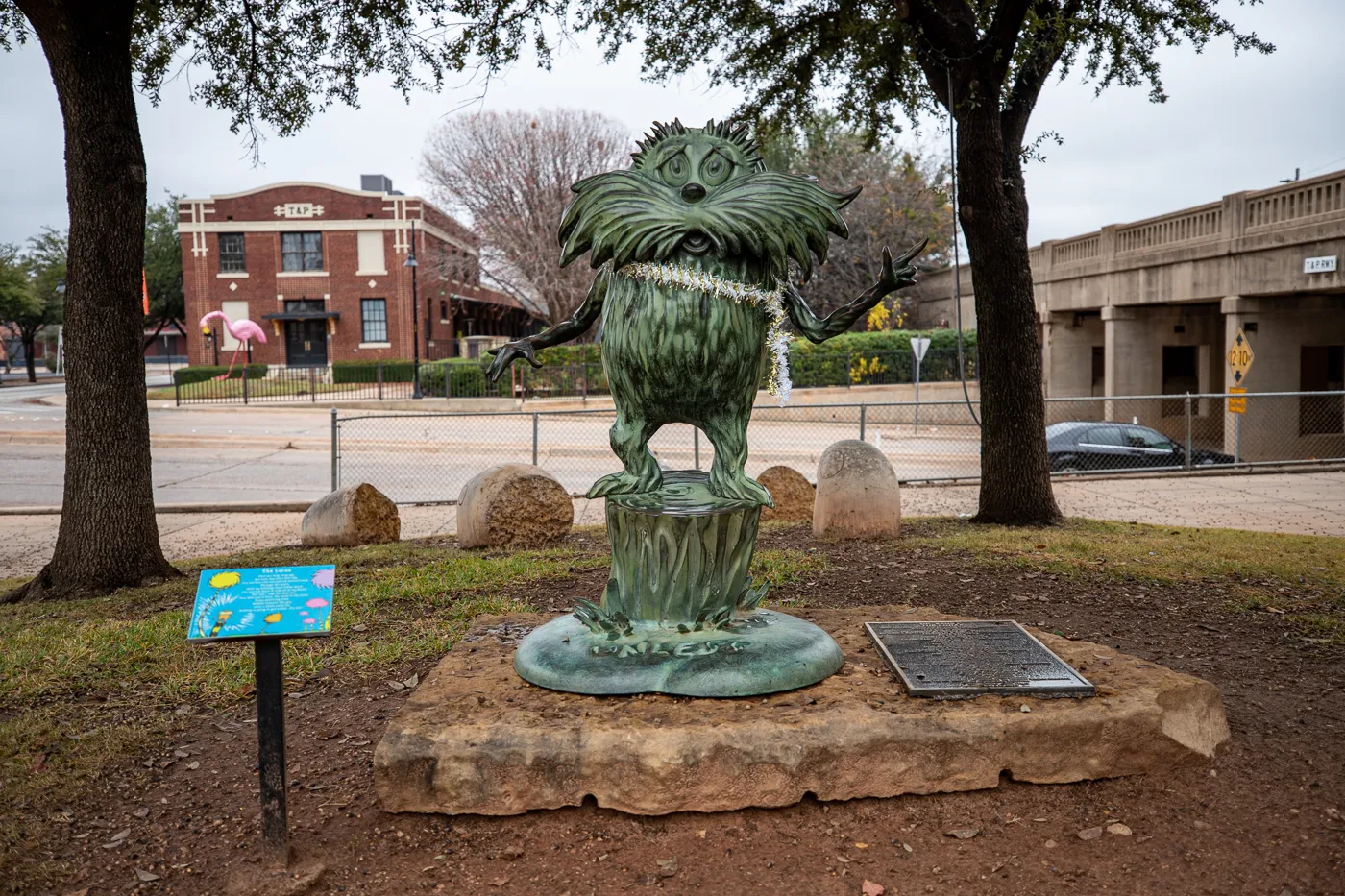 The Lorax Statue
The 1971 book The Lorax chronicles the dangers to the environment caused by greed through the titular character, Lorax, who "speaks for the trees" and confronts the business magnate Once-ler who causes environmental destruction.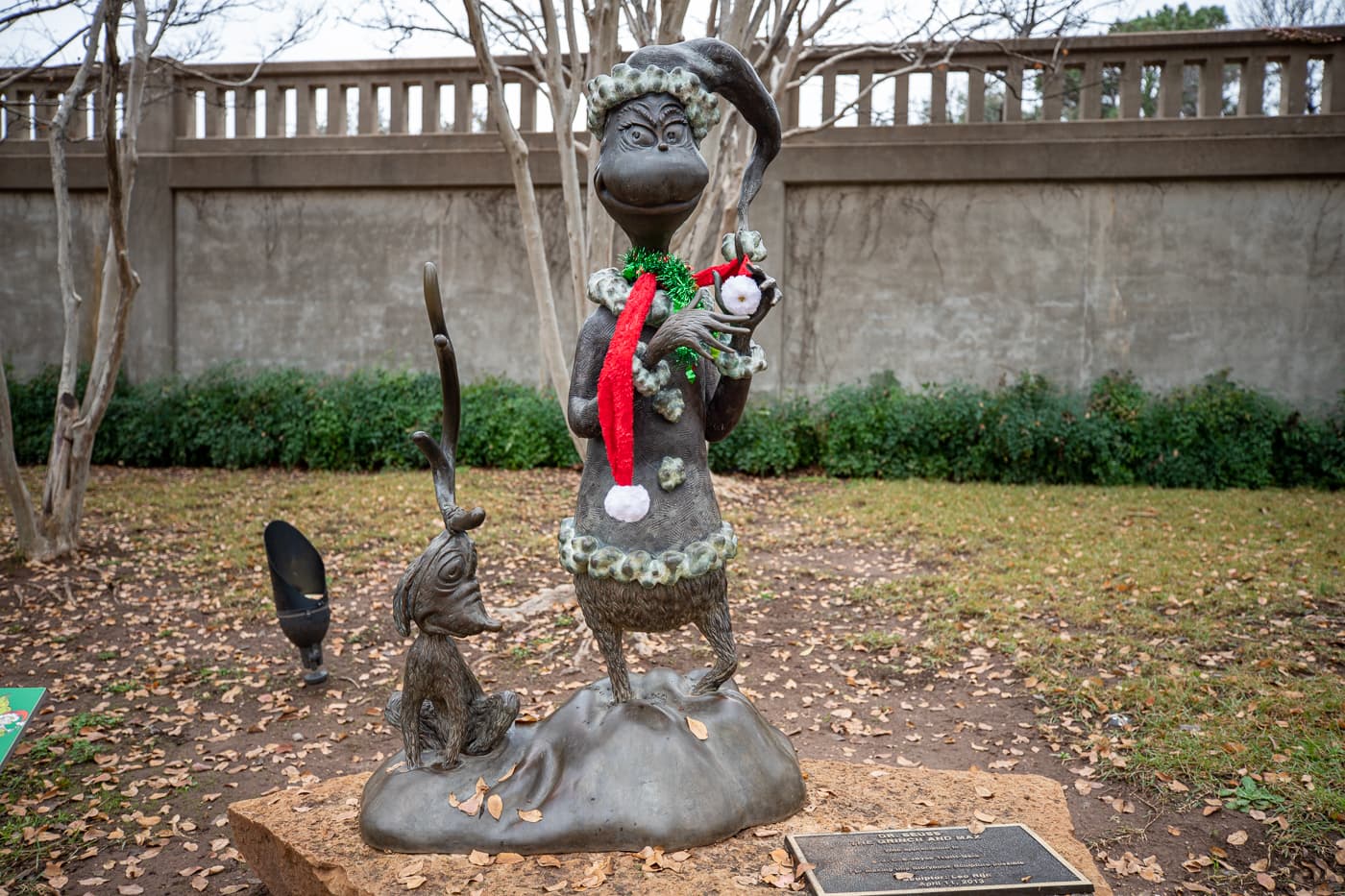 How the Grinch Stole Christmas Statue
How the Grinch Stole Christmas is a classic holiday story about the Grinch, a green grouch who attempts to destroy Christmas for the happy Whoville residents by stealing all their Christmas gifts, decorations, and dinners on Christmas Eve.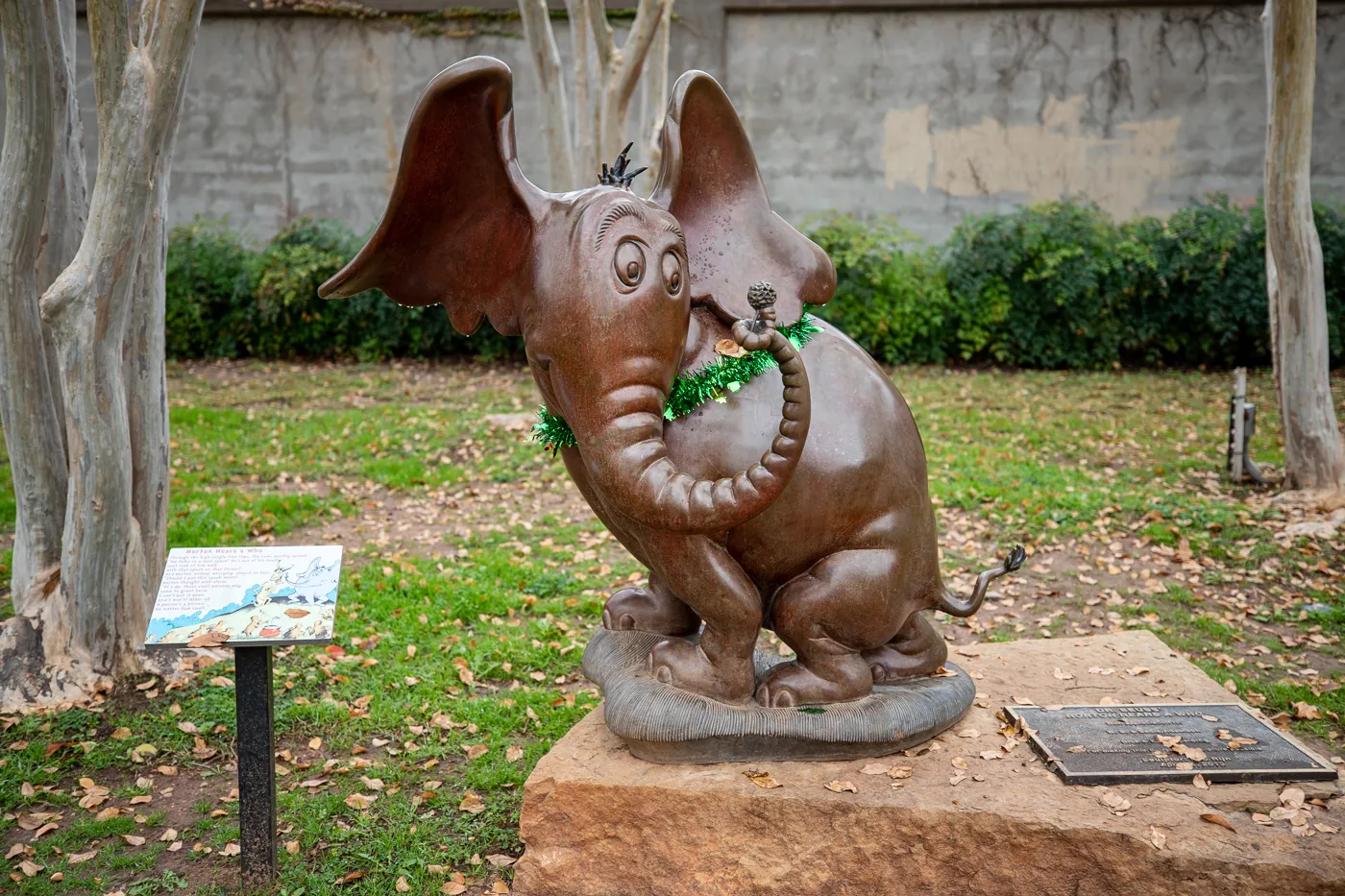 Horton Hears a Who Statue
Horton Hears a Who follows Horton the Elephant as he tries to save Whoville, a tiny planet located on a speck of dust, from the other animals who are attempting to destroy it. This storybook teaches us that, "a person's a person no matter how small."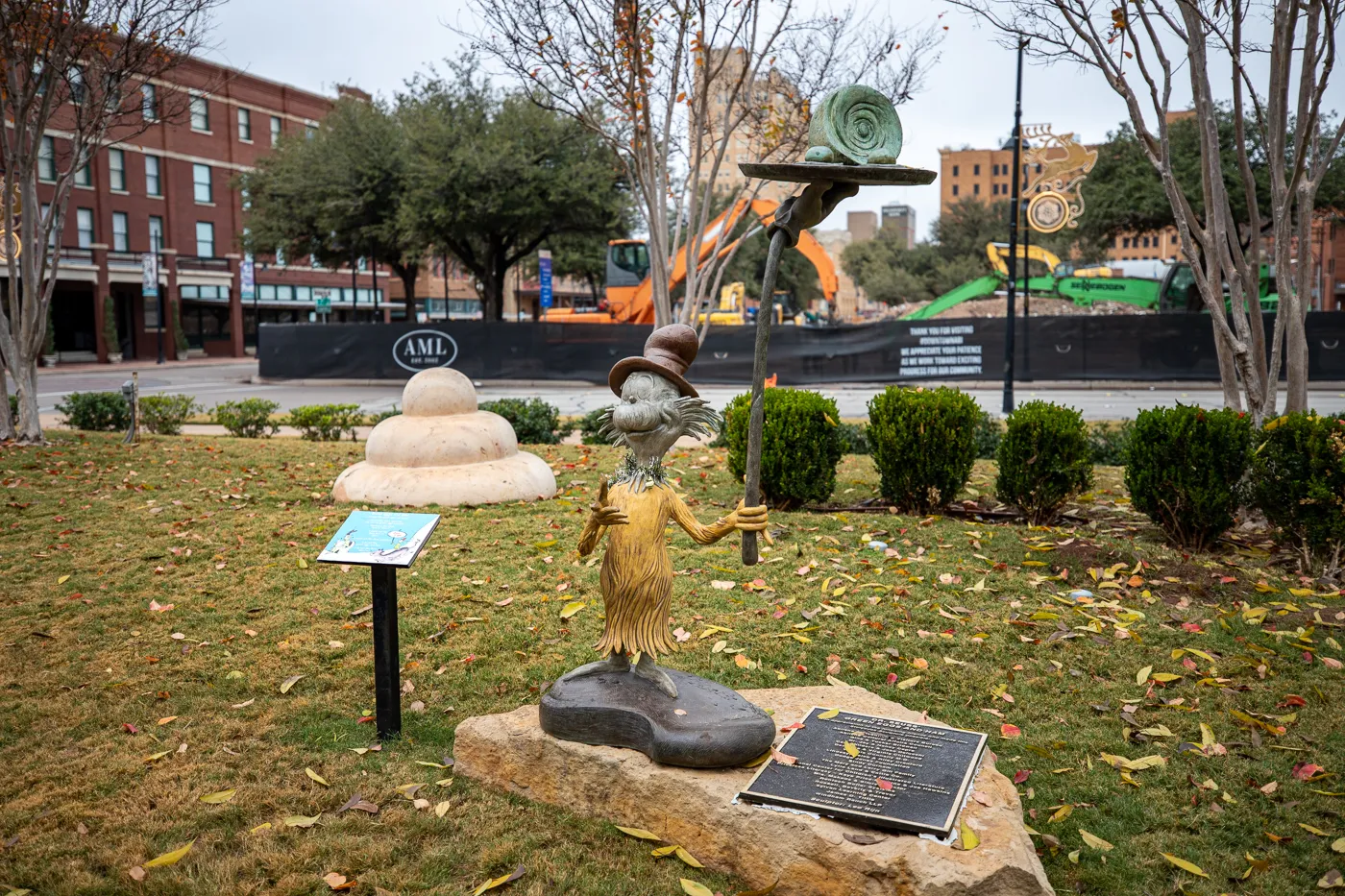 Green Eggs and Ham Sam I Am Statue
You might not like green eggs and ham in a house, box, or car. But maybe you'd like green eggs and ham in this Dr. Seuss park. Green Eggs and Ham sees Sam-I-Am offering up a plate of green eggs and ham to an unnamed man. The man continually refuses the food, including eating them in various location. Until he finally decides to give them a try.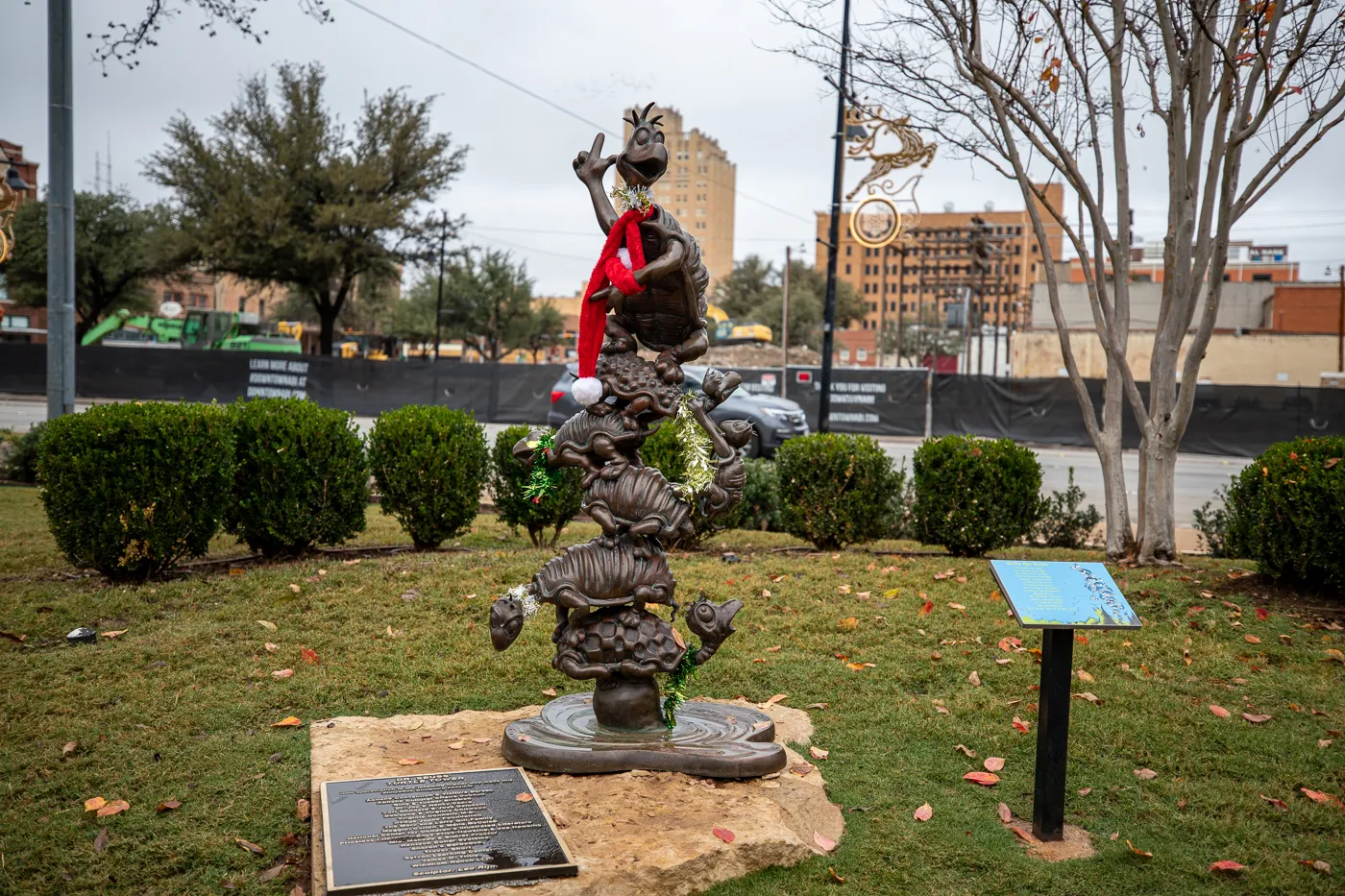 Yertle the Turtle Statue
This cook tells the tale of Yertle, who is king of the pond. He stands on top of his subjects in an attempt to reach higher than the Moon. When the bottom turtle burps, he falls into the mud and ends his rule.
Dr. Seuss Park / Everman Park
Address: 1007-1099 N 1st St, Abilene, TX 79601
Cost: Free to See
Hours: 5:30am – midnight, daily
Pin this post on Dr. Seuss Park in Abilene, Texas (Everman Park) to save for your next road trip!