If you're looking for a unique Route 66 attraction, you've got to pick Uranus. Uranus, Missouri that is. Visit the town, stop for fudge at Uranus Fudge Factory and General Store, and check out all of the weird roadside attractions while you're there!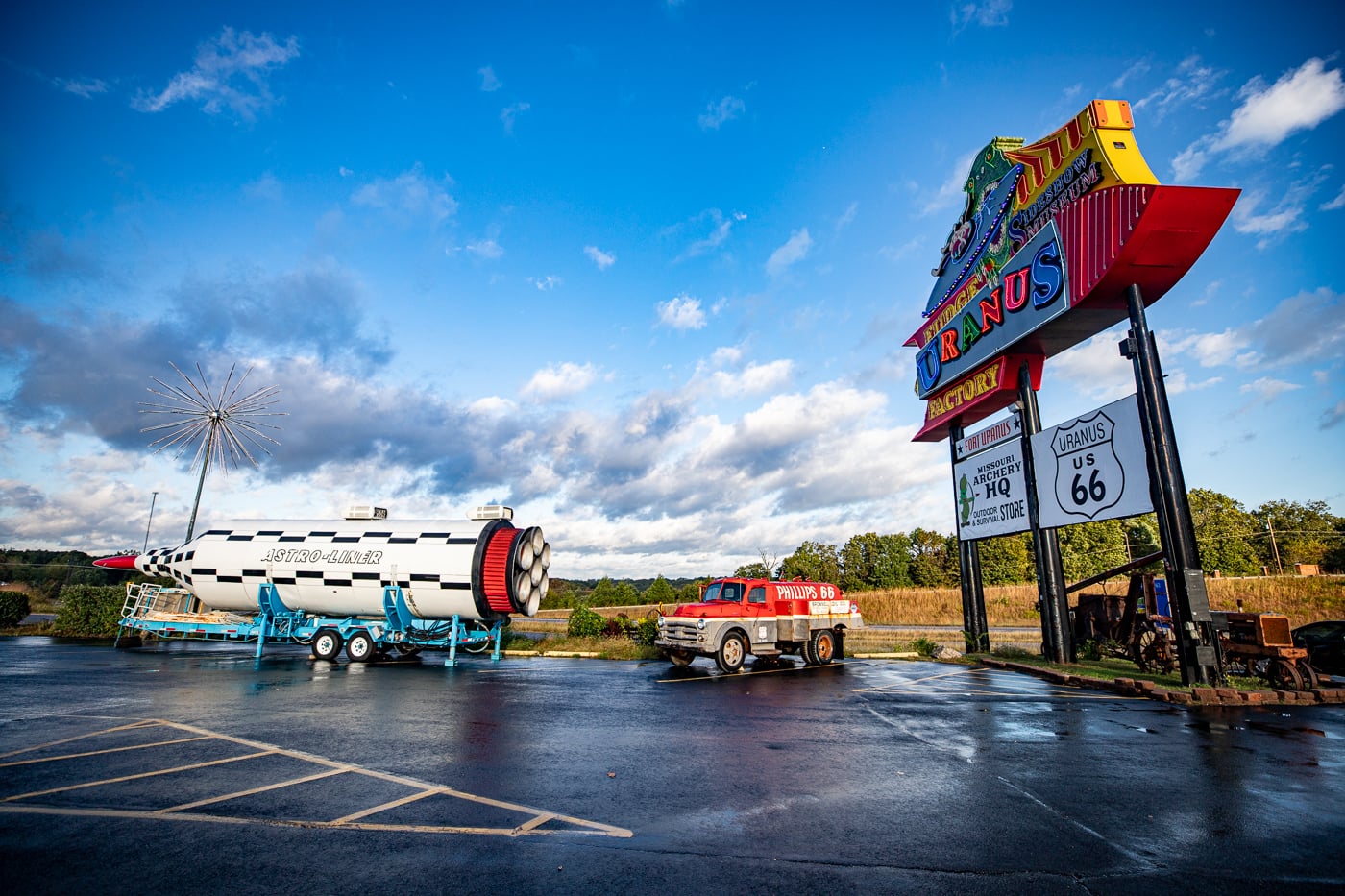 Uranus, Missouri is a kitschy town/strip mall where the weird reigns and the juvenile jokes are plenty. Located on historic Route 66 there's something for travelers of all ages, and maturity levels, here to enjoy.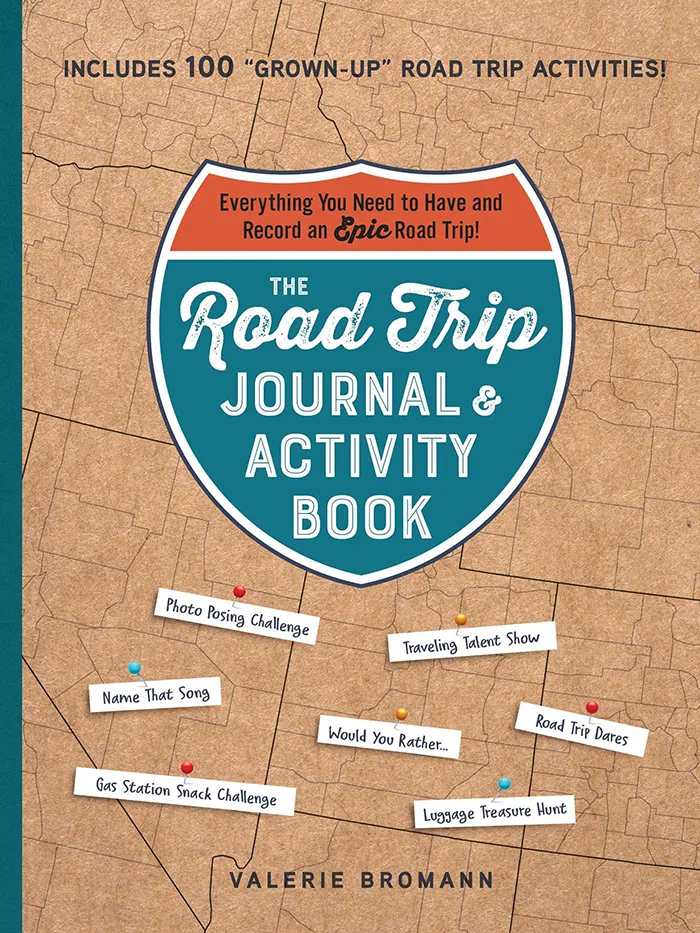 The Road Trip Journal & Activity Book
Everything You Need to Have and Record an Epic Road Trip!
Enjoy fun games and challenges to pass the time on your next road trip and have a keepsake to look back on for years to come with this entertaining must-have for your next vacation.
Louie Keen, the self-proclaimed Mayor of Uranus, already owned the property, operating a more adult friendly roadside line of businesses when he had a new vision: a town called Uranus. So, in 2013, he started transitioning what was there to the new dream and theme.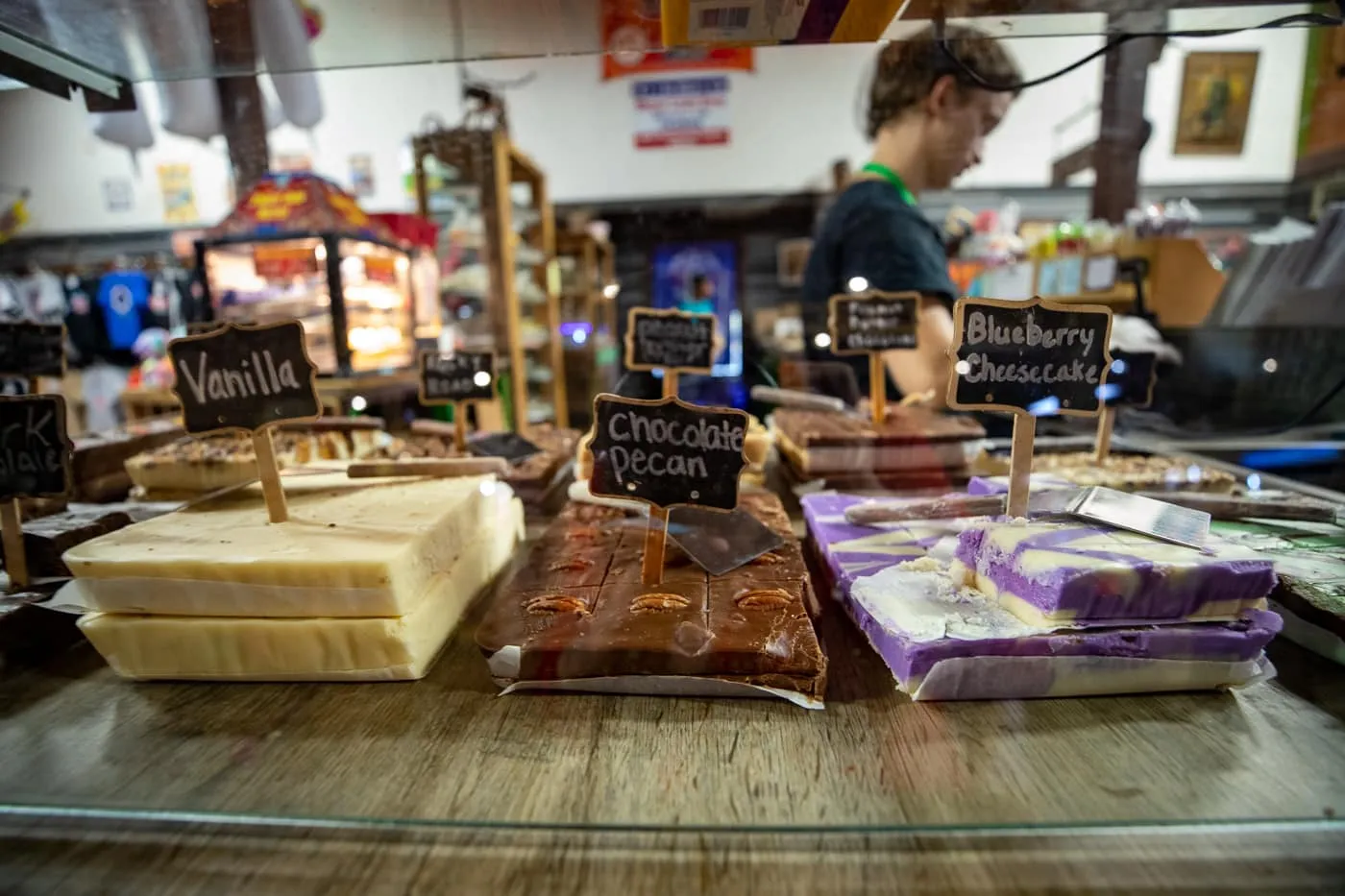 At the heart of Uranus, Missouri is the World Famous Uranus Fudge Factory and General Store, which opened in July 2015 . The gift shop features Uranus souvenirs filled with puns, Route 66 memorabilia, saltwater taffy, candy, drinks, and more. But the main draw is their mouthwatering fudge that comes in numerous fun flavors like blueberry cheesecake, peanut butter, mint, M&M, and traditional chocolate. Someone is always on standby, ready, willing, and able to pack your fudge. Because everyone knows, "The Best Fudge comes from Uranus."
But the fun doesn't stop there. The strip mall sized town features many other fun businesses. From restaurants and ice cream shops to an escape room to a sideshow museum.
And don't forget the roadside attractions. Uranus is filled with big things. The world's largest belt buckle comes in at 13 feet 4.45 inches wide by 10 feet, 1.44 inches high. The giant Mega Mayor Muffler Man stands tall looking over a soon to be mini golf course.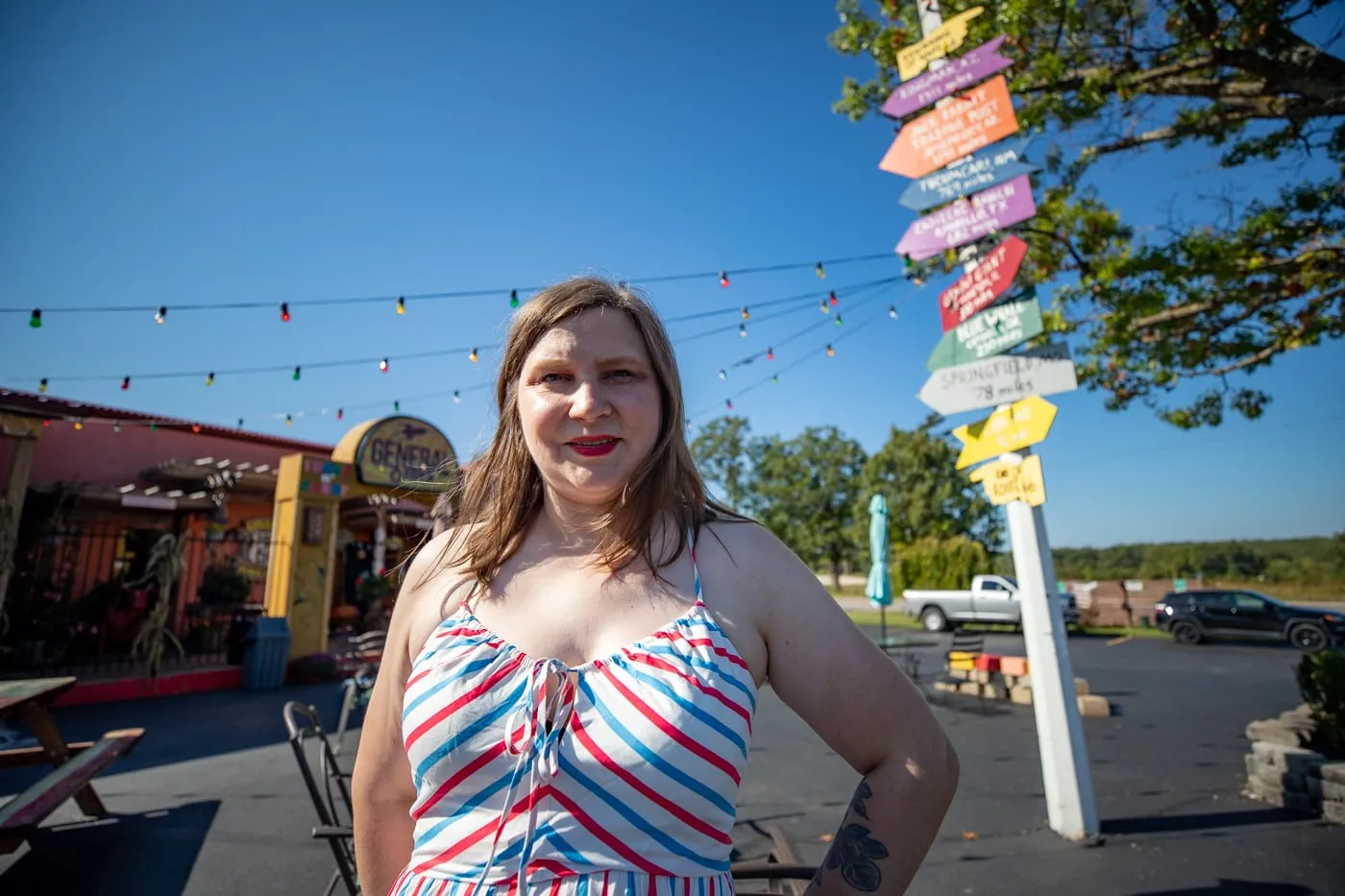 You won't want to miss this Missouri Route 66 roadside attraction on your road trip through the state. So come discover Uranus, Missouri and the Uranus Fudge Factory and General Store.
What to see in Uranus, Missouri
There are so many things to see in Uranus, Missouri! Here are just some of the things to look for when you visit this Route 66 destination!
Uranus Fudge Factory and General Store
At the center of Uranus is a fudge and souvenir shop. Stop in to check out themed shirts, magnets, mugs, and more and don't forget to bring home some delicious fudge!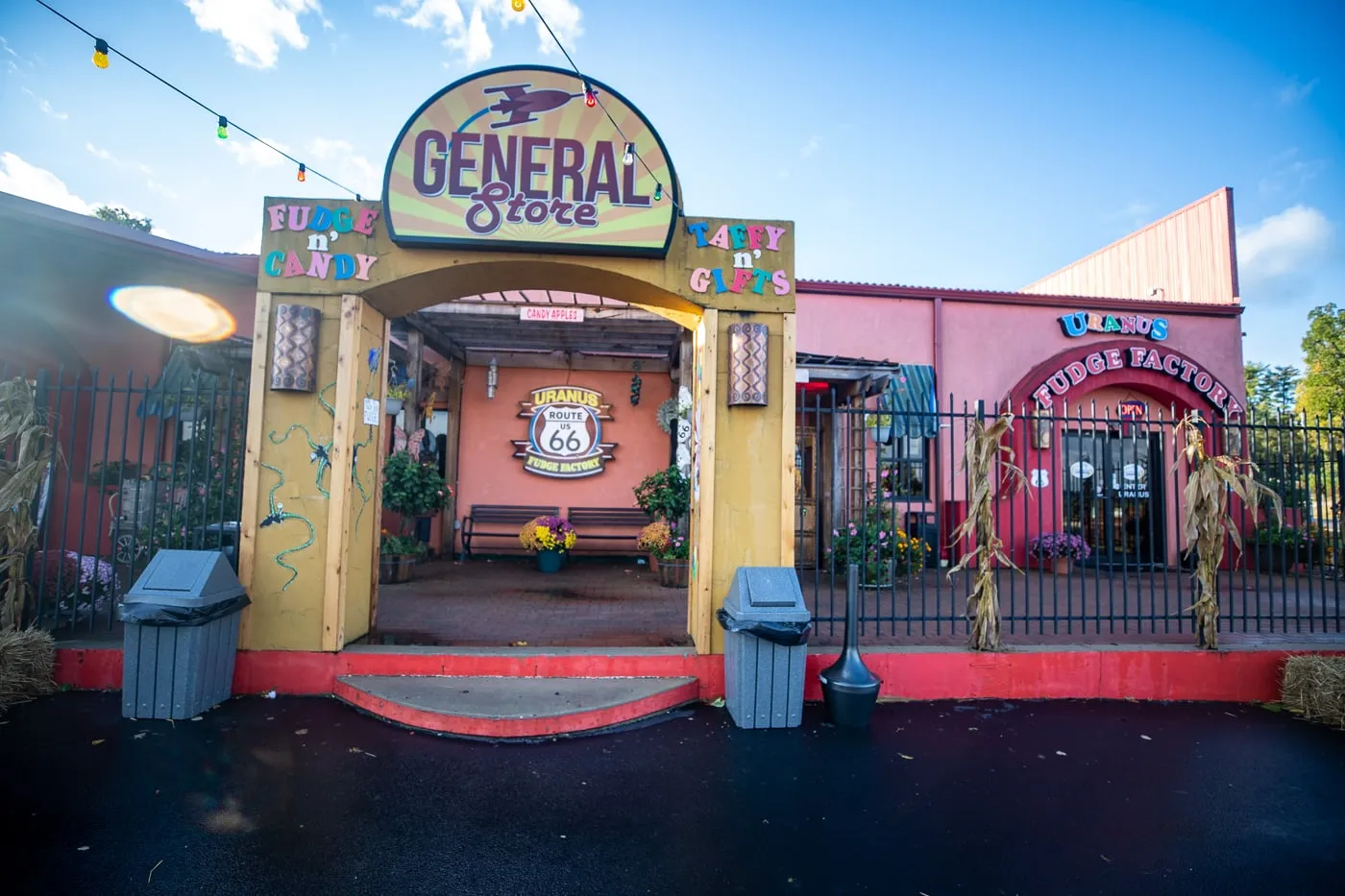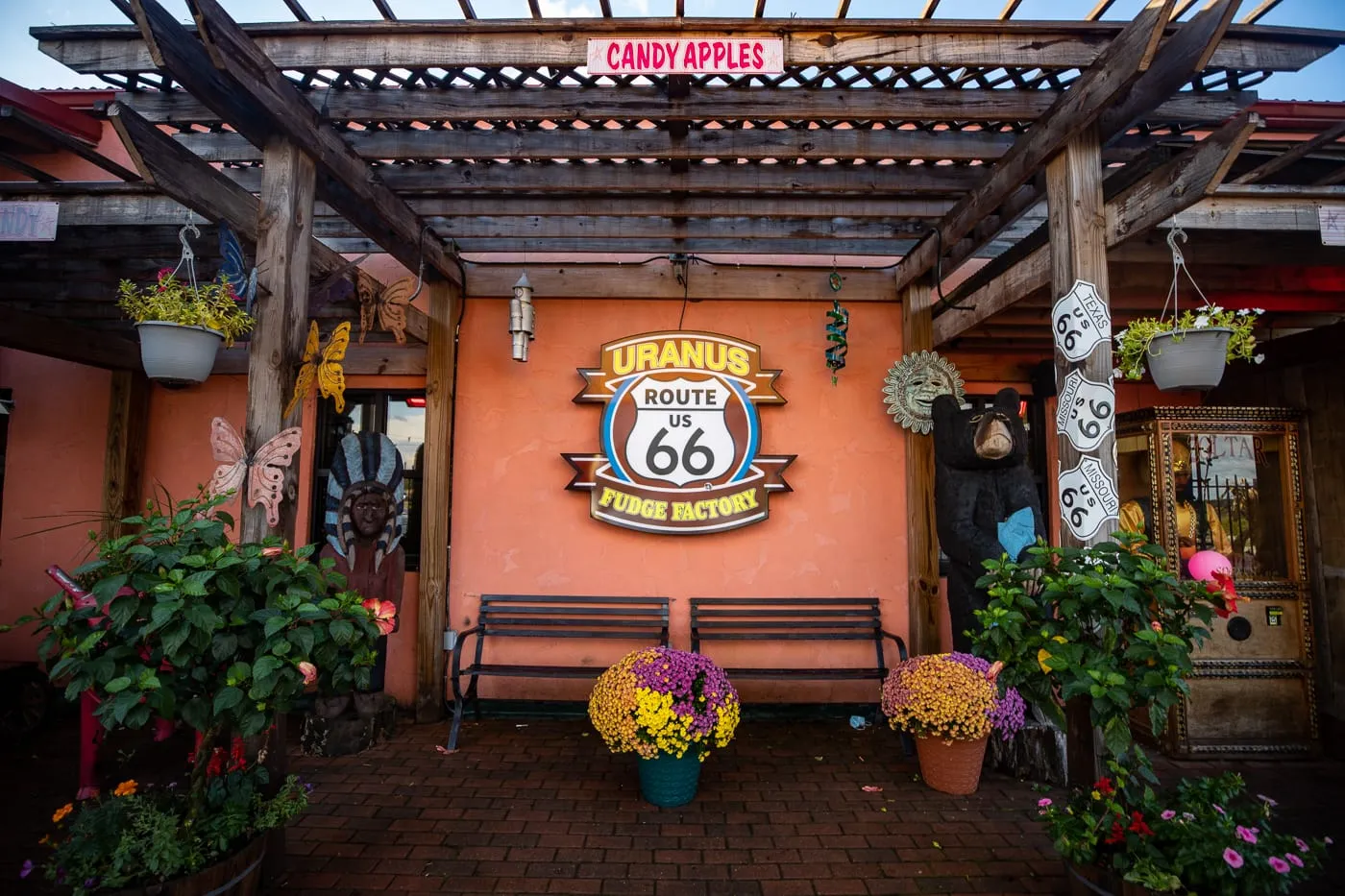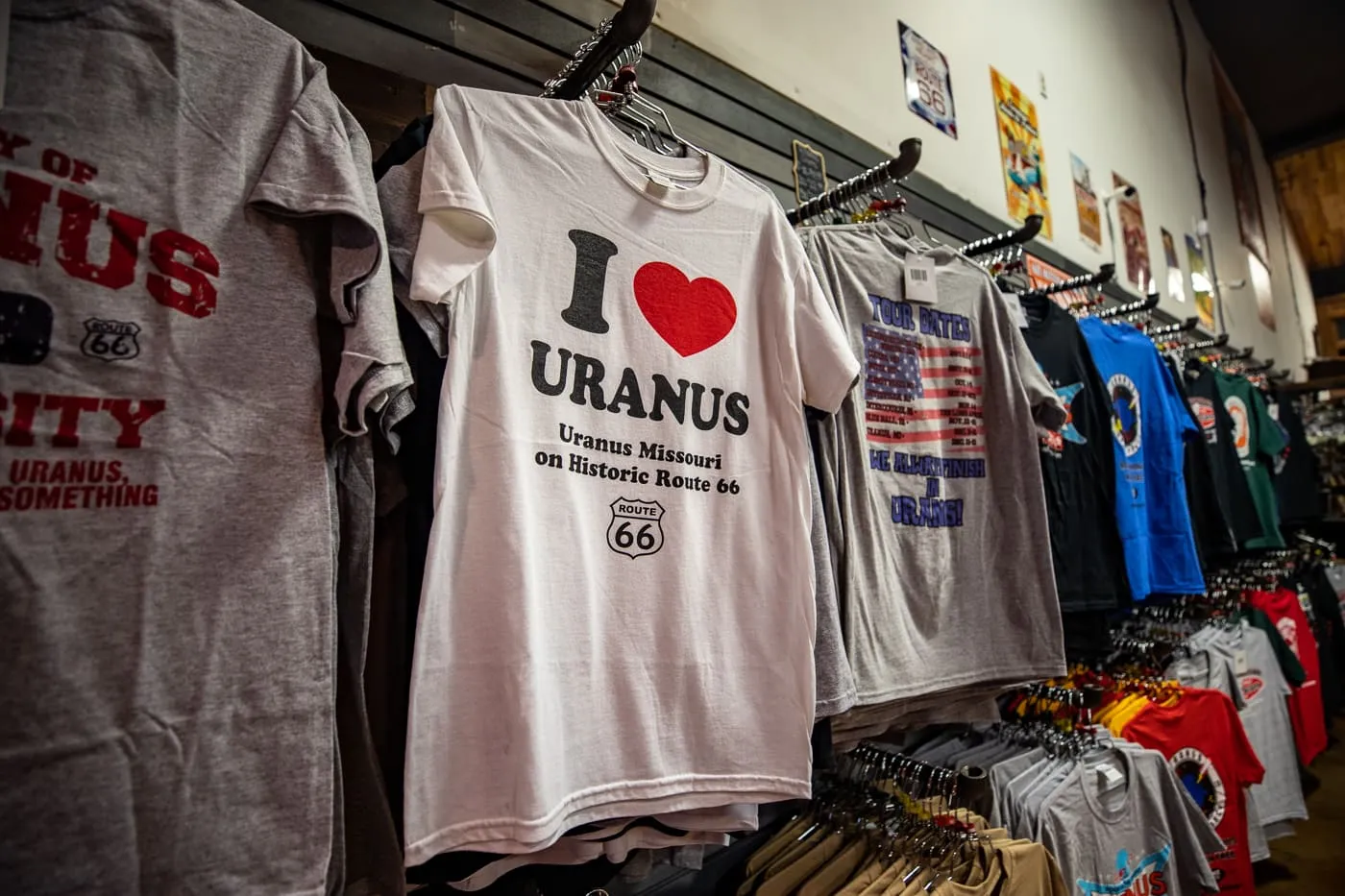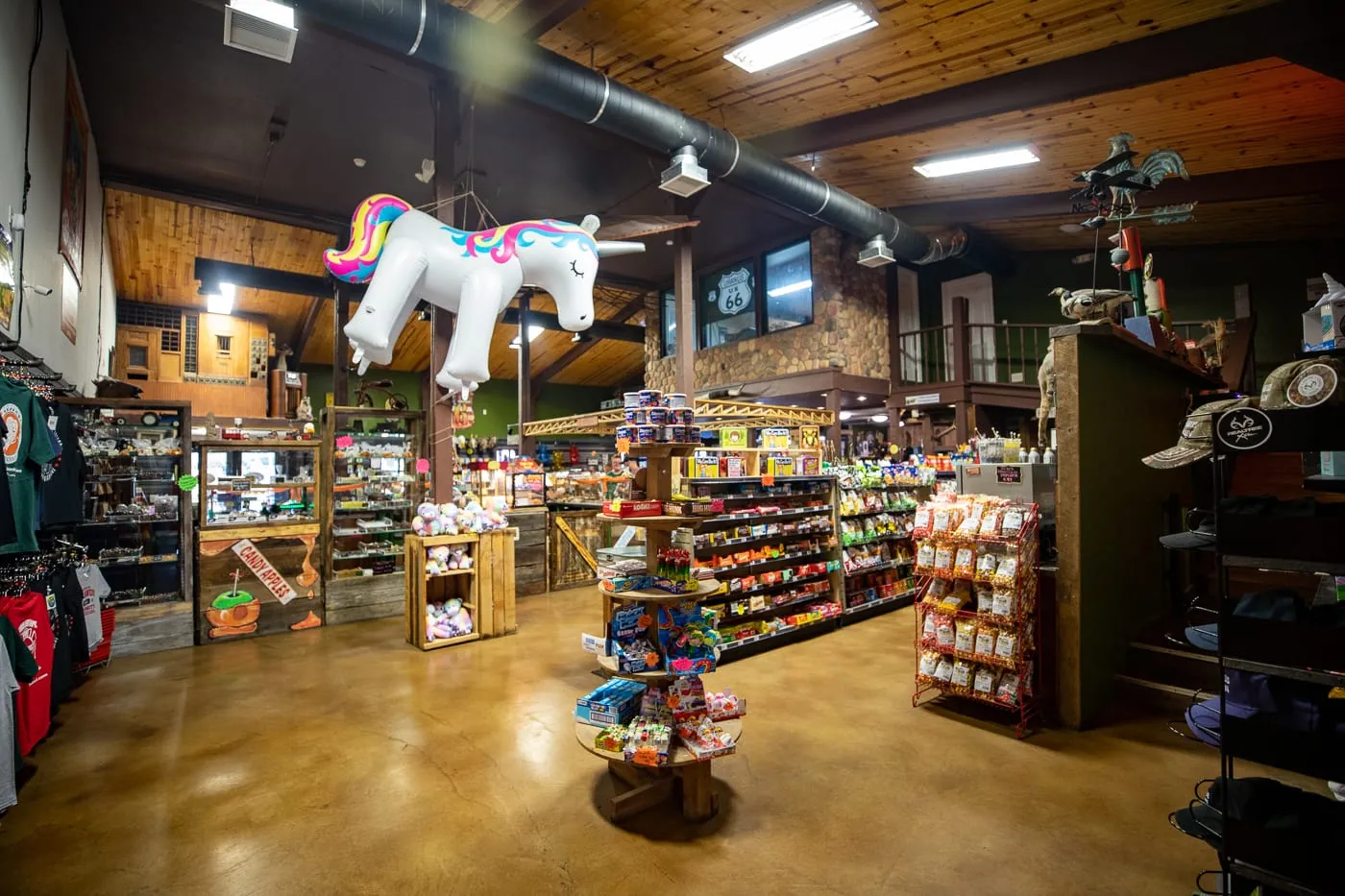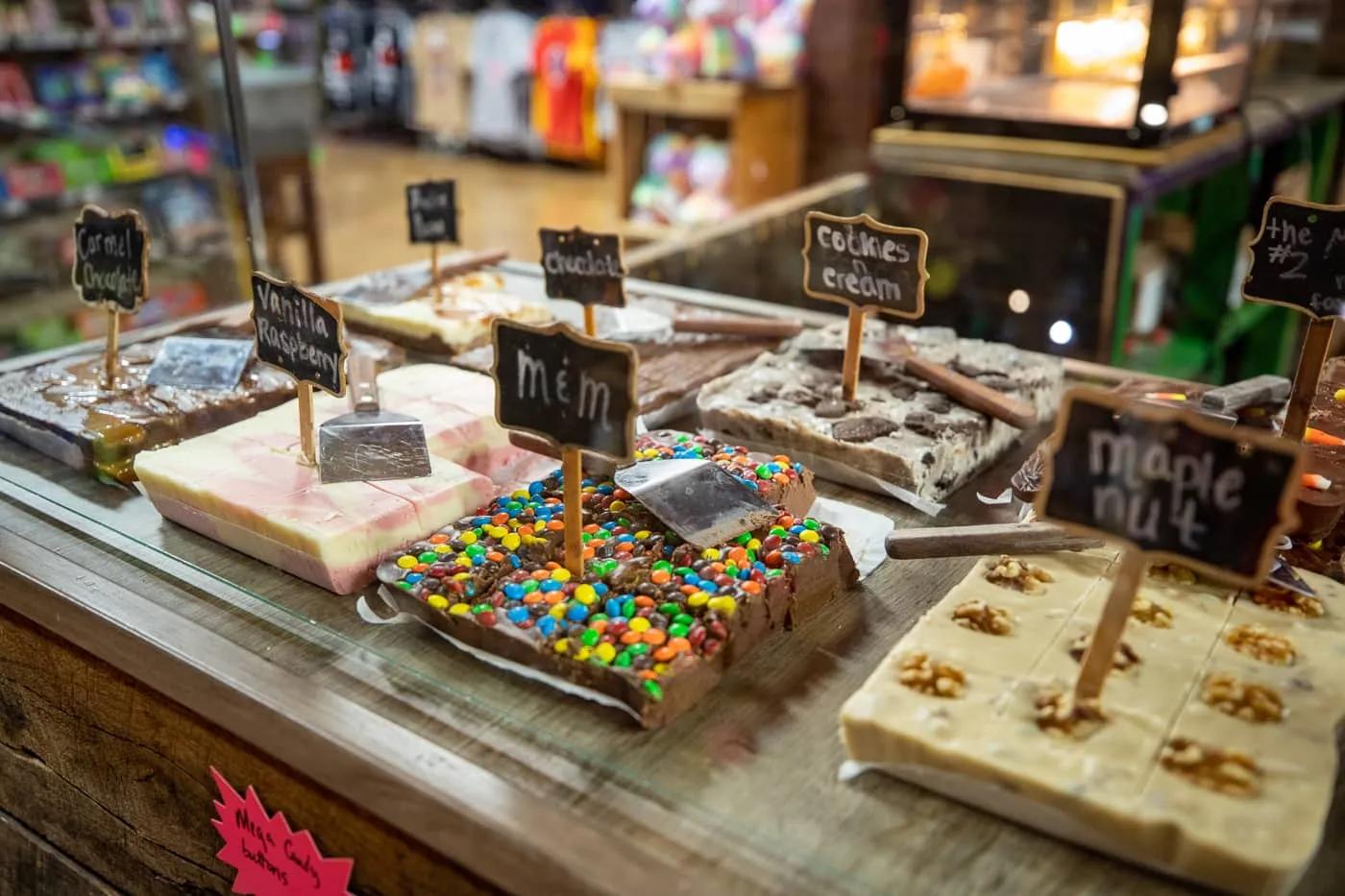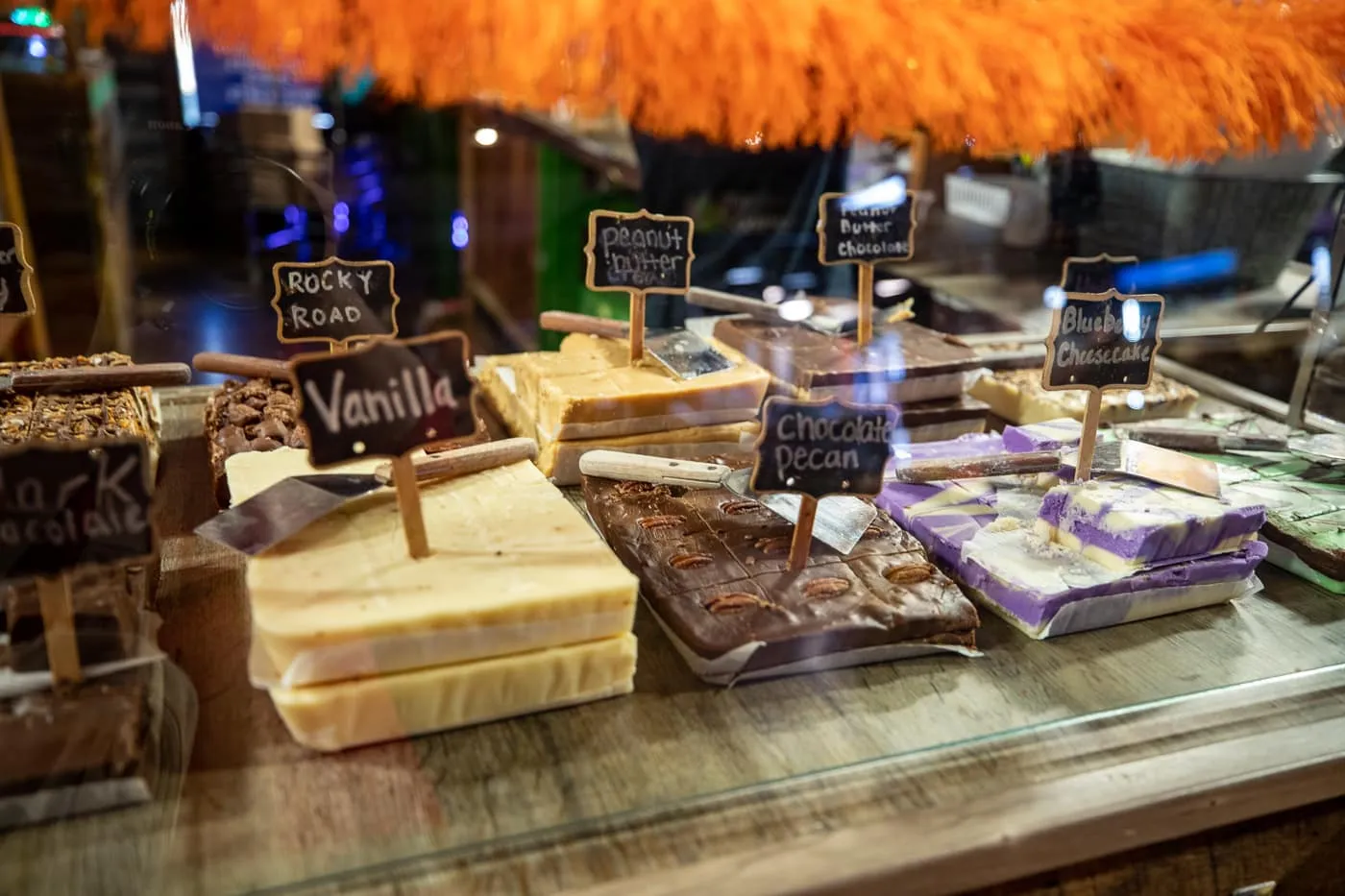 Neon Welcome Sign
At the entrance to Uranus is a big neon sign of the town's rocket ship logo.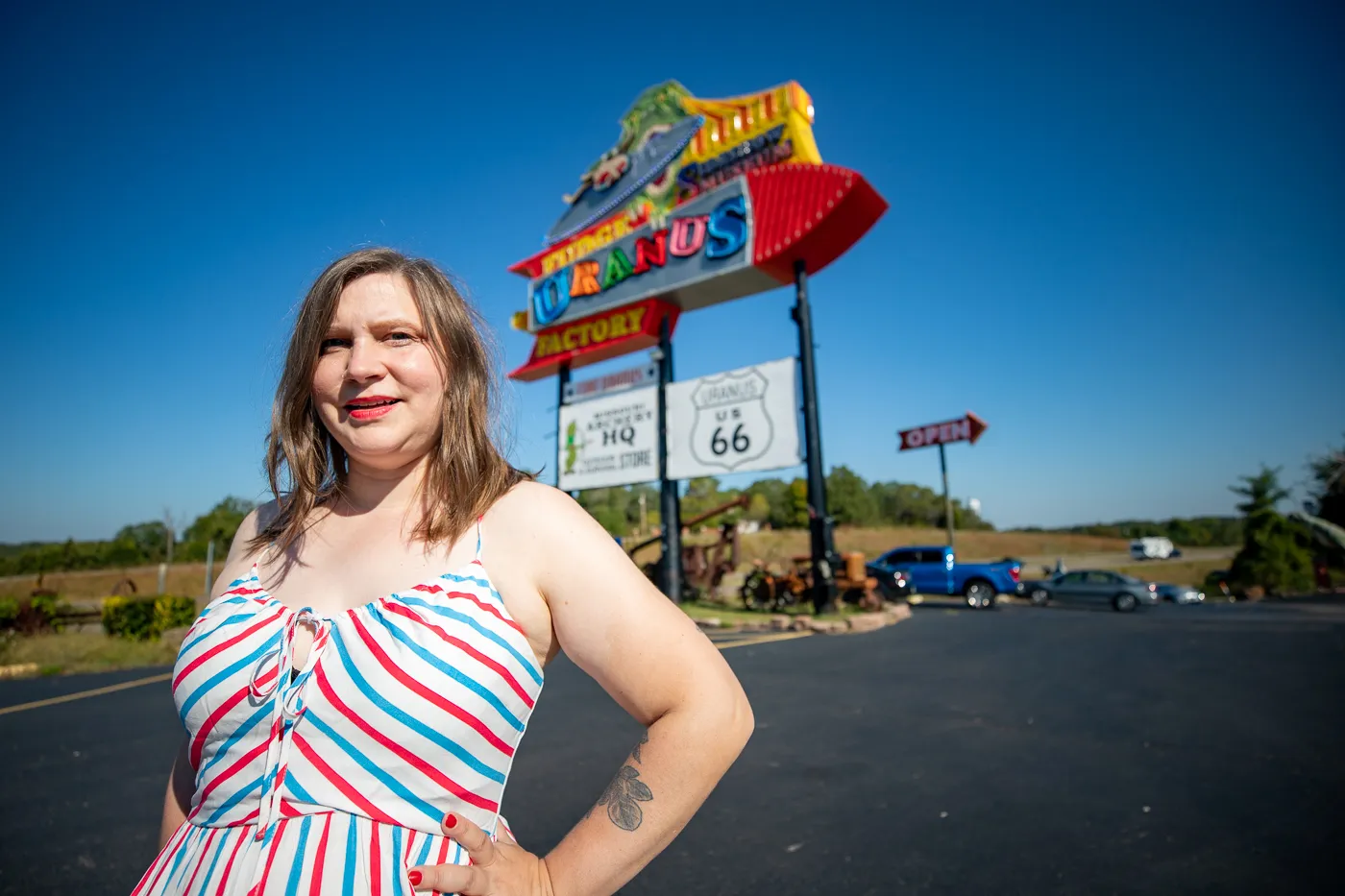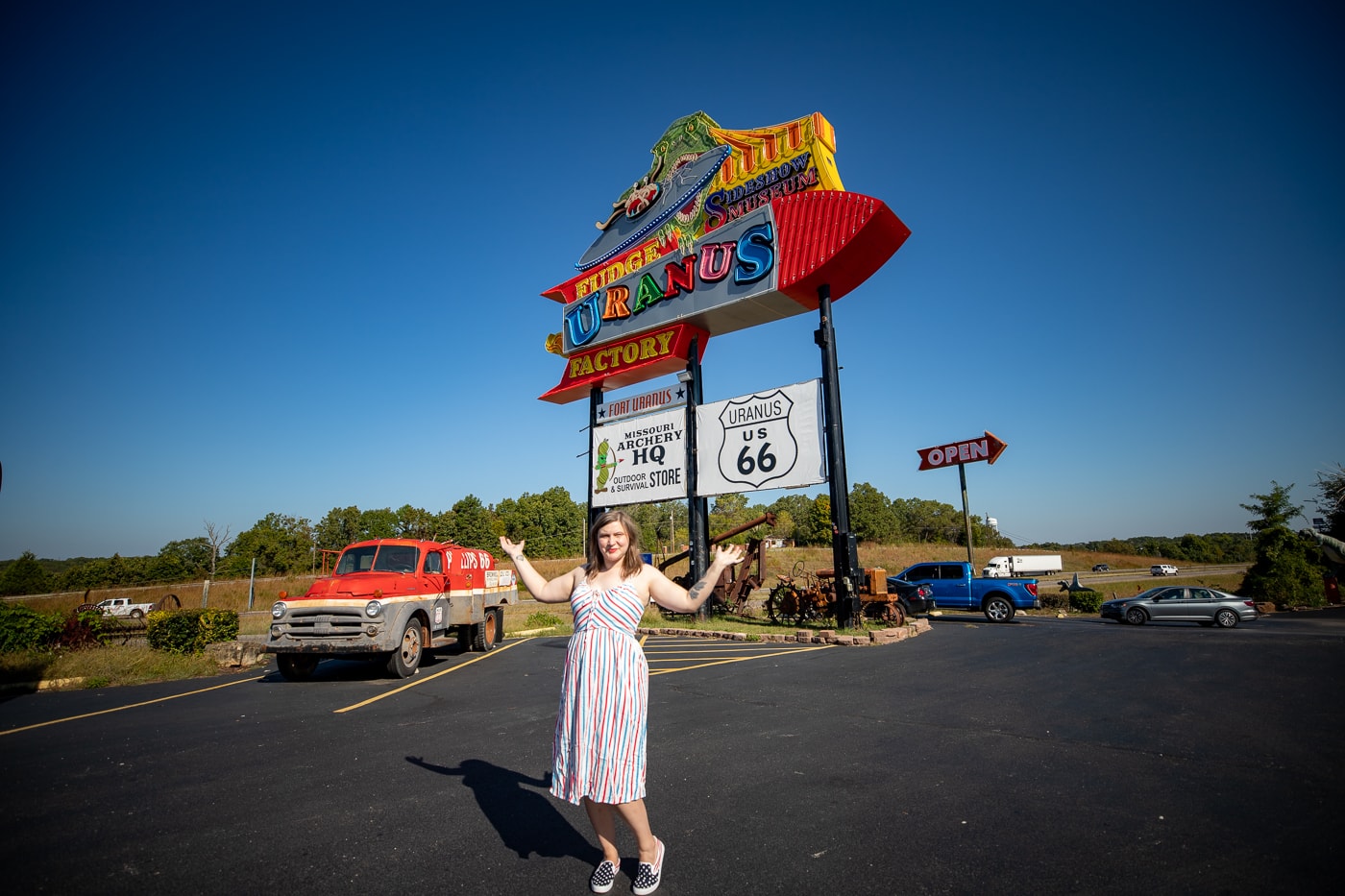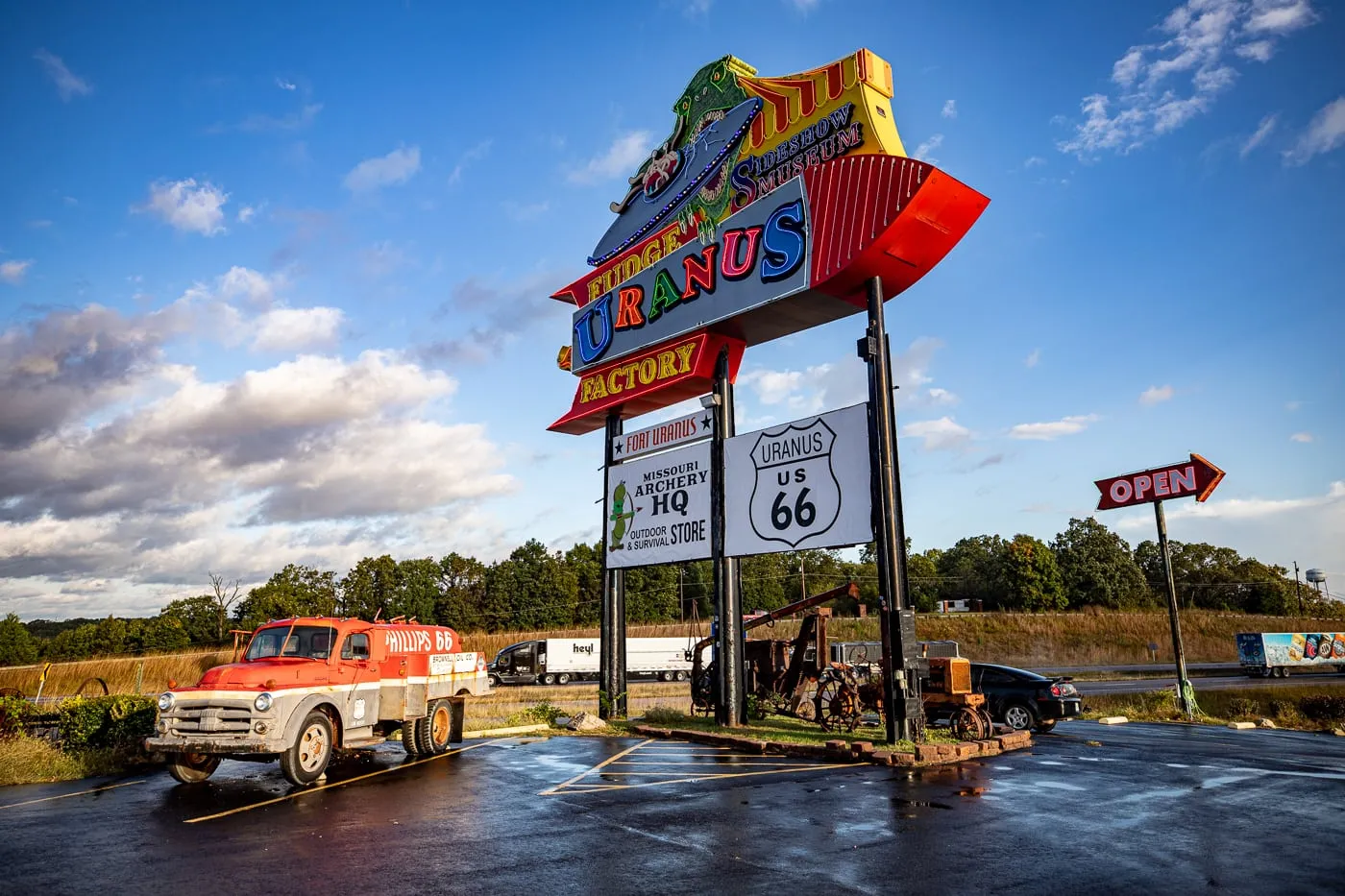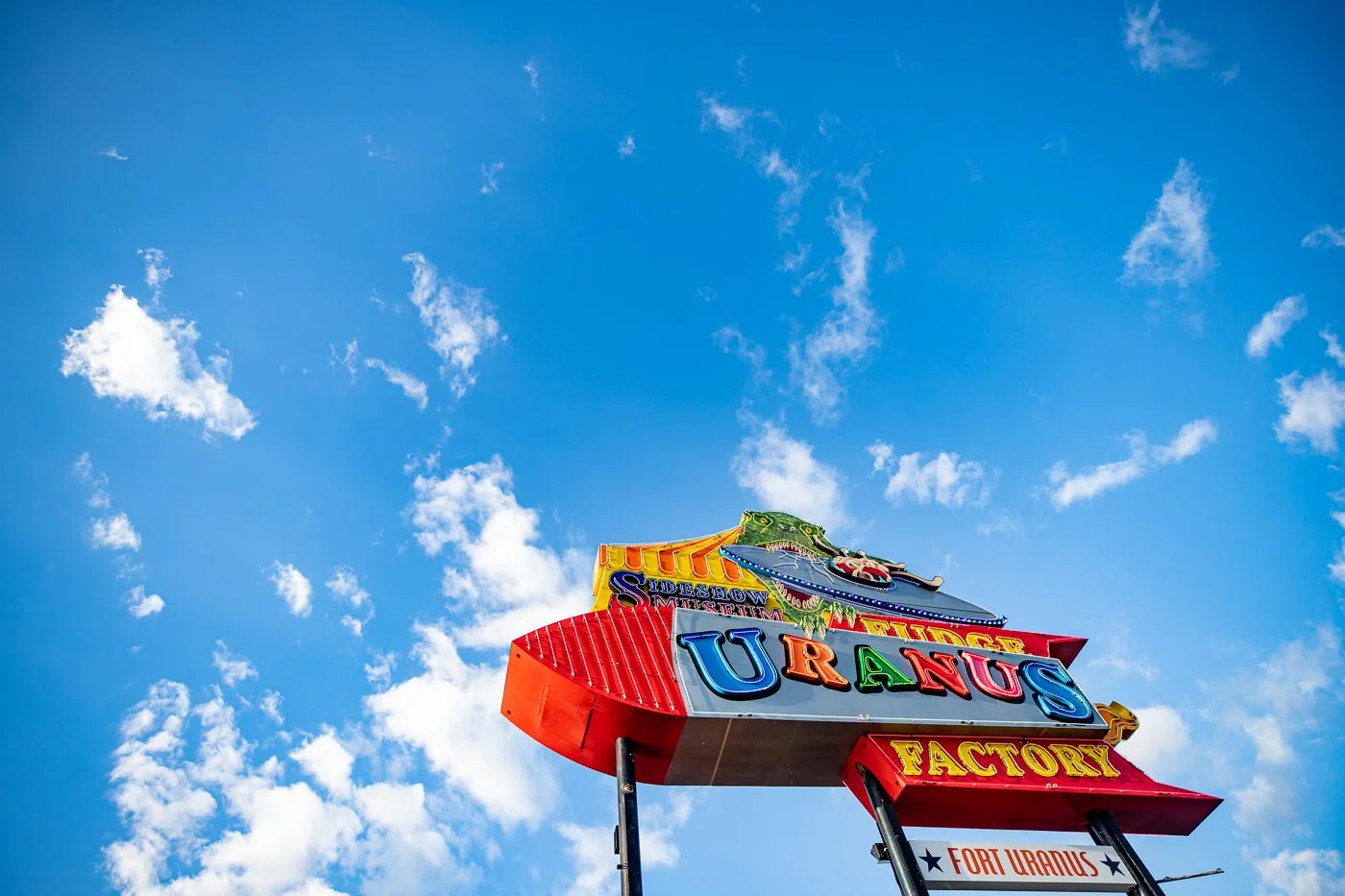 Astro-liner Rocketship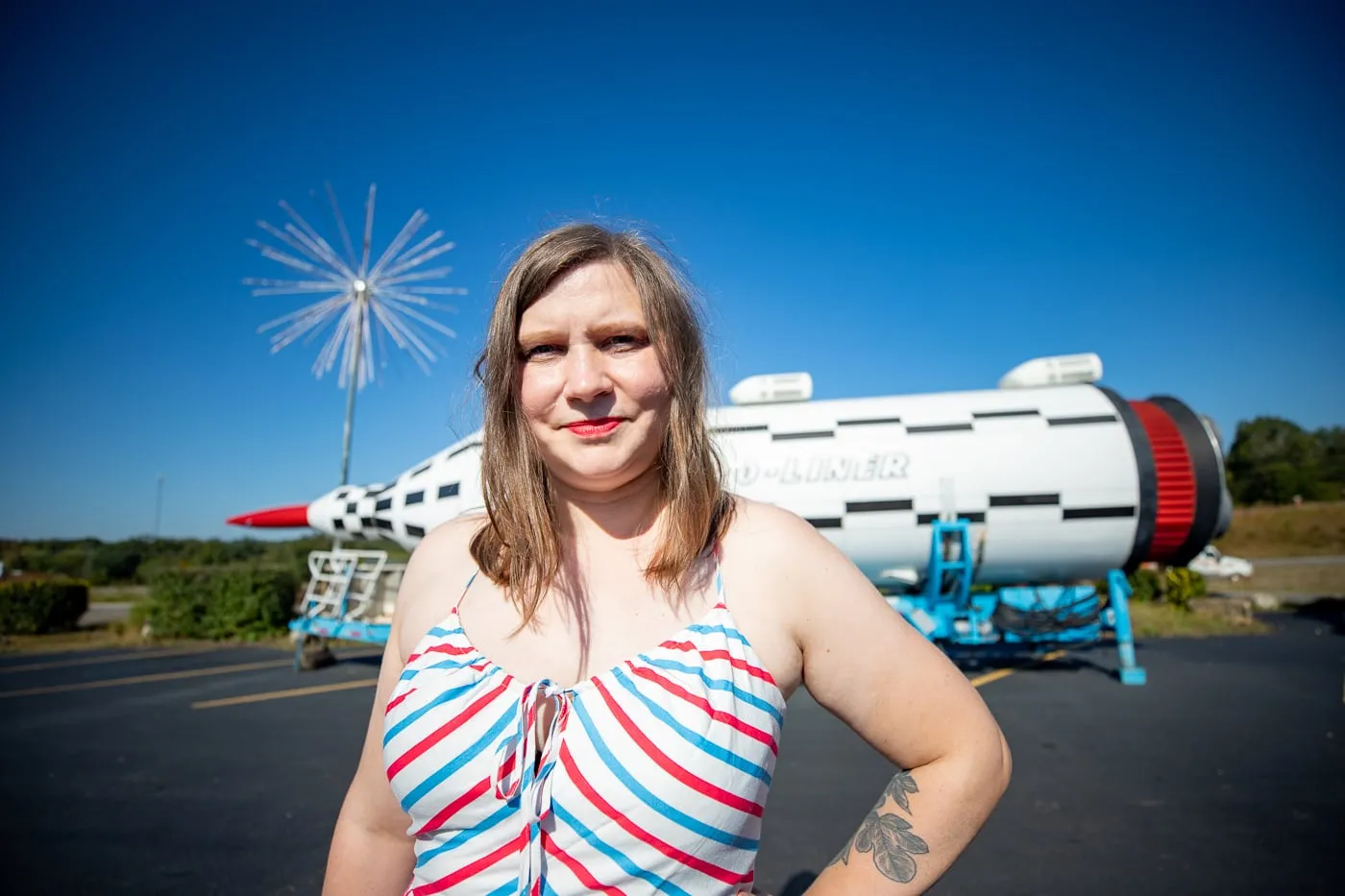 World's Largest Belt Buckle
The world's largest belt buckle measures 3.085 meters (10 feet, 1.44 inches) by 4.075 meters (13 feet, 4.45 inches). It was officially ranked by Guinness World Records on 26 May 2017.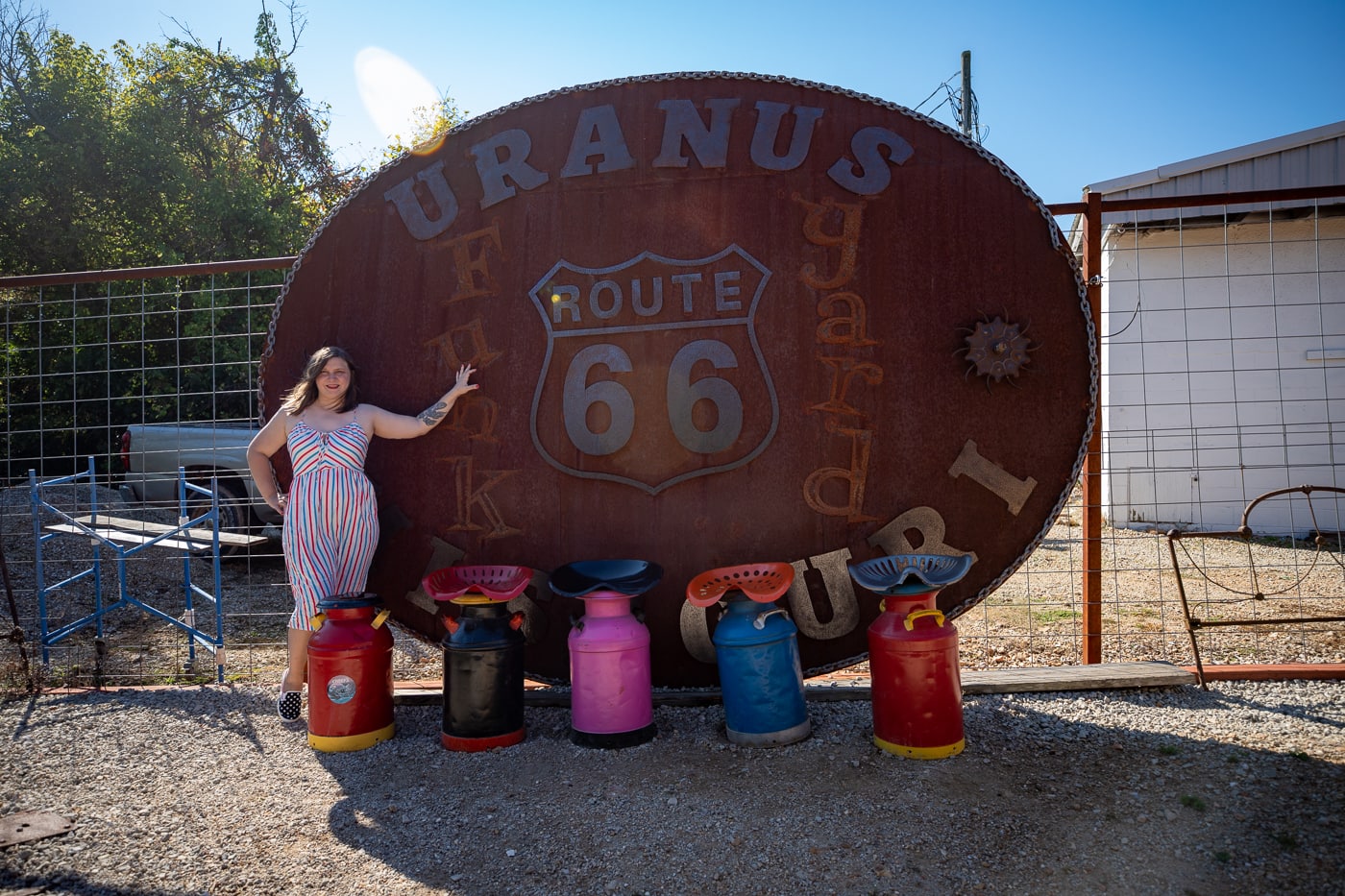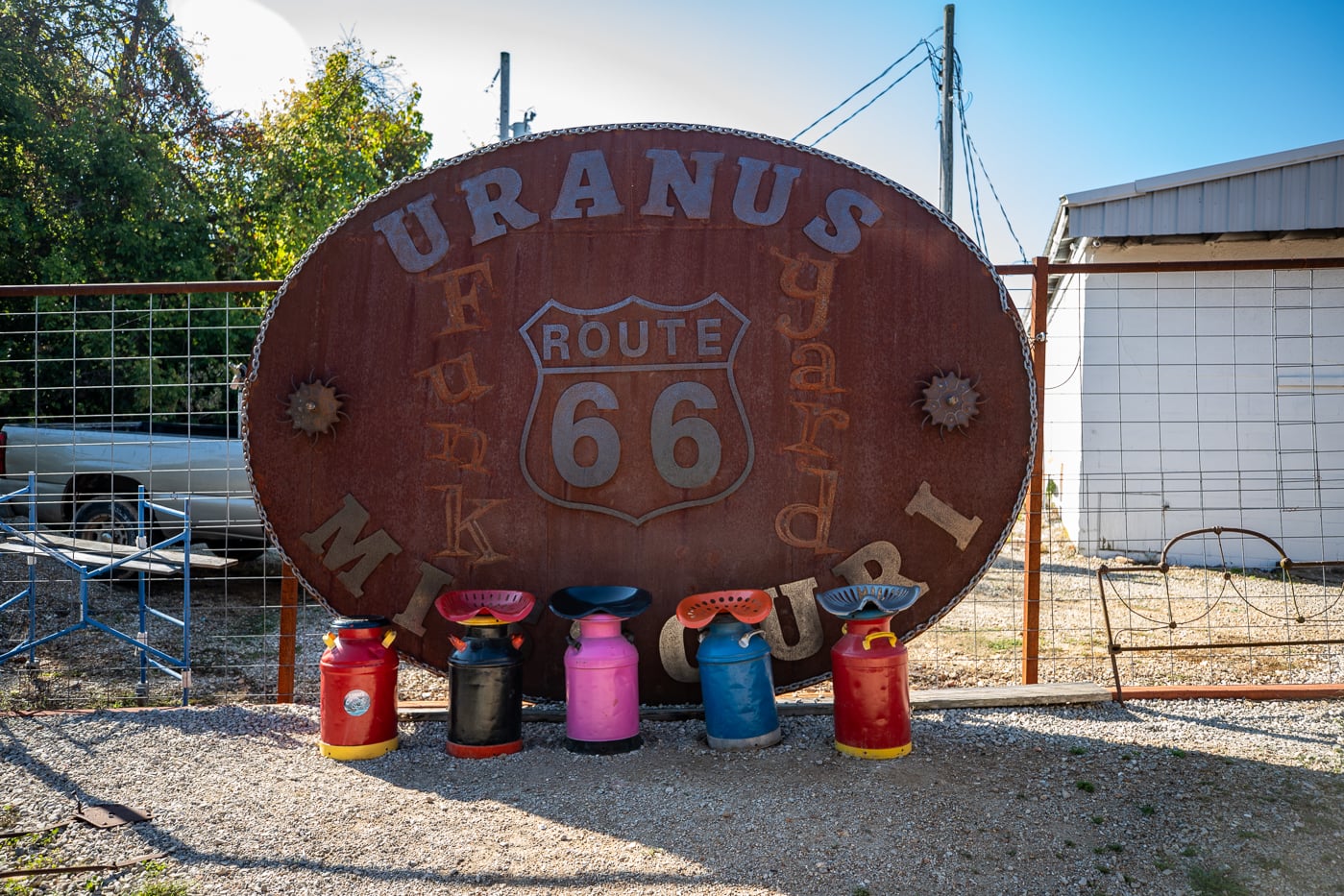 Route 66 Mural
This Route 66 mural is 6 meters high by 16 meters wide and depicts lights up in neon lights and follows a path from Chicago to Los Angeles, highlighting some of the most famous stops on the Mother Road. Featured destinations include Ted Drewe's, the Blue Whale of Catoosa, Cadillac Ranch, the Blue Swallow Motel, the Wigwam motel, Roy's, and, of course, the Uranus rocket ship.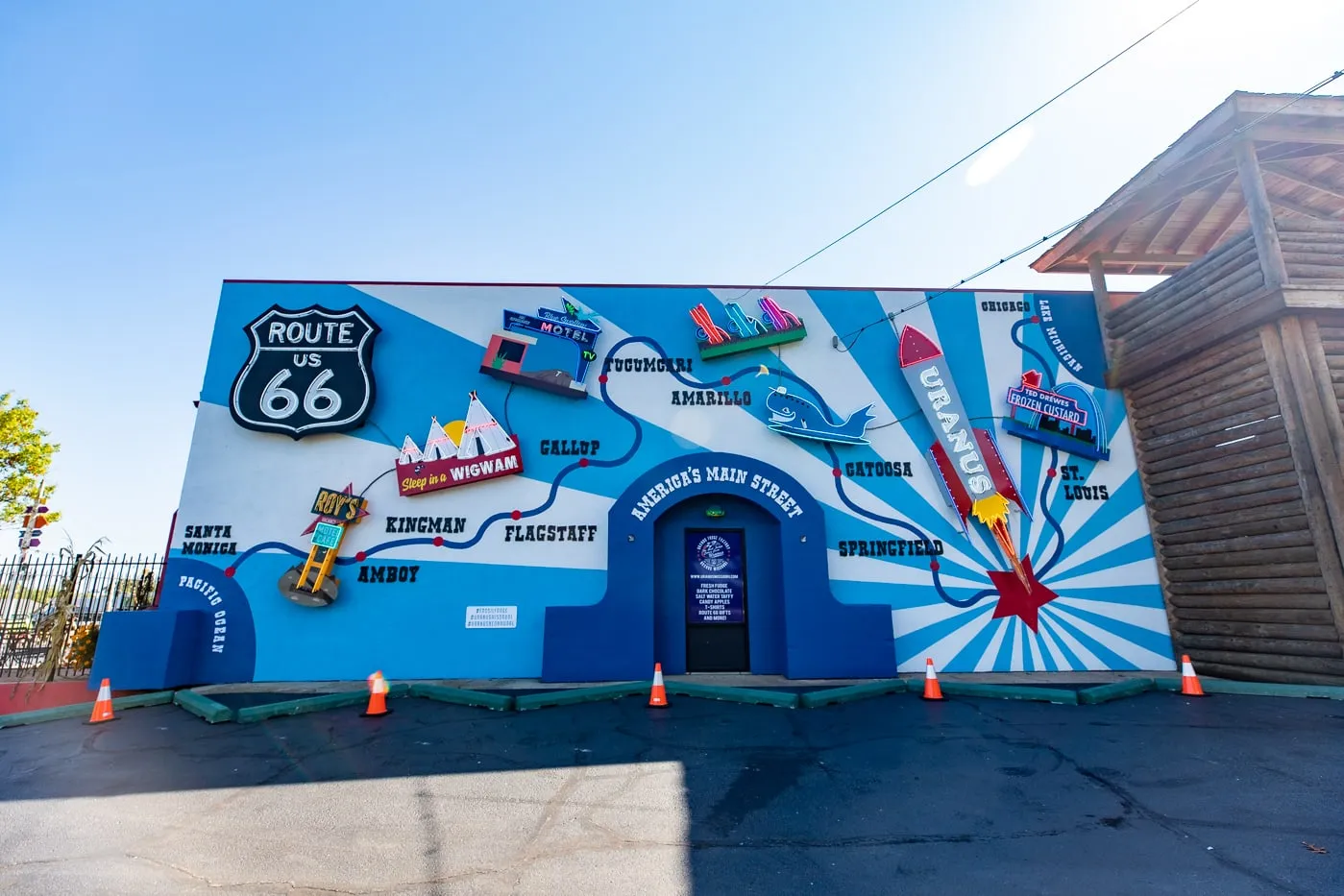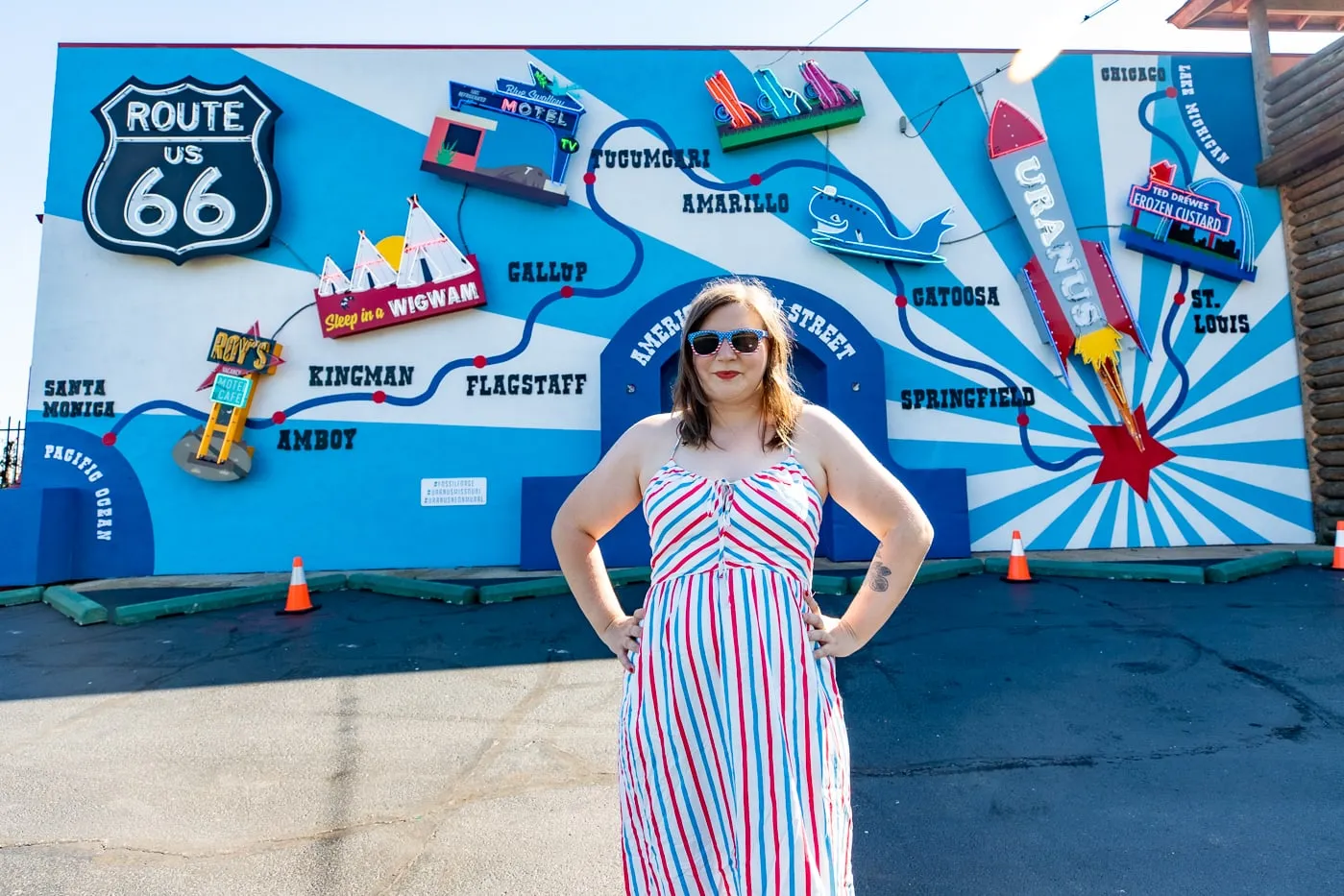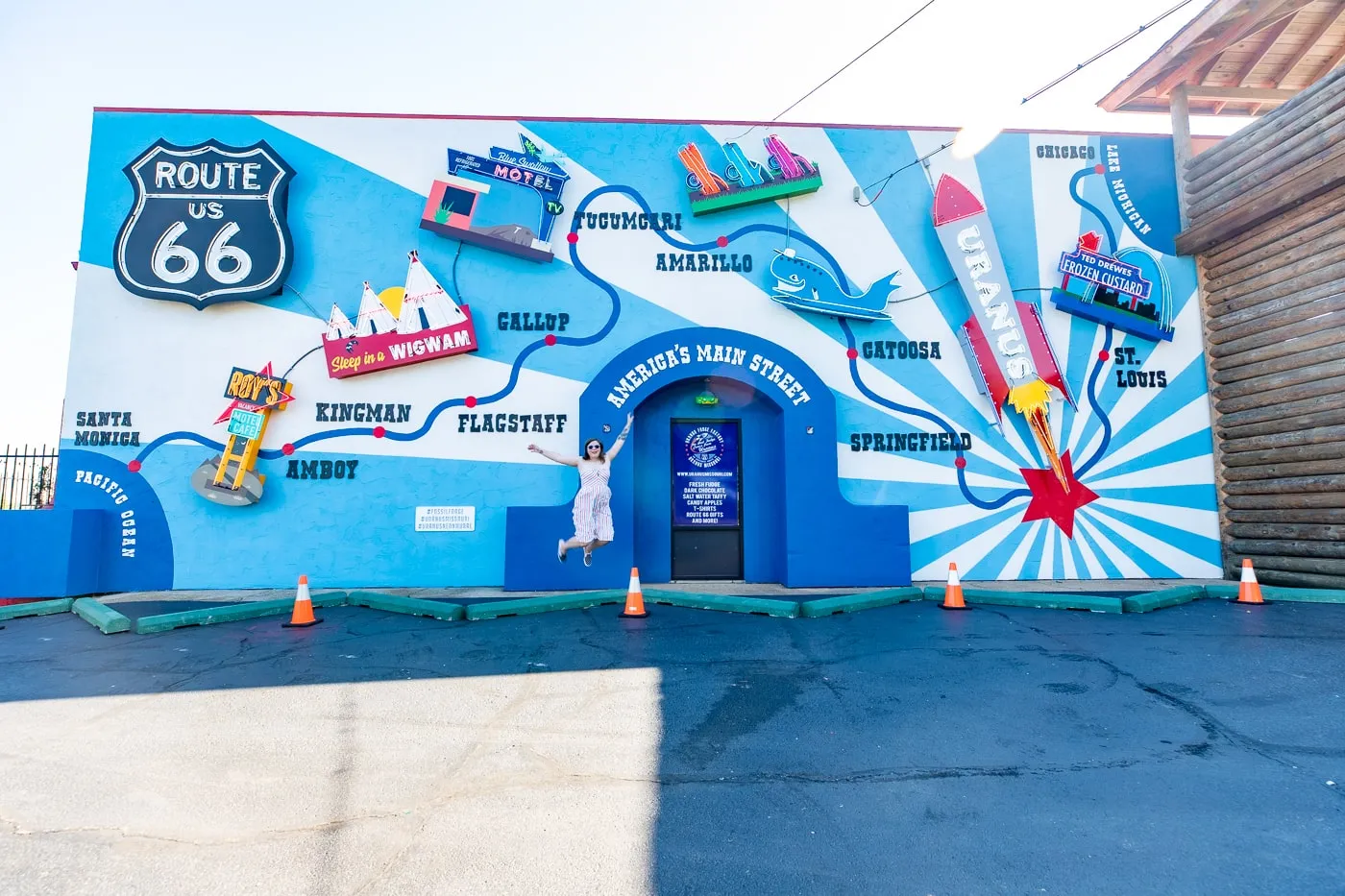 Mega Mayor Muffler Man
This patriotic muffler man is modeled after Louie Keen, the self-proclaimed Mayor of Uranus. The 22-foot tall muffler man wears a shirt and shoes printed with a red, white, and blue American flag pattern, a patriotic cowboy hat and sunglasses, and a mayoral sash. In his right hand he holds a giant yellow golf ball, signaling the Putt Pirates mini golf course. It was created by fiberglass artist Mark Cline who used a mold made from a pieced together 1960s Muffler Man cowboy that was previously found in Calgary, Alberta.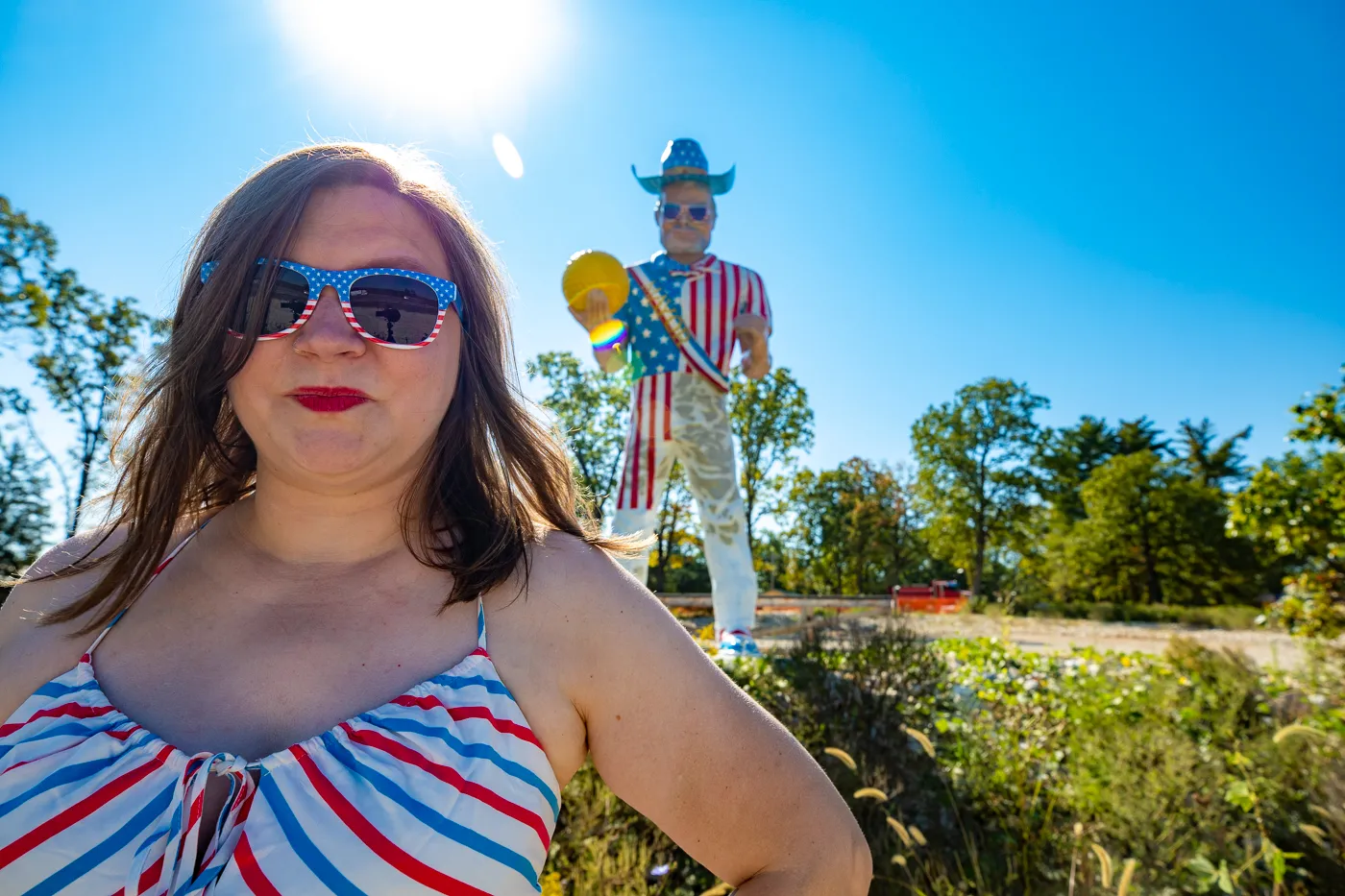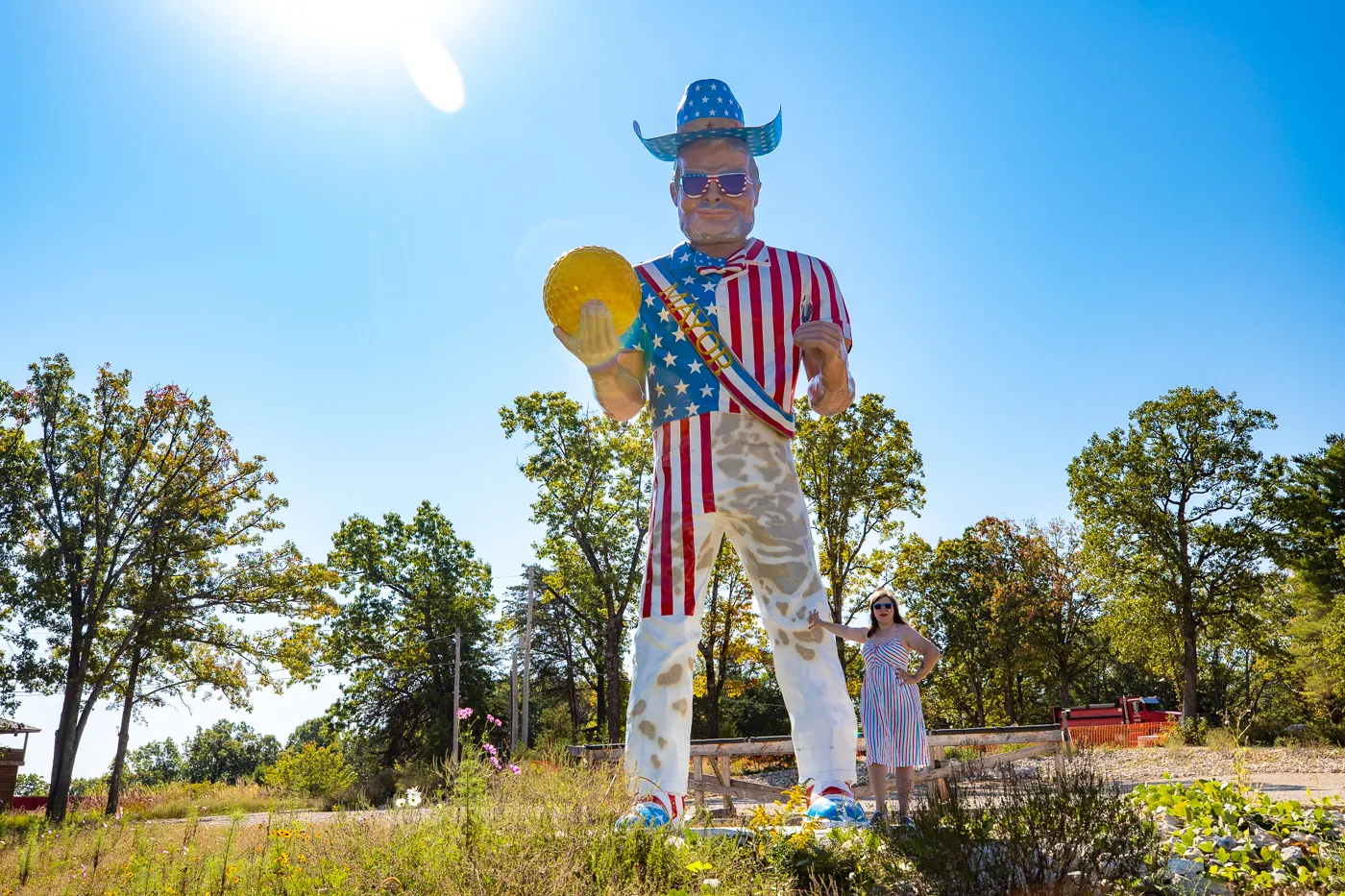 The Funk Yard
Stretch your legs after a long road trip at this picnic area and playground. Highlights include dinosaurs, an antique firetruck, a double decker bus from London, and the "Uranus Zoological Park" photo op.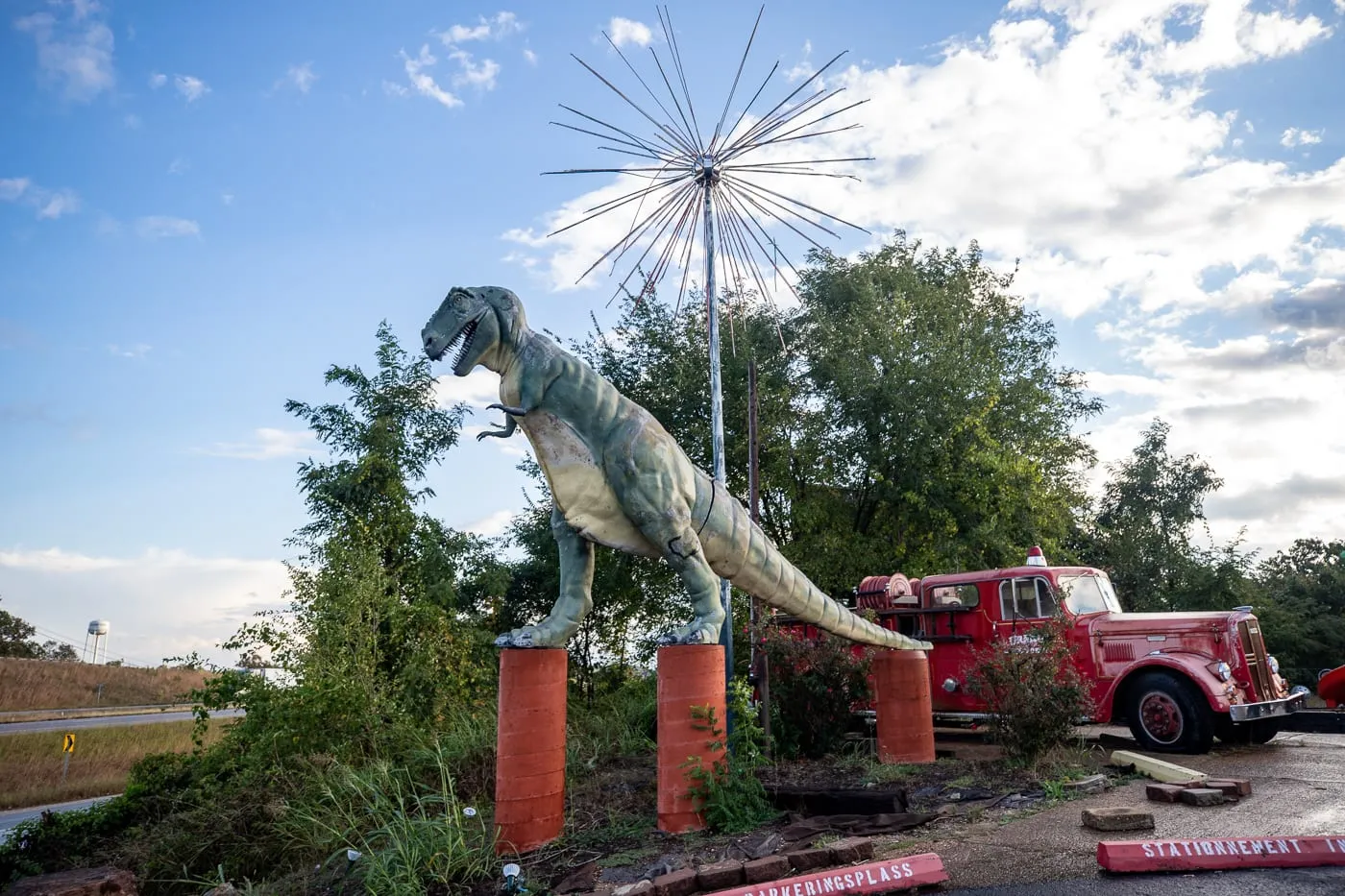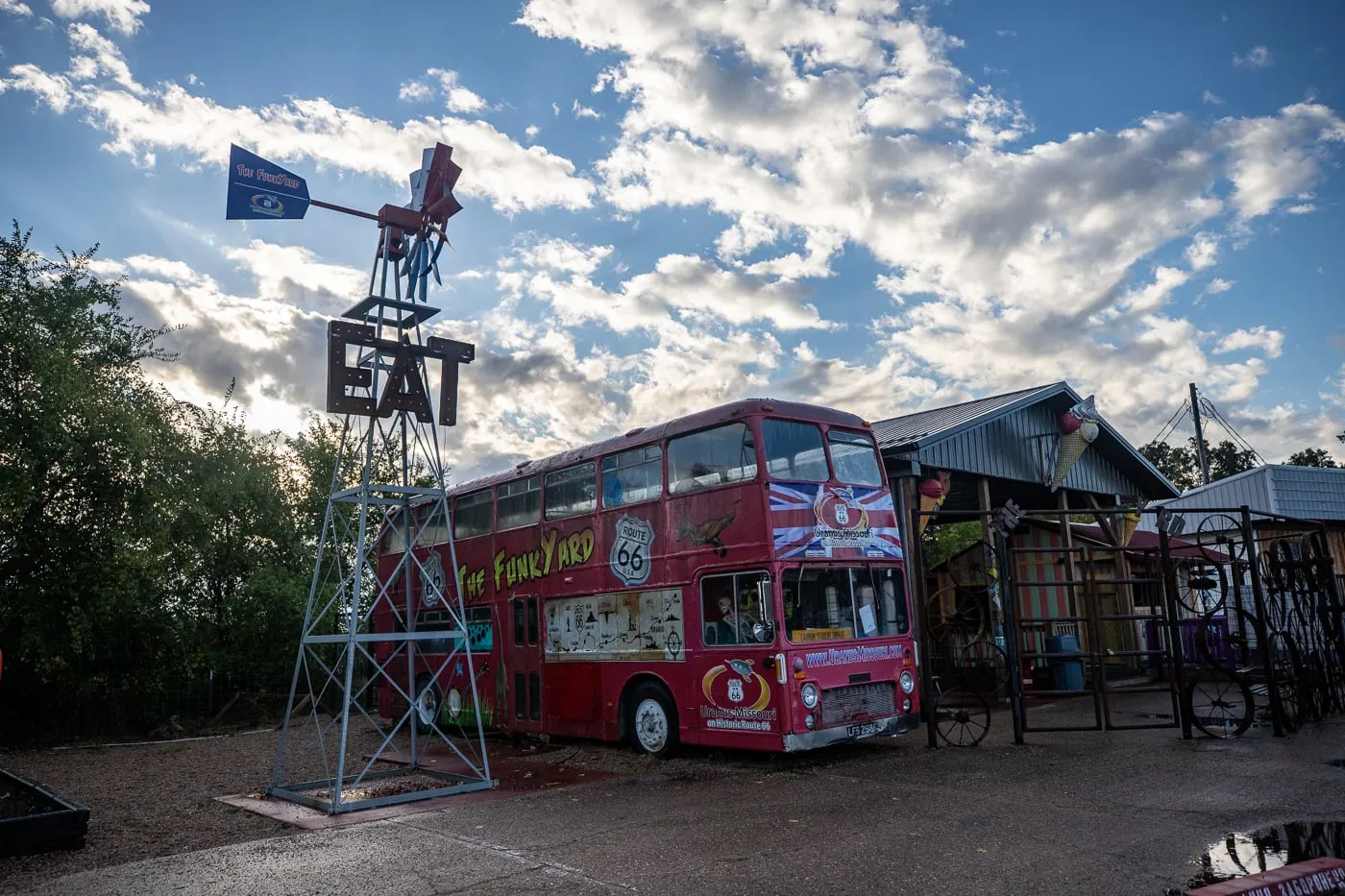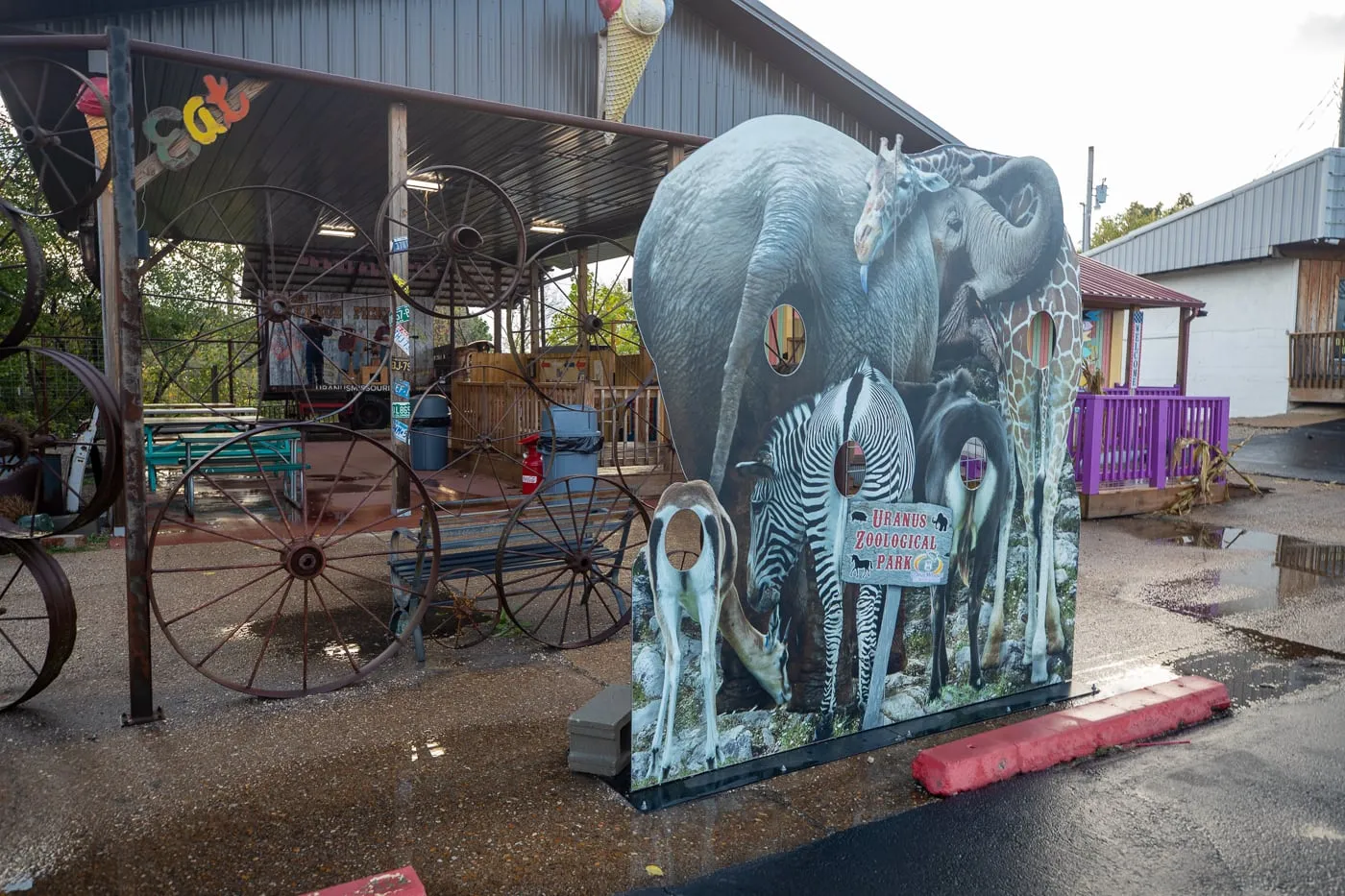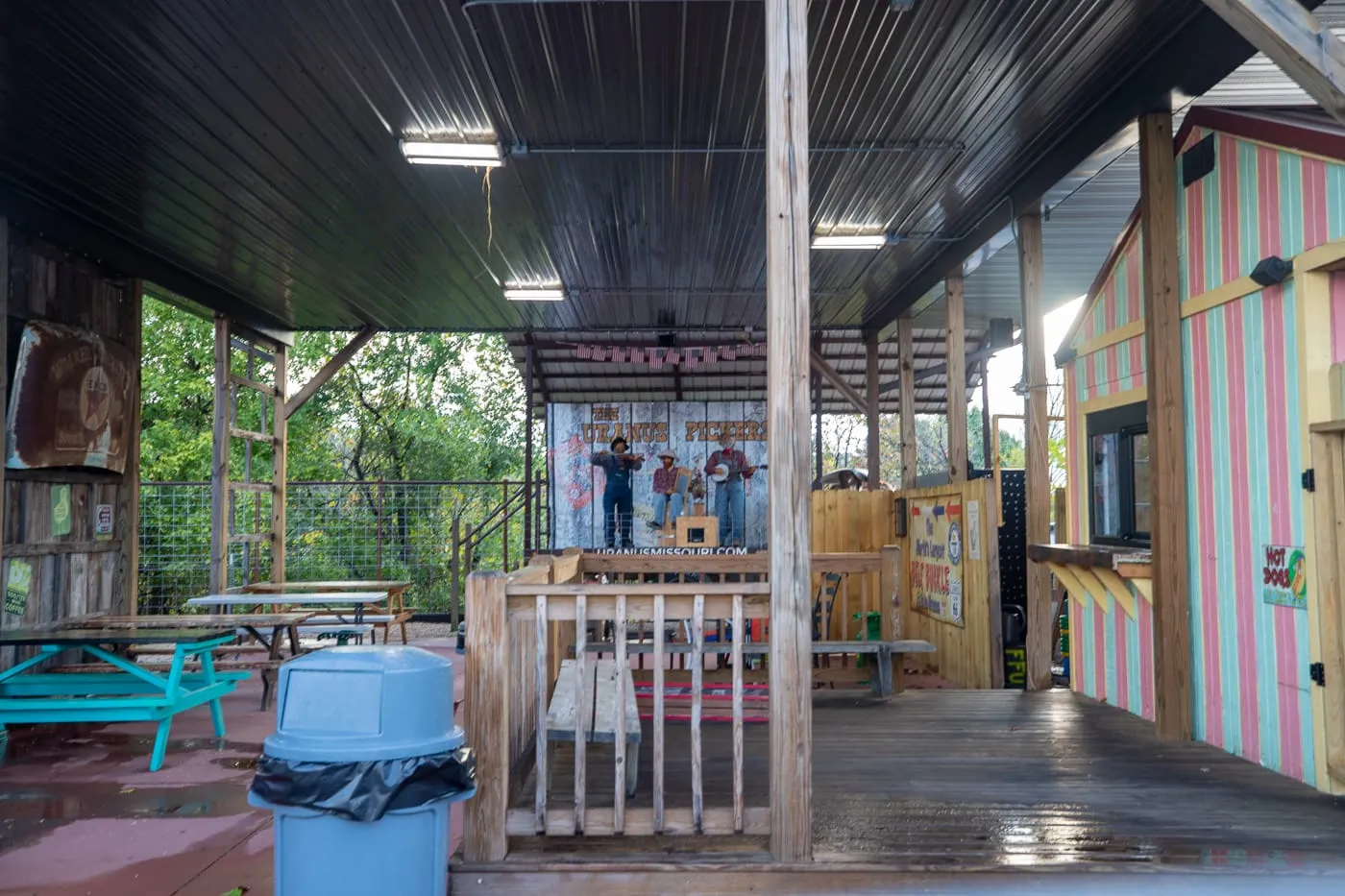 Circus Sideshow Museum
Check out the collection of wonders, oddities, and curiosities at the world's largest sideshow museum. Watch performers and explore the unique exhibits.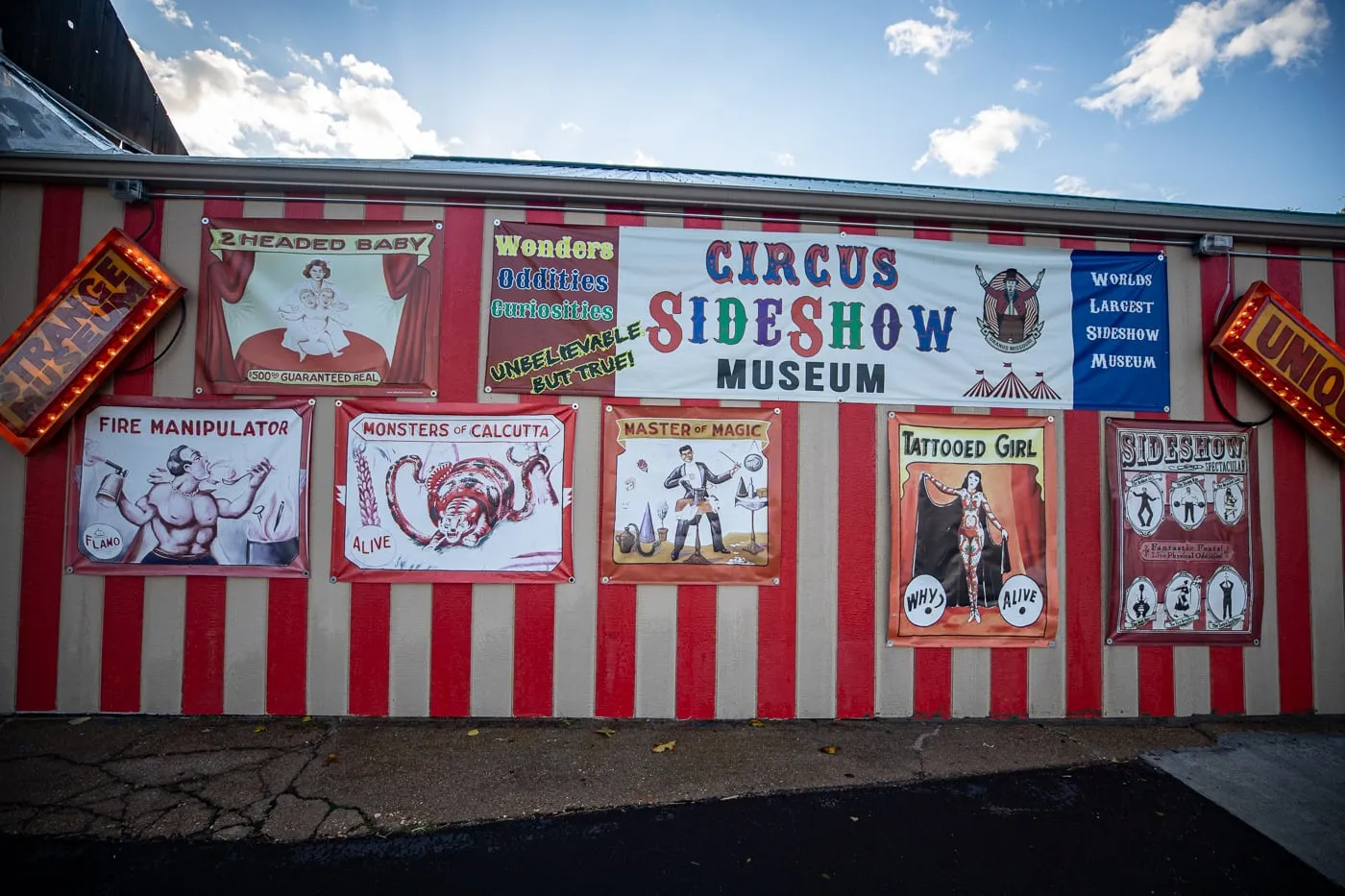 Miss Tiffany Statue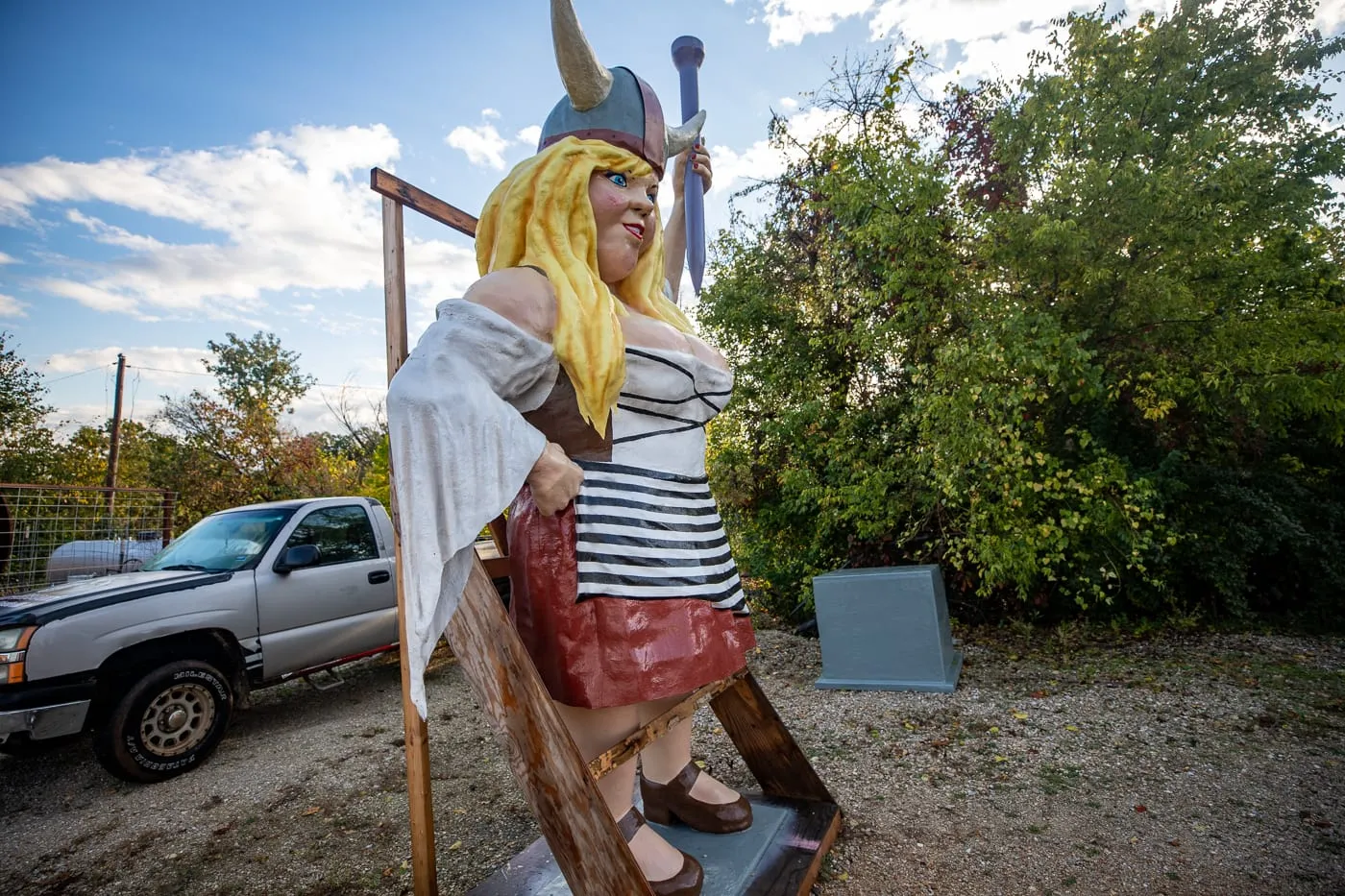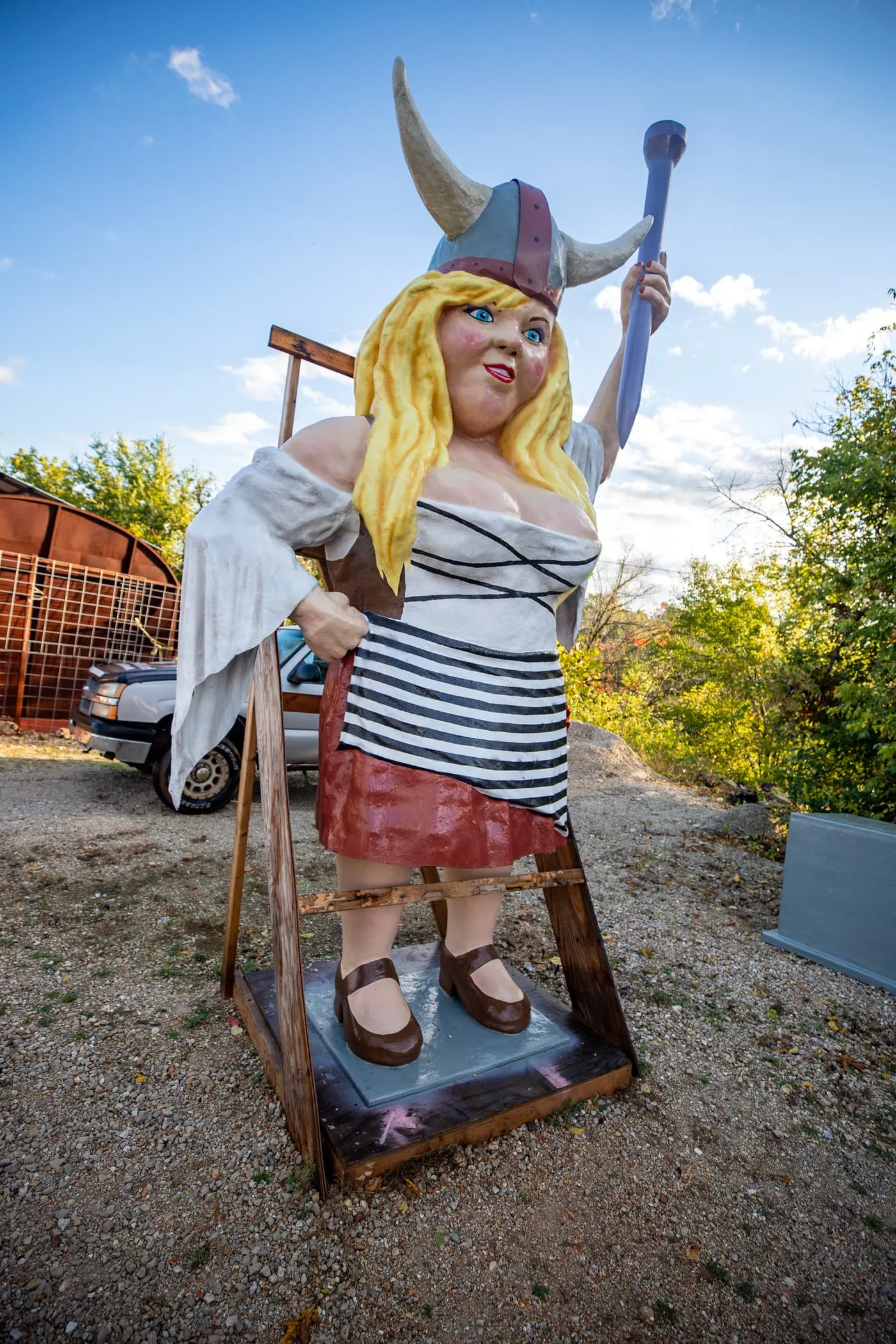 Johnson the Cat
This adorable kitty lives in Uranus. According to the signs on site "This is Johnson…Johnson loves to be stroked and petted. Everyone loves Johnson in Uranus!"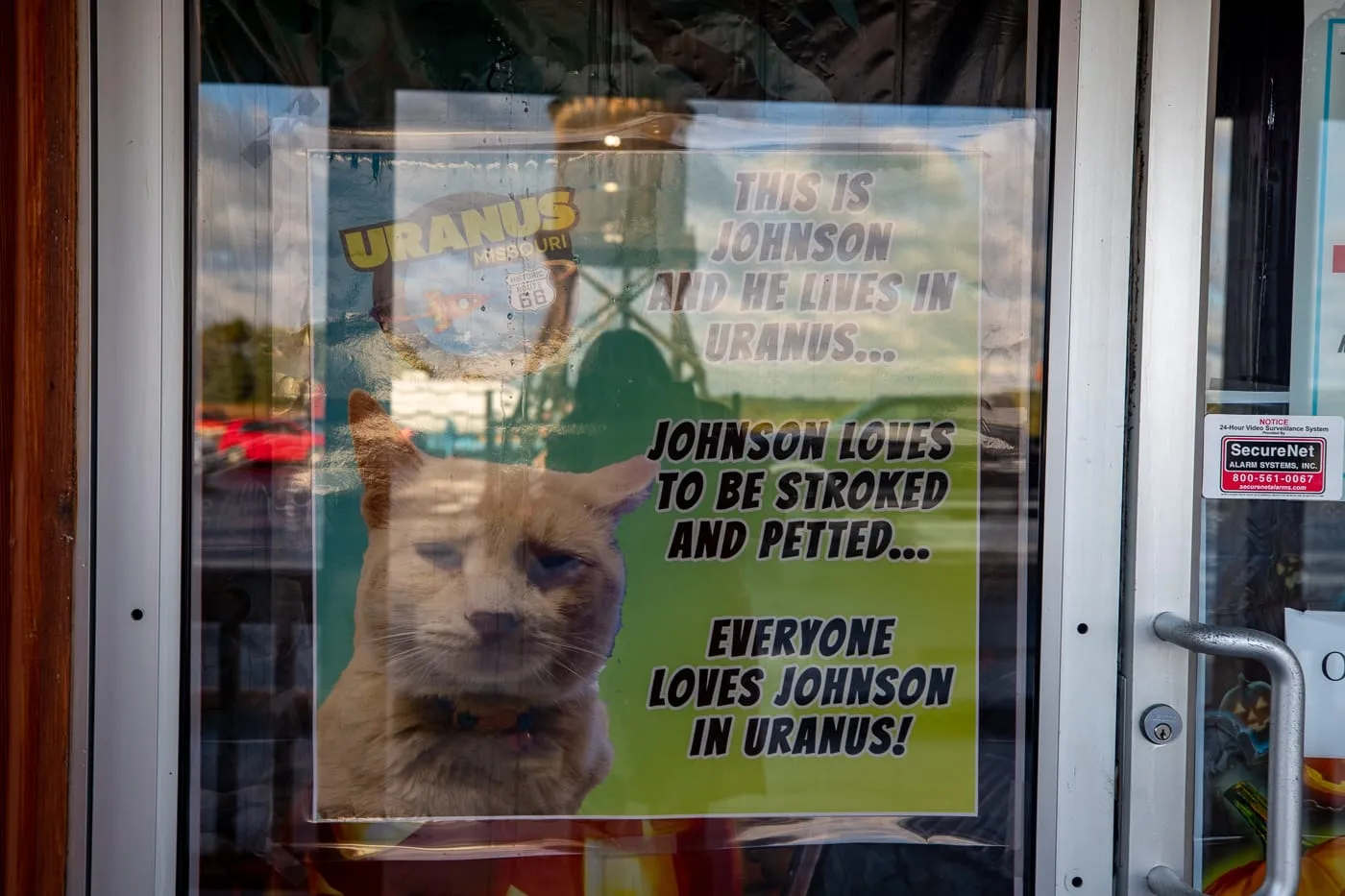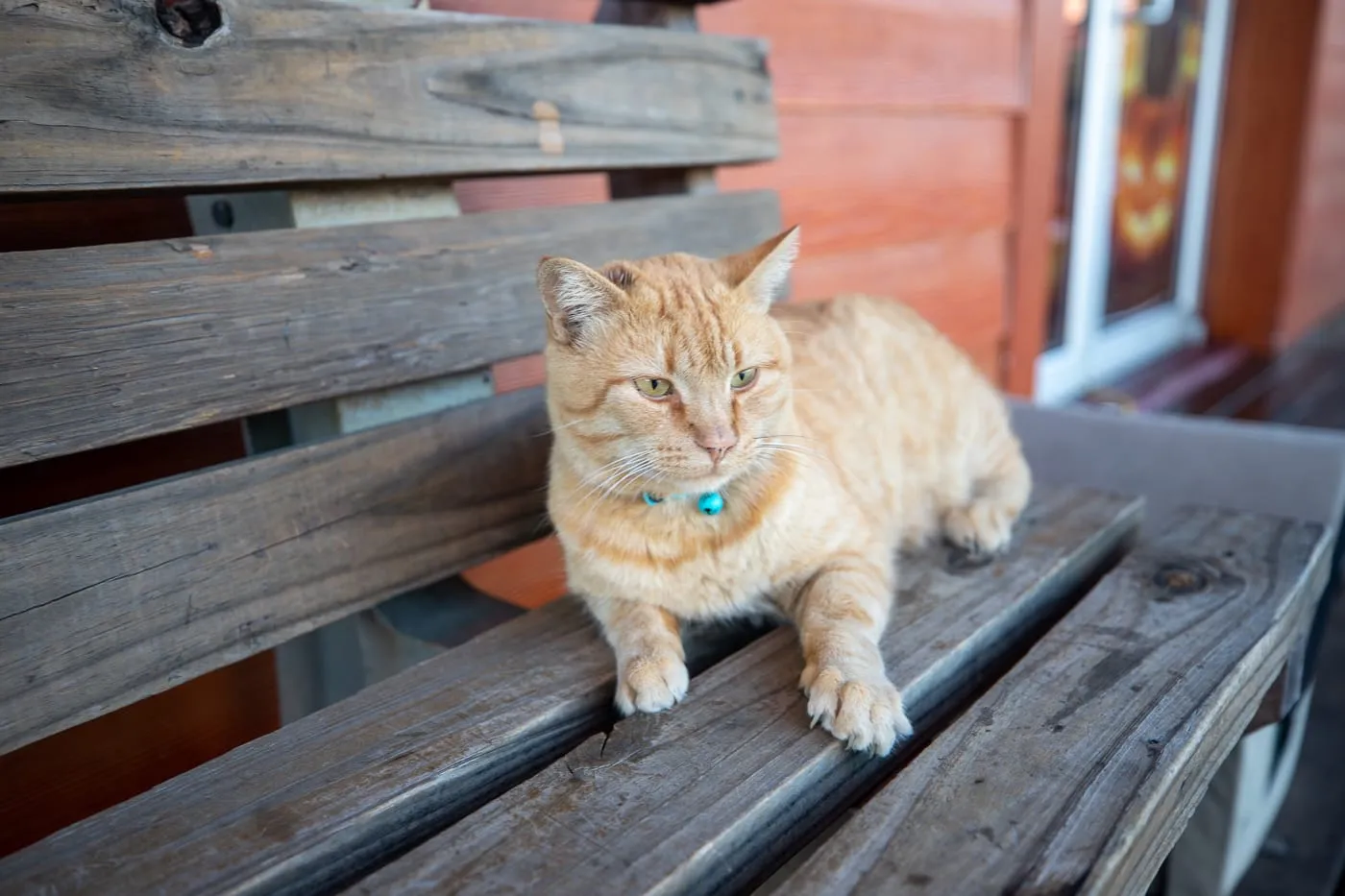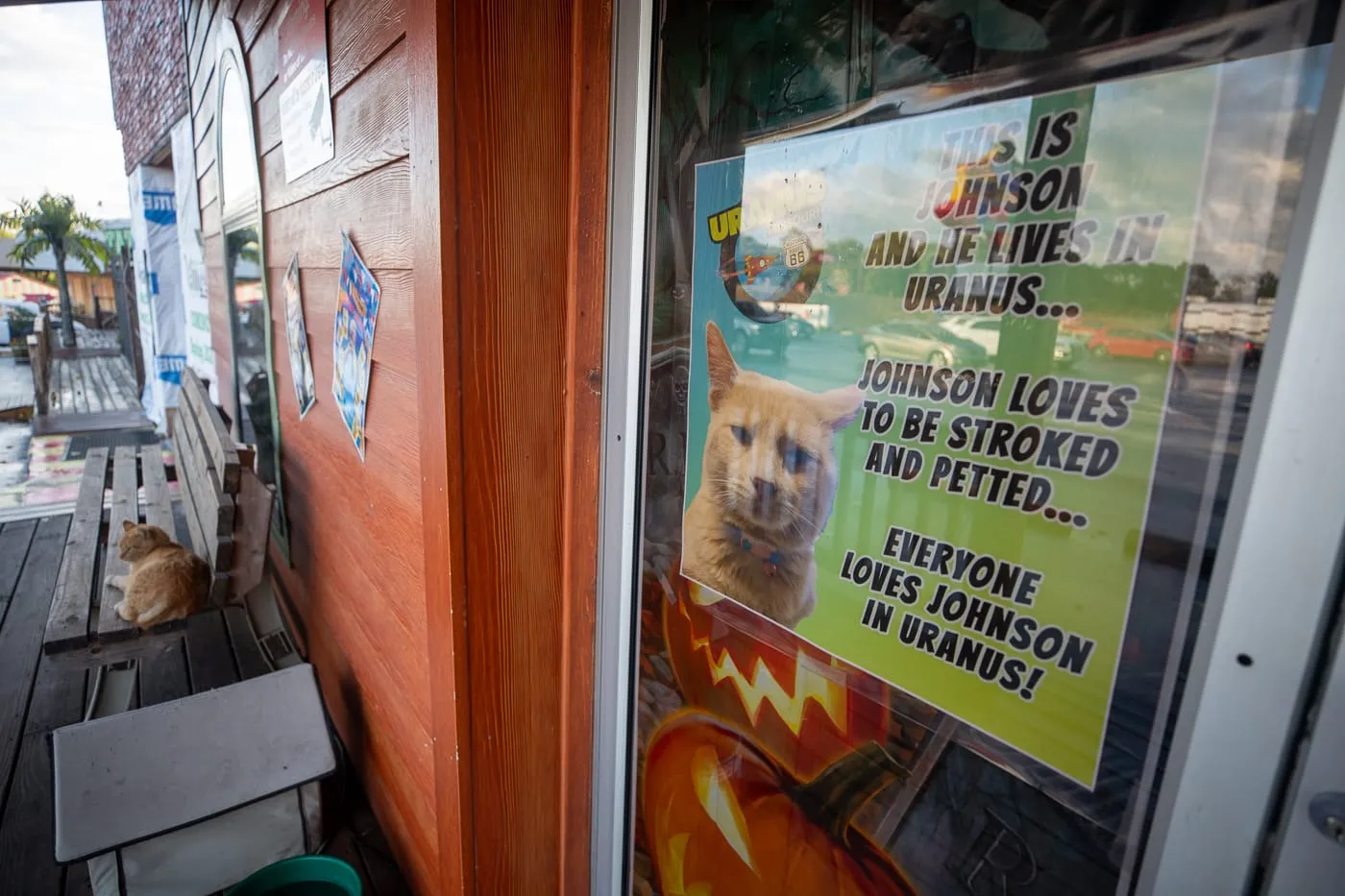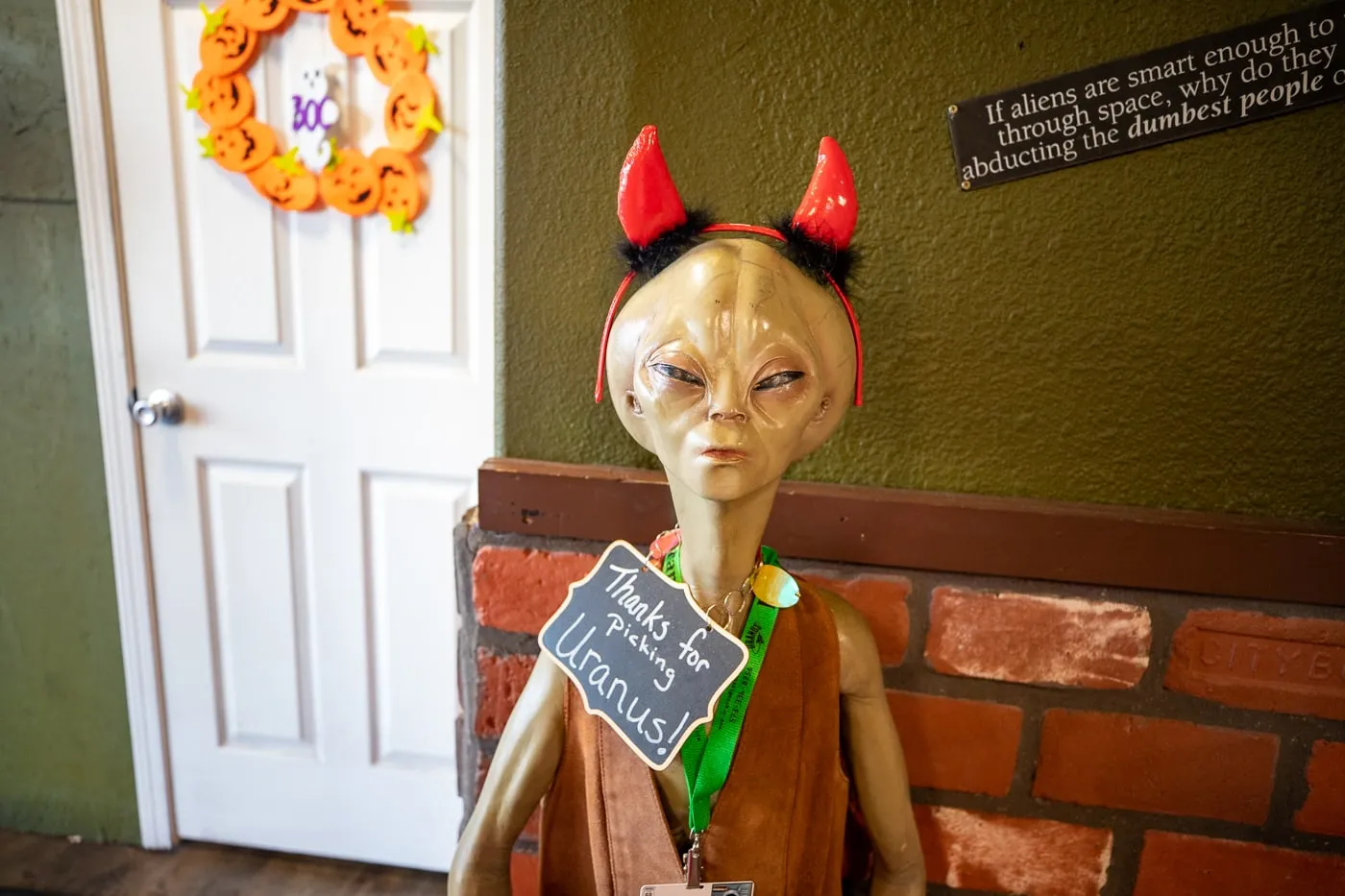 Uranus, Missouri
Address: 14400 State Hwy Z, St Robert, MO 65584
Hours: 8am-9pm daily
Cost: Free to see
Uranus Fudge Factory and General Store
Address: 14400 State Hwy Z, St Robert, MO 65584
Hours: 8am-9pm daily
Cost: Free to see, fudge and souvenir costs vary
Pin this Missouri roadside attraction: