It's become as essential to the Fourth of July as flags waving, parades, watermelon, and fireworks: The Nathan's Famous Hot Dog Eating Contest at Coney Island.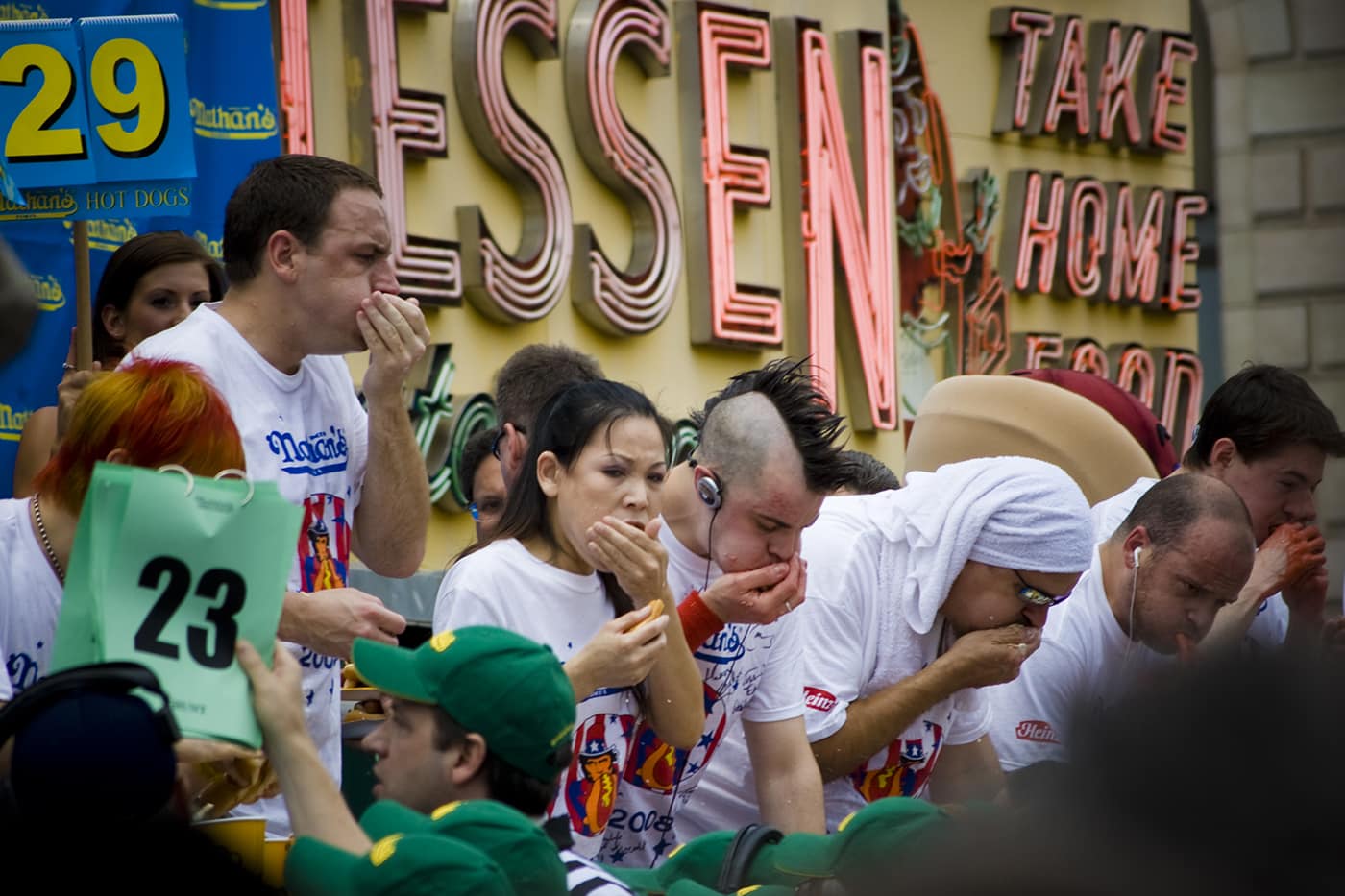 Every July 4 the best of the best competitive eaters gather together to go bun to bun in the ultimate gurgitory competition. Thousands of people gather at Coney Island each year to watch and more than a million more watch at home on TV (including the president of the United States).
My bags are packed and I'm anxiously awaiting my flight to New York so I can be there in person for the third year in a row. It's definitely something to experience (even Lonely Planet's 1,000 Ultimate Experiences
mentions it as number 380). Whether you're planning on watching the contest on TV, watching it in person, or are totally grossed out by it, you could probably stand to learn a few things to impress your fellow viewers by (or to enhance your point against it, I guess) and get the most out of your viewing experience. So here's an ultimate competitive eating superfan's ultimate guide to the July 4th hot dog eating contest, everything you need to know about how to watch and what you're watching.
The Basics
The July Fourth hot dog eating contest is ten minutes long (formerly twelve minutes). It's a timed challenge: contestants have ten minutes to eat as many hot dogs as they can. Both the hot dog and bun (HDB) need to be eaten. Dunking is allowed (meaning the contestants can submerge the hot dog, bun, or both into liquid before eating. The practice softens the bun and makes it easier to go down, but it is controversial because it leads to messier eating and a lot more debris.) You will see eaters with different liquids from plain ole water to fruit punch.
There is an automatic disqualification for a "reversal of fortune" aka throwing up what you ate.
Contestants have to be 18 years of age and qualified at smaller contests held around the country. (So, sorry, you can't just show up and expect to compete). And all eaters are members of the International Federation of Competitive Eaters/Major League Eating.
On the line is fame, money (last year it was $10,000 for the winner), and the prized Mustard Yellow Belt.
Watching the Contest in Person
The contest starts at 12noon EST at the corner of Surf and Stillwell avenues in Coney Island, right in front of Nathan's Famous. I highly recommend taking the subway: take D, F, or Q to Stillwell Avenue (it's the final stop). Once you get off the train you can't miss it! I would definitely recommend getting there by 9am if you want a good spot. you'll have to stand around for a while, but there will be plenty of entertainment to entertain you (including acts from the Ringling Brother Circus).
Be sure to wear plenty of sunscreen. It gets toasty out there. Also, you'll have to face the choice of if you would rather risk dehydration or having to pee the whole time. I choose the former and go without water or coffee the whole morning so I don't have to give up my spot or wait in huge lines for a bathroom. If rain is in the forecast, bring a poncho (you don't want to bother people with an umbrella in the way!) And look out for free swag. They usually throw out thunder sticks (blow up things that make noise when you hit them together — which I kind of hate because they get in the way of my photos) and sometimes a few t-shirts. Sometimes an eater will create posters to hand out, so look for those.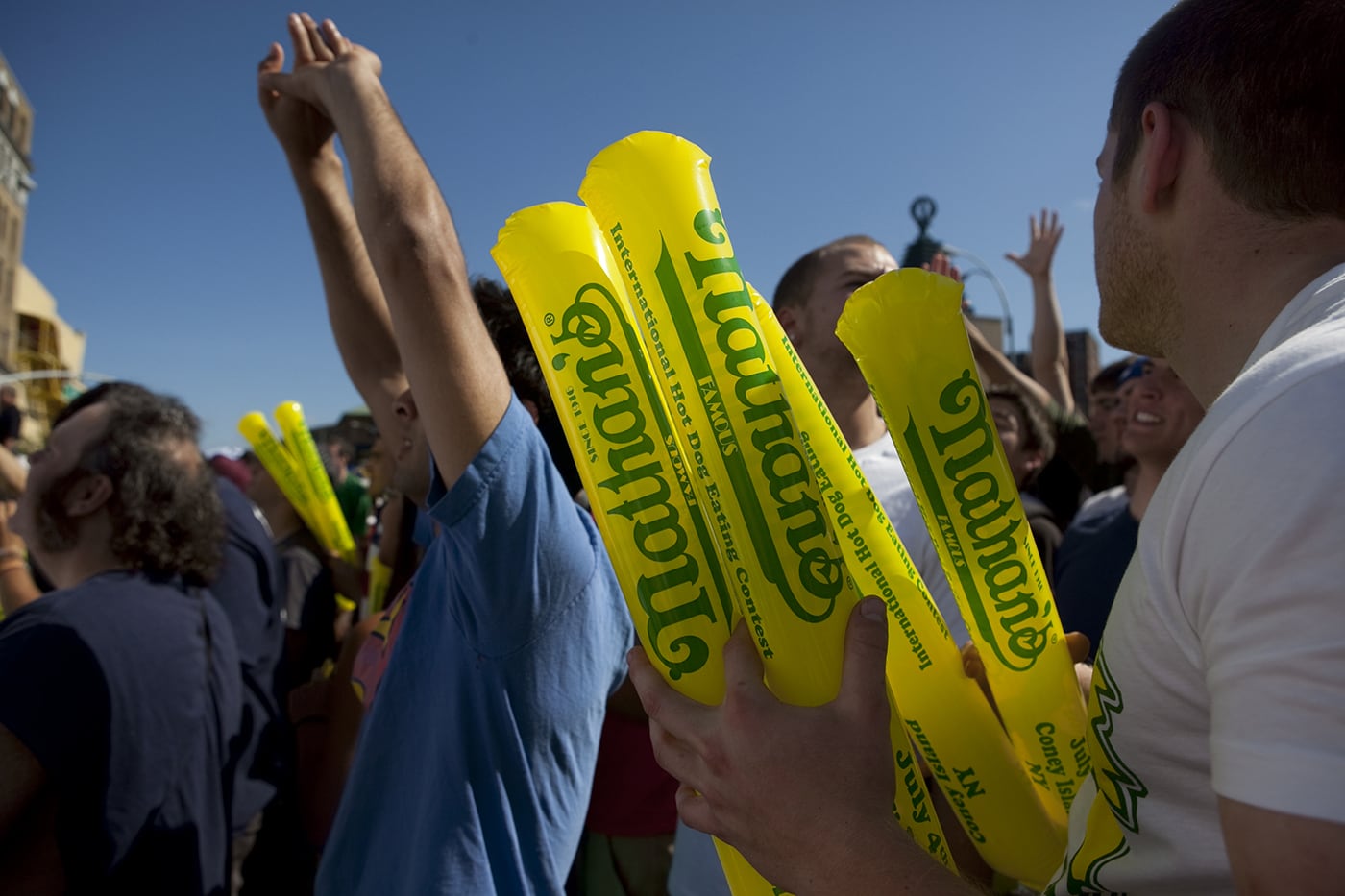 Want to have a little more fun while there? The New York City Zombie Crawl is having a meet up there. So, if you so desire, you can come back from the dead and meet others of your kind.
Other than that, just watch and enjoy! It's an amazing ten minutes of sports and you won't regret heading out for it.
Watching the Contest on TV
On July 4 ESPN will be broadcasting the contest starting at 12noon EST. Look up what channel ESPN is on in your area. This year the broadcast will be repeated immediately afterwards at 1p.m. EST…so if you miss it the first time you can watch it in repeat…or you can watch it twice in a row!
Edited to add: Looks like the contest will also stream online at ESPN3.
People to Know
Only the best of the best eaters make it to the table each year to vie for the Mustard Yellow Belt. Each eater has a different style, whether they shake, jiggle, or hop to get the dogs down and whether they snap the hot dogs in half to eat both halves at once (the Solomon Method), separate the buns from the dog (Tokyo Method) or just, well, chew. Here are some of the key players in competitive eating to watch out for this Sunday.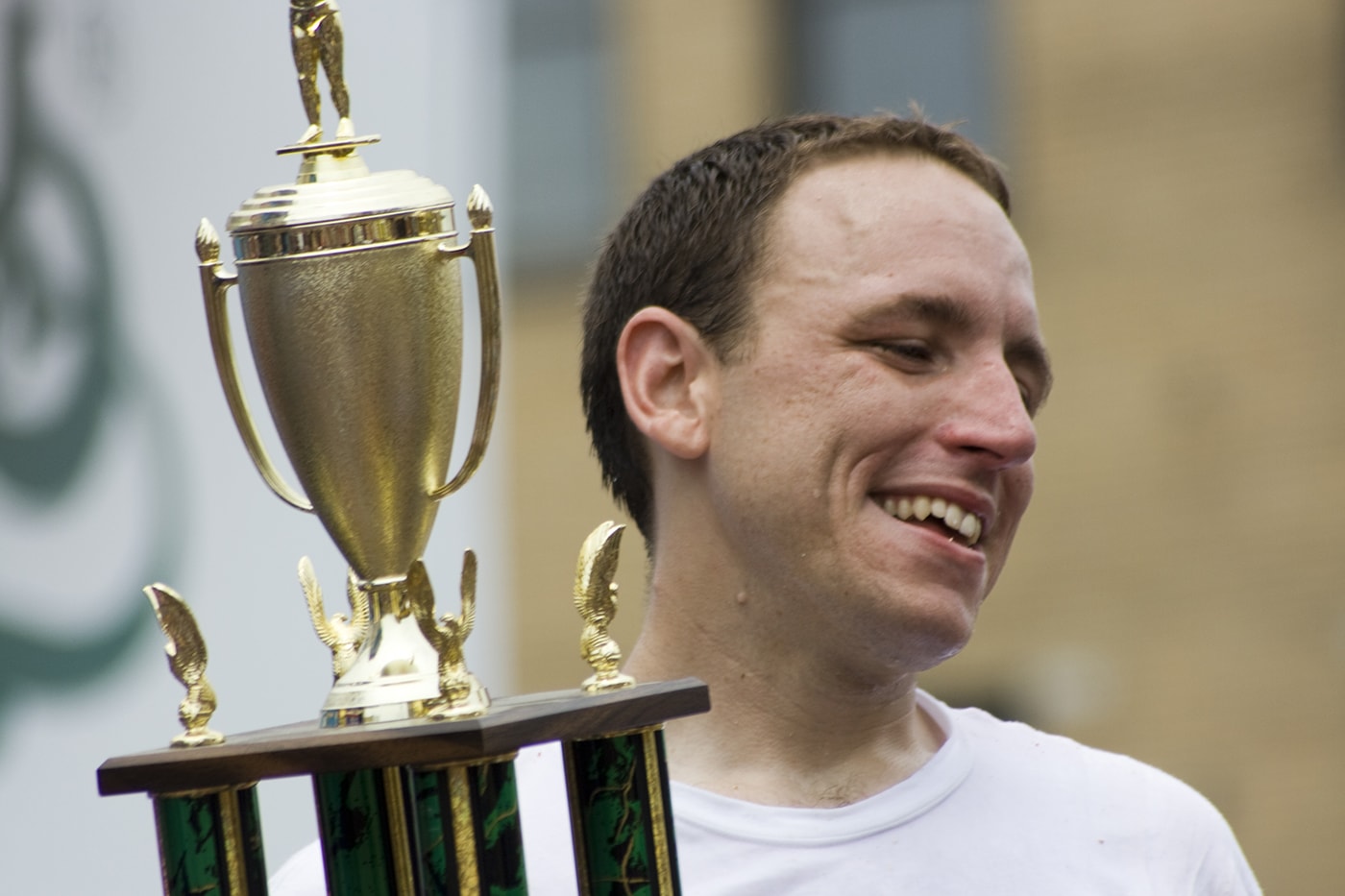 Joey "Jaws" Chestnut
RANK: 1
QUALIFIED WITH: 68 HDB (last year's winning total and world record)
Joey Chestnut is an engineer by week, eater by weekend. He is the number one ranked competitive eater in the world. As the Mustard Yellow Belt winner for the past three years, this defending champion is the one to beat…but he is not unbeatable. In other contests he has been eclipsed by Pat Bertoletti, Bob Shoudt, and Takeru Kobayashi. But if history is any judge, it will be a very hard battle for anyone to dethrone Jaws at hot dog eating.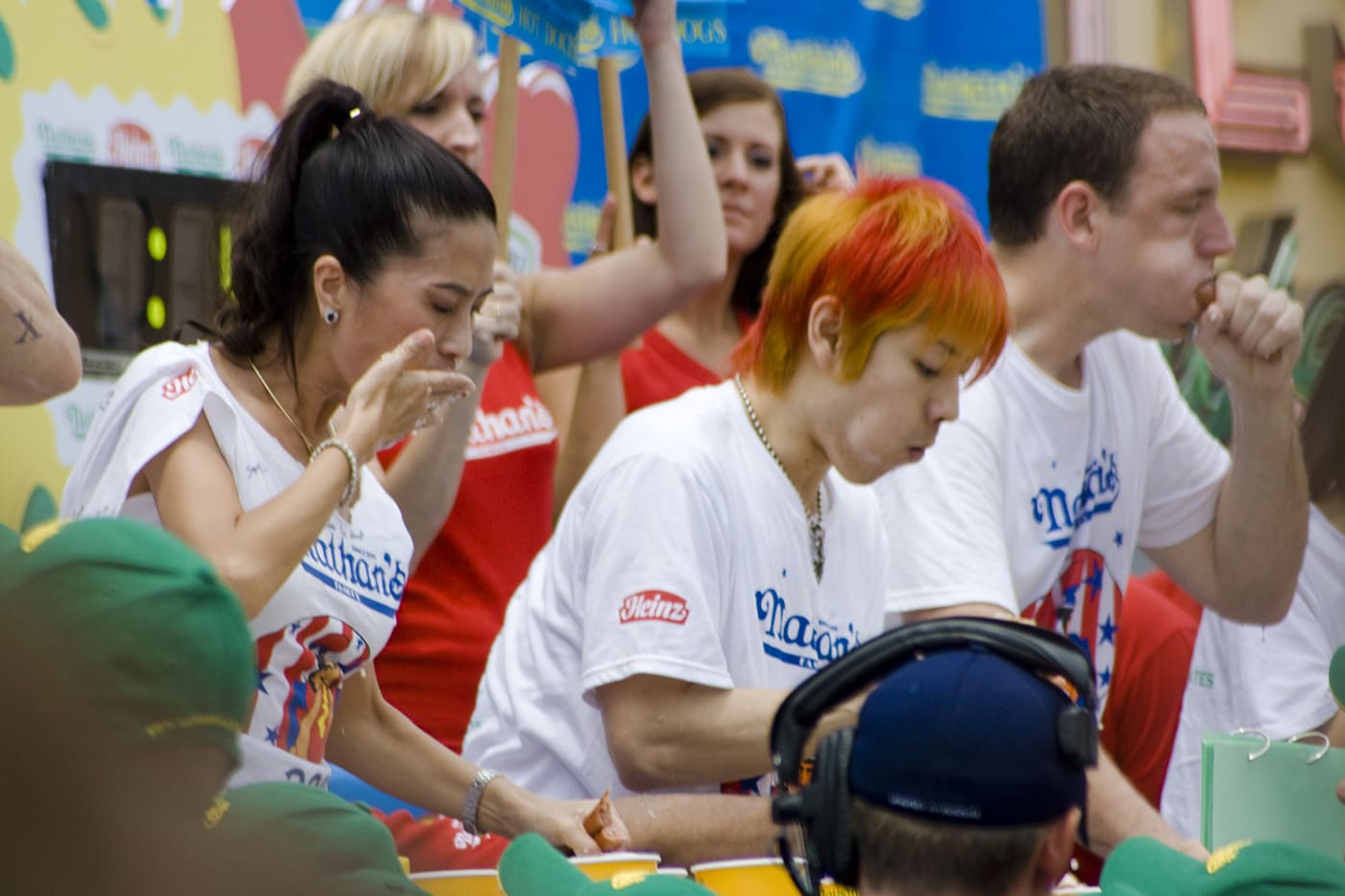 Takeru Kobayashi
RANK: 3
Formerly the unbeatable, undisputed, most amazing competitive eater in history, Takeru Kobayashi is probably one of the best-known competitors (even if you just know his as "that little Japanese guy"). Kobayashi is a 6-time winner of the July 4th hot dog eating contest. But, after a jaw injury a few years ago he lost his reign to Chestnut and has been slipping in the rankings ever since. He made a triumphant return to the forefront last September when he won the Krystal Square Off, but has since lost to Chestnut. As of right now Kobayashi is not scheduled to compete due to "contract negotiations." Kobayashi says he wants the freedom to compete elsewhere and that the contract for Natan's limits his freedom. (Ironic that he is fighting for his eating freedom on our Independance Day.) Rumors are still torn between it being a publicity stunt or that he has retired for good. We'll have to wait until Sunday to know for sure, but even if he doesn't compete, prepare to hear his name dropped many times throughout the broadcast.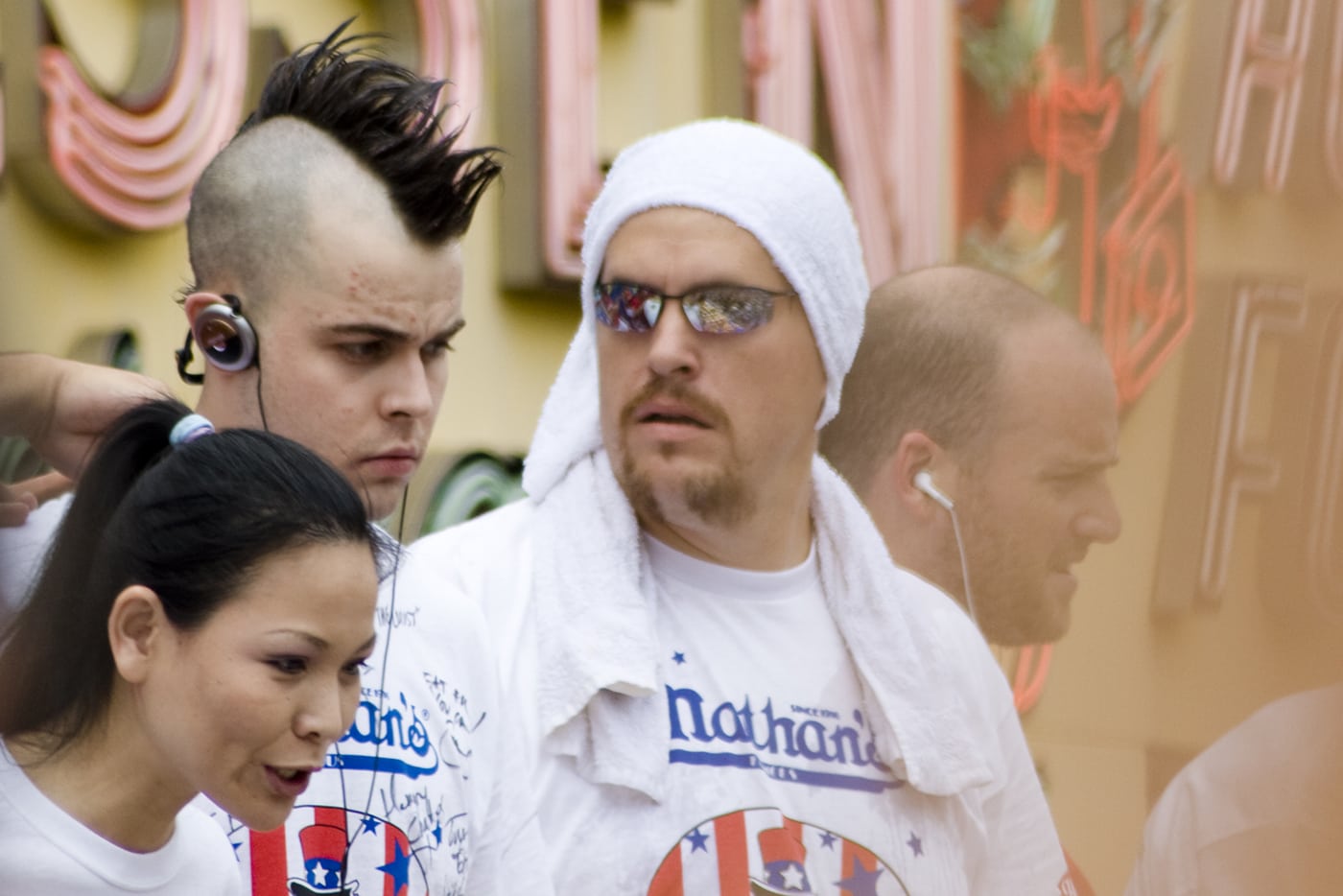 Notorious B.O.B. Shoudt.
RANK: 2
QUALIFIED WITH: 40 HDB
Formerly "Humble" Bob Shoudt, this eater is humble no more. He's climbed up the ranking to the number two spot, has recently won contests in fries, pb&j sandwiches, ribs, and more, and is one to watch in this year's contest. Fun fact: Bob Shoudt is a vegetarian in real life and only eats meat in sanctioned contests.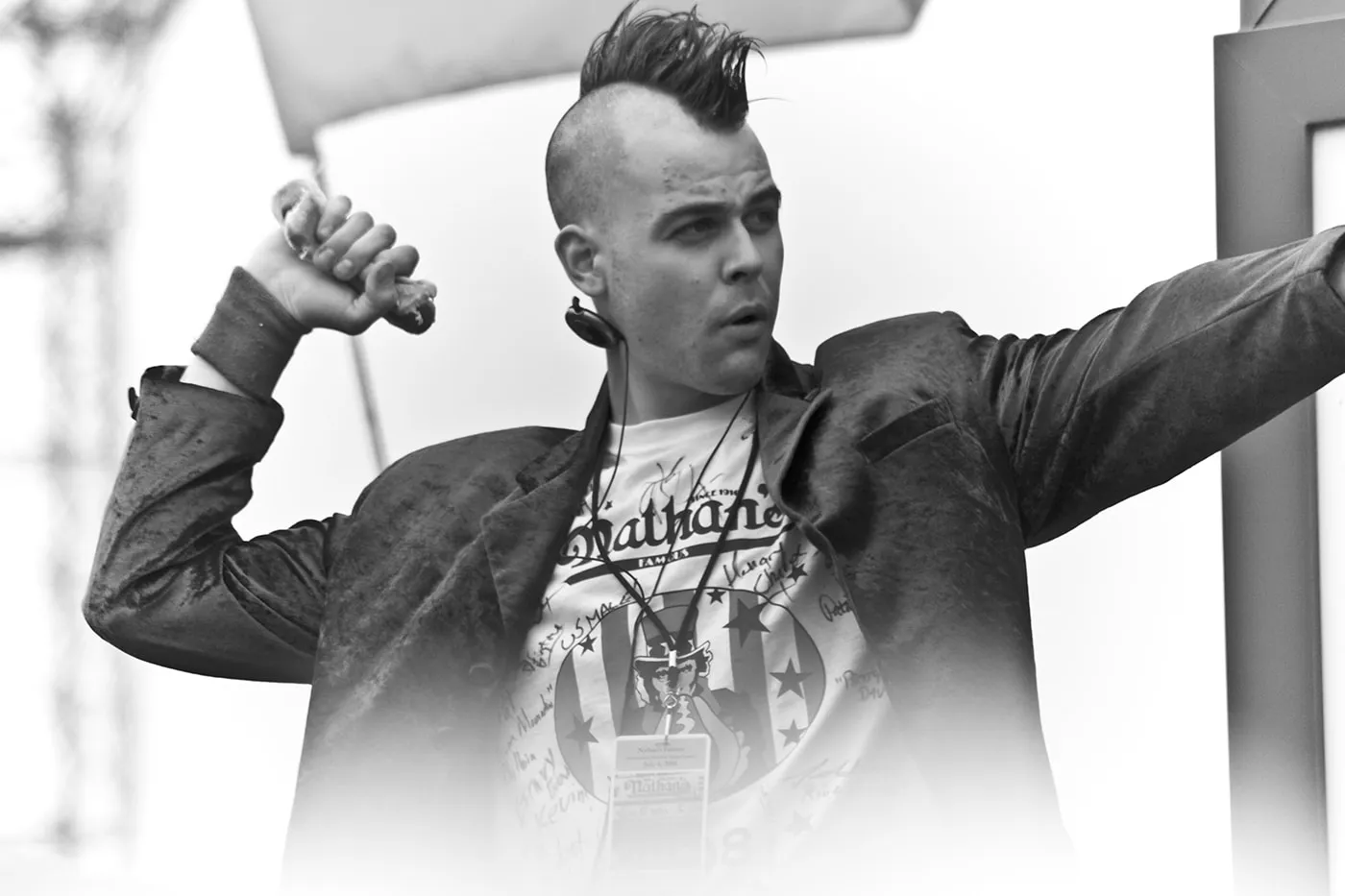 Pat "Deep Dish" Bertoletti
RANK: 4
QUALIFIED WITH: 30
Pat Bertoletti is another strong contender. Although he's slipped in the rankings over the last year (last year he was ranked #2, even ahead of Kobayashi) and has lost some recent contests to Shoudt and Chestnut. But he's still got talent and conviction. And a mohawk. And he's usually a good contender for a best dressed award. And he's from Chicago. And I'm really hoping some day someone brings the victory to my town.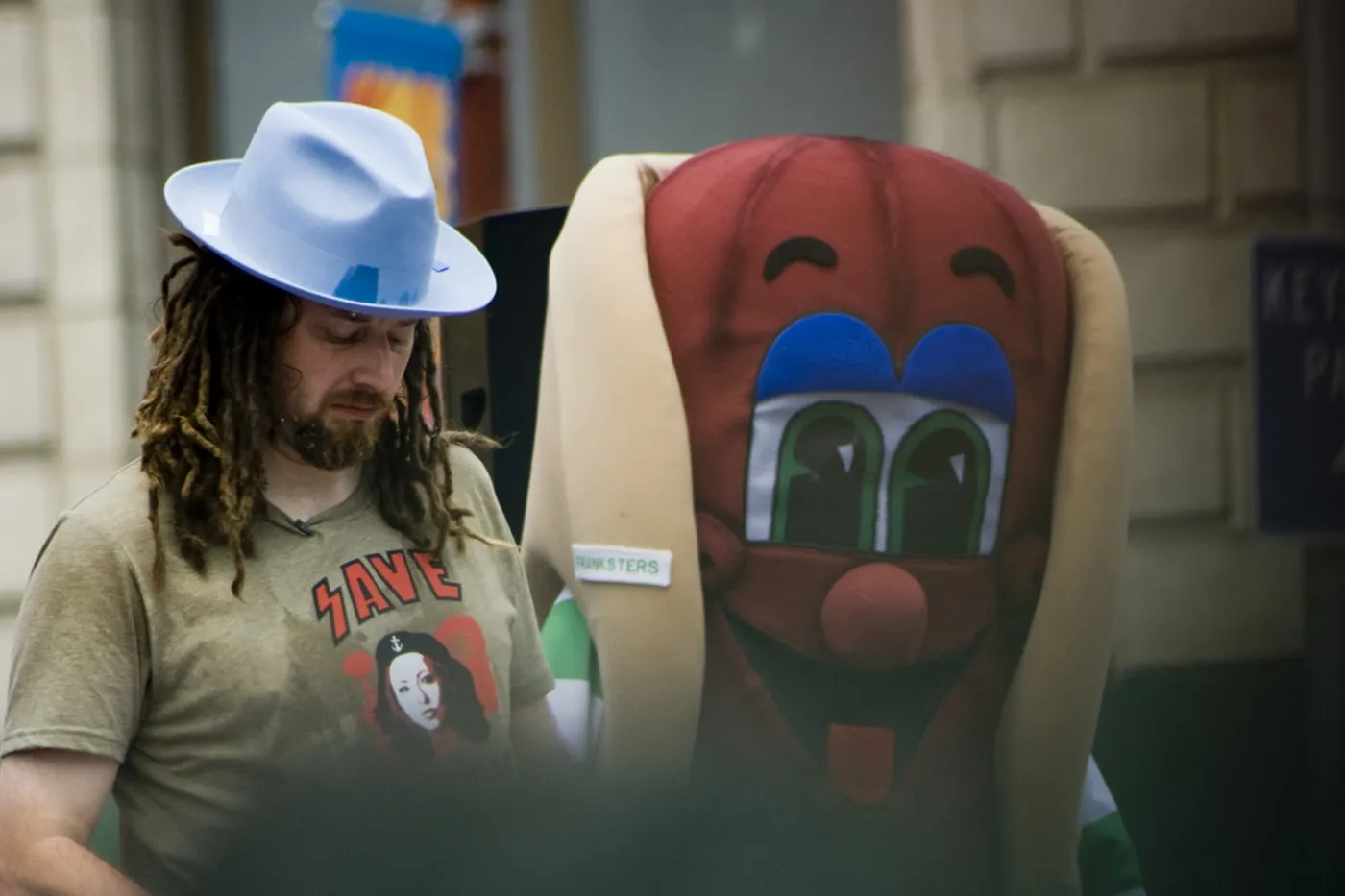 Crazy Legs Conti
RANK: 14
QUALIFIED WITH: 25
Crazy Legs Conti has become a familiar face of competitive eating. With his dreadlocked hair and personable demeanor he's an advocate for the sport…but his entrance in this year's contest has been marred with a lot of controversy. Videos and photos of the contest that he qualified in have surfaced that point to him possibly cheating by leaving more than your average about of debris, and possibly spitting hot dogs into his cup. One thing's for sure: many eyes will be on Conti this Sunday.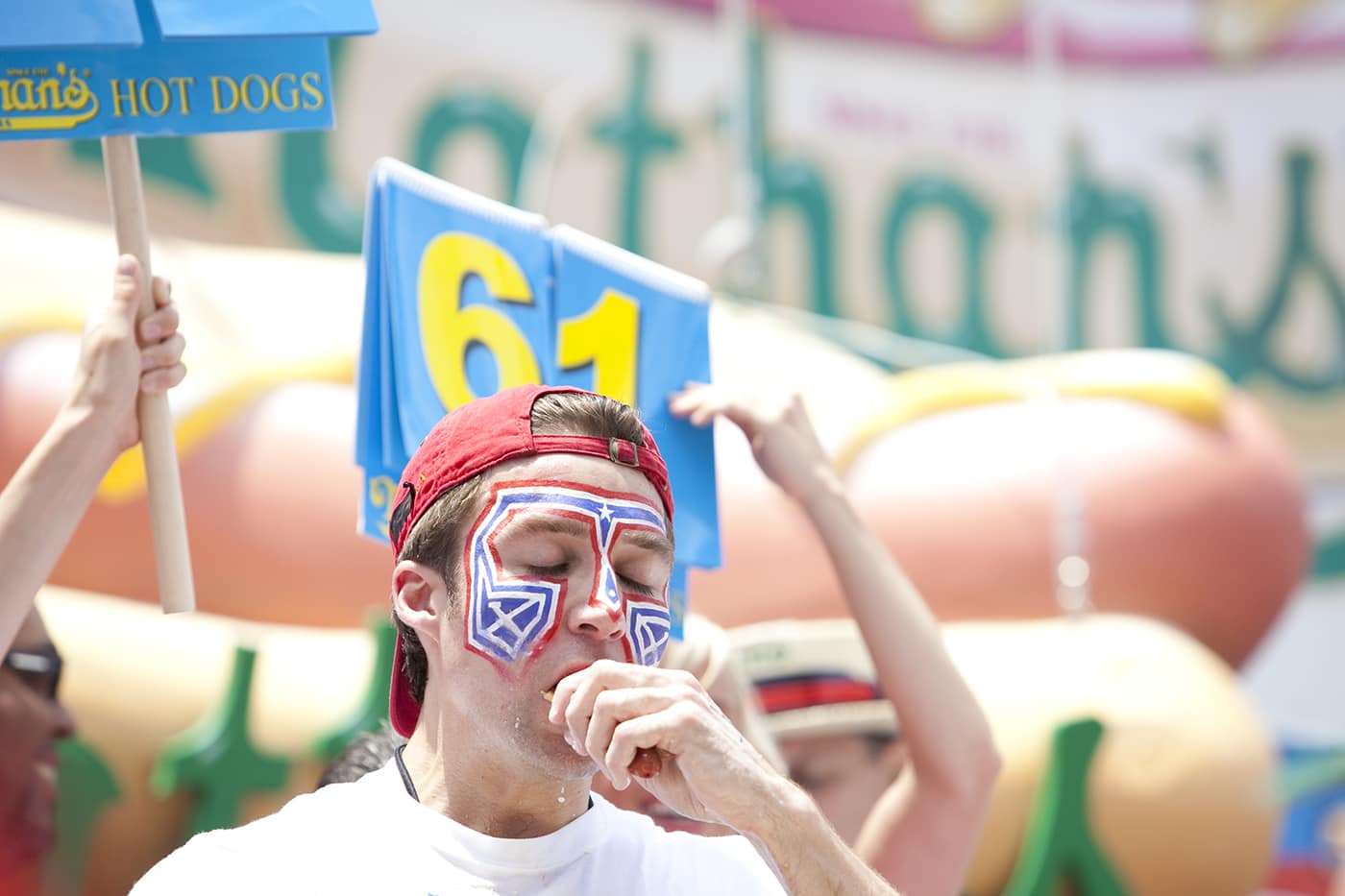 Tim "Eater X" Janus
RANK: 6
QUALIFIED WITH: 46
Eater X always competes with his identity hidden behind face paint. But he also always eats well. And he had the highest number of hot dogs consumed to qualify. So he could be a strong contender this year.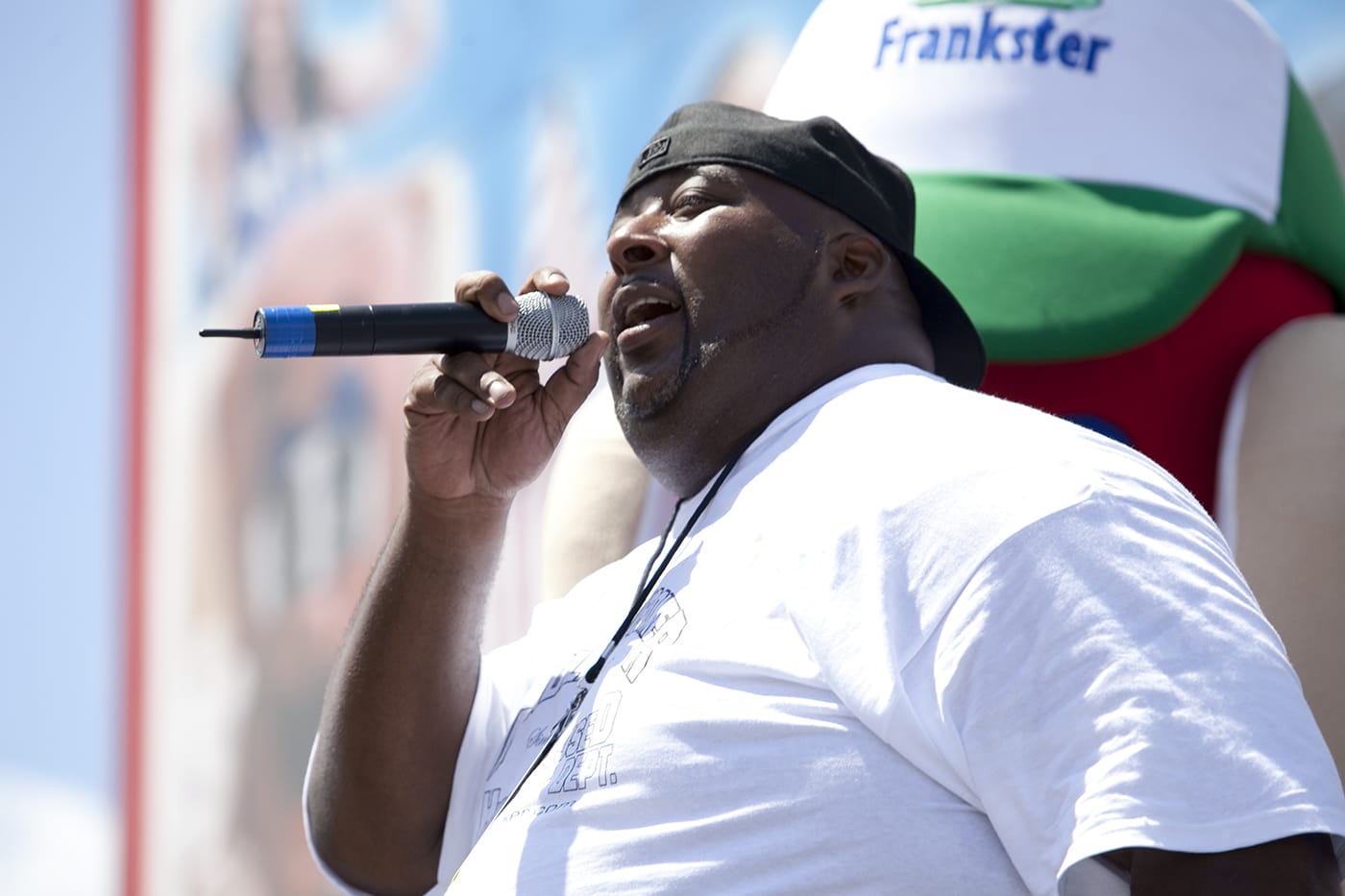 Eric "Badlands" Booker
RANK: 12
QUALIFIED WITH: 38.5
Badlands has talent: both in eating and rapping. He will surely put up some good dog numbers, but really look for him before the contest performing one of his many competitive eating songs.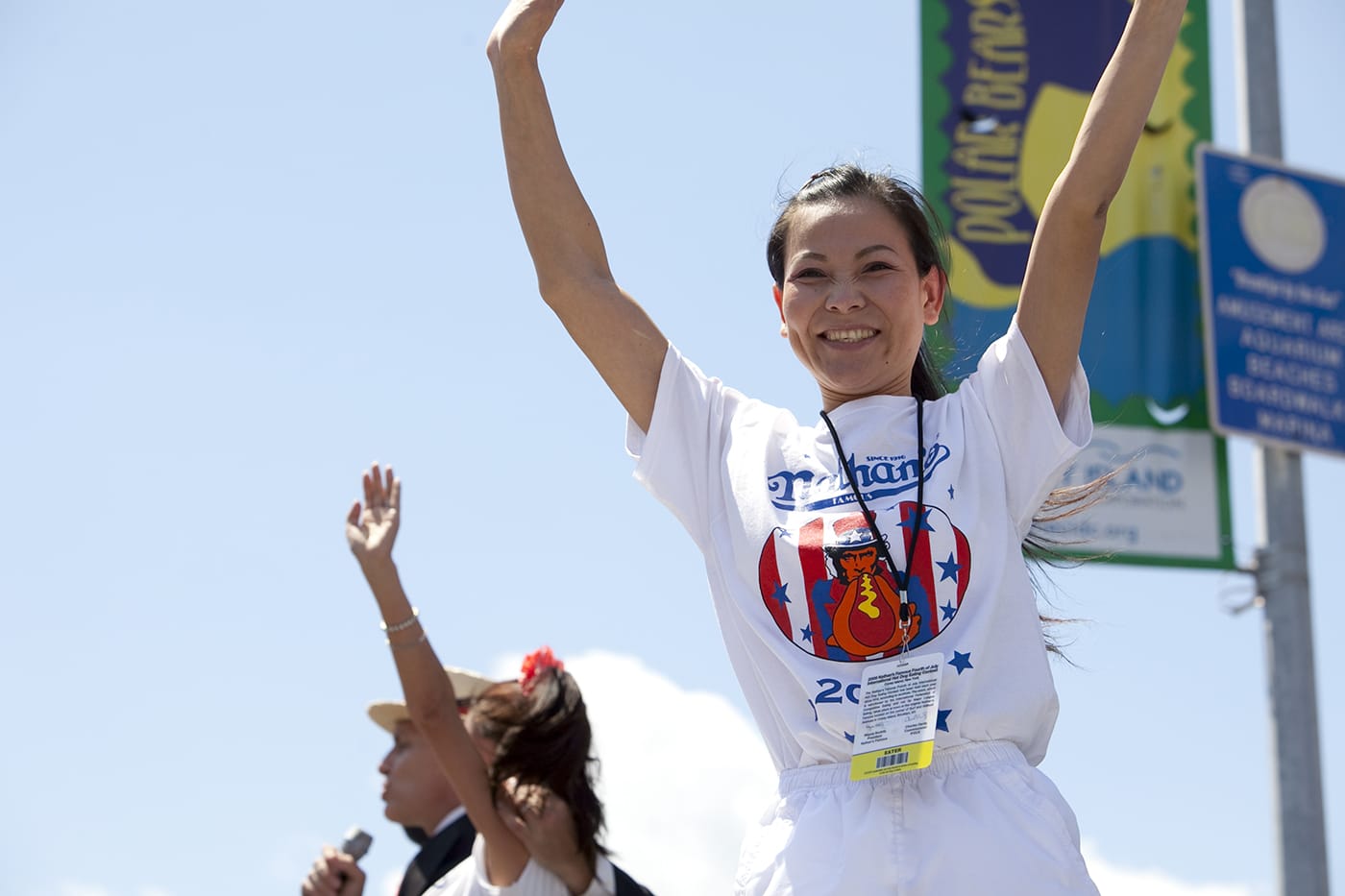 Sonya "The Black Widow" Thomas
RANK: 5
QUALIFIED WITH: 34
Don't let this tiny beauty fool you, she has the heart and belly of any eater up there. As the highest ranked female eater, Sonya is always up there in her totals.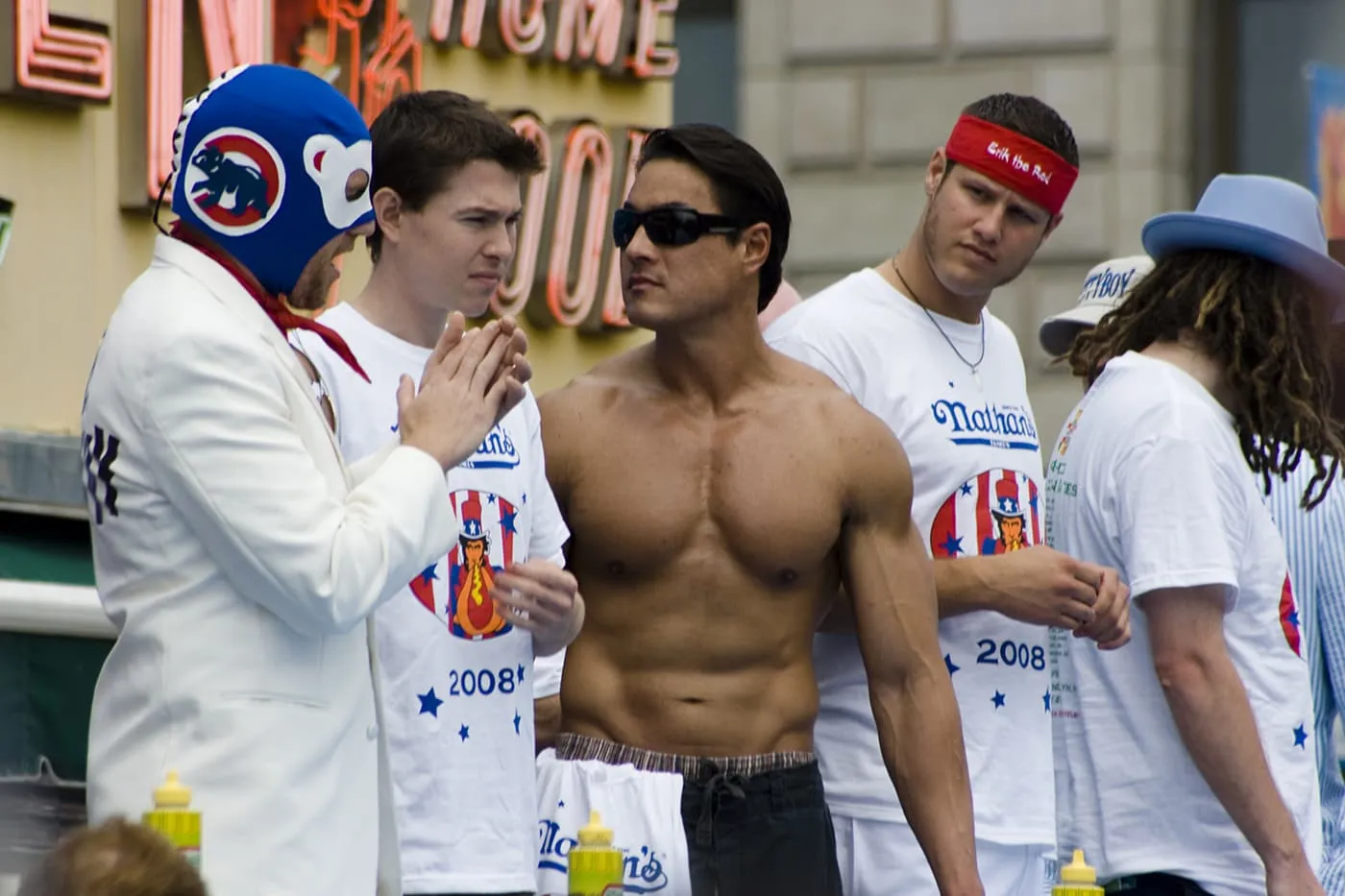 Erik "The Red" Denmark (RANK: 8/QUALIFIED WITH: 29)
Tim "Gravy" Brown (RANK: 10/QUALIFIED WITH: 28)
While everyone knows the great rivalry between Chestnut and Kobayashi, there are other rivalries in the eating world. Take for instance Tim Brown and Erik Denmark. In a constant battle over rankings, these two often go head to head. While, of course these two are in it to win it, they, a little more realistically, are in it to eat more than the other. Recently Erik finished ahead of Tim in a ribs eating contest. So watch these two to see who out-eats the other at Coney.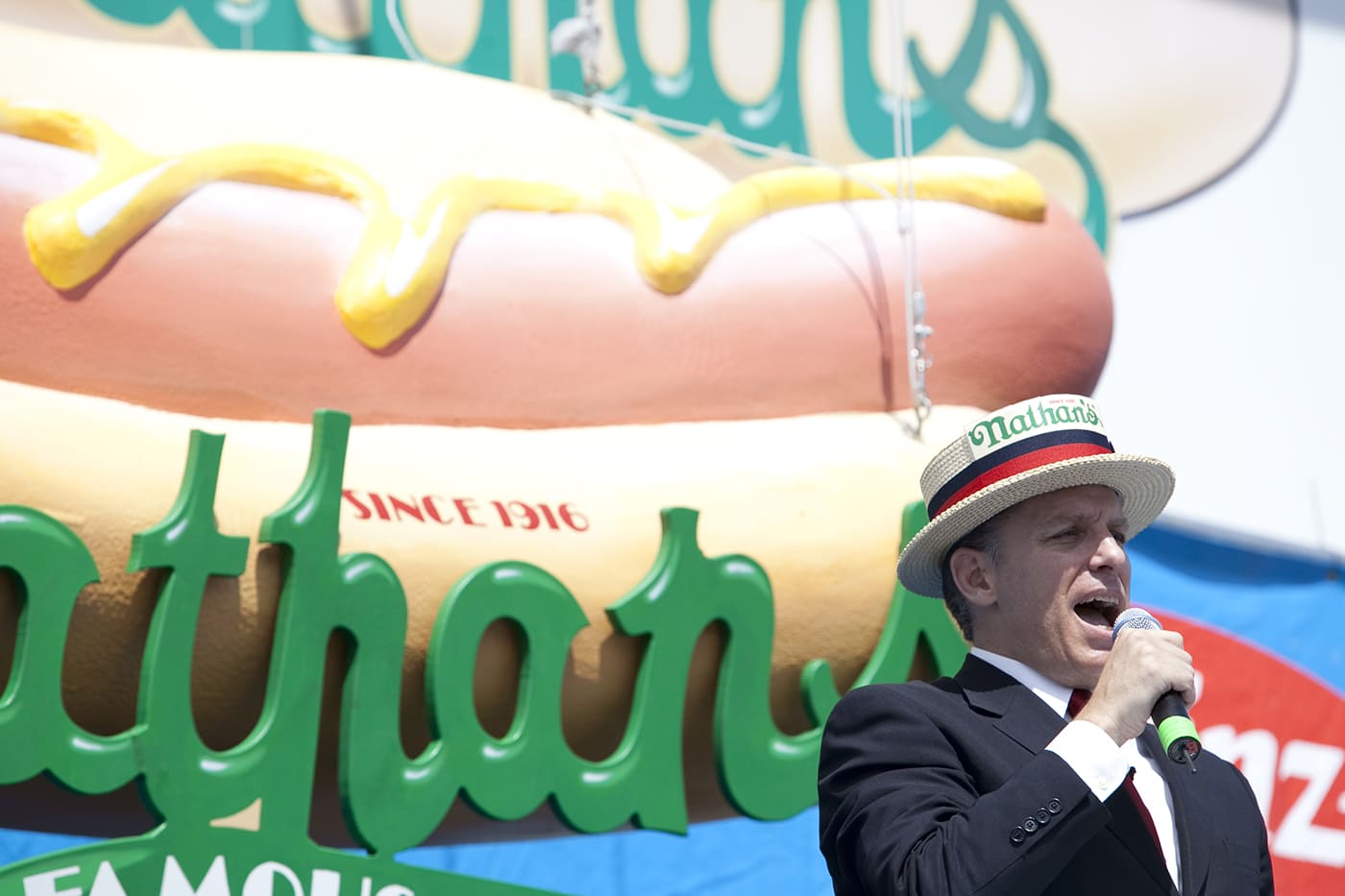 George Shea
George Shea is the face of competitive eating. Always good for information and always good for a laugh, he serves as MC every year.
Other contestants:
"Big" Ben Monson (a newbie on the scene who has been doing well and climbed quickly to a rank of 7), Sean "Flash" Gordon (#15), Juliet Lee (#11 another strong lady of eating), Kristopher Adams (won a military-restricted contest), Andrew Bosque (won a military-restricted contest), Peter "Pretty Boy" Davekos (#20), and Bryan "Big Sexy" Beard (#32).
For live commentary from the event, follow my twitter @SillyAmerica and check back here next week for photos and an event recap! (Also be sure to follow @eatingcontest, the official Twitter of Major League Eating.) You can also head on over to EatFeats, a competitive eating news source, which will be sure to have the results and links to articles and more after the contest. Before the contest, be sure to head over to Pepto-Bismol on Facebook to guess and win how many dogs the winner will eat for a chance to win a T-shirt.
Whether you decide to brave the crowds at Coney or watch from the comfort of your own couch, the Nathan's Famous Fourth of July Hot Dog Eating Contest is something that shouldn't be missed. Kobayashi or not, this is the Super Bowl of eating: the biggest and greatest eating contest of the year. And who knows, Joey Chestnut could get dethroned, records could be shattered, someone could have a reversal of fortune, the little guy could come out of nowhere.
---