There's no better autumn activity than visiting a pumpkin patch and picking out that perfect pumpkin to transform into a Halloween jack-o-lantern. One of my favorite Illinois pumpkin patches is Richardson Adventure Farm in Spring Grove, Illinois.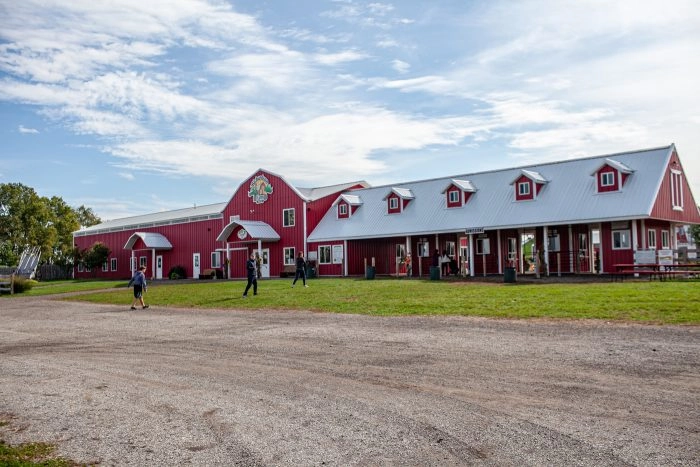 Richardson Adventure Farm is best known as being the home of the world's largest corn maze, but the fun doesn't stop there. There's all kind of activities to enjoy for both kids and adults with a 700-foot zip line, pig races, a petting zoo, a carousel, train rides, and, of course, pumpkin picking.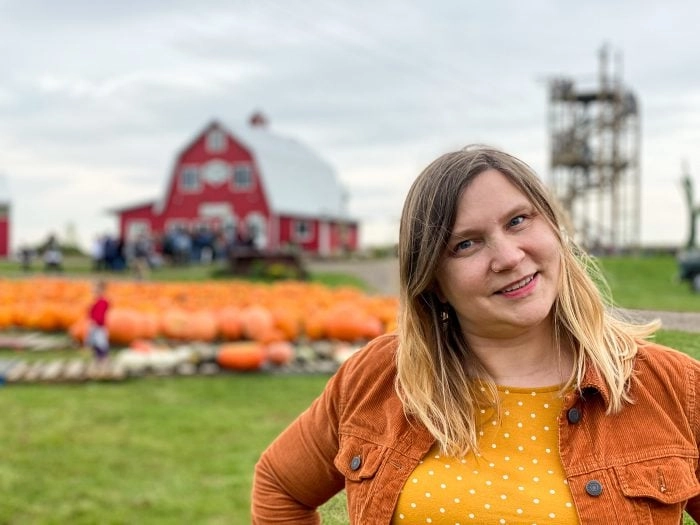 Want to know what there is to see and do on the farm? Read on.
What to See at Richardson Adventure Farm
Pumpkin Patch
Halloween just isn't Halloween without the perfect costume (check out my recommendations for roadside attraction inspired Halloween costumes) and the perfect pumpkin.
The number one reason to visit a pumpkin farm in the fall is to stop at the pumpkin patch to pick out your own gourd. Every autumn, Richardson Adventure Farm grows thousands of pumpkins in a variety of shapes, sizes, and colors from Superiors to Cinderellas to Baby Boos.
You can take a wagon ride out to the patch to choose your own out in the field or select from a variety of pre-picked pumpkins out near the entrance.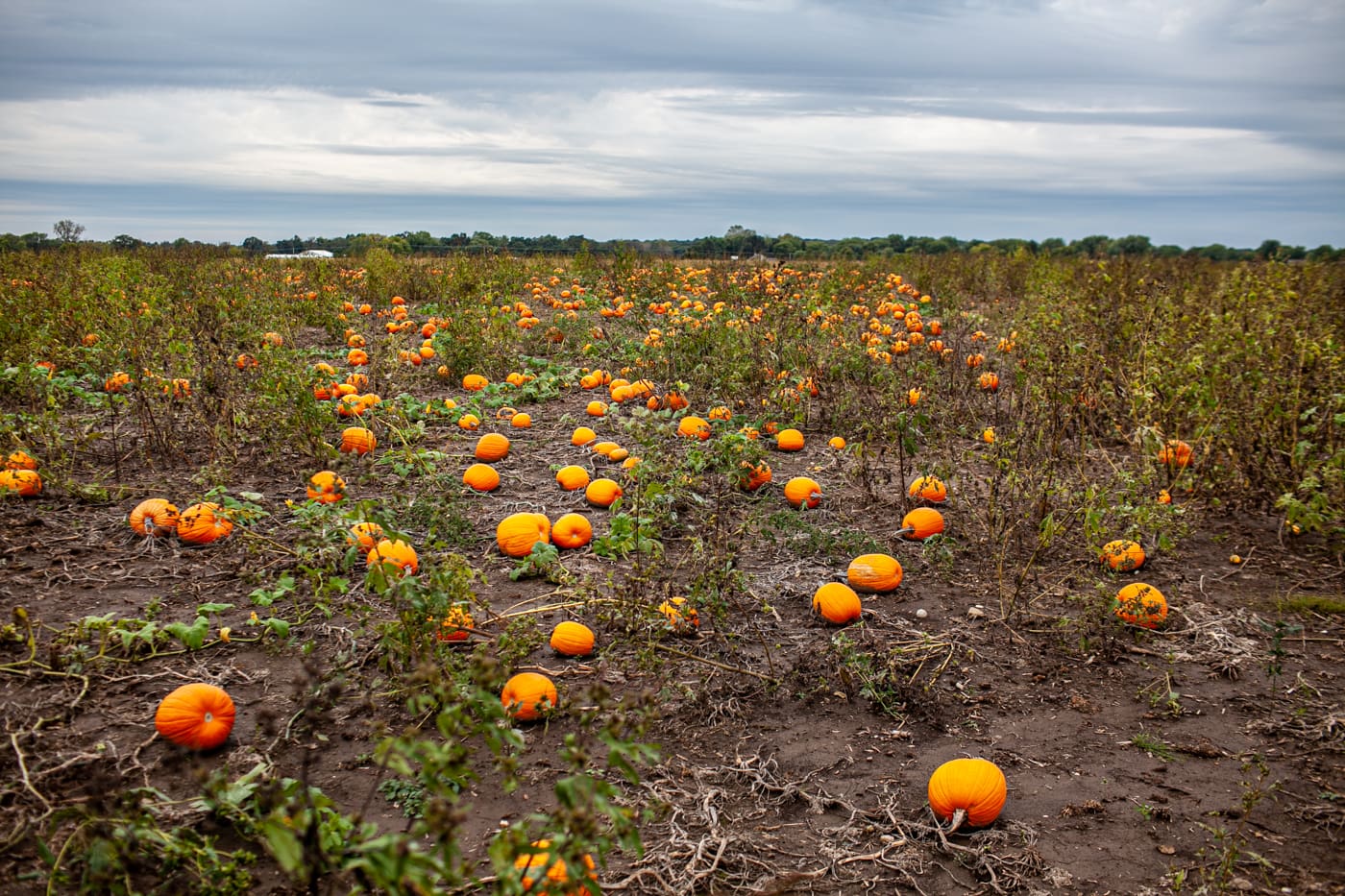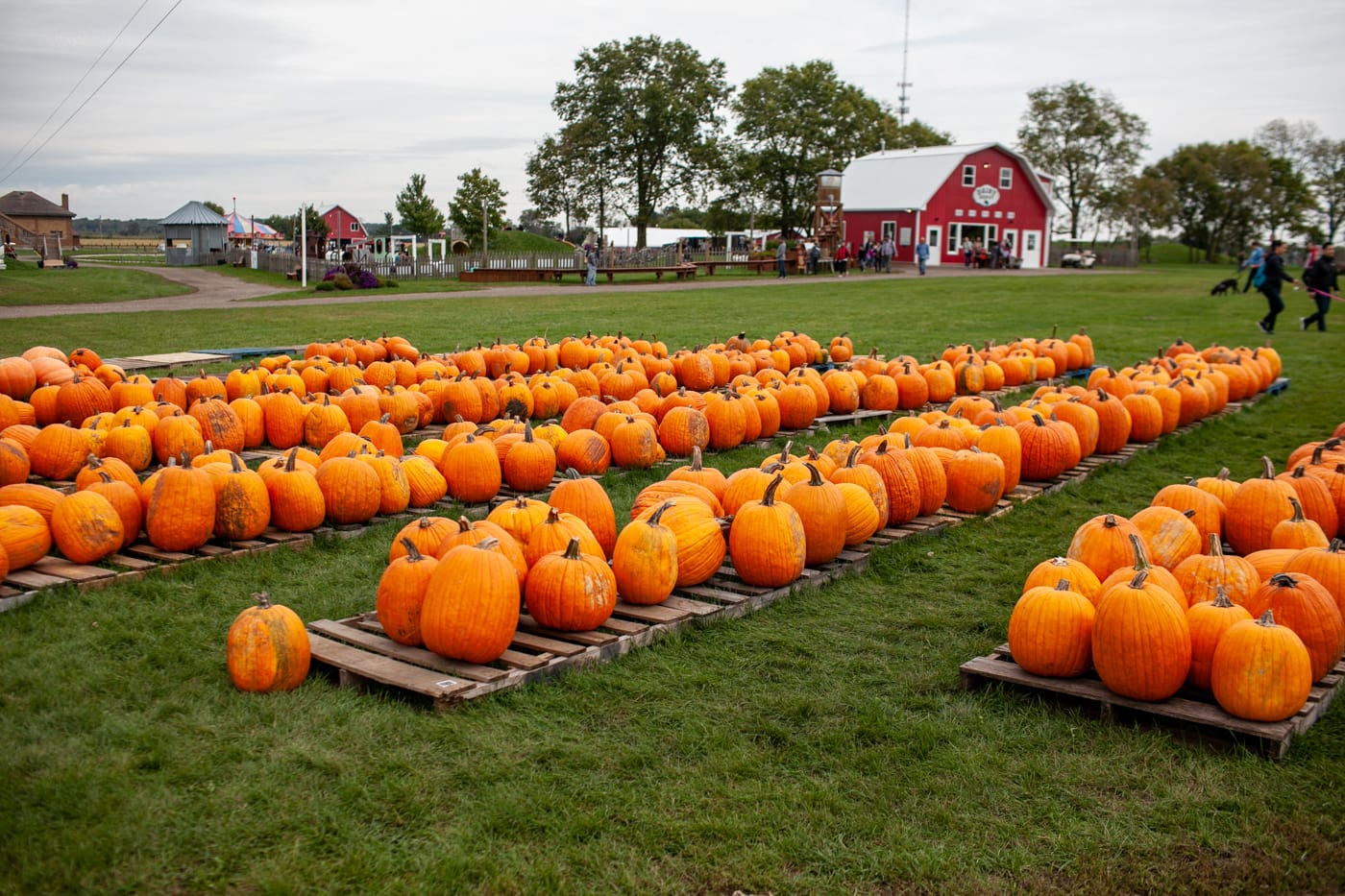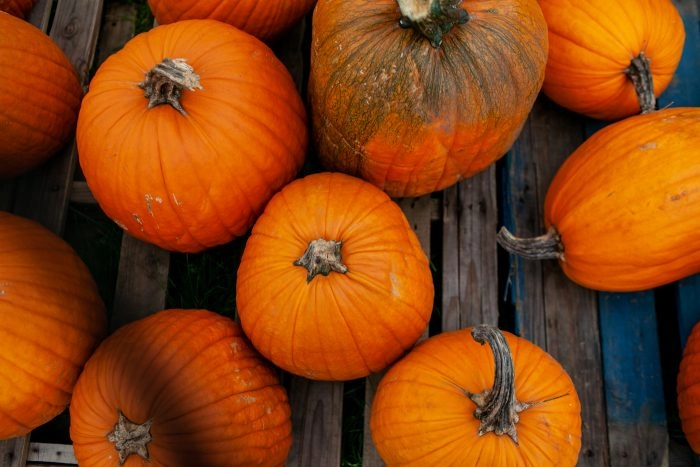 The World's Largest Corn Maze
Richardson Adventure Farm is home to the World's Largest Corn Maze. With 9 to 10 miles of winding trails over 28 acres, there's plenty of room to get lost and found. The giant maize maze is actually made up of four mazes and there is a perimeter square, checkpoints along the way, and bridges to help you find your way out.
Not only does Richardson's Farm have the world's largest corn maze, it might also be the most fun corn maze in America, with a new themed course sprouting each year. In 2019 the farm celebrated the 50th anniversary of Apollo 11 and the moon landing with images of space and astronauts carved into the corn-filled paths.
In previous years they've had a Star Trek corn maze (complete with a Starship Enterprise and giant Spock), one celebrating the Beatles, and mazes in honor of local sports teams like the Chicago Cubs and the Chicago Bears.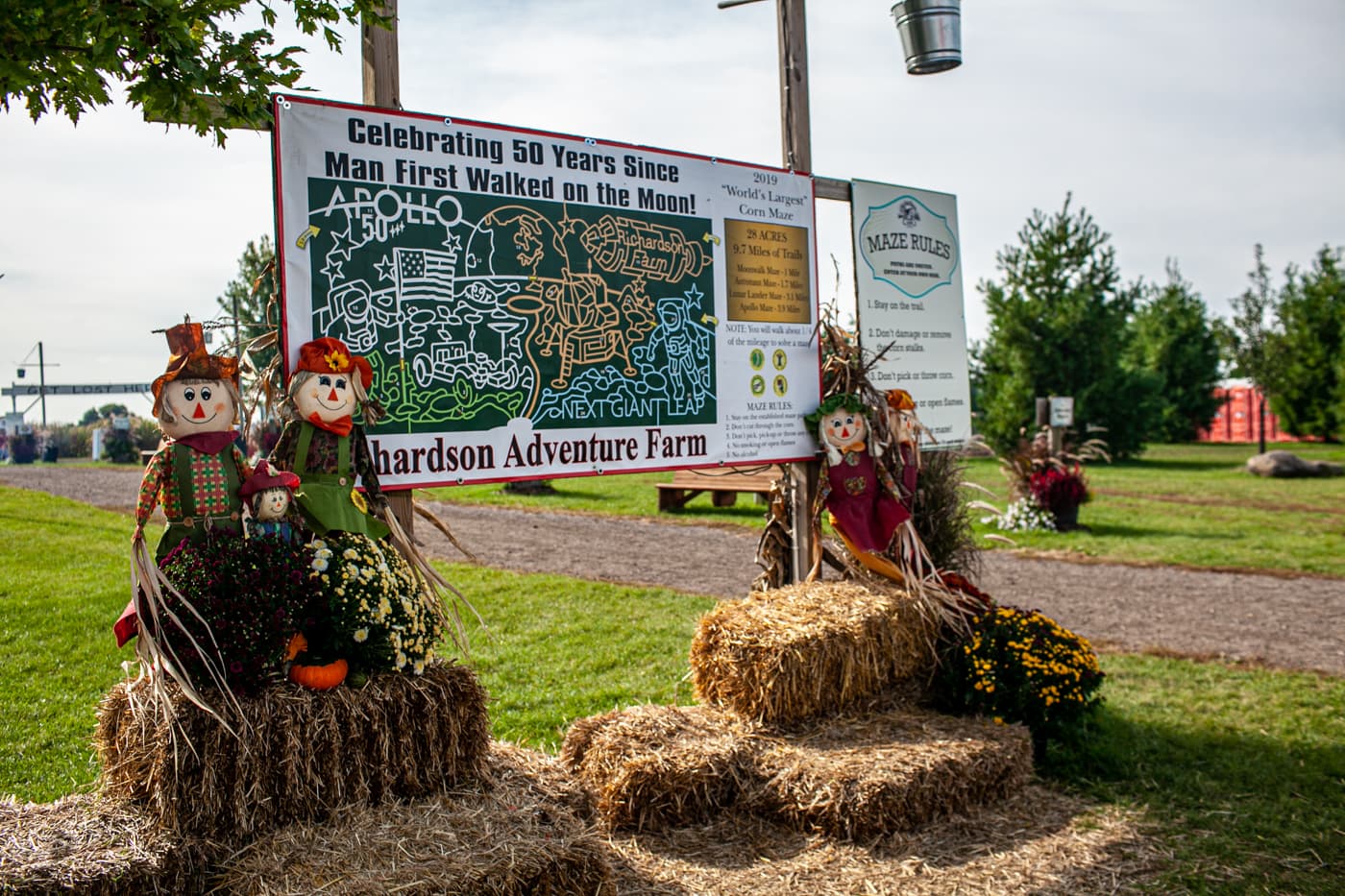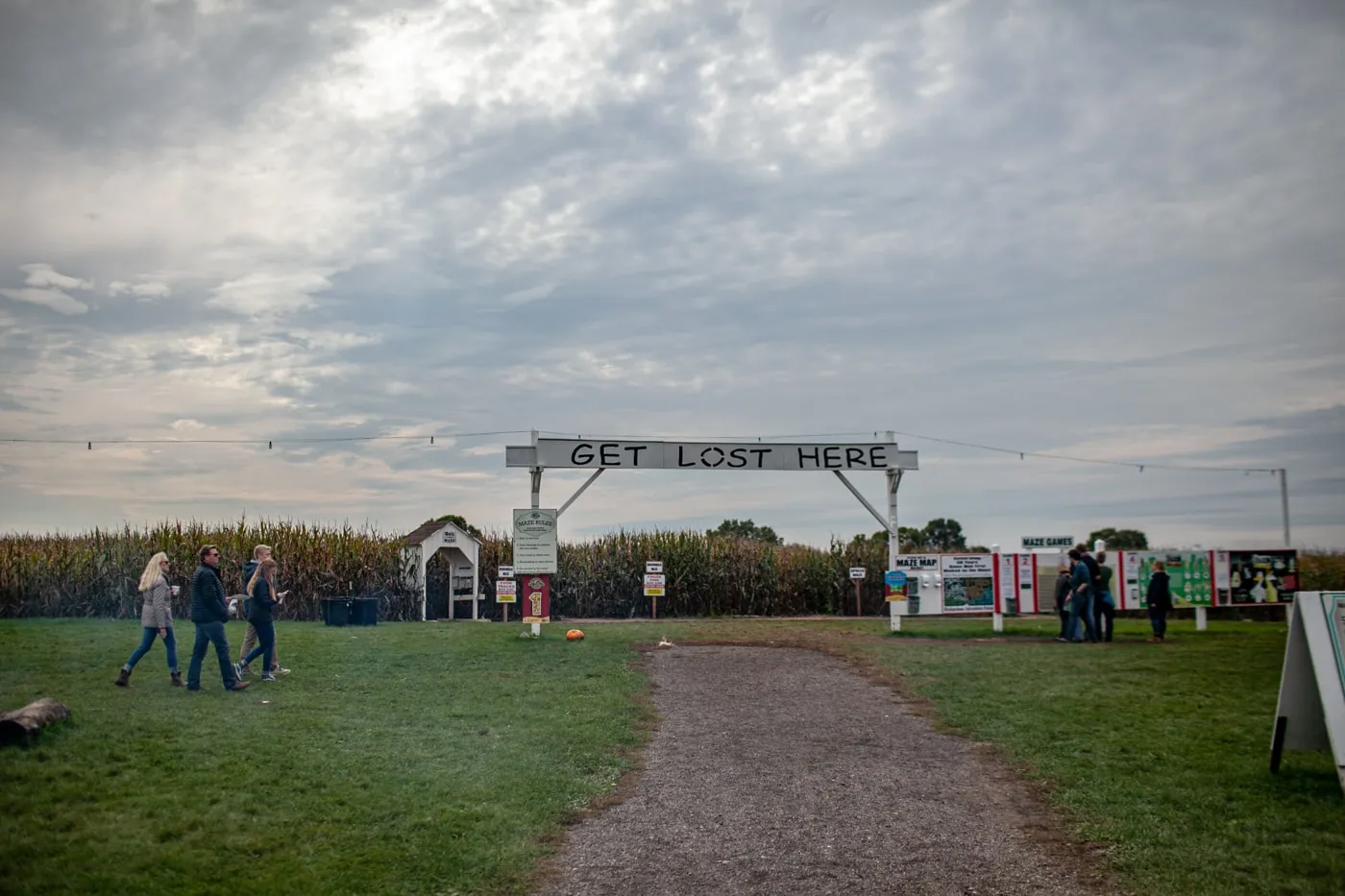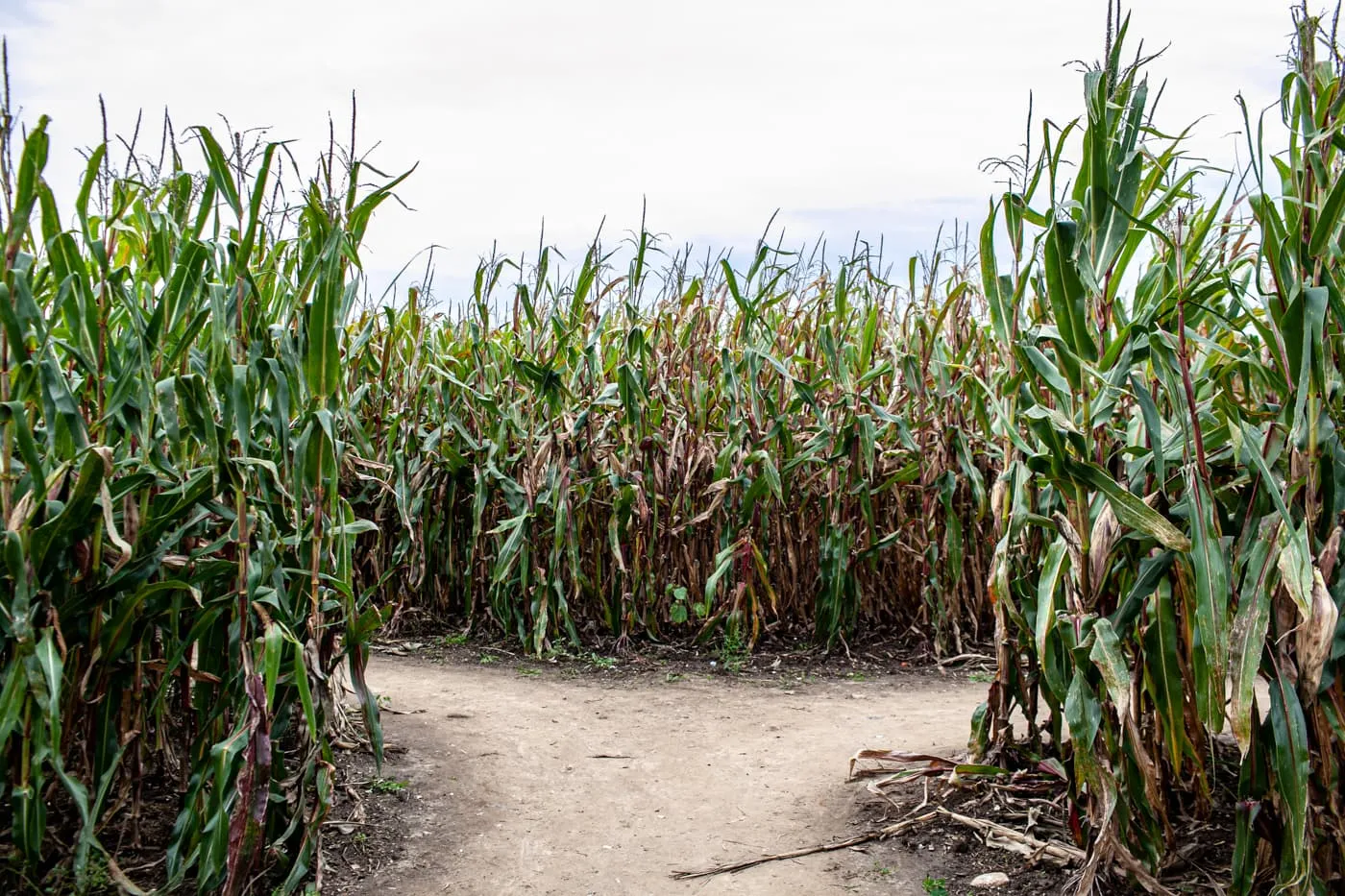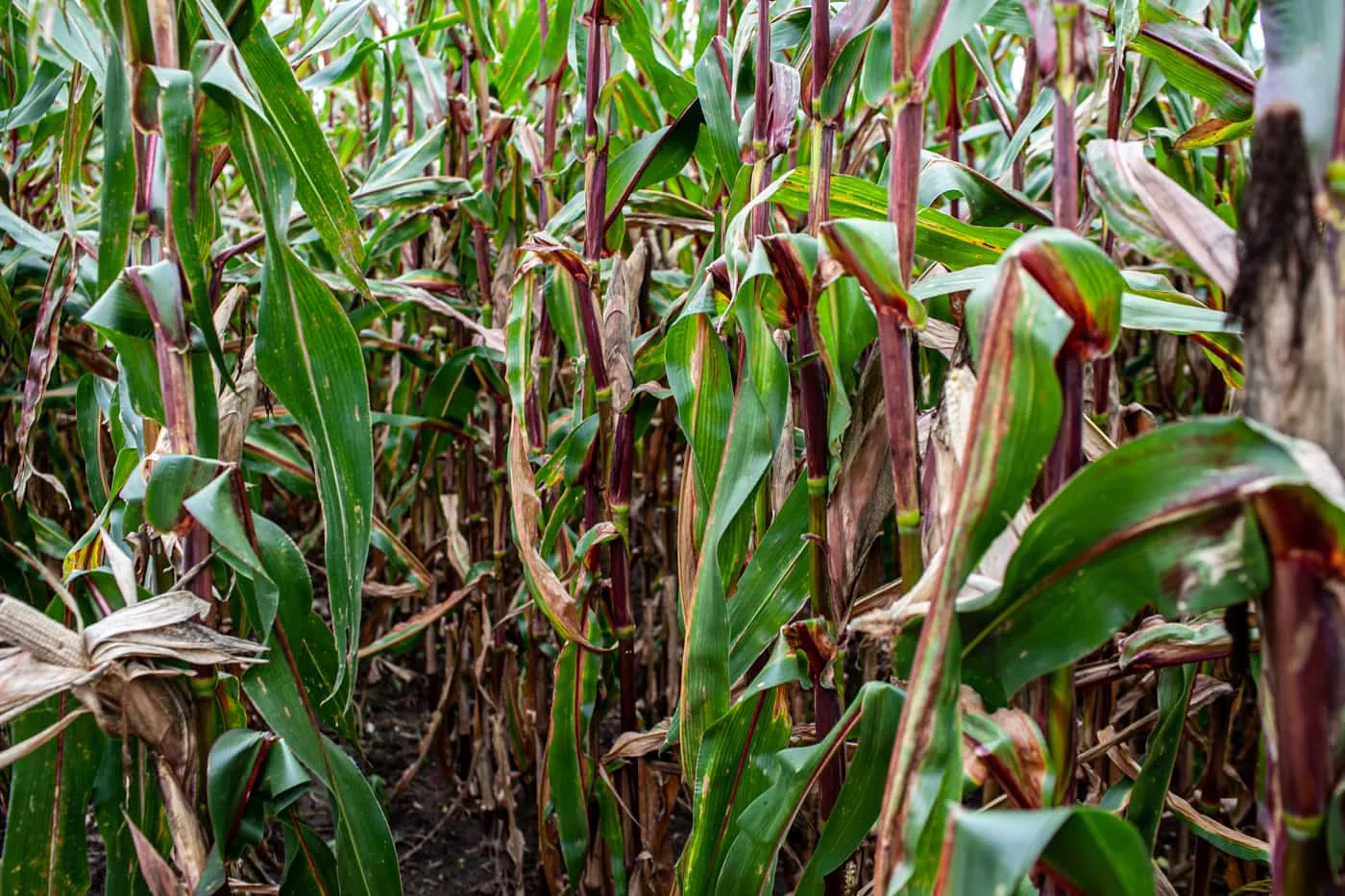 The World's Tallest Corn Stalk
A carved rock proclaims this to be the "world's tallest corn stalk." Though the 76-Foot-Tall Corn Stalk in Shelby, Iowa, might disagree, this is still an impressively tall and more "realistic" looking stalk of corn.
This giant green wooden corn stalk has a cartoon-like flair and features a squirrel and racoon nibbling on some grains.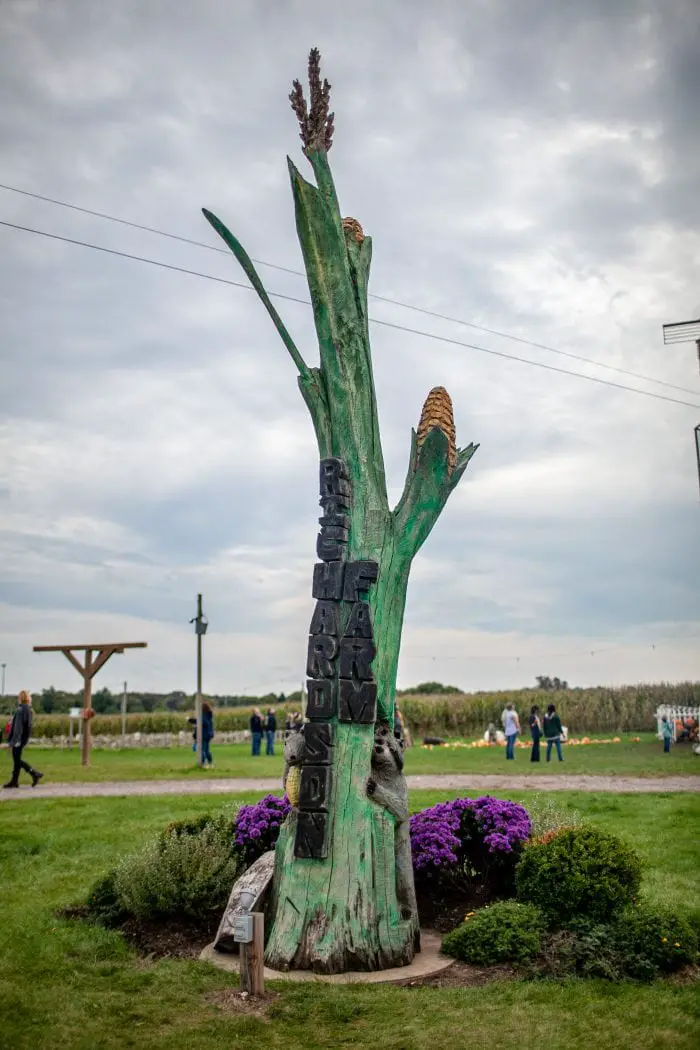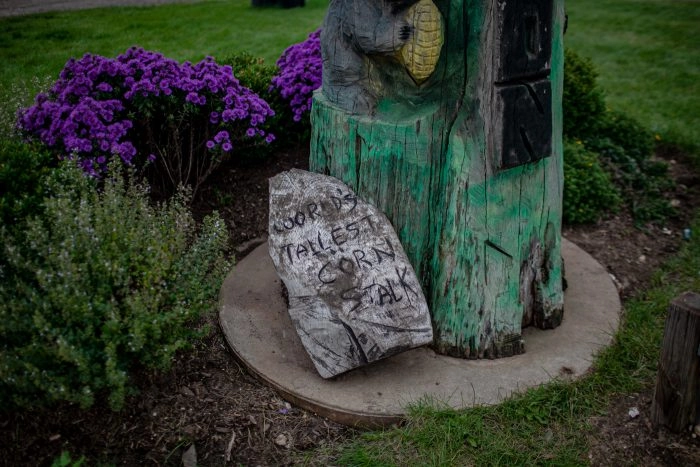 Pig Races
Cheer on your favorite swine as this little piggies race around the track at the pig races. Which will one will win? You'll have to show up to one of the hourly shows to find out.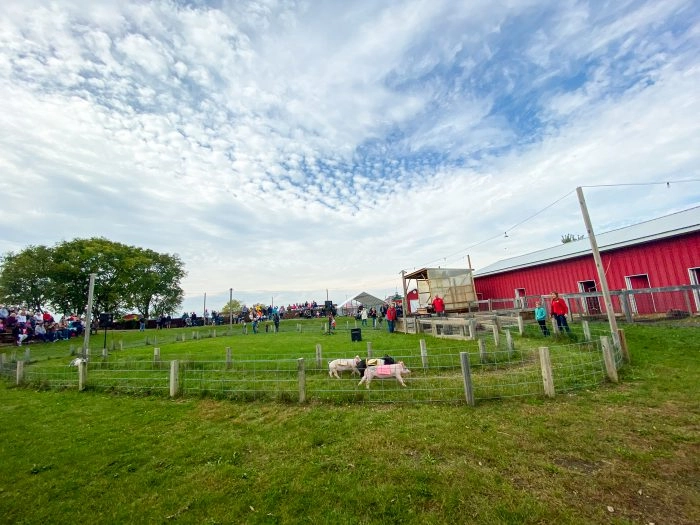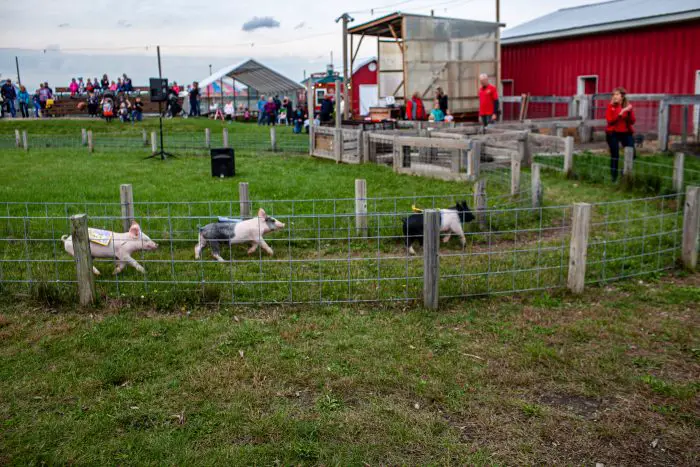 Petting Zoo
Fun for all ages, gt up close to pigs, goats, turkeys, chickens, and other animals at the petting zoo.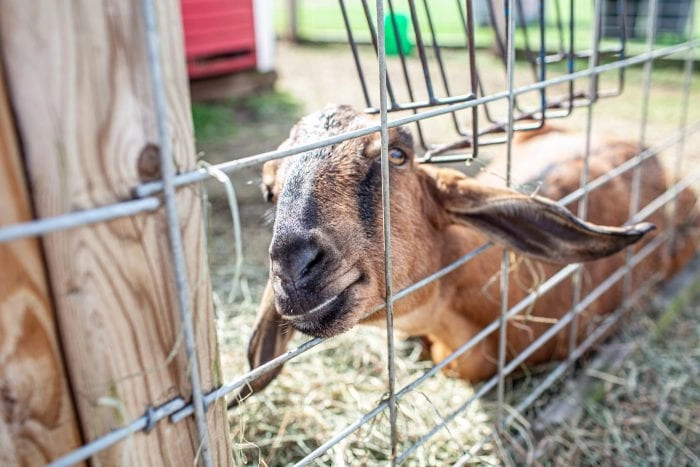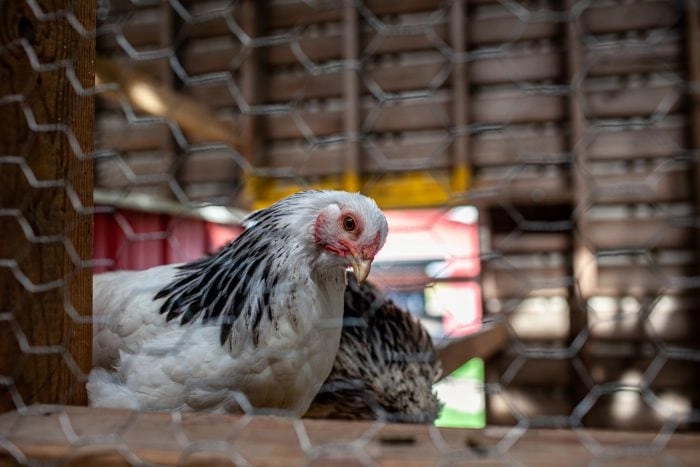 Adventure Activities
There are plenty of activities at Richardson Adventure Farm for kids and adults, adventurous or not. Some of the other activities on the farm inlcude:
Observation Tower: Climb to the top of the 50-foot observation tower to get a birds-eye view of the entire farm (and the maze).
Train Ride: Take a train ride on the Richardson Express that takes you past some of the rides and through a tunnel.
Carousel: Ride one of the thirty horses on the carousel.
Zip Line: Ride the 750 foot zip line over the property.
Zorbing: Roll down a hill inside a clear, 11-foot ball.
Giant Side: Ride down a 100-foot slide.
Air Cannons: Fire tennis balls from air powered cannons.
Cluck-tastic Chicken Show: watch animatronic chickens sing and dance.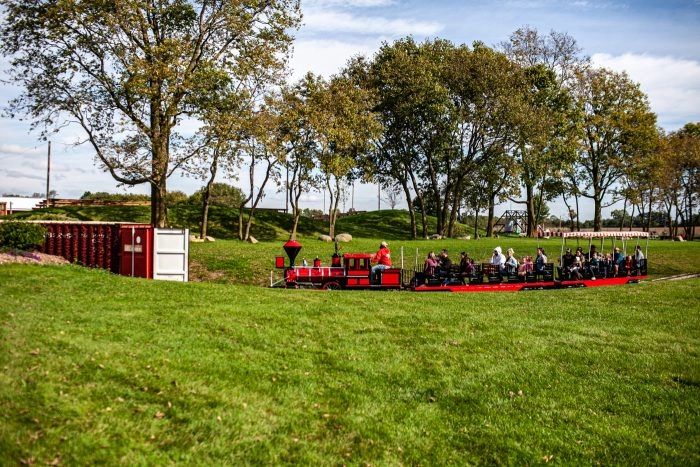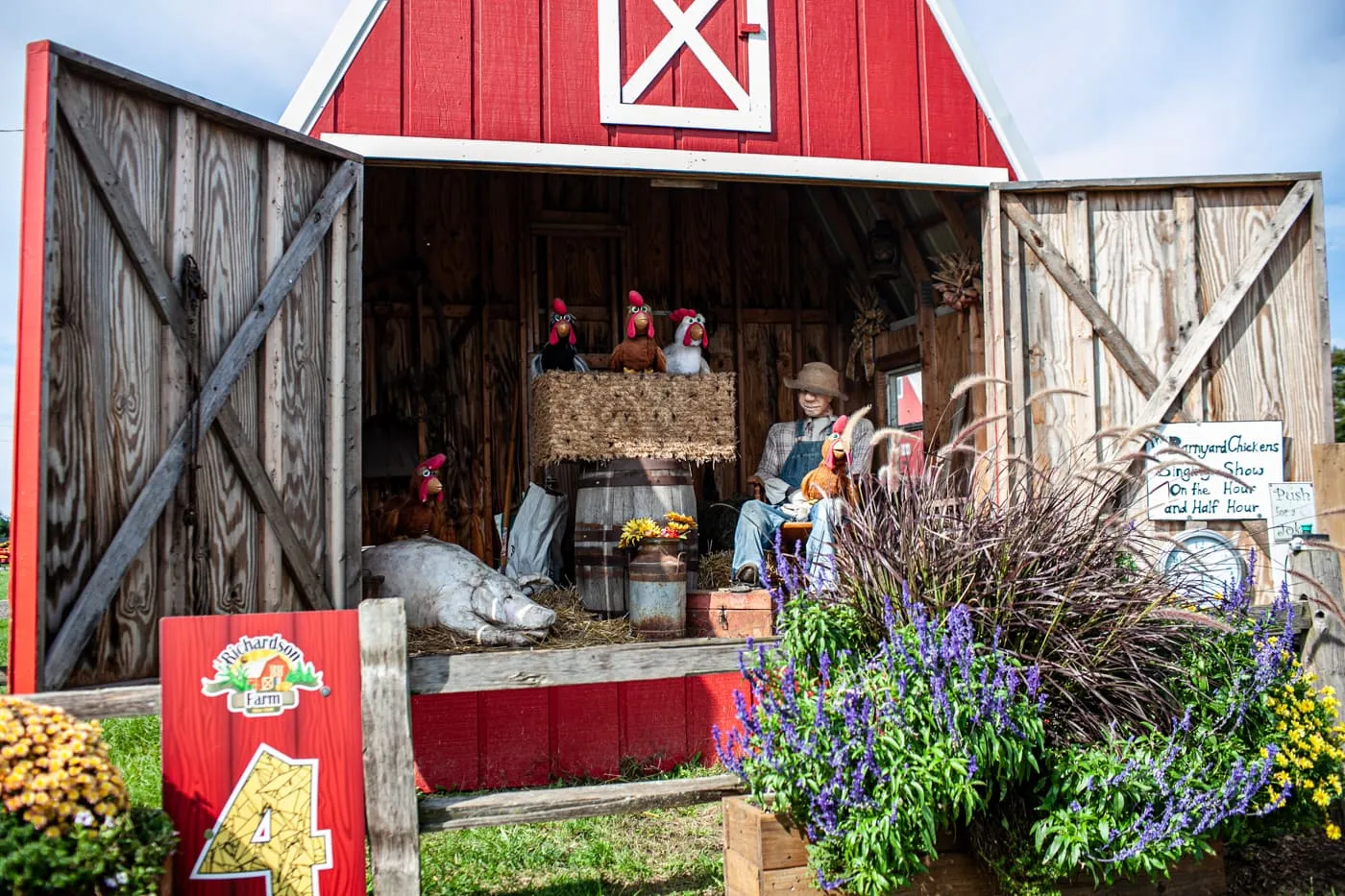 Food
Whether you're looking for lunch or a little nibble, there are plenty of food options at the farm. For a heartier meal, stop at Cornfield Concessions for fair food like hamburgers, brats, chicken strips, and fries. Visit the Donut Bin for tasty cider donuts. Get some sweet homemade fudge at The Fudge Bin. And for those 21 and over, enjoy a glass of wine or beer at the Refreshment Trolley.
Richardson Adventure Farm & The World's Largest Corn Maze are open every autumn to delight visitors off all ages. Come to pick pumpkins, stay for a pig race or zip line, and get lost in the maze to celebrate Halloween.
You can also visit in December at Richardson's Tree Farm to cut your own Christmas tree, garland, or wreath.
---
Richardson Adventure Farm & The World's Largest Corn Maze
Address: 909 English Prairie Rd., Spring Grove, IL 60081
Open: September and October
Hours and prices vary. Visit their official website for up-to-date information.
---
Pin this Illinois Tourist Attraction: