Saturday I woke up at around 8am and enjoyed the hotel's free continental breakfast. Actually I just ate cereal and then kicked myself when I saw that around the corner they had biscuits and gravy that I missed! My friend and travel companion Brian skipped the breakfast, he didn't want to eat anything before his big competitive eating debut at the Missouri Hot Dog Eating Qualifying Contest!
We had some time before the hot dog eating contest so we headed off to Lee's Summit to see a restaurant that supposedly had a giant pepper flying a plane on its roof. It did have the plane but I saw no pepper.
All we had time for was the one stop as we had to get back to Overland Park for the day's big event: the Nathan's Famous Hot Dog Eating Contest! The contest was one of 16 qualifying rounds to pick competitors for the biggest eating event of the year that will take place on July 4 at Coney Island! For the second year in a row I WILL be at Coney to watch! I am so excited!
I am glad we headed over when we did because a big crowd was starting to form! Brian went to check in while I staked my claim in the front row. He wasn't originally going to compete but when I saw earlier in the week that there were spots open I sent him the info and he signed up.
George Shea, the commissioner of all things Major League Eating and emcee extraordinaire took the stage and the event began with an amateur contest between Sam's Club employees.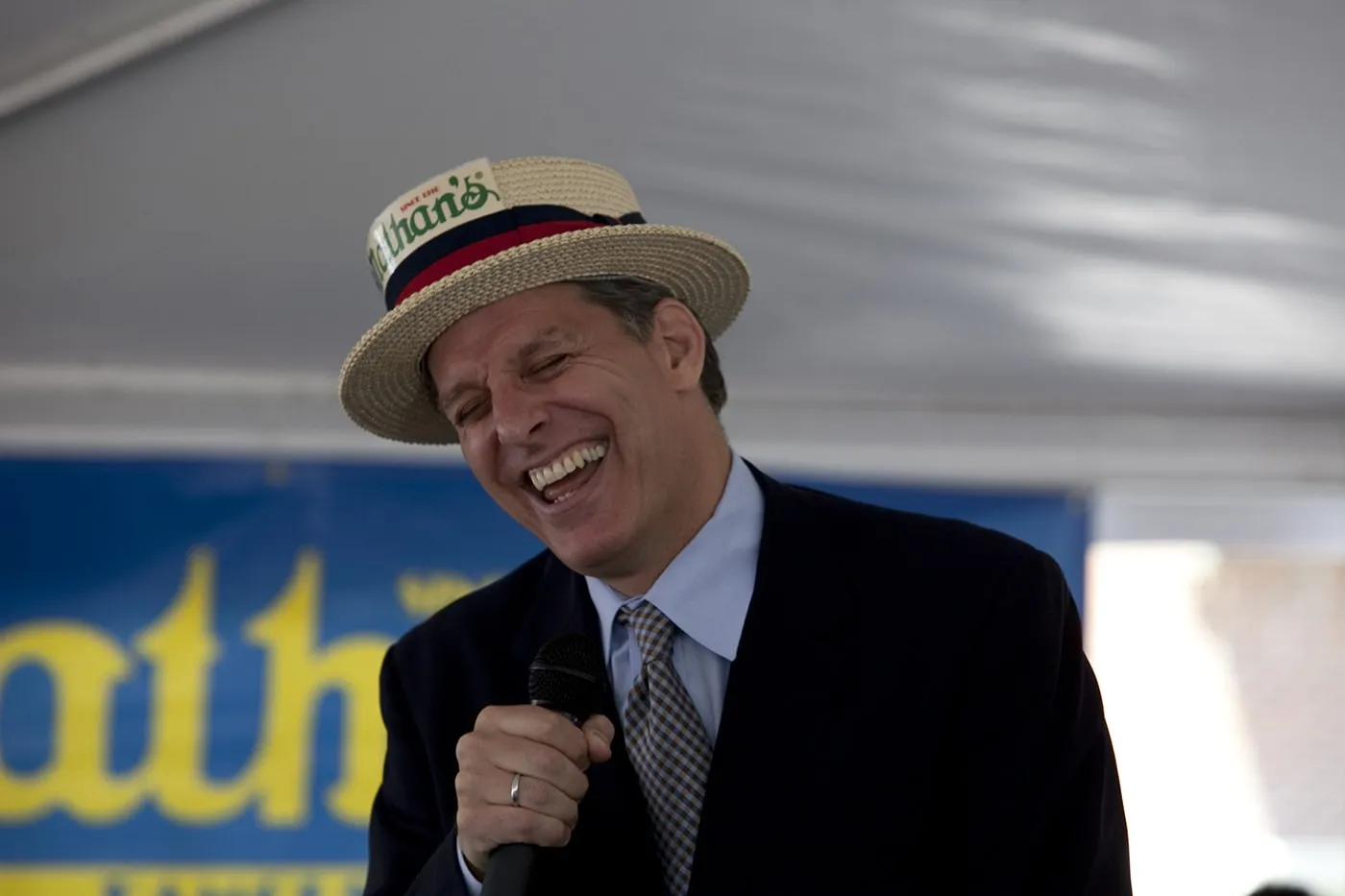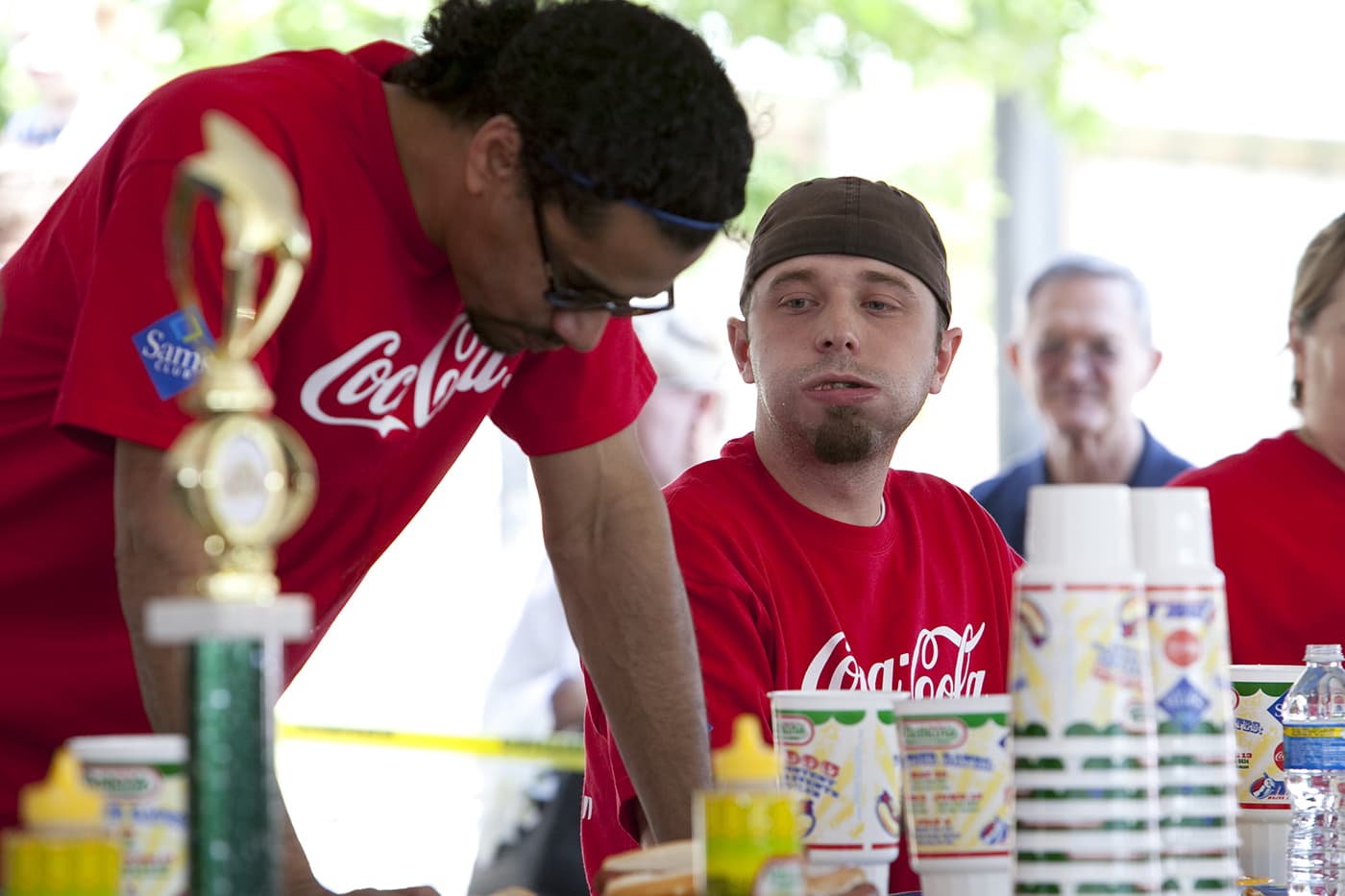 I was getting nervous because as the contest began, Tim "Gravy" Brown was nowhere to be seen. Tim Brown was the big named competitor of the day and the front-runner to take home the prize. Luckily about halfway through the Sam's Club contest I saw him arrive!
After the amateur division, the professional contest was set to begin. All of the competitors were called up one by one…and there were a LOT of competitors! I think there were thirteen in all! They all got their liquids ready. You can tell that some of them have studied the pros by bringing in their own drinks. Once everyone at the table was set, Shea counted it down and off they went eating!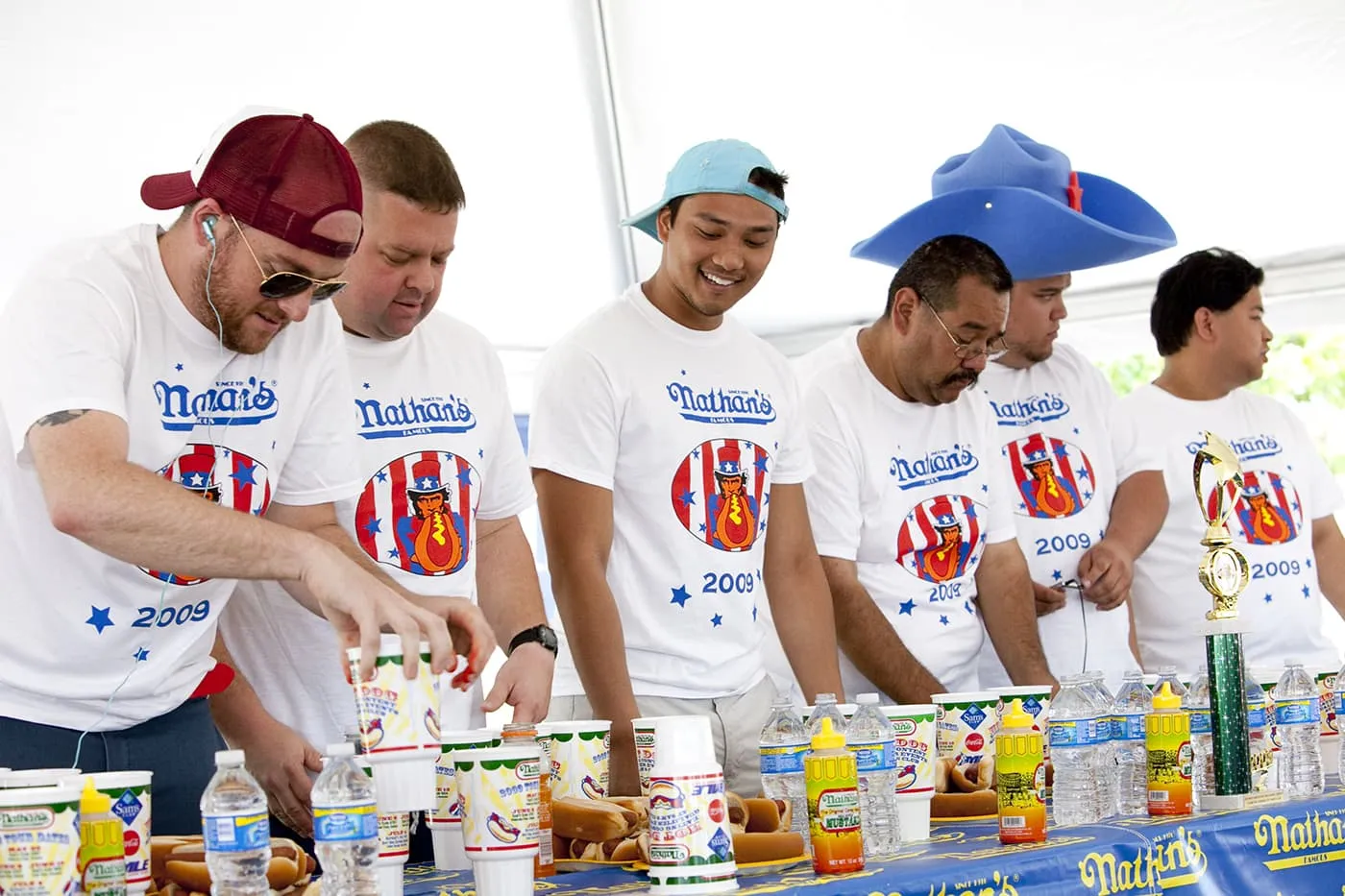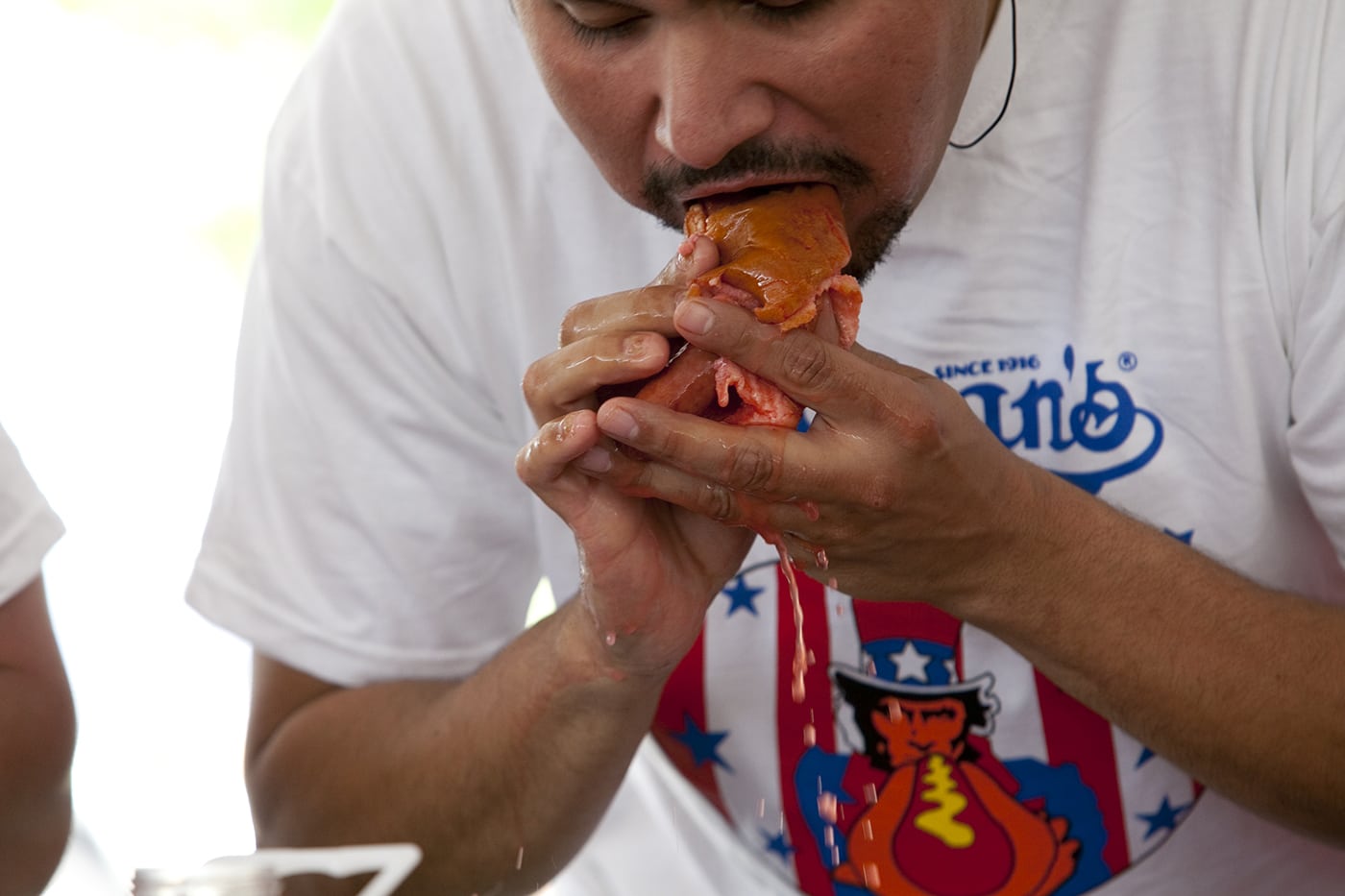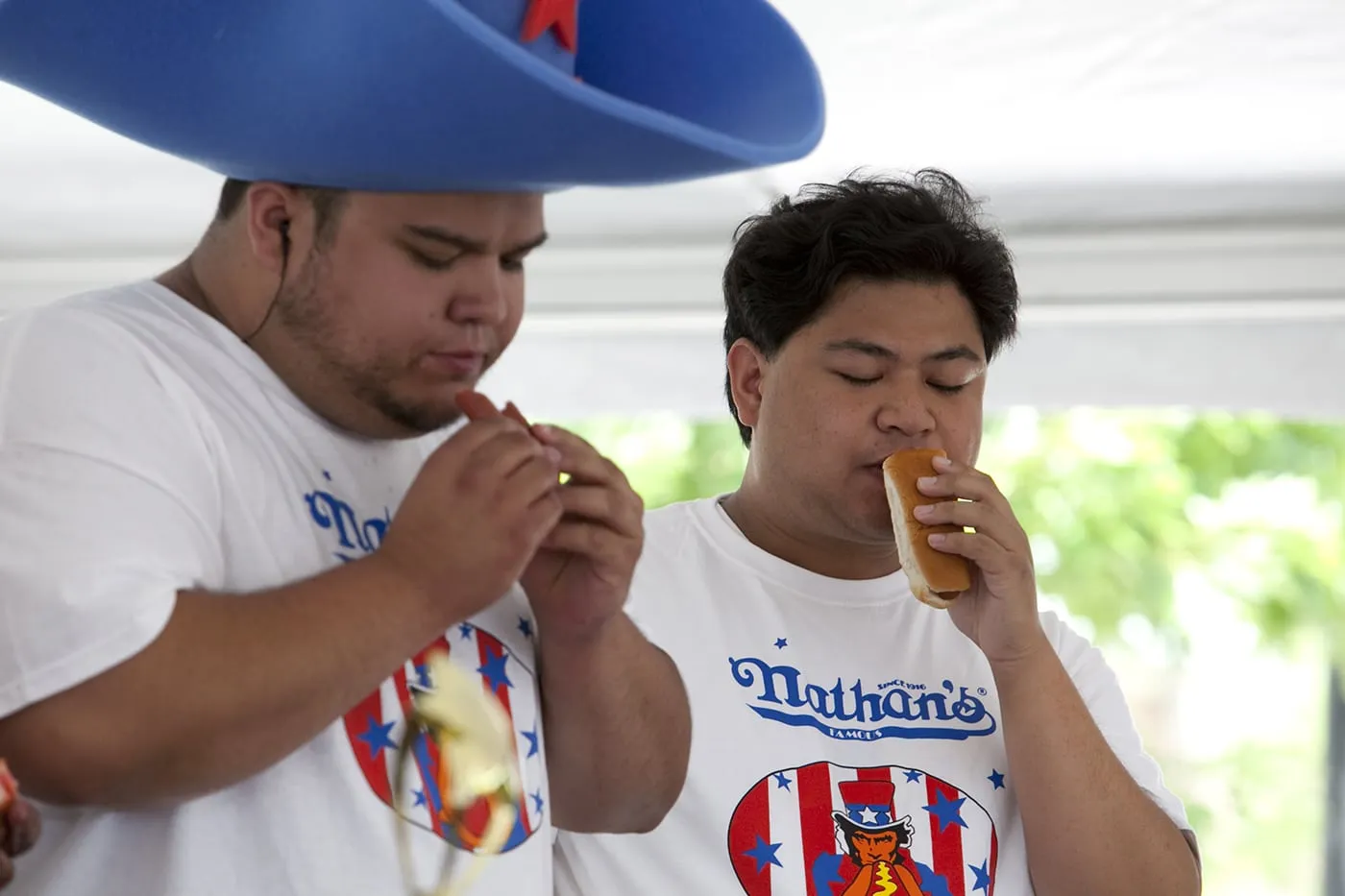 Tim looked like he got a slow start, purposefully pausing, stretching, before diving in. By that time another competitor down the row had already dunked a handful of hot dog and was pushing its remnants into his mouth. Soon though Tim was off dunking and smooshing buns and dogs into his mouth!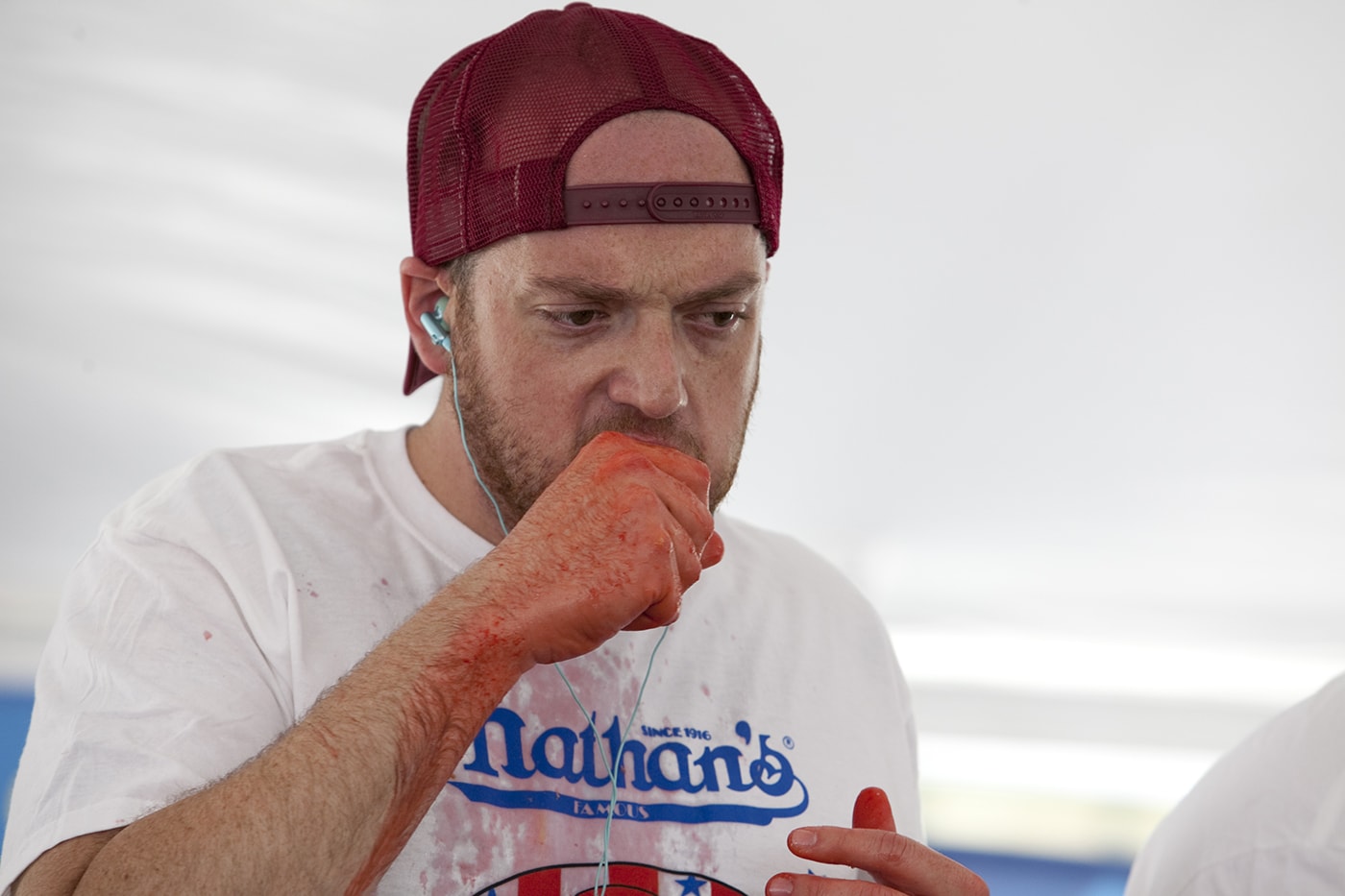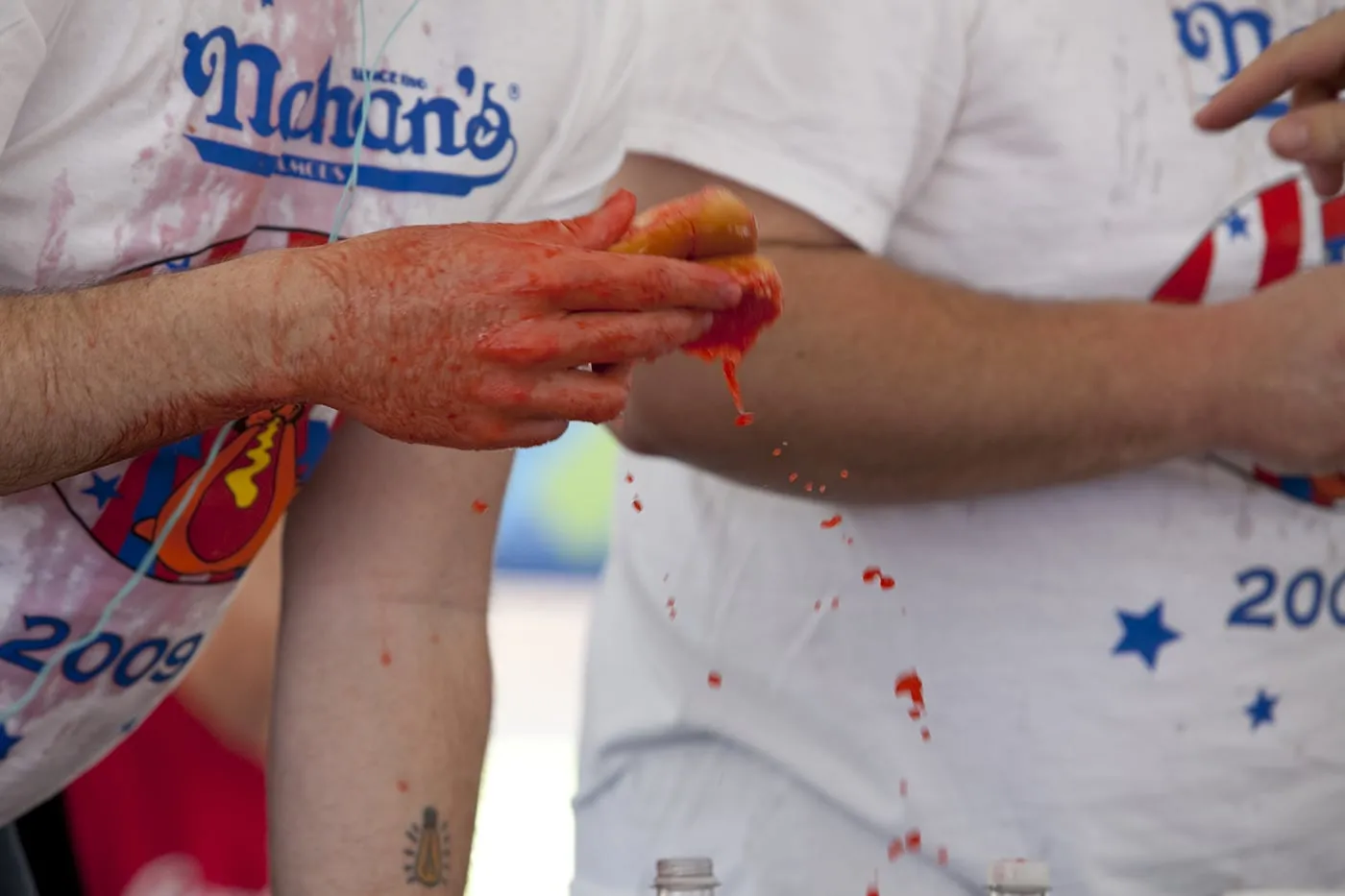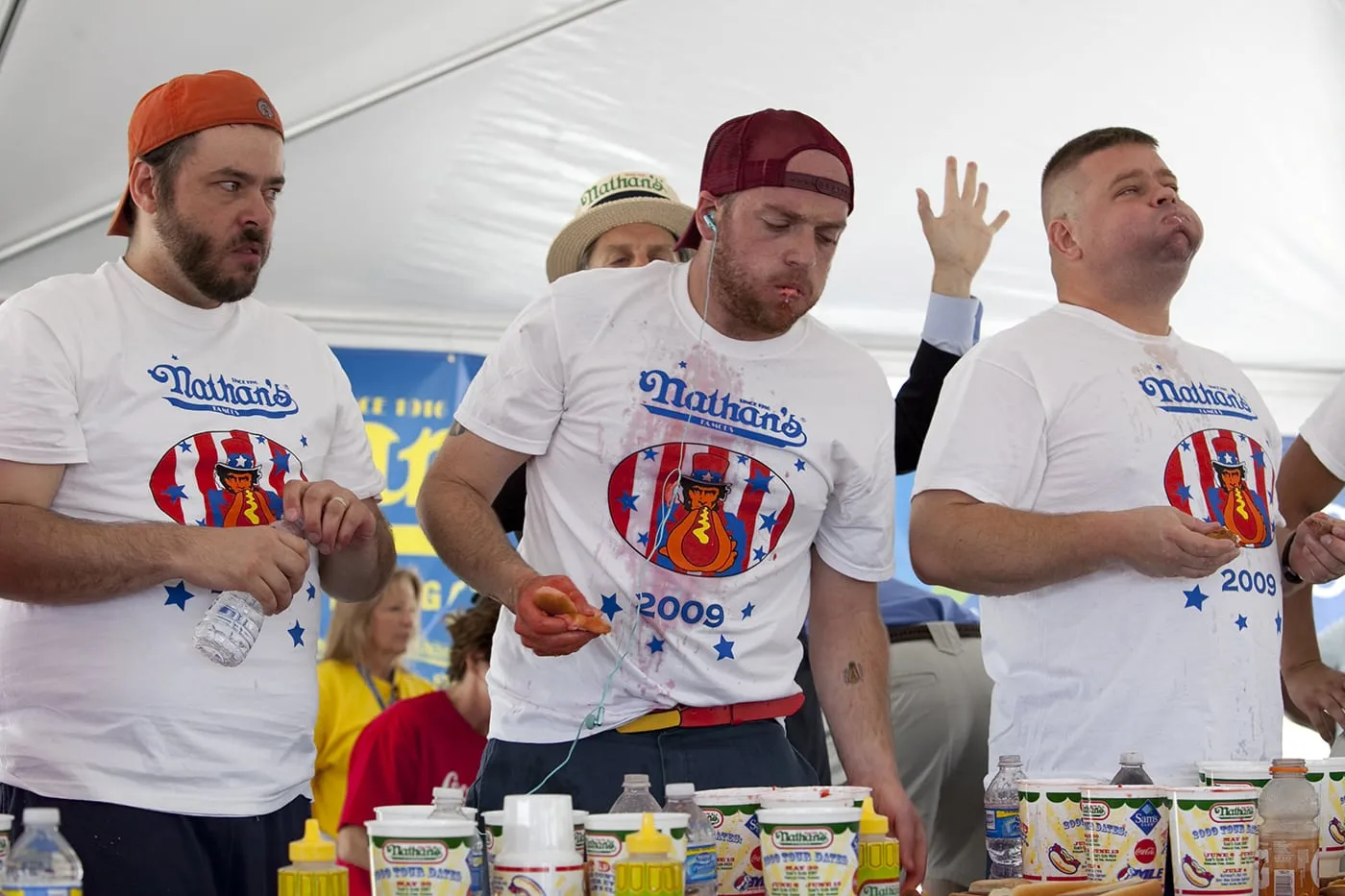 It was a crazy exciting contest! It seemed that almost everyone was in it to win it! At one point it seemed like it could have been almost anyone's table to take. Tim Brown was going for it with all his might and you could tell he was pushing himself as far as he humanly could. He wanted and needed to win. When it was announced that someone else was ahead of him he kept going and his whole face turned shades of red and green and he kept eating well past the point anyone should ever be eating.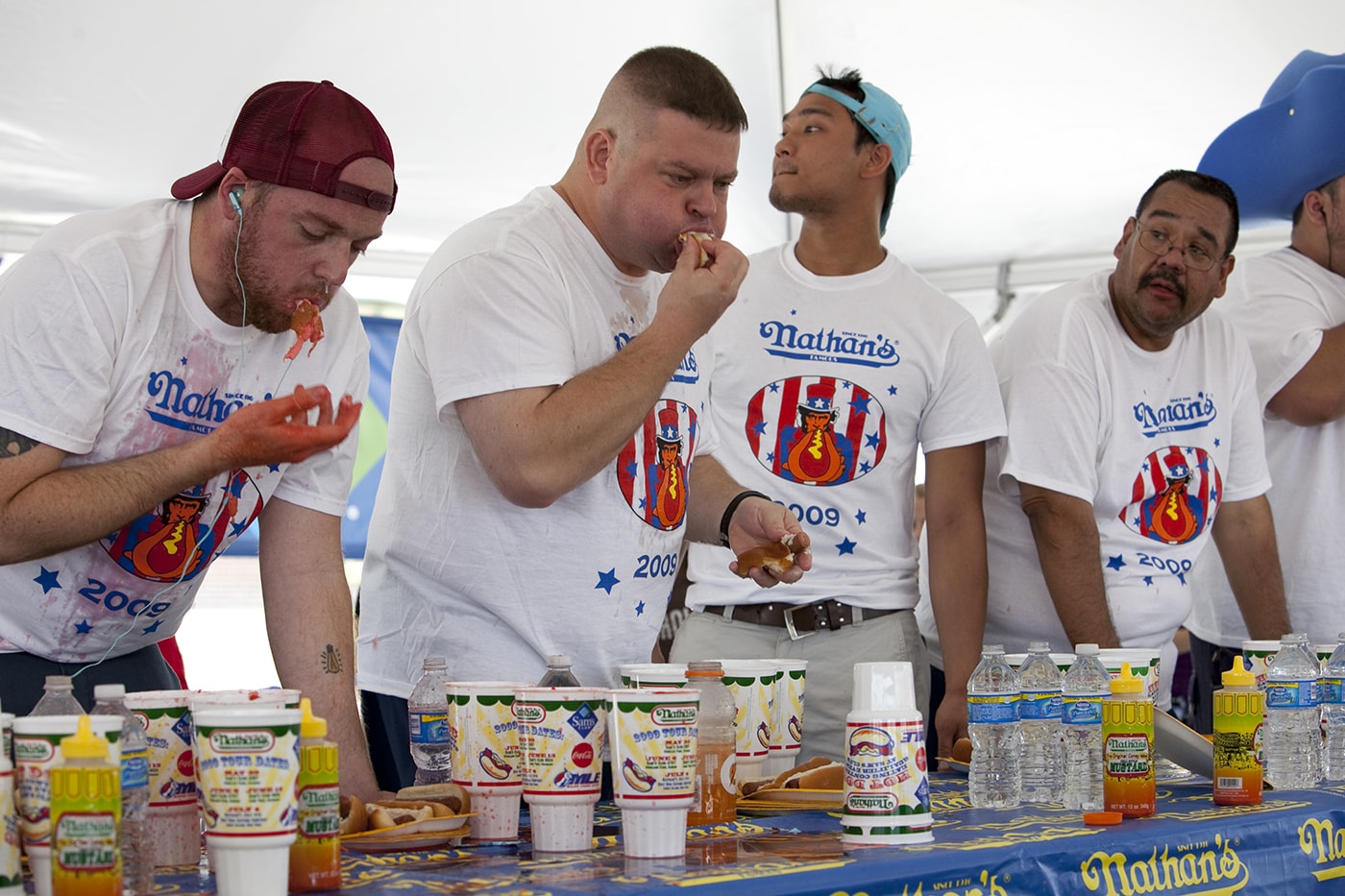 In fact, as everyone was eating so ferociously they nearly ran out of hot dogs! Nearing the end you could see them taking plates away from those who said they wouldn't finish and placing them in front of the ones who were still gunning for the gold.
As the contest drew to a close it was still up in the air. But in the end he came out victoriously: Tim Gravy Brown won with 32 hot dogs in ten minutes!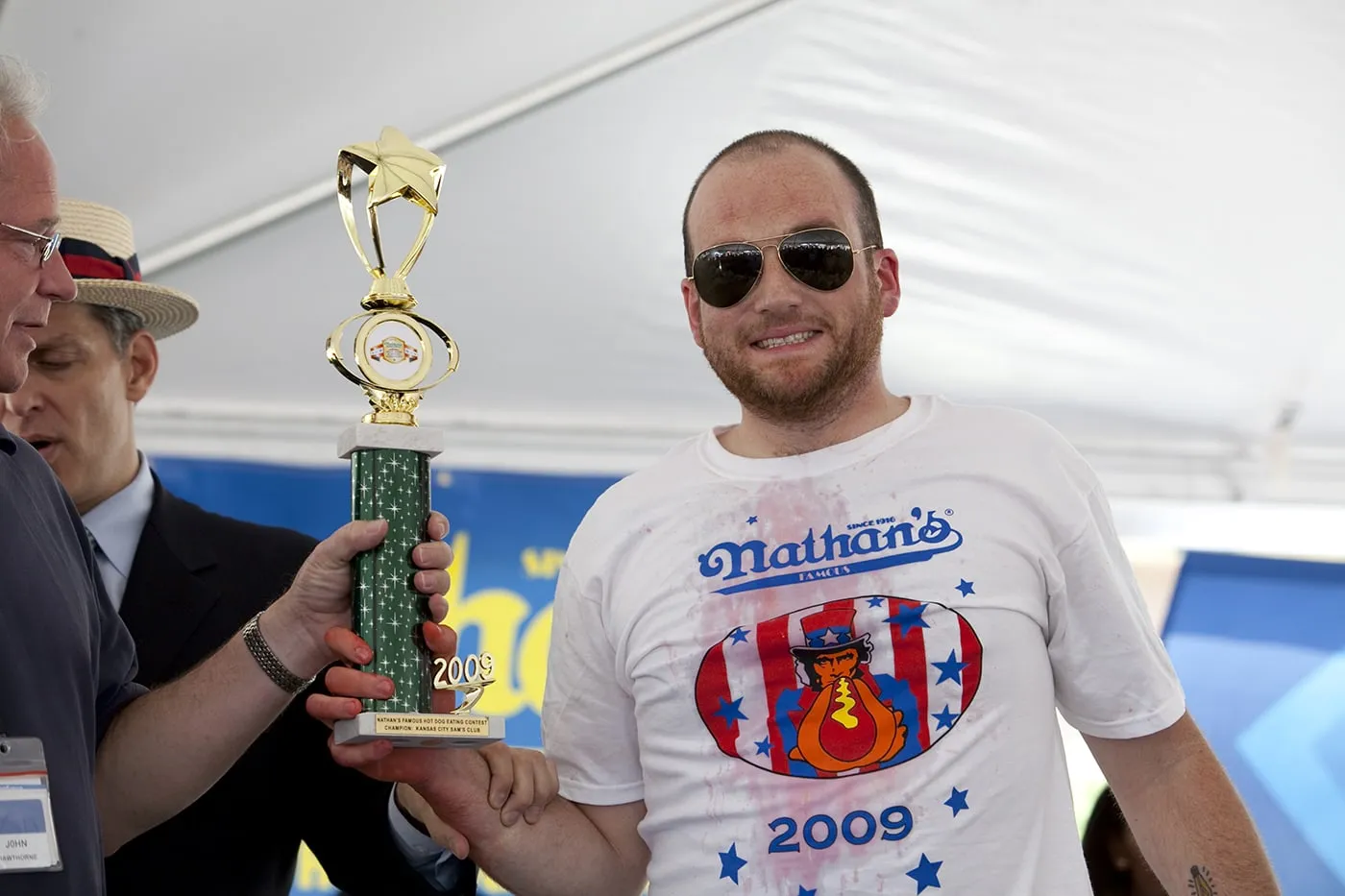 So, how did my friend Brian do? Well…I think with a modest five and a half dogs he ended in dead last. I felt bad as I had assured him that the qualifier I saw last year there were a few people who just came out to say they'd eaten and ended up only eating one. But this year was different. It's getting tougher and as competitive eating becomes more and more popular, more and more people want to be a part of it. But Brian still enjoyed his experience. And five and a half hot dogs in ten minutes is nothing to sneeze at.
Afterwards I waited around as hordes of fans asked Gravy for autographs before congratulating him on his victory. He was still shocked that I made the trip out, but really, I will drive almost anywhere anytime for anything. And a hot dog eating contest is more than just anything.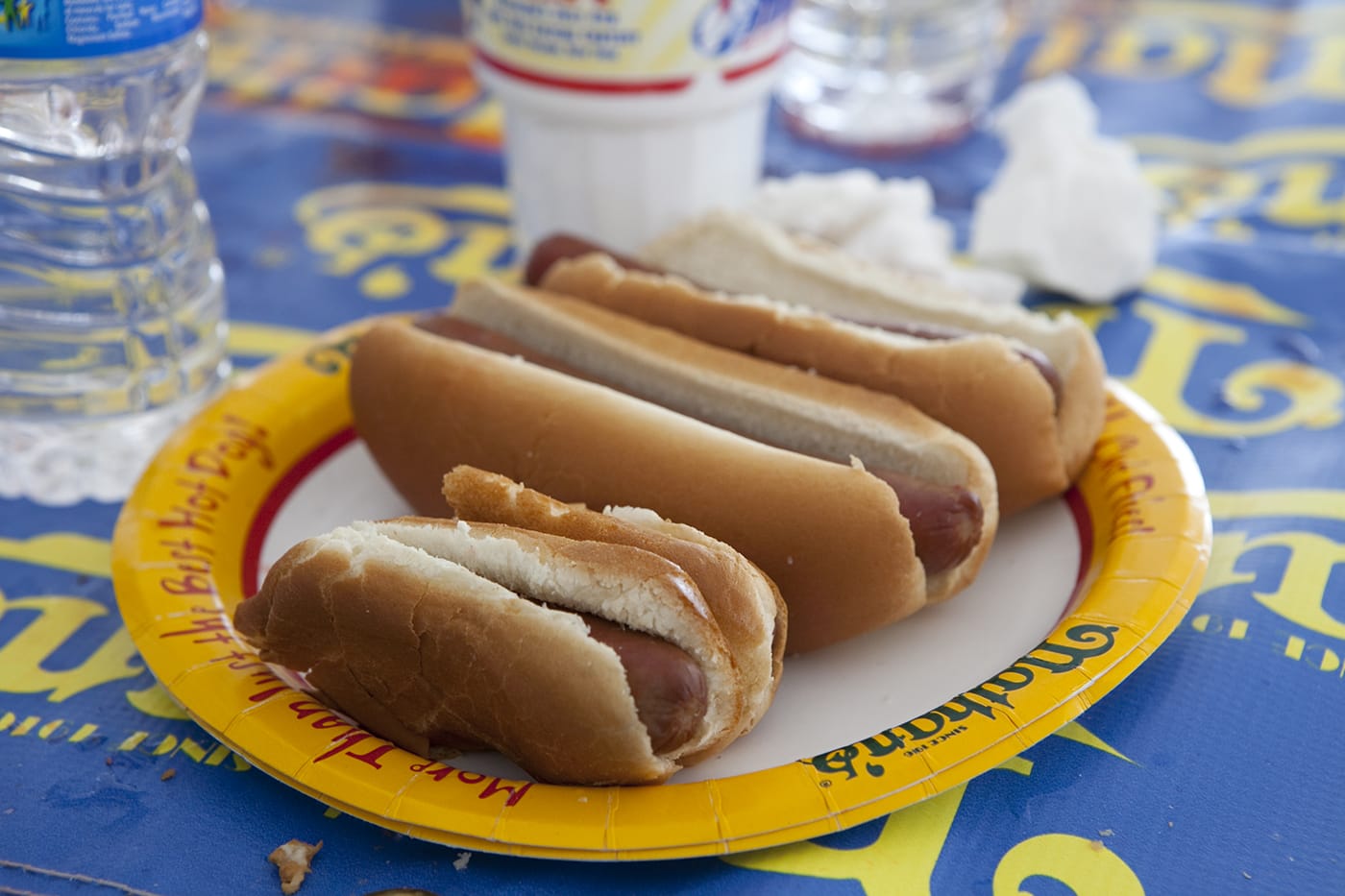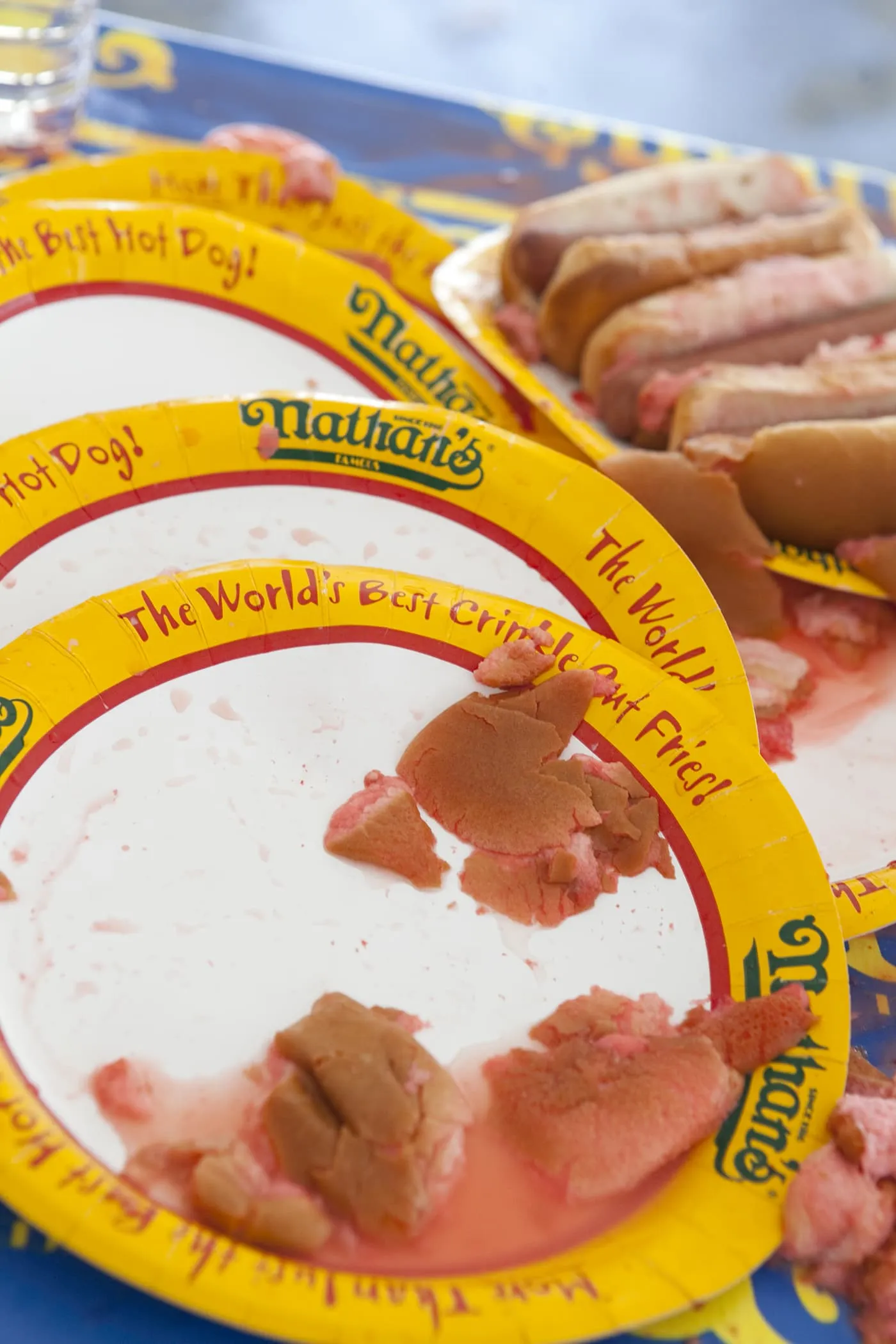 Missouri Road Trip Log: