This Paul Bunyan Muffler Man in Roanoke, Virginia stands outside Affordable and Dependable Auto Service, LLC (Formerly Glen's Transmission and Auto Repair, Williamson Road Service Center).
When I saw this roadside attraction on a Virginia road trip in 2010 he was sporting a thick black beard and wearing a red shirt, tan pants, and black boots. In his right hand he held out a tire and in his left, a sign with the business's address. Despite being a little worse for wear some paint chipping off his chiseled forehead, he was looking mighty handsome.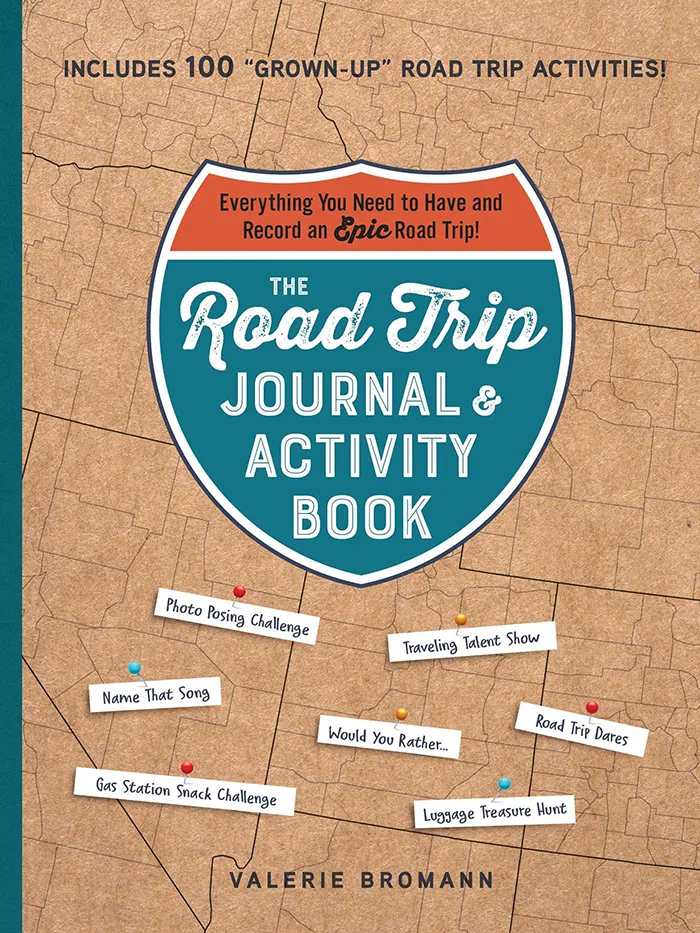 The Road Trip Journal & Activity Book
Everything You Need to Have and Record an Epic Road Trip!
Enjoy fun games and challenges to pass the time on your next road trip and have a keepsake to look back on for years to come with this entertaining must-have for your next vacation.
While this 20 to 25-foot tall Paul Bunyan lookalike is definitely a site to behold, he isn't unique: he is a Muffler Man and has twins around the United States (like the Ace Hardware Muffler Man in Elkhart, Indiana, the shiny muffler man in Evergreen Park, Illinois, and the Lauterbach Tire Muffler Man in Springfield, Illinois to name a few). His "Bunyan" style is also known as "Lumberjack" or "Woodsman" and is distinguished by wearing a heavy wool cap (hard to tell in these photos as his hat is painted the same color as his hair) and a thick beard. While Bunyans often wear red shirts and hold an ax between their hands, many don't. This one doesn't have an ax but his hands and arms are in a "typical" muffler man position (right palm up, left palm down, with arms bent at the elbow in front of them). (Curious to know more about what makes a muffler man a muffler man? Check out this guide from our friends at Roadside America.)
Rumor has it that this muffler man came to Roanoke in the 1940s when the namesake behind Dabney Tires went to an auto convention in Washington D.C., spotted this giant statue on display, and had to have it for himself. He brought it home with him and installed him in front of his shop. Though the owner eventually changed hands and the business's name changed, the muffler man and Virginia roadside attraction still stands with no plans to move. Case in point: the shop has changed names and owners again since I last visited and the muffler man has gotten a makeover to remove chipped paint.
Visit this and other Roanoke WZ attractions (like the Giant Cast Iron Skillet) while in town.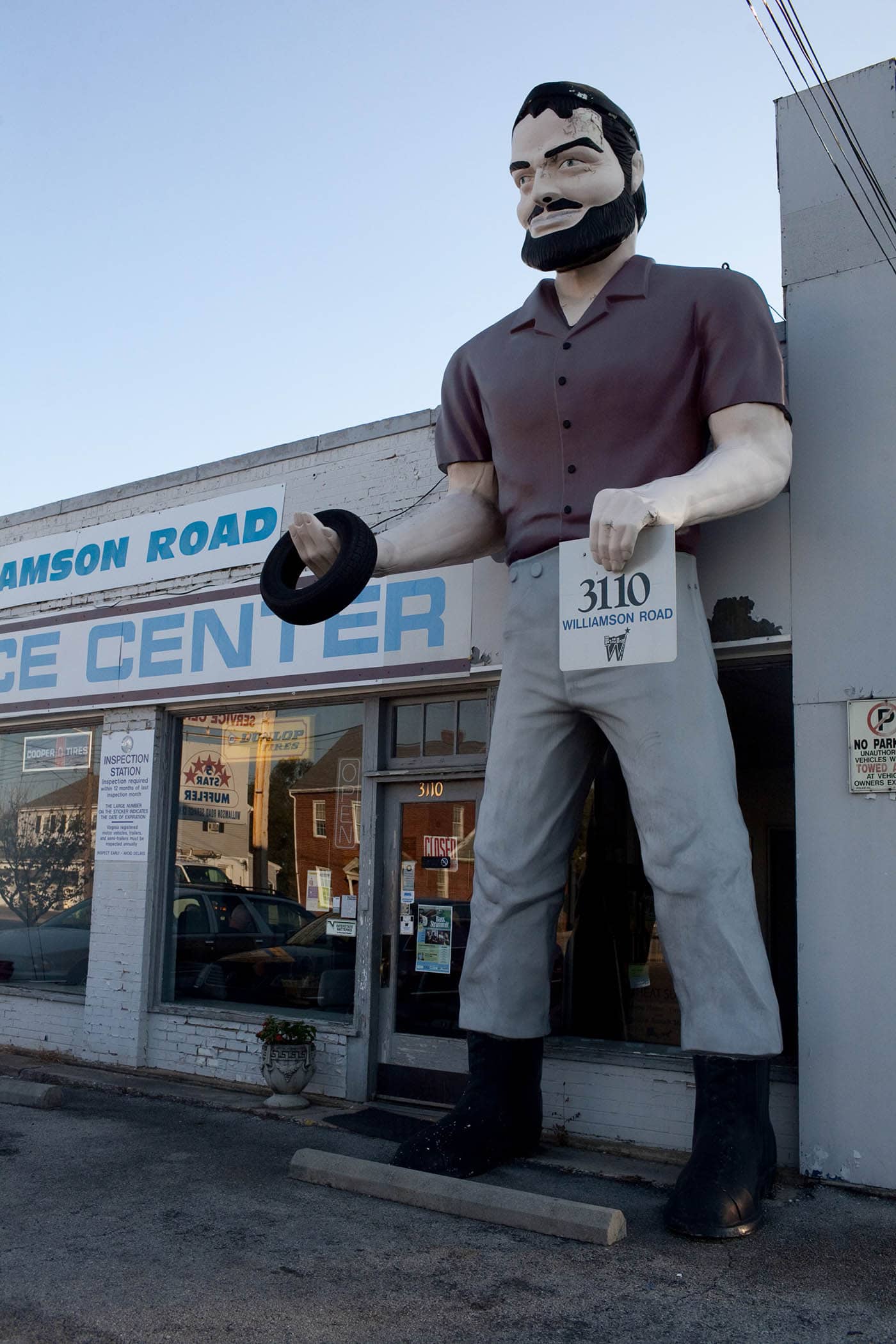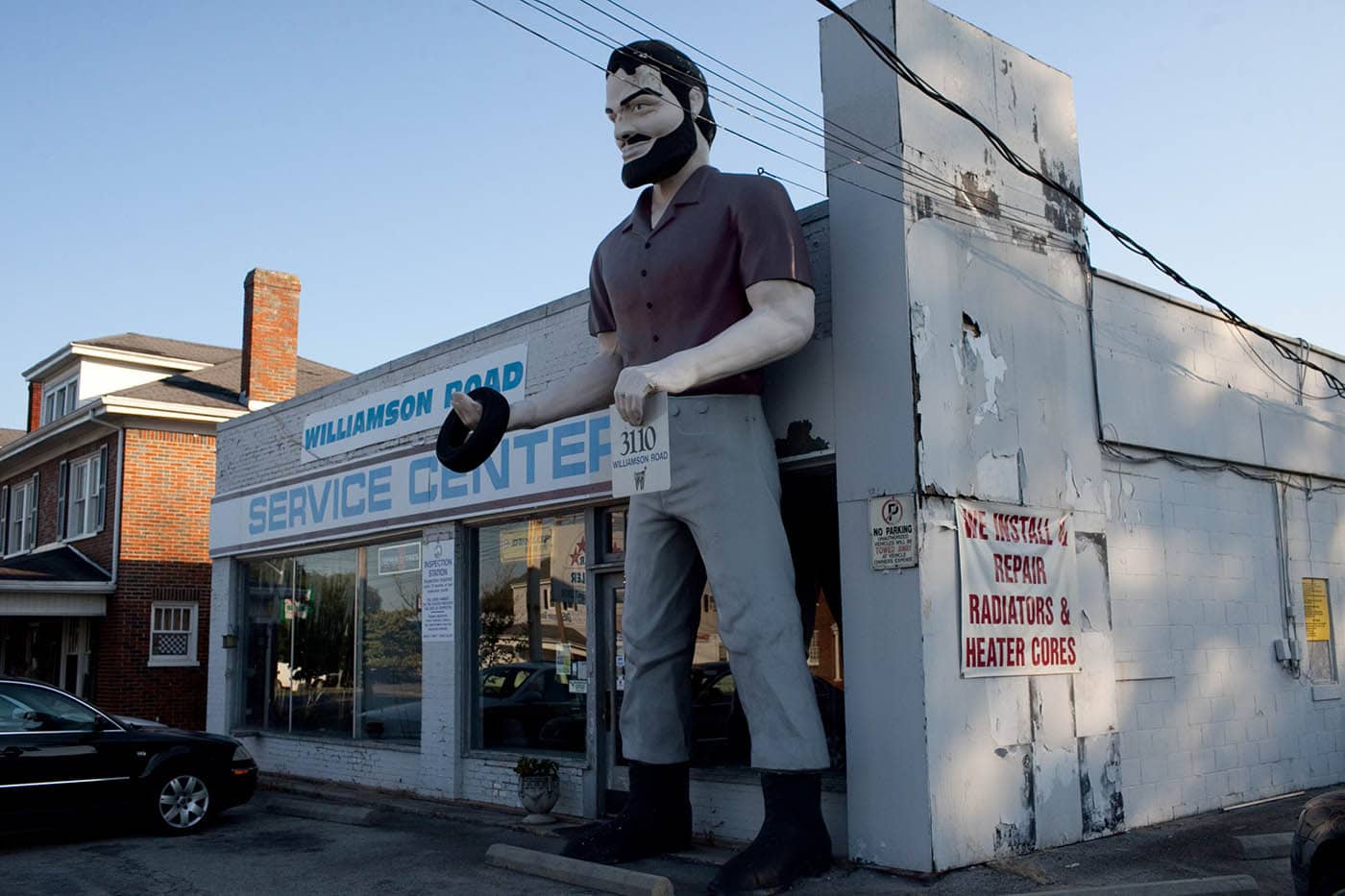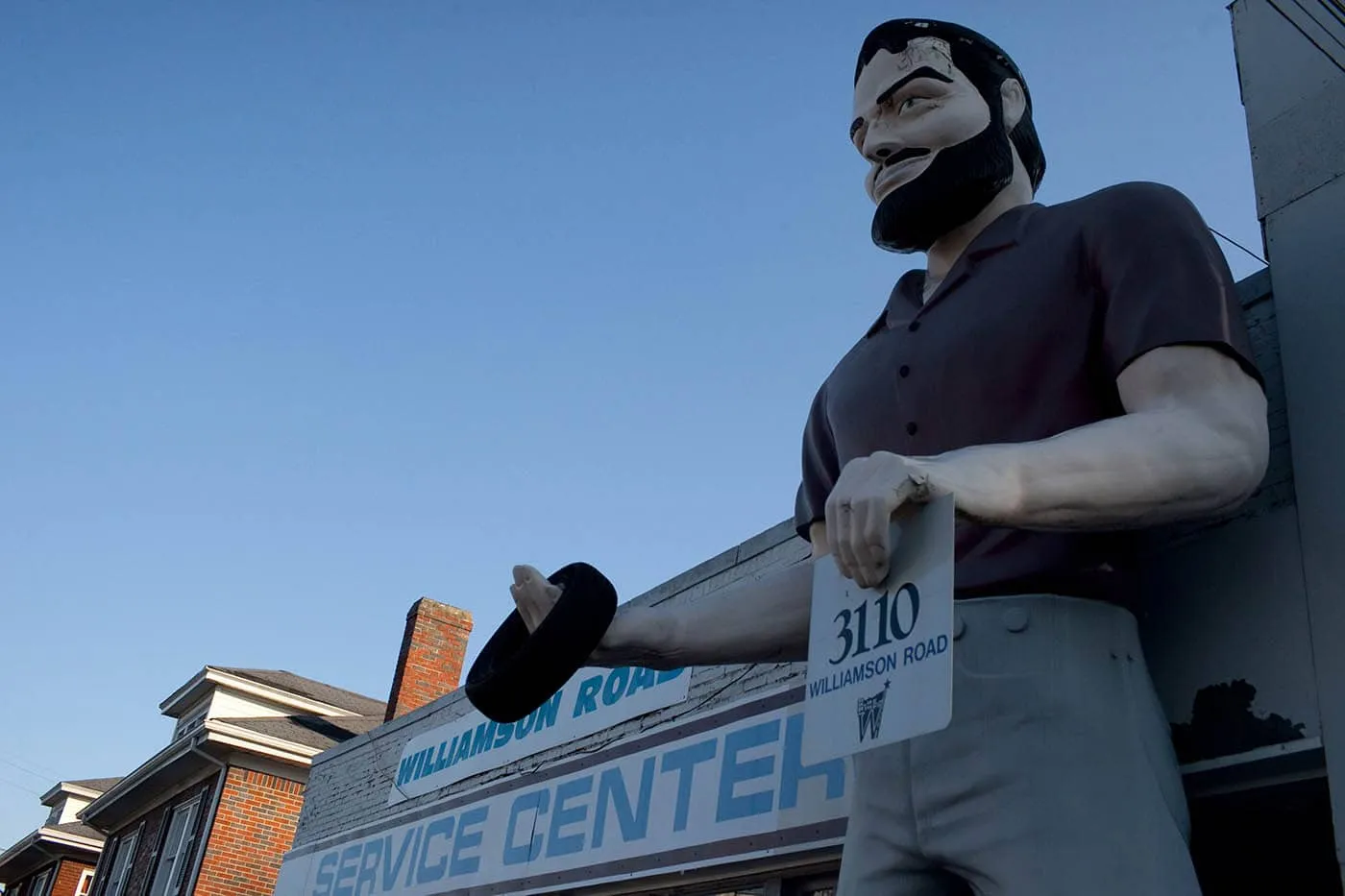 ---
Paul Bunyan Muffler Man in Roanoke, Virginia
Location: Affordable and Dependable Auto Service, LLC, 3110 Williamson Rd, Roanoke, VA
Hours: Always Visible
Cost: Free to see
---
Pin this Virginia roadside attraction: